Nick Offerman Biography
Nick Offerman is an American actor, writer, comedian, and woodworker who is known for his role as Ron Swanson in the NBC sitcom Parks and Recreation.
Nick Offerman Education
Nick Offerman went to the Minooka High School and graduated in 1989.
He later got enrolled at the University of Illinois at Urbana–Champaign to graduate in 1993 with a Bachelor of Fine Arts in acting.
Nick Offerman Age
Offerma was born on  26 June 1970, Joliet, Illinois, United States. He is 49 years as of 2019.
Nick Offerman Family
Father – Ric Offerman (Social studies teacher in junior high school)
Mother – Cathy Roberts (Nurse)
Siblings – Matt Offerman (Brother), Laurie Offerman (Sister), Carrie Offerman (Sister)
Others – Raymond Eugene Offerman (Paternal Grandfather) (Served as Mayor of Minooka), Marilynn Olivia Dames (Paternal Grandmother), Michael Donald Roberts (Maternal Grandfather), Eloise Catherine Loucks (Maternal Grandmother)
Nick Offerman Wife
He married Megan Mullally in 2003 and they are still married as of 2019. Megan Mullally is an American actress, comedian, and singer. Megan Mullally is an American actress, comedian, and singer. She is best known for her starring role as Karen Walker on the NBC sitcom Will & Grace, for which she received eight Primetime Emmy Award nominations for Outstanding Supporting Actress in a Comedy Series, winning twice in 2000 and 2006
Nick Offerman Body Measurements
Height: 5 ft 11 in or 180 cm
Weight: 91 kg or 201 lbs
Shoe Size: Not Available
Body Shape: Not Available
Hair Colour: Dark Brown
Eye Colour: Dark Brown
Nick Offerman Net Worth
Offerman was born in Joliet, Illinois and has an estimated net worth of $4 million dollars.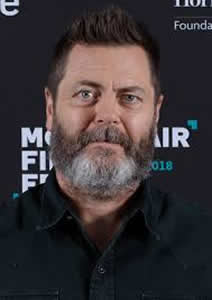 Nick Offerman Book
Offerman has released three semi-autobiographical publications which include Paddle Your Own Canoe released in 2013. the second book was Gumption released May 26, 2015; the third, Good Clean Fun Misadventures in Sawdust at Offerman Woodshop, was released October 18, 2016. Both books gave a message to what many fans, already knew: Offerman hadn't hit it big because he was like everyone else in Hollywood but had done so because he's different.
Nick Offerman Woodshop
Offerman is a professional boat builder and has another side business as a wood craftsman. He makes furniture and other wooden structures such as canoes and boats at his woodshop.  He also released an instructional DVD in 2008 titled Fine Woodstrip Canoe Building with Nick Offerman, shot by Jimmy DiResta. DiResta's pay for shooting the DVD was a canoe, the second Offerman has build.
Nick Offerman Woodworking
Acting and building has always gone together for Nick Offerman. He grew up working on a farm in Illinois. He later joined university, where he studied acting and set design. Later, in Chicago, he traded scenery building services for small parts in plays. And those brought him finally to Los Angeles, where he built decks, timber-frame cabins, and Nakashima-style furniture between jobs as a character actor. At age 38, Offerman got his big break as the deadpan Ron Swanson in Parks & Recreation, now in its fourth season on NBC. But when the camera stops rolling, Nick still heads for his L.A. woodworking shop, where he and four part-timers turn out beautiful furniture from big slabs of distinctive wood.
Nick Offerman Will and Grace
Nick Offerman who is portrayed Nick the plumber during the original series and Jackson Boudreaux in the revival series. He is the real life husband of Megan Mullally, who plays Karen Walker
Nick Offerman American Ham
American Ham is a 2014 American stand-up comedy film, directed by Jordan Vogt-Roberts. It is written by an American actor, writer, and carpenter, Nick Offerman. It was whereby a live taping of Offerman's one-man show at New York's historic Town Hall theater, featuring collection of anecdotes, songs and woodworking.
Nick Offerman Tour
April 18th Ridge field, WA – Ilani Cowlitz Ballroom at 8.00 pm
April 19th Cincinnati, OH- Taft Theater at 8.00 pm
April 20th Indianapolis, IN-Murat Theater at Old National Center
Nick Offerman Stand Up
Stand-up comedy is a comic style in which a comedian performs in front of a live audience, usually speaking directly to them.
In stand-up comedy, the comedian recites a grouping of humorous stories, jokes and one-liners typically called a monologue.Nick Offerman performs stand-up comedy at Masonic in Houston
Nick Offerman Sing
Sing is a computer-animated musical comedy film produced by Illumination. The film is about a group of anthropomorphic animals that enter a singing competition, hosted by a koala who is trying to save his theater. Offerman plays the role of  Norman, a pig and Rosita's husband.
Nick Offerman Commercial
Megan Mullally and Nick Offerman play a couple of shameless and lascivious-sounding "Slingers" who speak loudly and proudly about how their subscription to Sling is a freedom they find exhilarating. Whether lounging in their swanky mod living room or turning heads at brunch, they say "Slinging" is their secret to keeping it fresh. For a limited time, Sling will offer its Live TV streaming services for $25 a month.
Nick Offerman Canoe
Hollywood's hustle is not exactly conducive to hobbies, particularly not a woodworking mastery. Yet actor and comedian Nick Offerman, known on Parks and Recreation for his role as Ron Swanson, snuck in time to build this 18-foot canoe named Lucky Boy. Offerman worked on the 50-lb for four months. Bear Mountain Boats operated boat in Canada. He gathered about 100 western red cedar planks together, shaped and sanded the hull, then sealed it with fiberglass cloth and epoxy. He trimmed the vessel with sapele mahogany seats and gunwales and walnut and ebony carved boards. Everything compares to the first position of a canoe in the water, Offerman says.
Time to build over evenings and weekends: 4 months
Nick Offerman Saxophone
Offerman is a really skilled saxophone player. The writers did not know that until when they wrote him his sax-playing alter ego Ron Swanson in Parks and Rec.
Nick Offerman Fire
In 2015, "My Tales of Whisky" uploaded a 10-hour version of Offerman nesting by a fireplace with some Lagavulin.
Nick Offerman Parks And Rec
Park and recreation is an American political satire television created by Greg Daniels and Michael Schur.
Nick Offerman Fargo
Karl Weathers as portrayed by Nick Offerman is a character in Season 2. He is the town lawyer of Luverne, Minnesota. A Korean War vet, Karl is a flowery drunk blessed with the gift of gab and the eloquence of a true con artis
Nick Offerman Movie
2019
-The Lego Movie 2: The Second Part as MetalBeard
-White Fang as Marshal Weeden Scott
-Nostalgia as Henry Greer
2018
Hearts Beat Loud as Frank Fisher
Bad Times at the El Royale as Felix O'Kelly
My Life as a Courgette as Raymond
Gunter Babysits as Norman
Infinity Baby as Neo
2017
The Little Hours as Lord Bruno
The Hero as Jeremy
The House of Tomorrow as Alan Whitcomb
The Founder as Richard McDonald 2016
Sing as Norman
Ice Age: Collision Course as Gavin
Knight of Cups as Scott
A Walk in the Woods as REI Dave
Welcome to Happiness as Moses
2015
Hotel Transylvania 2 as Mike
Danny Collins as Guy DeLoach
Me and Earl and the Dying Girl as Greg's Dad
2014
Date and Switch as Terry
Believe Me as Sean
The Gunfighter as Narrator
The Lego Movie as MetalBeard
Nick Offerman: American Ham as Himself
Ernest & Celestine as George
22 Jump Street as Deputy Chief Hardy
2013
Paradise as Mr. Mannerhelm
In a World… as Heners
The Kings of Summer as Frank Toy
We're the Millers as Don Fitzgerald
2012
Somebody Up There Likes Me as Sal21 Jump Street
21 Jump Street as Deputy Chief Hardy
Casa de Mi Padre as DEA Agent Parker
Smashed as Dave Davies
2010
All Good Things as Jim McCarthy
Audrey the Trainwreck as David George
2009
Taking Chances as Sheriff Hoke Hollander
The Men Who Stare at Goats as Scotty Mercer
2008
Harmony & Me as Meter Maid Man
2007
The Go-Getter as Nick the Potter
2006
3 lbs as Dr. Coffey
Wristcutters: A Love Story as Cop
2005
Sin City as Shlubb
Cursed as Officer
Miss Congeniality 2: Armed and Fabulous as Karl Steele
2004-November as Officer Roberts
2002– Murder by Numbers as Officer at Richard's house
2000– Groove as Sergeant Channahon
1999-Treasure Island as Samuel
1998-City of Angels as Construction Worker
1997-Going All the Way as Wilks
Nick Offerman  Tv Shows
2018
Will & Grace as Jackson Boudreaux
Making It as Himself (host)
3 Below as Commander Varvatos Vex (voice)
2017
Comrade Detective as Captain Covaci (voice)
Curb Your Enthusiasm as Cody Goodger
2016
Life in Pieces as Spencer
Son of Zorn as Dr. Klorpnis (voice)
2015
Fargo as Karl Weathers
The Muppets as Himself
You, Me and the Apocalypse as Buddy
Brooklyn Nine-Nine as Frederick
2014
Comedy Bang! Bang! as Himself
Kroll Show as Vanya
Gravity Falls as Agent Powers (voice)
The Simpsons as Captain Joseph Bowditch (voice)
Sofia the First as Whiskers (voice)
Last Week Tonight with John Oliver as Guest actor
2013
Conan as Ron Burgundy
Out There as Doug (voice)
Drunk History as Johnny Cool
2013-2015
Axe Cop as Axe Cop (voice)
2012-2014
Bob's Burgers as Cooper / Pete (voices)
2012
The Cleveland Show as Harris Grundle (voice)
2009-2015
Parks and Recreation as Ron Swanson
2008-2015
Childrens Hospital as Chance Briggs
2007
American Body Shop as Rob
2006
CSI: NY as Joe Green
3 lbs as Dr. Coffey
2005
Life on a Stick as Greg
Monk as Jack Whitman
2004
Deadwood as Tom Mason
2003
Good Morning Miami as Police Officer
24 as Marcus
The King of Queens as The Man
2003-2004
George Lopez as Randy
2003-2005
Gilmore Girls as Beau Belleville
2002-The Practice as Charles Rossi
2001-Will & Grace as Nick the Plumber
2001-2003-NYPD Blue as Steven Debrees / Billy
Frequently Asked Questions About Nick Offerman
Who is Nick?
Offerman is an American actor, writer, comedian, and woodworker
How old is Offerman?
Nick is 49 years as of 2019. He was born in 1970
How tall is Nick?
Offerman stands at a height of 5 ft 11 in
Is Offerman married?
Nick is married Megan Mullally in 2003 and they are still married
How much is Nick worth?
Offerman has an estimated net worth of $4 million dollars.
How much does Offerman make?
Not Available
Is Nick dead or alive?
Offerman is still alive and in good health.
Where does Offerman live?
Not Available
Where is Nick now?
He is an American actor, writer, comedian, and woodworker.
Nick Offerman Twitter