Nikolas Cruz Biography
Nikolas Cruz is an American Gunman, who was born and brought up in Margate, Florida, United States of America. Currently he sits in the Broward County main jail. He confessed to shooting 33 former classmates, coaches and teachers at Marjory Stoneman Douglas High School in Parkland, the school he was kicked out of in his junior year. Seventeen of his victims died.
Nikolas has been described as "lost," "lonely"  and violent. In eighth grade, Nikolas was assigned to a school for students with emotional problems. He badly wanted to attend a "regular" high school, school records say. His wish was granted, and Marjory Stoneman Douglas was that school.
His parents Lynda and Roger Cruz knew their new son had challenges, but neither lived to see what he was capable of. His troubled life is coming into sharper focus, through police and school records and interviews with friends, family and former classmates.
By the time Nikolas was 3 years old, he was diagnosed with developmental delays. By the time he was 6 years old, Nikolas had suffered the trauma of witnessing his father's death. By the time he was 16, he was preoccupied with wars, death and killing, school records reveal. And he never made it to 20 in the outside world.
Nikolas Cruz Age
Cruz is 23 years old as of 2021, he was born on 24 September 1998, in Margate, Florida, United States. He celebrates his birthday on 24 September every year and his birth sign is Libra.
Nikolas Cruz Height
Nikolas stands at a height of 5 feet 7 inches.
Nikolas Cruz Weight
Cruz Weighs 59 kg.
Nikolas Cruz Education
Nikolas attended Marjory Stoneman Douglas High School in Parkland, Florida.
Nikolas Cruz Parents
Nikolas' adoptive parents are Lynda Cruz and Roger Cruz who married late in life. Roger was 61 and had four kids from a previous marriage. A close family friend and former neighbor, who asked that her name not be published, told the South Florida Sun Sentinel that the Cruz's parents arranged the private adoption through an attorney.
They insisted the birth mother pass drug tests and visit the doctor. The baby's father was unknown, the friend said. Later less than a year , the same woman got pregnant again. The second baby had a different father. Lynda and Roger adopted other sons named Zachary Cruz, and Danielle Woodard, as well. Their family was complete.
His mother was a stay-at-home mom. She drove a minivan, and she was an involved mother, ferrying Nikolas and his brother to Zachary's sports games and involving them in the building of Parkland's Liberty Park, the friend said. Nikolas and his brother were raised Catholic and had their communions and confirmations, the family friend said.
Nikolas Cruz Measurements and Facts
Here are some interesting facts and body measurements you should know about Nikolas Cruz.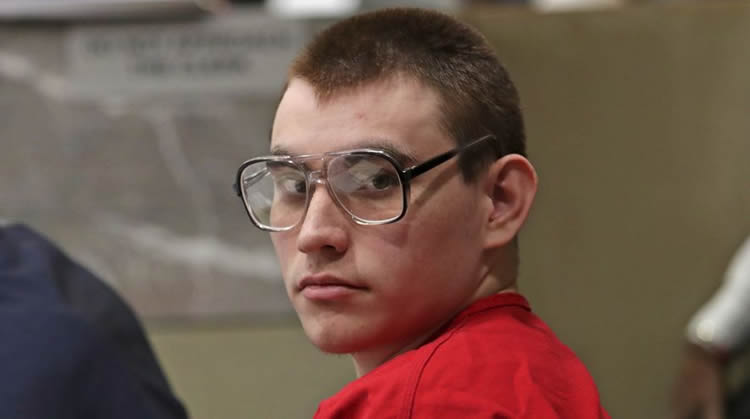 Nikolas Cruz Wiki
Full Names: Nikolas Cruz
Gender: Male
Occupation / Profession: Gunman
Nationality: American
Race / Ethnicity: Mixed
Religion: Not Known
Sexual Orientation: Straight
Nikolas Cruz Birthday
Age / How Old?: 23 years (2021)
Zodiac Sign: Libra
Date of Birth: 24 September 1998

Place of Birth: Margate, Florida, United States
Birthday: 24 September
Nikolas Cruz Body Measurements
Body Measurements: Not Available
Height / How Tall?: 5 feet 7 inches (1.70 m)
Weight: 59 kg (129.8 lbs)
Eye Color: Light Brown
Hair Color: Blonde
Shoe Size: Not Available
Nikolas Cruz Family and Relationship
Father (Dad): Roger Cruz
Mother: Lynda Cruz

Siblings (Brothers and Sisters): Zachary Cruz and Danielle Woodard
Marital Status: Single
Wife/Spouse: Not Applicable
Dating / Girlfriend: Single
Children: Sons (None) Daughter(s) (None)
Nikolas Cruz Net Worth and Salary
Net Worth: Under Review
Salary: Under Review
Source of Income: Under Review
Nikolas Cruz High School
Nikolas never graduated high school, though he was still trying at age 19. Foul language, insults, disobedience, disruption his behavior was exactly what schoolteachers frowned upon. It was not possible for Cruz to remain at Westglades Middle School in Coral Springs.  He left during eighth grade for Cross Creek School in Pompano Beach, which offers a program for emotionally and behaviorally disabled children.
He didn't want to be there but attended through January in his 10th-grade year."Nikolas' personal goal is to [be] mainstreamed to his home high school," according to a Broward school system report from June 2015, the end of his ninth-grade year. "He often perseverates on the idea that his current school is for students that are 'not smart' and that he can now handle being in 'regular' school."
He was conscientious about his grades, the report said. However, Nikolas couldn't control himself. At a peer's urging, he jumped out of the back of a bus, the school district report says. He was "punched  a number of times" for using racial slurs toward a peer. And more alarming, Nikolas was strongly attracted by guns. And death.
The school reprots reads that he was  very concerned about his grades and how he was doing academically in class,. He would sometimes  be distracted by inappropriate conversations of his peers if the topic is about guns, people being killed or the armed forces. He will also engage in the conversation," the report says, going on to note that "Nikolas benefits from verbal praise and positive reinforcements."
Nikolas Cruz Stoneman Douglas High
 Less than a year after documenting the student's morbid preoccupation on Jan. 13, 2016,  the school district allowed Cruz to enroll in Stoneman Douglas High. The A-rated school is one of the best in the school district. However, Nikolas showed signs of trouble almost immediately.
In his first month there, he posted on Instagram that he planned to shoot up the school, a neighbor's son told BSO. |Records say the ominous tip was forwarded to the deputy assigned to the school, Scot Peterson. Nikolas passed 10th grade there and he hoped to join the military one day and was a member of JROTC.
A month into the following school year, though, he  seemed to fall apart. First, he was suspended for fighting. Then, just before his 18th birthday in September, a peer counselor told Deputy Peterson that Cruz might have tried to kill himself by ingesting gasoline, and said he wanted to buy a gun.
Five days later, Cruz was reported to the state for cutting his arms on Snapchat, the mobile app. "Mr. Cruz has fresh cuts on both his arms. Mr. Cruz stated he plans to go out and buy a gun. It is unknown what he is buying the gun for," the DCF report reads.
He also had "hate signs" — including a Nazi symbol and the words "I hate N——" — drawn on his book bag. His mother told investigators he'd just had a breakup with a girlfriend. But Cruz wasn't fitting in at Stoneman Douglas any better than he had anywhere else in life.
Nikolas Cruz Killings
His attempt to make it at his neighborhood school failed.  Shortly in January 2017 after Nikolas inexplicably stopped undergoing mental health treatment, his mother sold the expansive family home in Parkland, and the trio moved into a smaller condo. At Stoneman Douglas that month he assaulted someone and was ejected soon after.
Cruz was transferred to an alternative school on February 8, 2017.  According to the gun store attorney on February, 11 2017 three days after his removal from Stoneman Douglas he bought the AR-15 he used in the mass killing. For the year which followed the Nikolas attended Broward's public alternative schools, still trying to get a diploma.
Nikolas put the gun to the head of someone before and he did that to his mom," she told the dispatcher. She said that Nikolas also had once put a gun to his brother's head.
Nikolas  placed his own call to 911. "I was just assaulted now. Someone attacked me," he said when he called from a nearby park he ran to that day. "And they said they were going to gut me if I came back." Nikolas told deputies that he'd gotten upset when he misplaced a photograph of his late mother.
"The thing is, I lost my mother a couple weeks ago," he said, "so, like, I'm dealing with a bunch of things right now." Nikolas sounded like he might be crying. "I understand," the dispatcher said gently. The next day, a caller from Massachusetts told police that Nikolas was collecting guns and knives and could be a "school shooter in the making."
The Sneads, whose son was friendly with Nikolas, said  that he followed their rules and kept his weapons locked up. They insisted he enlist in classes, and he had a job at Dollar Tree, the company confirmed.
Nikolas seemed emotionally down for the few months they knew him. But in the last two weeks before the shooting, he told them he was happier than he'd ever been before, the Sneads told the Sun Sentinel.
"He wanted a girlfriend so bad," Kimberly Snead said, "and I said, 'Girls are trouble, stay away from them. It's not worth it right now. You focus on getting yourself doing something in life.' " "I think he was lonely," James Snead said.
"I want to kill people," she said he wrote on one of his Instagram social media accounts. She said he'd once pulled a rifle on his mother. "It's alarming to see these pictures," she told the FBI, "and to know what he's capable of doing, and what could happen." On Feb. 14  the day of the shooting Nikolas told the Sneads he'd be skipping school.
"It's Valentine's Day, and I don't go to school on Valentine's Day," the Sneads said he told them. At 2:06 p.m, Nikolas caught an Uber to Marjory Stoneman Douglas High, arriving when school was letting out.He left the high school a mess of bodies and terrorized children. In court five days later, Cruz sat with his head bowed. No friends or family appeared in court on his behalf.
Nikolas, faces the death penalty if convicted of killing 17 people and wounding 17 others in the attack. He has offered to plead not guilty in return for a life sentence, but prosecutors have refused that offer. Peterson, the only armed officer at the school the day of the attack, was seen on video remaining outside the school building as shots rang out.
Frequently Asked Questions About Nikolas Cruz
Who is Nikolas Cruz?
Nikolas Cruz is a famous Gunman, who currently sits in the Broward County main jail and he confessed to shooting 33 former classmates, coaches and teachers at Marjory Stoneman Douglas High School in Parkland.
How old is Nikolas Cruz?
Cruz is an American national born on 24th September 1998, in Margate FL.
How tall is Nikolas Cruz?
Nikolas stands at a height of 1.70m.
Is Nikolas Cruz married?
Details about Cruz love life are still under review. We will let you know when he gets in a relationship or when we discover helpful information about his love life.
How much is Nikolas Cruz worth?
Nikolas has not yet revealed his net worth. We will update this section when we get and verify information about the wealth and properties under his name.
Where does Nikolas Cruz live?
Because of security reasons, Cruz has not shared his precise location of residence. We will update this information if we get the location and images of his house.
Is Nikolas Cruz dead or alive?
Nikolas is alive and in good health. There have been no reports of him being sick or having any health-related issues.
Nikolas Cruz Contacts
Instagram

Facebook
Youtube
Tiktok
Website
Related Biographies
You may also like to read the Bio, Career, Family, Relationship,  Body measurements, Net worth, Achievements, and more about: