Pat Shurmur Biography
Pat Shurmur (Patrick Carl Shurmur) is an American football coach who was the head coach of the New York Giants of the National Football League (NFL).
He was the head coach of the Cleveland Browns from 2011 to 2012 and has also been the offensive coordinator of the St. Louis Rams, Philadelphia Eagles, and Minnesota Vikings.
Pat Shurmur Education
He attended Michigan State University, where he was a four-year letterman for the Michigan State Spartans football team, after graduating from Divine Child High School. He played guard and linebacker his freshman season and started at center the next three seasons.
Pat earned All-Big 10 Conference honors and also earned honorable mention All-America honors in 1987, his senior year (MG). He was co-captain when the Spartans defeated the USC Trojans in the Rose Bowl in his senior year.
He was the first graduate student to play on the Michigan State football team, as he began studying for his master's degree in financial administration during his senior season.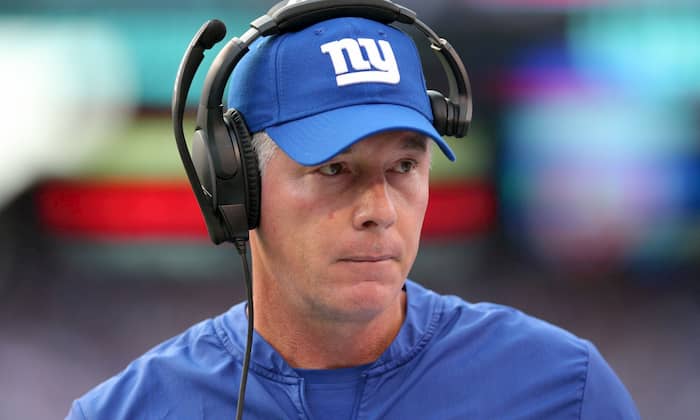 Pat Shurmur Coaching Career
During Shurmur's NFL coaching career, he has been a part of eight playoff teams, winning six division crowns and appearing in the Super Bowl.
Shurmur began working for the Philadelphia Eagles in 1999, serving as both the tight ends coach and the offensive line coach. Shurmur helped mold tight end Chad Lewis into a three-time Pro Bowl selection.
In 2002, he was named the team's quarterback coach. In that role, Shurmur helped shape Donovan McNabb into the most prolific passer in Eagles history.
McNabb holds nearly every Eagles career passing record, and in 2008, he set Eagles single-season records with 345 completions and 3,916 yards.
In 2004, Shurmur and McNabb helped guide the Eagles to their first Super Bowl appearance since the 1980 season.
Pat Shurmur Age | Birthday
Shurmur was born as Patrick Carl Shurmur on April 14, 1965 in Dearborn,  Michigan, United States ( he is 54 years old as of 2019.)
Pat Shurmur Family
He was born in Dearborn, Michigan to Joe Shurmur(father) and Barbara Shurmur. Pat comes from a football background.
His uncle Fritz Shurmur was an NFL coach for 24 years, including a stint as the Green Bay Packers defensive coordinator from 1994 to 1998, which included a victory in Super Bowl XXXI.
Pat Shurmur Wife
Shurmur is married to Jennifer Shurmur. Jennifer also attended Michigan State. The couple has four children together Kyle Shurmur, Claire Shurmur, Allyson Shurmur, Erica Shurmur.
Pat Shurmur Son
His son, Kyle Shurmur, committed to play at Vanderbilt and was rated as a top QB prospect for the 2015 recruiting class. ESPN rated Kyle as the #110 overall player and #7 Pocket Passing QB.
He became the starting quarterback as a sophomore in 2016 and continued that role in 2017 and 2018. He signed with the Kansas City Chiefs as an undrafted free agent after not being selected in the 2019 NFL Draft.
Pat Shurmur Salary | Pat Shurmur Net Worth | Pat Shurmur Salary Giants
National Football League salaries range heavily. At the lowest level, NFL rookies earn between $400,000 and $600,000 per year.
At the top level, players can make $50 million or more. The NFL salary cap is nearly $175 million. Pat has an estimated Net Worth of $ 1 Million dollars as of 2019.
Pat Shurmur Contract
Giants give head coach Pat Shurmur a five-year deal
Pat made it official on Monday when they announced that Shurmur would be the team's next head coach.
ESPN's Adam Schefter reports that the Giants are giving the 52-year-old Shurmur a five-year deal.
Ironically enough, the deal the Giants gave their former head coach Ben McAdoo was for four years. McAdoo clearly didn't make it to the end of that deal since the Giants fired him in the second year of his contract.
Shurmur is also the first Giants head coach to receive a five-year deal since Dan Reeves when he was hired in 1993 to replace Ray Handley, who was also fired after two seasons.
Due to the Vikings playing in the postseason until almost late January, the Giants had to wait to officially make the hire of Shurmur.
They were able to interview him, but due to NFL rules, the team couldn't negotiate the terms of a deal until Minnesota's season was complete.
The Vikings lost in the NFC Championship to the Philadelphia Eagles 38-7 and thus, the watch was on for when the Giants were going to make their hiring of Shurmur official.
Pat Shurmur Fired
Giants head coach Pat Shurmur, who was fired on after two seasons.
Shurmur, who took over before the 2018 season, finished with a 9-23 record during his time in New York after Sunday's 34-17 loss to the Eagles.
Vacchiano reported Sunday afternoon that Shurmur was not likely to return, while GM Dave Gettleman is expected to stay on. He also reported on Dec. 11 that the "consensus around the league" was that Shurmur would be out after the season. At the time, the Giants were on a nine-game losing streak.
As far as potential replacements for Shurmur, that list could include Mike McCarthy, Jason Garrett, and Matt Rhule.
Ron Rivera has also been viewed as a potential replacement, but he is expected to wind up with the Redskins.
When it comes to Garrett, the Cowboys are expected to inform him on Monday that he will not be retained, reports Jean-Jacques Taylor of ESPN.
Aside from his dismal record at the helm, Shurmur also struggled when it came to clock management. And his play-calling on offense (which he refused to relinquish) was often of the head-scratching variety.
Source: www.sny.tv