Randy Alcorn Biography
Randy Alcorn is an American Christian author and the founder & director of Eternal Perspective Ministries, a non-profit Christian organization, founded in 1990. Alcorn is a New York Times bestselling author, who has written more than 60 books including the novels Deadline (1994), Dominion (1996), Deception (2007) and Courageous (2011).
In 2002, Alcorn was awarded the Gold Medallion Book Award for his novel Safely Home (2001). He has also authored many non-fiction books, including Giving Is the Good Life (2019), Face to Face with Jesus (2018), Seeing The Unseen (2017), Happiness (2016), Hand in Hand (2014), Eternity (2013), Managing God's Money (2011), If God Is Good (2009), Heaven for Kids (2006), Heaven (2004), The Purity Principle (2003) and The Treasure Principle (2001). Alcorn's works have been translated into 70 languages and have sold 10 million copies. He appears regularly in television, radio, print media and online programs.
Randy Alcorn Age
Randy Craig Alcorn was born on June 23, 1954 in Portland, Oregon, United States.
Randy Alcorn Net Worth
Alcorn has an estimated net worth of $1 million U.S dollars. He is a New York Times bestselling author, who has written more than 60 books.
Randy Alcorn Wife -Children – Family
Alcorn is married to his wife Nanci Alcorn and the couple is blessed with two daughters, named Angela and Karina. Alcorn currently lives in Gresham, Oregon.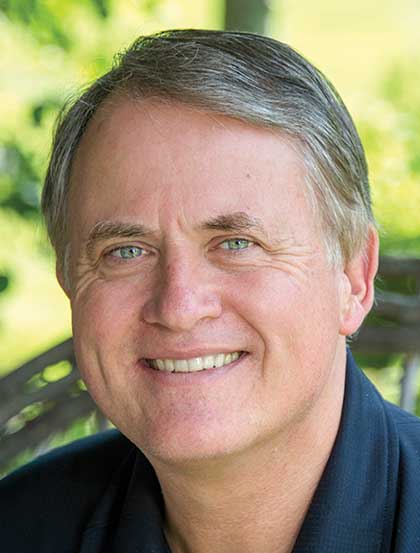 Randy Alcorn Wife Cancer
Nanci Alcorn was diagnosed with colon cancer in January 2018 and has since undergone several months of treatment. In this interview, Randy shares what the Lord has been doing in their lives during this challenging season.
We were definitely not bitter or resentful in any way. Why would we be? We never ask why God would allow this to happen to us. He often allows hard things to happen to His people, so why not us? Job was the most righteous person on the planet, and look what he went through. Both of my parents had cancer, as did my best friend from childhood, Jerry Hardin, and we've known many others who've had it.
Randy Alcorn Early Life
Alcorn completed his B.A. in Theology from Multnomah Bible College and an M.A. in Biblical Studies from Western Seminary in Portland, Oregon. He also holds an honorary doctorate of Divinity from Western Seminary. Alcorn served as one of the founding pastors of Good Shepherd Community Church in Boring, Oregon from 1977-1990.
Randy Alcorn Career
In 1985, Alcorn published his first book Christians in the Wake of the Sexual Revolution. Alcorn's first book with Tyndale House Publishers, Money, Possessions and Eternity, was published in 1989, revised in 2002. His first fiction book, Deadline, was published in 1994 and is the initial book in a three-part series. He partnered with his daughters Karina and Angela in 2001 to write The Ishbane Conspiracy.
Alcorn's novel Safely Home published in 2001, was a story about the friendship between American Ben Fielding and a former fellow student, Li Quan, who is persecuted as a Christian in his home country of China.
Alcorn has contributed to several newspapers and magazines including Christian Today, Discipleship Journal, Moody, Leadership, New Man, The Christian Reader, Patheos. He has also served as adjunct faculty at Multnomah Bible College and Western Seminary.
He founded Eternal Perspective Ministries (EPM) in 1990, a non-profit organization that focuses on Biblical education. The royalties from his books all go to EPM, which gives away 90% of them to people-helping projects around the world.
Randy Alcorn Activism
Alcorn was involved in peaceful nonviolent civil disobedience in Portland, Oregon in 1989, advocating for the right to life of unborn children. A court judgement brought against him made his wages subject to garnishment by an abortion clinic.
Because Alcorn did not want to make a financial contribution to the activities of the abortion clinic, he decided to resign as a pastor and found Eternal Perspective Ministries. Until the judgement expired in 2012, at his request, Eternal Perspective Ministries paid him minimum wage, which was not subject to legal garnishment.
Randy Alcorn Books
Non-fiction
50 Days of Heaven: Reflections That Bring Eternity to Light (Tyndale House, 2006)
60 Days of Happiness: Discover God's Promise of Relentless Joy (Tyndale House, 2016)
90 Days of God's Goodness: Daily Reflections That Shine Light on Personal Darkness (Multnomah Publishers, 2011)
Does the Birth Control Pill Cause Abortions? (Eternal Perspective Ministries, rev. ed. 2011)
Eternal Perspectives: A Collection of Quotations on Heaven, the New Earth, and Life After Death (Tyndale House, 2012)
Everything You Always Wanted to Know About Heaven (Tyndale House, 2014)
Face to Face with Jesus: Seeing Him as He Really Is (Harvest House, 2018)
God's Promise of Happiness (Tyndale House, 2015)

The Goodness of God: Assurances of Purpose in the Midst of Suffering (Multnomah Publishers , 2010)
Grace: A Bigger View of God's Love (Harvest House, 2016)
The Grace and Truth Paradox (Multnomah Publishers, 2003), ISBN 9781590520659 Hand in Hand (Multnomah Publishers, 2014)
Happiness (Tyndale House, 2015)
Heaven (Tyndale House, 2004)
Heaven: Biblical Answers to Common Questions (Booklet) (Tyndale House, 2004)
Heaven For Kids (Tyndale House, 2006)
Help For Women Under Stress: Preserving Your Sanity (Eternal Perspective Ministries, 2013), ISBN 9780970001610 (with Nanci Alcorn)
If God Is Good: Faith in the Midst of Suffering and Evil (Multnomah Publishers, hardcover 2009 OOP, softcover 2014)
If God Is Good: Why Do We Hurt? (Multnomah Publishers , 2010)
In Light of Eternity: Perspectives on Heaven (WaterBrook Press, 1999)
The Law of Rewards (Tyndale House, 2003)
Life Promises for Eternity (Tyndale House, 2012, OOP)
Managing God's Money (Tyndale House, 2011)
Money, Possessions, and Eternity (Tyndale House, 1989, rev. ed. 2003)
Picturing Heaven: 40 Hope-Filled Devotions with Coloring Pages (Tyndale, 2017), ISBN 9781496425270
ProLife Answers to ProChoice Arguments (Multnomah, 1992), ISBN 978-0-88070-472-4 (2000 rev. ed., ISBN 9781576737514)
The Promise of Heaven (Harvest House, 2010, OOP)
The Purity Principle (Multnomah Publishers 2003)
The Resolution for Men (B&H Publishing, 2011), ISBN 9781433671227 (with Stephen and Alex Kendrick)
Seeing The Unseen (Eternal Perspective Ministries, 2013, Hendrickson Publisher, 2017 Exp. Ed.)
Sexual Temptation: Establishing Guardrails and Winning The Battle (Eternal Perspective Ministries, 2011)
Tell Me About Heaven (Tyndale House, 2007)
Touchpoints: Heaven (Tyndale House, 2008)
The Treasure Principle (Multnomah Publishers, 2001)
Truth: A Bigger View of God's Word (Harvest House, 2017)
Wait Until Then (Tyndale House, 2007, OOP)
We Shall See God (Tyndale House, 2011)
Why Pro Life? (Eternal Perspective Ministries, 2005, Hendrickson Publisher, 2012 rev. ed.)
Does God Want Us to Be Happy? (Tyndale House, 2019)
Giving Is the Good Life (Tyndale House, 2019)
Are You Living the Good Life? (Booklet) (Tyndale House, 2019)
Fiction
The Apostle (Graphic Novel) (Kingstone Publishing, 2015)
The Chasm: A Journey to the Edge of Life (Multnomah Publishers, 2011)
Courageous (Tyndale House, 2011), ISBN 9781414358468 (based on the screenplay by Alex Kendrick & Stephen Kendrick)
Deadline (Multnomah Publishers, 1994)
Dominion (Multnomah Publishers, 1996)
Deception (Multnomah Publishers, 2007)
Edge of Eternity (WaterBrook Press, 1998)
Eternity (Graphic Novel)[21] (Kingstone Publishers, 2013)
The Ishbane Conspiracy (Multnomah Publishers, 2001), ISBN 9781576738177 (with Angela Alcorn and Karina Alcorn)
Lord Foulgrin's Letters (Multnomah Publishers, 2000), ISBN 978-1-57673-679-1 (2001 revised edition, ISBN 9781576738610)
Safely Home (Tyndale House 2011, rev. ed.)
Randy Alcorn Awards
His novel Safely Home (2001) was named a Gold Medallion Book Award winner by the Evangelical Christian Publishers Association (ECPA) in 2002.
His book Heaven (2004) was the New York Times Best Seller.
In 2005, his book, The Treasure Principle (2001) was awarded the "Gold Book Award" for sales of over 500,000 copies and also received the "Platinum Book Award" in 2008 after sales of one million copies by the Evangelical Christian Publishers Association.
He received the 2012 Audie Award for his novel Courageous (2011).
One of his books, Heaven was awarded the "Golden Book Award" in 2008. In 2014, It received the "Platinum Book Award" for sales of one million copies by the Evangelical Christian Publishers Association