Rebekah Neumann Biography | Rebekah Neumann | Who is Rebekah Neumann?
Rebekah Neumann's full name Rebekah Paltrow Neumann is an American entrepreneur. Neumann co-founded WeWork and The We Company. Until September 22, 2019, she served as WeWork's chief brand and impact officer.
Neumann is also the founder and CEO of WeGrow. Born and raised in New York, Rebekah attended the Horace Mann High School and went on to major in Business and Buddhism at Cornell University.
Upon graduating, Rebekah was accepted into Solomon Smith Barney's Sales and Trading Program. Soon thereafter, she left to pursue a career in acting and film. Classically trained with Eric Morris and The Old Vic Theatre, Rebekah has starred opposite Rosario Dawson in Awake and appeared opposite Lucy Liu in Nomads.
On stage, she most recently starred in an Old Vic production of Anton Chekhov's Three Sisters directed by Eve Best. In 2012, Rebekah Paltrow Neumann co-founded WeWork Studios, the independent film production arm of WeWork. We work, the first physical social network, was co-founded in 2010 by Rebekah's husband, entrepreneur Adam Neumann.
Rebekah Neumann Age| How Old is Rebekah Neumann?
Rebekah Paltrow Neumann is an American actress, filmmaker, and entrepreneur. Born and raised in New York, Rebekah attended the Horace Mann High School and went on to major in Business and Buddhism at Cornell University. She was born on February 26, 1978 (age 41 years old as of 2019), Bedford, NY
Early life and education
Neumann grew up in Bedford, New York, and attended the Horace Mann School. She went on to study business and Buddhism at Cornell University.
Career
After graduating college, Neumann entered Salomon Smith Barney's Sales and Trading Program. She then spent five years on the West Coast working in the film and music industries.
In 2010, Rebekah Neumann, her husband Adam Neumann, and Miguel McKelvey co-founded WeWork. She founded WeGrow, The We Company's conscious entrepreneurial school, in 2017.
Rebekah Neumann Husband(Adam Neumann) | Who is Rebekah Neumann Married to?
Adam Neumann is an Israeli billionaire businessman. In 2010, he co-founded WeWork, alongside Miguel McKelvey. He served as WeWork's CEO from 2010–2019.
Neumann was born in Israel, the son of Avivit and Doron Neumann. When he was seven, his parents divorced. He and his younger sister Adi moved to the United States with their mother for her medical residency. Severely dyslexic, Neumann could not read or write until third grade.
In 1990, after four years in the US, they returned to Israel and settled in Kibbutz Nir Am. He graduated successfully from the Israeli Naval Academy and subsequently served as an officer in the Israeli Navy for five years and was discharged with the rank of Lieutenant. He later attended the Zicklin School of Business at Baruch College in New York City.
Prior to founding WeWork, Neumann founded a children's clothing company, Krawlers.
Neumann and McKelvey began working together after having previously met through a mutual friend. A shared interest in community upbringings and design-led them to create Green Desk in 2008, a shared-workspace business focusing on sustainability, which served as the precursor to WeWork, which they founded in 2010.
The pair sold their interest in Green Desk and using the funds along with a $15 million investment from Brooklyn real estate developer Joel Schreiber for a 33% interest in the company, WeWork they founded in 2010.
Neumann stated that with WeWork, he intended to replicate the feeling of togetherness and belonging he felt in Israel and that he thought was lacking in the West.
It was on September 22 of 2019 that there were reports, from outlets such as The Wall Street Journal, that various WeWork directors were planning on asking Neumann to step down as CEO, after "a tumultuous week in which his eccentric behavior and drug use came to light" prior to a planned IPO.
The Wall Street Journal had reported that he had taken $700 million out of WeWork before the IPO, among other details, and "undermined his position" at the company. On September 24, 2019, he resigned and Artie Minson and Sebastian Gunningham were instated as co-successors.
Neumann lives in the Greenwich Village neighborhood of New York City with his wife, Rebekah Neumann, founder and CEO of WeGrow, and their five children, including two pairs of twins. Rebekah is a cousin of Gwyneth Paltrow. Neumann's sister, Adi Neumann, is a model and was Miss Teen Israel.
In 2018, Neumann gave a keynote speech at an event held by UJA-Federation of New York where he spoke of observing Shabbat with his family every week and the role Judaism has played in his personal and professional growth.
According to The Wall Street Journal, Neumann chartered a Gulfstream G650 for a trip from the United States to Israel during the summer of 2018. During the flight, Neumann and his friends spent much of the flight smoking marijuana.
After the flight landed in Israel, the flight crew found a cereal box stuffed with marijuana and reported it to the jet owner. Fearing a marijuana trafficking incident, the owner of the jet ordered it to return to the US. Neumann and his friends had to find another way to return to New York.
The Wall Street Journal reported that Neumann had aspirations such as living forever, becoming the world's first trillionaire, expanding WeWork to the planet Mars, becoming Israel's prime minister, and becoming "president of the world".
A September 2019 Vanity Fair article reported that Neumann made claims that he convinced Rahm Emanuel to run for the presidency of the United States, used JPMorgan Chase CEO Jamie Dimon as his personal banker, and convinced Saudi prince Mohammed bin Salman to improve the standing of women in Saudi Arabia.
Personal life
Rebekah and Adam Neumann met in New York. She and Adam have five children. She is a cousin of actress and businesswoman Gwyneth Paltrow.
Rebekah Neumann Net Worth
WeWork cofounder Adam Neumann is stepping down as CEO, the company announced on Tuesday. Neumann will remain at WeWork as a non-executive chairman of the board.
The 9-year-old co-working startup publicly filed for its IPO in August as part of The We Company, which has been in turmoil since. The IPO has since been delayed.
Though the public IPO filing revealed that the company had a valuation of $47 billion at its last private round of funding, WeWork is now considering a valuation as low as $10 billion for its IPO, according to a report from Reuters in September.
Neumann sold and borrowed $700 million in transactions involving his shares in WeWork, The Wall Street Journal reported in July. Besides exercising his stock options and buying more WeWork shares, Neumann has also spent his money buying real estate and investing in startups, also according to the Wall Street Journal.
WeWork's public IPO filing discloses that Neumann did not take a salary in 2018 and was only paid $1 in 2017. Adam Neumann, WeWork's co-founder, and former-CEO have a net worth of $2.2 billion.
One of the first businesses he started was Krawlers, which sold baby clothes with knee pads."At the time, I was misguided and putting my energy into all the wrong places," Neumann told Business Insider.
After Neumann met his wife Rebekah, they lived an East Village studio "apartment smaller than this office," Neumann told Business Insider.
Neuman would go on to set his sights on a bigger and better real estate once WeWork became successful. Nine years later, WeWork has a $47 billion valuation. The company is under the We Company umbrella, which also includes Neumann's co-living venture, WeLive, and the "conscious entrepreneurial school" WeGrow.
Rebekah Neumann Image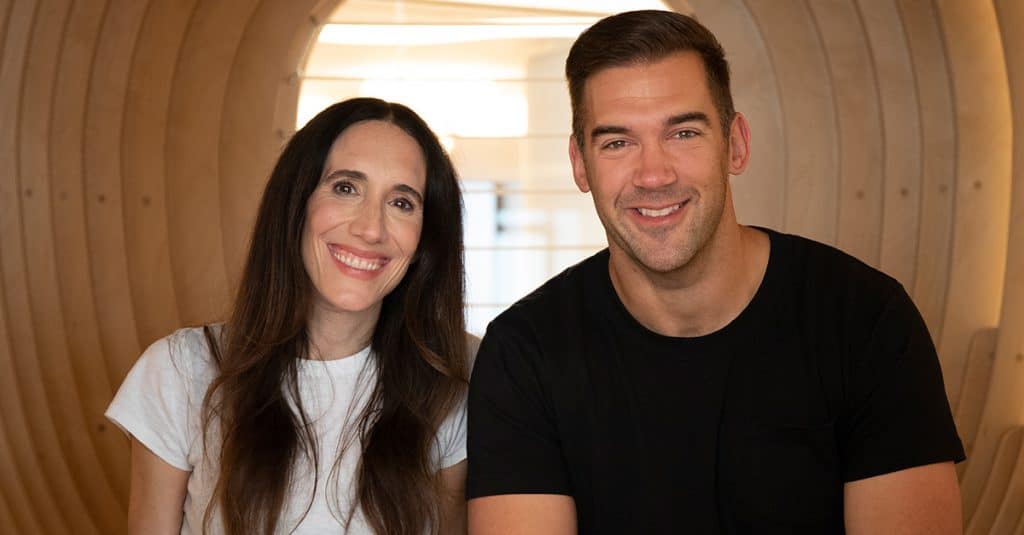 Rebekah Neumann Twitter