Robert Ballard Biography
Robert Ballard (Full name – Robert Duane Ballard) is a retired United States Navy officer and a professor of oceanography at the University of Rhode Island. He was born on June 30, 1942, in Wichita, Kansas, U.S. Ballard is most recognized for his work in underwater archaeology: maritime archaeology and archaeology of shipwrecks.
He is highly regarded for the discoveries of the wrecks of the RMS Titanic in 1985, the battleship Bismarck in 1989, and the aircraft carrier USS Yorktown in 1998. He also discovered the wreck of John F. Kennedy's PT-109 in 2002 and visited Biuku Gasa and Eroni Kumana, the pair who saved its crew. Ballard still leads ocean exploration on E/V Nautilus.
Robert Ballard Education
Ballard graduated from the University of California, Santa Barbara, with undergraduate degrees in chemistry and geology in 1965. He joined Sigma Alpha Epsilon fraternity, and also completed the US Army's ROTC program, giving him an Army officer's commission in Army Intelligence, while he was still a student in Santa Barbara, California.
Ballard's first graduate degree (MS, 1966) was in geophysics from the University of Hawaii's Institute of Geophysics where he trained porpoises and whales. After graduating, he returned to Andreas Rechnitzer's Ocean Systems Group at North American Aviation.
In 1967, Robert Ballard was called to active duty while he was working towards a Ph.D. in marine geology at the University of Southern California. While there, he was transferred from the Army into the US Navy as an oceanographer upon his request. The Navy assigned him as a liaison between the Office of Naval Research and the Woods Hole Oceanographic Institution in Woods Hole, Massachusetts.
Ballard received a Ph.D. in marine geology and geophysics at the University of Rhode Island in 1974, after he left active duty and entering into the Naval Reserve in 1970.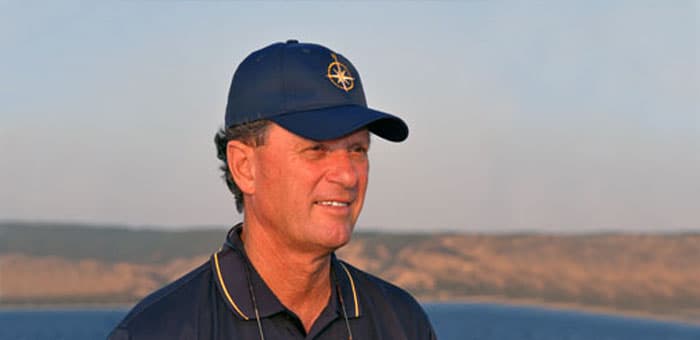 Robert Ballard's Photo
He was appointed a professor of oceanography in 2004 and currently serves at the University of Rhode Island's Graduate School of Oceanography as Director of the Institute for Archaeological Oceanography. In 2002, Ballard was the first speaker to give the Charles and Marie Fish Lecture in Oceanography at the University of Rhode Island.
Robert Ballard Expedition Amelia | Amelia Earhart
In July 2019, Ballard joined the search of the for the iconic lost pilot in the new National Geographic special Expedition Amelia. Amelia Earhart, the first female aviator to fly solo across the Atlantic, disappeared with her navigator Fred Noonan on July 2, 1937, as she was attempting a circumnavigational flight of the world. Radio transmissions and other evidence point to her plane going down somewhere in that area near Nikumaroro. This island is around the Phoenix Islands in the Western Pacific, about 1,700 nautical miles southwest of Honolulu.
Robert Ballard Titanic
Robert Ballard was aboard the French research ship Le Suroît, which was using the side-scan sonar SAR to search for the Titanic's wreck in the summer of 1985. He transferred onto a ship from Woods Hole, the R/V Knorr when the French ship was recalled. R/V Knorr was secretly financed by the U.S. Navy for undercover reconnaissance of the wreckage of two Navy nuclear-powered attack submarines, the USS Scorpion and the USS Thresher, which sank in the 1960s, and not for the Titanic.
Ballard had approached the Navy, back in 1982, about his new deep-sea underwater robot craft, the Argo, and his search for the Titanic. The Navy had no interest in financing the Titanic's search, however, they were interested in finding out what happened to their missing submarines and ultimately concluded that Argo was their best chance to do so.
The Navy agreed to finance Robert Ballard's Titanic search but on condition that he first searched for and investigated the two sunken submarines. He was tasked to find out the state of their nuclear reactors after being submerged for such a long time, and whether their radioactivity was impacting the environment. If time and funding permitted, he was free to use resources to hunt for the Titanic after the two missions were completed.
Robert Ballard had made a very important discovery when they searched for the two submarines, that they had imploded from the immense pressure at depth. Subsequently, the implosion had littered thousands of pieces of debris all over the ocean floor. This large trail of debris led them directly to both and made it significantly easier for them to locate them than if they were to search for the hulls directly.
With the above discovery in mind, Robert Ballard already knew that the Titanic imploded from pressure as well, much the same way the two submarines did, and concluded that it too must have also left a scattered debris trail. On August 22, 1985, Knorr arrived on-site and deployed Argo where the crew took shifts monitoring the video feed from Argo as it searched the ocean floor two miles below.
In the early morning hours of September 1, 1985, observers noted pockmarks, like small craters from impacts. Then debris was sighted and finally, a boiler was sighted, and soon after that, the hull was found.
Robert Ballard's team made a general search of the Titanic's exterior, noting its condition. They confirmed that that the stern was in far worse shape than the bow after the Titanic had split in two. Ballard's team did not have much time to explore, as Knorr was needed for other scientific pursuits, but his fame was now assured. He originally planned to keep the exact location a secret to prevent anyone from claiming prizes from it as he considered the site a cemetery, and therefore left it intact.
Ballard and his team returned on location onboard Atlantis II to make the first detailed study of the wreck on July 12, 1986. This time, he brought Alvin (camera) accompanied by Jason Junior, (a small remotely operated vehicle that could fit through small openings) to see into the ship's interior. The first dive encountered technical problems, but subsequent ones were far more successful and produced a detailed photographic record of the wreck's condition.
He published a book, Discovery Of The Titanic (Exploring The Greatest Of All Lost Ships), ISBN 0446513857 in 1988. Later, Robert Ballard recounted the specifics of the expedition for National Geographic in a video.
Robert Ballard Bismarck
Ballard and his team searched off the coast of France for the German Battleship Bismarck in 1989, using an ocean-crawling robot which was an even more daunting task. The 15,000-foot deep water in which it sank is 4,000 feet deeper than that where the Titanic sank. Robert Ballard purposed to determine whether it had been sunk by the British or was scuttled by its own crew. Personal tragedy struck him when his 21-year-old son, Todd, who had aided him in the search, was killed in a car accident three weeks after the expedition.
Robert Ballard Documentary | National Geographic
Ballard later published a book about the Bismarck quest, The Discovery of the Bismarck (1990). The discovery was also documented for National Geographic in a 1989 James Cameron video Search for the Battleship Bismarck which indicated that the ship had been damaged by torpedoes and shells from British ships.
The actual cause of the sinking, however, was sabotage of the underwater valves by the onboard crew, according to Robert Ballard, who said, "We found a hull that appears whole and relatively undamaged by the descent and impact". Filmmaker Cameron, however, said that his crew's examination of the wreckage indicated that the Bismarck would have sunk eventually even if it had not been scuttled.
Robert Ballard Age
Ballard was born on June 30, 1942, in Wichita, Kansas, USA. He is a distinguished marine archaeologist and professor of oceanography at the University of Rhode Island. Ballard is 77 years old as of 2019.
Robert Ballard Family
Ballard was born to a mother of German heritage and a father of British heritage on June 30, 1942, and grew up in Pacific Beach, San Diego, California. He has attributed his early interest in underwater exploration to reading the novel Twenty Thousand Leagues Under the Sea, living by the ocean in San Diego, and his fascination with the groundbreaking expeditions of the bathyscaphe Trieste.
Robert Ballard Wife | Children
Ballard married Marjorie Jacobsen in 1966, a medical receptionist and they had two sons, Todd and Douglas. However, the couple divorced in 1990. He then married Barbara Earle in January 1991 and they have two children, William and Emily.
Robert Ballard Son | Death
Ballard's son accompanied him on his expedition to discover the sunken German battleship, Bismarck. Just three weeks after the discovery, a personal tragedy struck him in July 1989 when his son passed away in a car accident at the age of 21. Todd Ballard and another young man, Charles Dalton, 19, of North Andover, were killed when their car went out of control and crashed. They were pronounced dead at the scene.
Robert Ballard Net Worth
Ballard was born in Wichita, Kansas in June 1942. He is a former United States Navy officer and a professor at the University of Rhode Island. Robert Ballard is also a professor of oceanography and has no doubt made a huge fortune from his career as a an oceanographer. He is estimated to have a net worth of $10 million.
Robert Ballard Quotes
I am really dedicated to understanding the planet/creature on which we live and know that means I must go beneath the sea to see 72 percent of what is going on.
Why are we ignoring the oceans? Why does NASA spend in one year what NOAA will spend in 1600 years? Why are we looking up? Why are we afraid of the ocean?
Everyone is an explorer. How could you possibly live your life looking at a door and not open it?
You can only inspire when you give people a new way of looking at the world in which they live.
Everything I'm going to present to you was not in my textbooks when I went to school … not even in my college textbooks. I'm a geophysicist, and [in] all my Earth science books when I was a student – I had to give the wrong answer to get an A.
Fifty percent of our country that we own, have all legal jurisdiction, have all rights to do whatever we want, lies beneath the sea and we have better maps of Mars than that 50 percent.
Fifty percent of the United States of America is underneath the ocean. And we have better maps of Mars than those areas.
Almost a quarter of our planet is a single mountain range and we didn't enter it until after Neil Armstrong and Buzz Aldrin went to the moon. So we went to the moon, played golf up there before we went to the largest feature on our own planet.
Robert Ballard Awards | Honors
Honorary Degree (Doctor of Science), 1988, by the University of Bath.
American Academy of Achievement's Golden Plate Award, 1990.

Kilby International Awards recipient in 1994.
U.S. Navy Memorial Foundation awarded Ballard its Lone Sailor Award for his naval service and his work on underwater archaeology, in 1996.
The Caird Medal of the National Maritime Museum in 2002.
Asteroid 11277 Ballard, discovered by Carolyn and Eugene Shoemaker at
Palomar Observatory, was named in his honor in 2002.
The National Humanities Medal for 2003.
Robert Ballard Books
Adventures In Ocean Exploration
Bright Shark
Collision With History
Explorations
Exploring Our Living Planet
Exploring the Bismarck
Exploring the Lusitania
Exploring the Titanic
Finding the Titanic
Finding the Titanic Level 4
Lost Liners
Mystery Of the Ancient Seafarers
Return To Midway
The Discovery Of the Bismarck
The Discovery Of the Titanic
The Discovery Of the Titantic
The Eternal Darkness
The Lost Ships Of Guadalcanal
The Lost Wreck Of the Isis
The Ocean Realm
Titanic
Robert Ballard FAQs.
How Old Is Robert Ballard
Ballard was born on June 30, 1942, in Wichita, Kansas,USA. He is 77 years old as of 2019.
What ships did Robert Ballard discover?
RMS Titanic in 1985.
German Battleship Bismarck in 1989.
The lost fleet of Guadalcanal.
John F. Kennedy's boat, PT-109.
What is Robert Ballard famous for? | Did Robert Ballard find the Titanic?
Discovering the wreck of the Titanic in 1985.
When did Robert Ballard find the Titanic?
1985.
Are bodies still in the Titanic?
1,500 people were killed in the Titanic disaster but only 340 bodies were recovered.
Robert Ballard Twitter