Roberto Baggio Biography
Roberto Baggio is an Italian retired professional footballer who mainly played as a second striker, or as an attacking midfielder for various teams including Juventus, A. C Milan, Inter Milan, Brescia, Bologna, Fiorentina, and Vicenza. He is well known for his curling free-kicks, dribbling skills, and goalscoring.
Roberto Baggio Early Life
He was born and raised in Caldogno, Veneto. Thus, he played for his hometown youth team, Caldogno, from when he was nine until he turned 12 years old. By the time he was aged 11, he had scored 45 goals and provided 20 assists in 26 matches, also scoring six goals in one match.
Baggio joined the Vicenza youth team at age 13 after Antonio Mora recognized his talent. He then began his professional career with the Vicenza senior team at age 15 after scoring 110 goals in 120 matches.
Roberto Baggio Career
The former footballer started out professionally with Vicenza Football Club in 1982. He scored his first goal with the team in the Coppa Italia Serie C in a 4–1 away win over Legnano. He left the club in 1985 with a shuttered right knee while attempting a slide tackle in a game against Rimini FC.
Fiorentina FC bought Baggio for £1.5 million after he left Vicenza in 1985. He helped his team qualify for a Coppa Italia quarter-final during the 1988–89 season. Besides, he led the club to the 1990 UEFA Cup Final, only to be defeated by Juventus, a team that he became part of in 1990 after he was purchased for £8 million.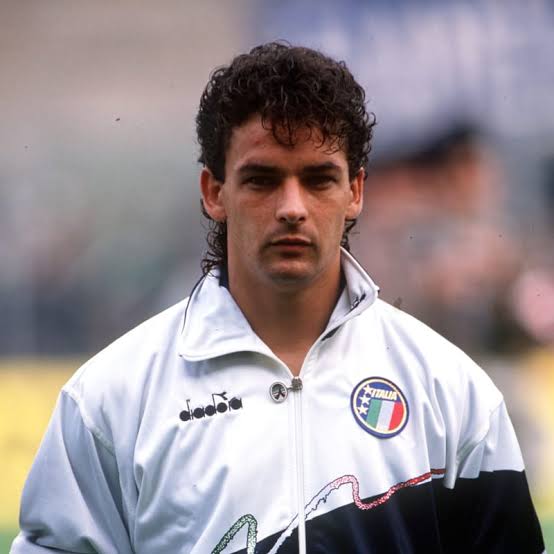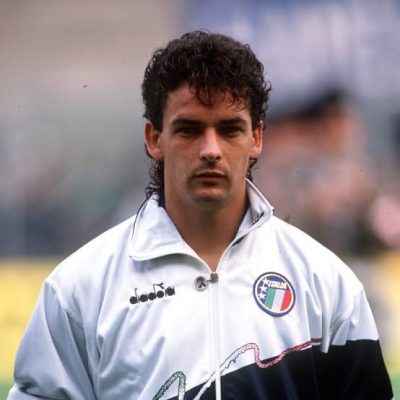 While playing for Juventus, Baggio was appointed team captain for the 1992–93 season. He also helped Juventus to the UEFA Cup final, winning the only European club trophy of his career.
He stayed for five seasons at Juventus, scoring 115 goals in 200 appearances. Despite the protests from Juventus fans, Baggio was sold to A.C. Milan for £6.8 million. Later on, in 1997, he transferred to Bologna FC.
After one year, he signed with Inter Milan Football Club where he was used scarcely and often as a substitute since the coach thought he was out of shape considering the number of injuries he has had.
Baggio became a free agent at age 33 and started playing with Brescia in 2000. He played his last career match on 16 May 2004 in a 4–2 loss against A.C. Milan. Internationally, the retired football player has appeared in 1990, 1994, and 1998 FIFA World Cup.
After his retirement from the field, Baggio became president of the technical sector of the Italian Football Federation (FIGC). He later resigned from the position stating the FIGC had ignored his ideas about improving the system and focusing on youth talent.
He is now eligible to coach Lega Pro teams, or work as vice-coach in Serie A and Serie B. Besides, he is also qualified to coach a professional Serie A club.
Roberto Baggio Age
Baggio was born on February 18, 1967, in Caldogno, Italy. He celebrates his birthday on February 18th every year.
Roberto Baggio Family
Parents
Baggio was born into the family of his father, Matilde, and his mother, Fiorindo Baggio, as the sixth born of eight children.
Siblings
He has 7 siblings. His younger brother, Eddy Baggio, was also a footballer who played as a striker. Eddy is now an Italian football manager.
Roberto Baggio Wife
He is married to his long-time girlfriend, Andreina Fabbi. The couple tied their knot in 1989 in a traditional Roman Catholic ceremony and together they are blessed with three children namely, Valentina, Mattia, and Leonardo.
Children
Baggio and his wife share three kids together. They have a daughter named Valentina Baggio who was born on 2nd December 1990. Their two sons, Mattia and Leonardo Baggio were born on 12th May 1994 and 3rd March 2005 respectively.
Roberto Baggio Body Measurements
Height: 1.74 meters
Weight: 73 kgs
Shoe Size: Not Available
Body Shape: Athletic
Hair Colour: Brown
Roberto Baggio Salary
There are no details showing what the former footballer makes annually or monthly, his salary figures will be updated as soon as they are available.
Roberto Baggio Net Worth
The award-winning footballer, Baggio, has an estimated net worth of $15 million which he has earned through his successful career as a professional footballer.
Roberto Baggio Religion
The former footballer was initially a Roman Catholic who converted to Buddhism after his career-threatening injury in 1985. He practices Nichiren Buddhism and is a member of the Soka Gakkai International Buddhist organization.
Roberto Baggio Fiorentina
In 1985, Baggio joined Fiorentina for £1.5 million. Despite initial injuries, during his time at the club, Baggio became extremely popular and is considered one of the best-ever players of the club. In his first season with the club, Fiorentina finished fifth during Serie A and reached the Coppa Italia semi-finals, with Baggio making his club debut at the tournament.
Fiorentina suffered relegation during the 1989–90 season but Baggio led the club to the 1990 UEFA Cup Final, only to be defeated by his future squad, Juventus. He scored 1 goal in 12 appearances in the competition on November 22, 1989, in the round of 16, a 1-0 home win over Dynamo Kyiv, from a penalty; this was his first goal in European competitions.
Roberto Baggio Juventus
In 1990, Baggio was sold for £ 8 million to Juventus, the then world record sale for a footballer. He inherited the shirt number 10, previously worn by Michel Platini.
During his five seasons at Juventus he scored 115 goals during 200 games; in 141 matches, 78 were scored in Serie A. Baggio is currently the ninth-highest goal scorer for Juventus in all competitions and together with Pietro Anastasi is the joint tenth-highest goal scorer for Juventus in Series A.
He is the sixth-highest goal scorer for Juventus in the Coppa Italia with 14 goals, and the fourth all-time goal scorer for Juventus in European and international competitions with 22 goals alongside Anastasi. He was named one of the club's 50 biggest legends in 2010.
Roberto Baggio A.C Milan
Baggio played for AC Milan from 1995-1997 where he was sold for £6.8 million, amidst several protests from Juventus fans. At the time, Baggio had been linked with Internazionale, Real Madrid and English Premier League club Manchester United and Blackburn Rovers.
While Baggio had initially struggled with injuries in Milan at the beginning of his first season, he returned to the starting line-up and was named the key penalty-taker. He helped Milan win the Serie A title, notably scoring a goal from a penalty in the title-deciding match against his former team Fiorentina.
Baggio finished the season with 10 goals in all competitions, in 34 games; 7 of his goals were scored in Series A, in 28 appearances, and he also provided 10 assists in Series A. He became one of six players with different teams to win the Scudetto in consecutive years, and the fans voted him the best player of the season, despite playing a more creative role.
Baggio scored 19 goals in 67 games in all competitions during his time in Milan; 12 of his goals were scored in Serie A, 51 appearances, 3 in Coppa Italia in 6 appearances, and 4 in European competitions in 10 appearances.
Roberto Baggio Inter Milan
Baggio signed with Inter Milan after the 1998 World Cup to play in the UEFA Champions League. It proved to be an unsuccessful decision, however, as Baggio struggled to gain playing time following injuries, disappointing results and several managerial changes throughout the season, and was used out of place as a winger.
During the 1998–99 season, he scored 5 goals and provided 10 assists in 23 appearances, as Inter finished eighth, missing out on a European spot. He led Inter to a semi-final in Coppa Italia, losing to Parma champions.
Baggio's former manager at Juventus, Marcello Lippi, was appointed as the new coach of Inter during the 1999–2000 season. Lippi didn't favor Baggio and for most of the season left him out of the team, saying that Baggio was out of shape.
Given his limited playing time, Baggio somehow managed to achieve a number of important goals to help Inter finish fourth. His last major contribution to Inter was scoring two memorable goals against Parma in the play-off match for the last remaining position in the Champions League which Inter won 3–1.
Roberto Baggio Jersey
To get yourself a Baggio jersey, simply click here.
Roberto Baggio Awards and Achievement
His legacy ranges from playing football to coaching upcoming teams. He is undoubtedly a fine footballer as outlined in the following awards and accomplishments:
» Golden Foot Award (twice)
» Man of Peace Award
» Guerin d'Oro Award (twice)
» Bravo Award
» FIFA World Player of the Year Award
» Onze d'Or Award
» World Soccer Player of the Year Award
» Onze d'Argent Award
» Serie A Footballer of the Year awards-nominee
» Man of Peace title
Frequently Asked Questions About Roberto Baggio
Who is R. Baggio?
Roberto is an accomplished former Italian footballer who gained extensive recognition for his curling free-kicks, dribbling skills, and goalscoring.
How old is R. Baggio?
Roberto is an Italian national born on 18th February 1967, in Caldogno, Italy.
How tall is R. Baggio?
Roberto stands at a height of 1.74 meters.
Is R. Baggio married?
Yes, he is married to Andreina Fabbi. They got married in 1989 and together they have three children.
How much is R. Baggio worth?
Roberto has an approximate net worth of $15 million. This amount has been accrued from his leading roles in the football world.
How much does R. Baggio make?
Not Available.
Where does R. Baggio live?
Because of security reasons, Roberto has not shared his precise location of residence. We will immediately update this information if we get the location and images of his house.
Is R. Baggio dead or alive?
Roberto is alive and in good health. There have been no reports of him being sick or having any health-related issues.
Where is R. Baggio now?
His UEFA A License makes him eligible to coach Lega Pro teams or work as vice-coach in Serie A and Serie B. Besides, his 1 UEFA Pro Coaching Licence allows him to coach a professional Serie A club.
Roberto Baggio Social Media Accounts
Instagram
Twitter