Ruth Kadiri Biography
Ruth Kadiri is a Nigerian actress and screenwriter who rose to fame after starring in Boy's Cot alongside Nonso Diobi, Jim Iyke, and Mike Ezuruonye. Apart from being an excellent writer, the beautiful actress is also a philanthropist and has her own foundation known as 'Ruth Kadiri Kids' aiming at helping the less privileged children to achieve their goals through financial donations.
She is a graduate of Mass communication from the University of Lagos and Business Administration from Yaba College Of Technology. As a screenwriter, she has written and co-written several movies some of which include: Matters Arising, Heart of a Fighter, Ladies Men, Sincerity, First Class, Over the Edge. Ruth went on to produce films such as Matters Arising, Over the Edge, Somebody Lied and her latest work Memory Lane which deals with the issue of lies and deceit.
Ruth Kadiri Age
She is 31 years old as of 2019. Born on March 24, 1988, in Benin City, Edo State, Nigeria. She celebrates her birthday on 24th March every year.
Ruth Kadiri Early Life
The curvaceous actress was born on 24th March 1988 in Benin City, Edo State, Nigeria. She came from a well-off family and spent most of her time with her mother and younger sister since her father was living outside the country.
Ruth attended the University of Lagos and graduated with a Bachelors Degree in Mass Communication and Business Administration from Yaba College of Technology.
Kadiri once talked about her university experience in an interview when a female lecturer tried to lure her into lesbianism which she rejected. Ruth confessed in an interview that she rented an apartment when she clocked 18 because all she ever wanted was to be successful and independent.
Ruth Kadiri Family
The actress is from Edo State. She is the first child in her family and has a younger sister. According to one of her interviews, she used to live with her mother and sister, while her father lived outside Nigeria.
Ruth Kadiri Husband
She reportedly has a boyfriend, a popular yahoo boy who shuttles between Nigeria and London. He is married and has kids in London and his wife is fully aware of the relationship with the actress.
At one point, she dated Nollywood producer Stanley Ebonine, but the two soon drifted apart. The Nigerian actress got engaged to her long-time lover after he popped the question at their Christmas dinner date in Sweden in 2017. The movie star took to her gram to announce the joyful tidings.
Ruth Kadiri Married
In an interview, Ruth Kadiri disclosed that she has no control over when she would meet the right person or get married but would love to raise a family in the right way.
She said, "There are certain things we don't have control over and finding the right partner is one of them. You don't decide when you find the right person, so wherever you find yourself at whatever point in life, it's important to be happy at that stage."
"Of course I wanna have kids, I wanna have a family and I wanna do it right, so as an individual, I'm preparing myself for that phase for when it eventually comes but for now I'm just working hard and trying to be happy."
Ruth Kadiri Baby
She has a baby girl—Reign Nwachinemelu Ezerika, that was born on 26 August 2019.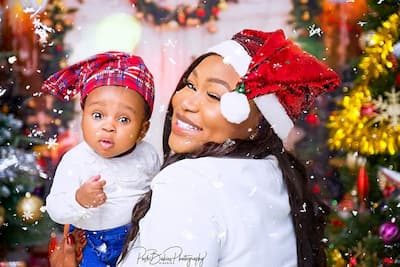 Ruth Kadiri reportedly welcomes first child
It appears congratulations are in order for top Nollywood filmmaker and prolific actress, Ruth Kadiri, as she is believed to have put to birth on August 21, 2019.
According to blogger, Linda Ikeji, the actress has welcomed a baby with her husband and they are both doing very fine. The sex of the baby is not known yet as she hasn't posted any photo of the baby on her social media page but we promise to keep you guys posted as the story develops.
Ruth Kadiri Body Measurements
Full Name: Ruth Kadiri
Date of Birth: March 24, 1988
Place of Birth: Benin City, Edo State, Nigeria
Birthday: 24th March.
Nationality: Nigerian
Fathers Name: Desmond Kadiri
Mothers Name: Not known
Siblings: has a younger sister
Marital Status: married
Children/ Kids: one child
Height/ How tall?: Not known
Weight: Under review
Ruth Kadiri Career
Ruth began by writing scripts back in secondary school because she loved writing more than acting.
But she soon discovered that both writing scripts and acting go hand in hand, during her first audition at Wale Adenuga Studios she met Victor Eze, the owner of a writing school. Ruth was determined to perfect her writing skills and attended the school. Later on, she wrote her first script titled 'Wild and Dirty', which kick-started her career as a screenwriter. Soon, she also started acting in the movies she had written, and things went on from there.
In an interview, the actress revealed that Nollywood has taught her to be patient and to understand that people's destinies are different. Also, she has learned to understand that not everybody will appreciate your style, not everybody will understand where you are coming from but all you need as a person is, 'focus' because the easiest thing to do is to get distracted. According to Ruth, it is very easy to follow the trend but if you have a style and you are able to stick to it, as long as you know that you are doing the right thing, you will get to where you desire.
The actress has featured in close to a hundred movies. She has written and co-written several movies, some of which she has featured in. These include Matters Arising, Heart of a Fighter, Ladies Men, Sincerity, First Class, and Over the Edge.
Ruth Kadiri Net Worth
She has an approximate net worth of $300,000 dollars.
Ruth is also a philanthropist.
She launched her own foundation called Ruth Kadiri Kids with an aim of helping the underprivileged children to achieve their goals and dreams through financial donations and inspirational lectures.
Actress Ruth Kadiri shares romantic video of herself playing with hubby
Actress Ruth Kadiri recently shared a video of herself with her hubby on Instagram. In the video, the lady leaned against her husband whose face was hidden and talked about how she had gone through a crazy day. She then asked her husband if they could order French food.
In response, he said no. Ruth who did not like his reply teased him playfully in an attempt to change his mind. In fact, she bit into his flesh and cooed at him. In reaction, her husband playfully told her not to show her craziness to the whole world.
Actress Ruth Kadiri shares the first photo of her cute newborn baby
Popular Nigerian actress Ruth Kadiri, who welcomed her first child on Monday, August 26, has finally revealed a photo of her baby girl online. The actress showed off her baby girl's beautiful face. In the photo, it could be seen that the beautiful baby girl, who was born at a hospital in Sweden, was sleeping when the image was captured.
The doting new mother also revealed the name of her baby girl as Reign Nwachinemelu Ezerika. Kadiri noted that she is not the perfect girl, but she was blessed with the perfect gift at this time in her life.
Ruth Kadiri Movies
Ruth is not only an actress but also a producer and screenwriter. she has written, produced and starred in many movies. Here are just a few of her most prominent works:
» Breath of Love
» Change of Ownership
» Deceptive Heart
» Heart of a Fighter
» Honeymoon guys
» Internet Hustlers
» Ladies Gang
» Limpopo Chicks
» Mad Couple
» Matters Arising
» Mercy the Bus Driver
» Negative Influence
» Over the Edge
» Somebody Lied
» Stolen Lives
» The Patient Girl
» War for Limpopo
» Yankee Students
Frequently Asked Questions About Ruth Kadiri
Who is Ruth Kadiri?
She is one of Nigerian most influential Nollywood entertainer.
How old is Ruth Kadiri?
She is 31 years old. Born on March 24, 1988, in Benin City, Edo State, Nigeria.
How tall is Ruth Kadiri?
She has not shared her height with the public. Her height will be listed once we have it from a credible source.
Is Ruth Kadiri married?
She is married to her lovely husband Ezerika. They got married in November 2018 and together they have one daughter.
How much is Ruth Kadiri worth?
She has an approximate net worth of $300,000 dollars. This amount has been accrued from her leading roles in the acting industry.
How much does Ruth Kadiri make?
No clear details on her total earnings, to be updated as soon as the information is available.
Where does Ruth Kadiri live?
She lives in Nigeria, we shall upload pictures of her house as soon as we have them.
Is Ruth Kadiri dead or alive?
Ruth Kadiri is still alive and in good health.
Where is Ruth Kadiri now?
She is pursuing her career as an actress, an active participant in the creative entertainment industry, she is a cast member of the 'Desperation' a movie that was recently released.
Ruth Kadiri Interview
Source: Punch Nigeria
Has it always been your dream to become an actress?
Ruth Kadiri: My passion for acting started in the church, and that is why I see my career as an obligation to God. I started writing in my secondary school days before I began to attend auditions for movie roles. I can still remember my first audition; it was at the Wale Adenuga Studios where I later met a friend, Victor Eze, who had a writing school. I attended school and graduated.
I wrote my first script, 'Wild and Dirty,' and after that, I continued to write some more till I started getting roles in movies that adapted my own scripts. That was how acting started for me. I had my first major breakthrough when I starred in, 'Boy's Cot,' which featured acts like Jim Iyke, Nonso Diobi, Mike Ezerouye, and Uche Jombo. It was a very great start for me and since then, I have never looked back.
What were some of the challenges you faced while building your career?
Ruth Kadiri: Like every other profession, starting up always has its challenges. However, I was determined and focused. For me, it was simply about making it in life and being successful. So I had to cross every obstacle that came my way with my head high. Thank God I passed through all the challenges and I proved to myself that I deserve to be successful.
Has your career influenced your style?
Ruth Kadiri: Definitely, I would say yes. My career, to a large extent, has influenced my style. Although my present style has always been what I rock, being a role model definitely also has a part to play in it. I cannot attempt to try some styles because I consider what people would think of me as a role model. Constantly being in the public glare does not leave room to be daring when it comes to fashion.
Thinking back, how would you describe your childhood?
Ruth Kadiri: I grew up like every normal kid; though far from being born with a silver spoon. While growing up, my greatest asset was hope.
I learned things the hard way as a child, having great and early experiences, giving clearer understanding of the struggles one has to go through as a child hoping to become someone in life, a lot of obstacles, discriminations, and rejections, high shouldered responsibilities but I thank God for what I am today and what the future holds, all challenges I faced, helped me become the person I am today.
Ruth Kadiri Baby Father
---
We endeavor to keep our content True, Accurate, Correct, Original and Up to Date.
If you believe that any information in this article is Incorrect, Incomplete, Plagiarised, violates your Copyright right or you want to propose an update, please send us an email to informationcradle@gmail.com indicating the proposed changes and the content URL. Provide as much information as you can and we promise to take corrective measures to the best of our abilities.
---