Sabina Wanjiru Chege Biography
Sabina Chege is a Kenyan politician currently working as a Women's Representative for Murang'a County.
Chege was elected to that position in March 2013 on The National Alliance (TNA) political party ticket.
Sabina is a coalition member of the Jubilee Alliance.
Chege is the Chairperson of the Parliamentary Committee on Education, in the Parliament of Kenya.
Sabina Wanjiru Chege Age
Chege was born on August 10, 1978, in Murang'a County, Central Province, Kenya.
Sabina Wanjiru Chege Education Background
Undergraduate Student of University of Nairobi(Bachelor of Education)
Graduate Student of University of Nairobi (MA (Communication))
Secondary School Student of Mugoiri Girls High School
Primary School Student Kinyona Primary School
Primary School Student of Matu Primary School
Sabina Wanjiru Chege Political Background
Started 10th March 2013 : Women's representative for Murang'a
Started 13th February 2013: Coalition Member of Jubilee Alliance
Started 8th February 2013: Member of The National Alliance (TNA)
Sabina Chege Job History
She has been an actress
Business Development Manager of World space Africa
Radio presenter of Kameme FM
Founder & Director of The Sabina Wanjiru Foundation
controller of commercial radio services of Kenya Broadcasting Corporation (KBC)
Radio presenter of Coro FM (breakfast show)
Sabina Chege Committee Membership
Chairperson of the Parliamentary Committee on Education, in the Parliament of Kenya.
Sabina Chege Family | Children
Sabina Wanjiru Chege is a mother of three children
Sabina Wanjiru Chege – Social Life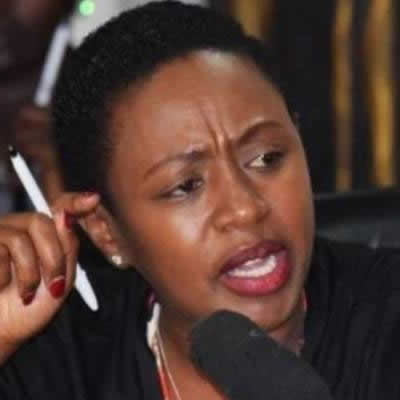 Sabina Chege has featured in the song 'Njata Yakwa' by John De' Matthew.
Sabina Chege featured on Television Show on KBC TV Show which was know as Tausi. She acted as Rehema.
Sabina Chege Contacts
Email : info@sabinawanjiruchege.com
Sabina Chege Husband, Marriage, Children and Rise to the Top
She is being accused of husband snatching, an allegation that has been rubbished by the man's close family members.
Sabina Chege Marriage
Sabina married Chege in an all-white wedding on September 7, 1996, at Our Lady Queen of Peace Catholic Church in South B, Nairobi. Sabina's family source clarified that she recently married the former dairy board boss in a traditional ceremony making Sabina an 'official' wife.
In what is seen as a step to stake her claim, Sabina paraded Maina as her hubby when both appeared to pick her certificate from the Murang'a Returning Officer after she won the Woman Rep seat. Sabina Chege, who chaired the National Assembly Education Committee in the last Parliament, even told her supporters that Maina was her husband. The two have one child together, but the first family claims that Maina is spending more time with Sabina – a mother of three – a situation that worries them.
Sabina Chege Husband
Before joining politics, Sabina, now 39, became a household name as an actress in the popular television drama series, Tausi, in which she played the role of Rehema before becoming a radio presenter with Coro FM. Interestingly, before Sabina hooked up with Maina, she was linked to her first flame, Kikuyu Benga musician John De'Mathew (John Ndemethiu).
The maestro even serenaded her in his hit single, Njata Yakwa, now a popular mugithi song, in whose video Sabina appears, dancing and holding the musician, as he croons, "You are my star. My happiness is only with you." Sabina Chege is said to have met Maina in 2012 in the run-up to the 2013 General Election when she was looking for a BMW car to buy.
But a close friend of the first wife told The Nairobi and that there is more than meets the eye. "We are still shocked. Sabina initially wanted to buy a car and my husband's friend offered her a BMW which she agreed to pay for in installments," said our source.
The source claims that Sabina Chege could not clear the payments and when auctioneers came to repossess the car, she called a meeting to sort out the matter. "After the meeting, Maina became Sabina's lead campaigner and a close friend," said the source.
But Maina's family is defending Sabina, saying she is neither a husband snatcher nor secret lover. The source clarified that he attended the traditional wedding between Sabina and Maina in 2015.
"Sabina Chege is legally married to him and it was an auspicious occasion. Of course, when you marry a second wife, you don't expect the first wife to be happy. The first wife can't also be invited to the traditional wedding of the second wife. Maina wasn't happy in his marriage and he got a second wife. It is allowed in African culture and there is nothing wrong with that," said our source.He further adds that Maina provides for his family, and that his wife is just jealous. "She even started inviting pastors to her house for all-night prayers. No man can be comfortable with such an arrangement. The whole world should know that our son is very happy with Sabina, and our family loves and recognises her as a wife. Sabina's children and Maina's children know each other and frequently meet in the village. They are very close."
Sabina attended Mugoiri Girls before joining the University of Nairobi for a bachelor's degree in education. In 2005, she joined World Space Africa as regional manager and in 2007, she was employed at KBC as programmes controller.
Sabina Wanjiru Chege Video
Lesuuda condoles with Sabina Chege after DeMatthew's death
With more than 50 albums to his name, deceased Benga musician John Ng'ang'a, alias John DeMathew ranked among the most influential artistes from Central Kenya, judging by his huge fan base and by airplay his songs have enjoyed on local radio stations.
Among DeMathew's hits that have enjoyed massive airplay include Property, Ni Wathire Ukindiga, Nengereria, Mene Mene Tekel and Njata Yakwa in which he featured Murang'a County Woman Representative Sabina Wanjiru Chege as the video vixen.
In the video, Sabina is seen dancing and holding the Benga maestro as he croons, "You are my star. My happiness is only with you."
At around the time the video was released, rumours were rife Sabina and the musician was an item, although they never declared it publicly.
Following DeMathew's death in a road accident on Sunday night at Blue Post in Thika, the rumours have surfaced yet again after Samburu West MP Naisula Lesuuda sent a message of condolences to Sabina.
CONDOLENCES
"Sincere condolences to the family, friends and fans of musician John Demathew whom I met at our #EmbraceInMuranga meeting and also danced to some of his music in the past. A great loss for Murang'a and Kenya. Rest in peace. Sabina Chege is comforted all of you. God Bless," Lesuuda wrote on Twitter.
It is believed Sabina and DeMatthew parted ways some time back and she got married to Maina Gathito, the former Kenya Dairy Board boss after meeting him in 2012. In 2015 the two solemnized their union at a traditional wedding.
Before joining politics, Sabina, now 39, became a household name as an actress in the popular TV drama series, Tausi, in which she played the role of Rehema before becoming a radio presenter with Coro FM.
Source: nairobinews
---
More about Kenya
Kenya is a land of contrast – highlands and plains; wet and dry; rural and urban and people of all races. This offers many opportunities to citizens, foreigners, and visitors alike.
Here is more information about Kenya …
Welcome to Kenya. Welcome to Opportunity.
---
Other Famous People in Kenya