Samidoh Biography
Samuel Muchoki Ndirangu is a famous Kenyan Kikuyu musician. He rose to fame in 2016 when he released his first single Ndiri Mutwi Mwega. He is likewise a serving police officer after joining the services in 2013, and graduating in 2014.
He then released several other songs where some of his famous songs include Kairitu Gakwa, Tuhii Twitu, Riari Itheru, Ihoya Ria Samidoh, Wendo Na Urimu, and others. His songs have continued to top the Kikuyu music charts since he shot to fame. He is also recognized for being involved with acts such as Joyce Wa Mama.

---
10 Quick Facts About Samidoh
Name: Samuel Muchoki Ndirangu
Age: 32 Years (2022)
Birthday: 1 November
Zodiac Sign: Scorpio
Height: Average
Nationality: Kenyan
Occupation: Musician
Marital Status: Married
Salary: $45.2K
Net worth: Not Available
---
Samidoh Age
Samidoh is 32 years old as of 2022, he was born on 1 November 1990, in Subukia, Nakuru County, Kenya. He celebrates his birthday on 1 November every year, and his birth sign is Scorpio.
Samidoh Height
Samidoh stands at an average height. He appears to be quite tall in stature if his photos, relative to his surroundings, are anything to go by. However, details regarding his actual height and other body measurements are currently not publicly available. We will update this section when the information is available.
Samidoh Education
Samidoh studied at Oljororok Primary School for his formative education and nonetheless dropped out when he had to offer his hands in supporting the family's basic needs. He then completed the level at Kieni Primary School. He was afterward admitted to Kieni Secondary School where he concluded his Secondary studies. He afterward got into Kenya Polytechnic University to study Business Information Technology.
Tertiary / University
Date: Not Known
Education Institution: Kenya Polytechnic University
Qualification: Business Information Technology
Secondary Education
Date: Not Known
Education Institution: Kieni Secondary School
Qualification: KCSE
Primary Education
Date: Not Known
Education Institution: Oljororok Primary School, Kieni Primary School
Qualification: KCPE
Samidoh Family
Samidoh was born into a humble family in Subukia, Nakuru County. He is the third born in a family of six boys. His father passed when he was three years old and briefly, after his mother and five brothers were kicked from their Subukia home by their father's brothers which led them to settle in Nyandarua County. His mother was a peasant farmer, and she engaged in lowly jobs to educate, feed, and clothe the children.
Shortly after he joined to form one Muchoki lost his mother and his life was actually affected by his as he sings in his song 'Niwathire Naihenya'.
After completing form four Samidoh left his village and came to Nairobi, where he joined his elder brother who was a drummer for Kamande Wa Kioi's band, he then settled in as a backup singer for Kamande wa Kioi. After the gig was over and things were not working out Samidoh chose to study but still performed periodically.
Afterward, Samidoh joined the Kenya Administration Police, and got posted in Daadab from where he established his music career with his single "Ndire Mutwe". Samidoh has again launched into gospel with his latest release 'Murata Wa Ngai' which has over 850k views on YouTube.
Samidoh Wife
Samidoh is married to a lovely and supportive wife, Edith Muchoki Nderitu. He has only dated one lady in his whole life. The duo met in secondary school when Edith was transferred to join Oljororok Secondary School. Edith joined Form Three, while Samidoh was in Form Four. The pair is blessed with two children namely; Shirleen and Michael. He further has another son with Karen Nyamu.
The two have lately been in a stormy patch after Samidoh admitted to impregnating lawyer and politician Karen Nyamu and unfortunately, on the confession day, Edith was involved in a road accident though made it out alive. The aggressive people and those who go for what they want will definitely turn out successful as confirmed by him.
On his Instagram page, Samidoh newly uploaded his photo alongside his wife escorted by a very long post. The post saw diverse reactions from his fans, saying various feelings. In the post, he confessed to what he did and asked for forgiveness from his family and fans.
Samidoh Children
Samidoh and his wife, Edith are blessed with a daughter named Shirleen and a son named Michael. Samidoh additionally has another son with Karen Nyamu.
Samidoh Salary
Samidoh receives an income of $45.2K as of 2022 from his youtube channel which has over 366k subscribers. It is an approximate forecast and could vary in the range between $44.7K – $12.5K.
Samidoh Net Worth
Samidoh's net worth is publicly not available. His primary source of income is his career as a Musician. Through his various sources of income, we believe that he has been able to accumulate a good net worth but prefers to keep it private. We will update this section once this information is available.
Samidoh Measurements and Facts
Here are some interesting facts and body measurements you should know about Samidoh.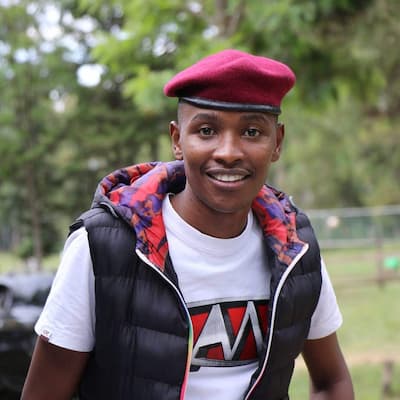 Samidoh Wiki
Full Names: Samuel Muchoki Ndirangu
Popular As: Samidoh
Gender: Male
Occupation / Profession: Musician
Nationality: Kenyan
Race / Ethnicity: Kikuyu
Religion: Christian
Sexual Orientation: Straight
Samidoh Birthday
Age / How Old?: 32 Years (2022)
Zodiac Sign: Scorpio
Date of Birth: 1 November 1990
Place of Birth: Subukia, Nakuru County, Kenya
Birthday: 1 November
Samidoh Body Measurements
Height / How Tall?: Average
Weight: Moderate
Samidoh Family and Relationship
Father (Dad): Not Known
Mother: Not Known
Siblings (Brothers and Sisters): Five
Marital Status: Married
Wife/ Spouse: Edith Muchoki Nderitu
Children: Shirleen, Michael
Samidoh Net Worth and Salary
Net Worth: Not Available
Salary: $45.2K
Source of Income: Actor
Samidoh And Joyce Wa Mama
Samidoh came together with Benga star Joyce Wa Mama to work on the mega-hit Wendo Wi Cama this song was released in May 2019 and was trending at number 1 on YouTube for about a week, so far it has over 2 million views on the video-sharing platform. The two have also gone on shows together to perform their song 'Wendo Wi Cama'
Samidoh Accident
Popular Mugithi musician was compelled to withdraw his performance which was designed to take place in Spokane city in Washington State on Friday night. The happenings got the musician, his friends, and the host in surprise after he was involved in an accident in the morning hours of Friday, November 4.
Samidoh voiced his dissatisfaction in the turn of events in a post reporting to his fans that he was hurried to the emergency room. He did not reveal which hospital he was admitted to. The musician stated following the accident he would be unable to fly to the venue and that the show had been postponed to a later date.
Samidoh Songs
Kairitu Gakwa
Murata Wa Ngai
Urumwe Mbere
Ndiri Mutwe
Niwe Ndarathimiirwo
Kanua Njohi Ini
Ihinda Ringi
Wendo Maguta
Riari Itheru
Tuhii Twitu
Mumbi
Ihoya Ria Samidoh
Niwathire Naihenya
Wendo Na Urimu
Ihuha-Wendo wi Cama
Mwago witú Remix
Wendo Wi Cama
Samidoh Live on Stage
Nairobi City
Samidoh Police
Samidoh is an Administration Police (AP), He joined the services in 2013 and graduated after 15 months in 2014, when he was posted in Eastleigh, then in Mpeketoni for about three months and later to Daadab where he stayed for about 6 years. He is still an officer and is not planning on quitting any time soon.
Samidoh Secret To Success | Interview
Samidoh reveals that despite the fact that he has not been in Kikuyu music adequately long to earn him the sort of excellent achievement that he prides in today, it hasn't been that easy for him and there have been many ups and downs for him throughout his career
"I can reveal to you that most people just came to catch wind of me in 2016 in the wake of discharging my first collection 'Ndiri Mutwe Mwega' (I am Mad). In any case, I have actually been in and out of this industry since 2009 in the wake of finishing secondary school the earlier year," He disclosed to Inooro FM's Jeff Kuria in an ongoing meeting.
Samuel Muchoki a vocational Administration Police official now situated in Athi River, adds that his adventure to music fame was not 'sudden' as it included ups and downs. Some of the things that have helped sam with his journey to where he is now include;
1. Catchy musical themes
The 'Murata Wa Ngai' (Friend of God) singer, says that when composing the songs, he likes to focus on themes that he knows are popular with his target audience and will reflet well with what is happening in the society.
"This kind of focus blended with some artistic creativity often doesn't end badly for the artist. For instance, themes like love are things that will never fail to arouse interest among human beings," he notes.
2. Humility
When you allow yourself to get drunk with fame and money, Samuel warns, your downfall becomes a matter of when and not if.
As such, Muchoki who has vowed to continue working as a policeman for the next foreseeable future is reluctant and id not willing to quit anytime soon, says humility before God and people will bring you unmeasured success.
3. Patience
With all his three consecutive albums being really successful, the Subukia-born artiste says that these are fruits of patience more than anything else.
Frequently Asked Questions About Samidoh
Who is Samidoh?
Samuel Muchoki Ndirangu is a famous Kenyan Kikuyu musician. He rose to fame in 2016 when he released his first single Ndiri Mutwi Mwega. He is likewise a serving police officer after joining the services in 2013, and graduating in 2014.
How old is Samidoh?
Samidoh is a Kenyan national born on 1 November 1990, in Subukia, Nakuru County, Kenya.
How tall is Sam?
Samidoh stands at an average height, he has not shared his height with the public. His height will be listed once we have it from a credible source.
Is Samidoh Married?
Yes, heis married to a lovely and supportive wife, Edith Muchoki Nderitu.
How much is Sam Worth?
Samidoh has not yet revealed his net worth. We will update this section when we get and verify information about the wealth and properties under his name.
How much does Sam make?
Samidoh receives an income of $45.2K as of 2022 from his youtube channel which has over 366k subscribers.
Where does Sam Live?
Sam lives with his family in Kahawa West, Nairobi, Kenya, we shall upload pictures of his house as soon as we have them.
Is Sam dead or alive?
Samidoh is alive and in good health. There have been no reports of him being sick or having any health-related issues.
Where is Sam now?
Samidoh is and has been producing music since 2009, having his/her last music released on YouTube on 2 May 2022. Watch and sing the lyrics of his latest release below.
Samidoh Contacts
Related Biographies 
You may also like to read the Bio, Career, Family, Relationship,  Body measurements, Net worth, Achievements, and more about:
More about Kenya
Kenya is a land of contrast – highlands and plains; wet and dry; rural and urban and people of all races. This offers many opportunities to citizens, foreigners, and visitors alike.
Here is more information about Kenya …
Welcome to Kenya. Welcome to Opportunity.