Sean Giambrone Biography
Sean Giambrone is an American voice actor and actor known for his roles as Adam Goldberg in the sitcom The Goldbergs, and Ron Stoppable in the Disney Channel live-action version of Kim Possible. In his career as a voice actor, he provided his voice for character Jeff Randell in Cartoon Network Show Clarence and Russell in Russell Madness. He started his acting career at the age of 9 appearing in TV Commercials. He made his debut in 2012 appearing in the film "I Heart Shakey" that opened doors to other films and television shows. He graduated from Maine South High School and loves playing football and basketball.
Sean Giambrone Age
Giambrone was born in the year 1999 30th May. He is 19 years old as of 2018.
Sean Giambrone Family
Giambrone was born in Michigan to his parents David Giambrone who is of Italian descent and Vonda Giambrone who is of German descent. He was brought up together with his family Luke Giambrone. His family moved to Parkridge Illinois. Due to his career, he splits his time between Los Angeles and Parkridge.
Sean Giambrone Career
His acting career took off at the age of 9, starring in television commercials for McDonald's and Friendly's Restaurants.among others. He had his first role as an Afro Boy in the film "I Heart Shakey". In 2013 September he took the character of Adam Goldberg, the youngest child of Wendi McLendon-Covey's character Beverly and Jeff Garlin's character Murray in the ABC comedy series The Goldbergs. After the first season, the show was renewed for a second season. The show is in its sixth season in 2019. Giambrone later joined the voice cast of animated series Clarence in February 2014, which aired on Cartoon Network. He provided the voice of Jeff, friend to the title character Clarence. He also provided the voice of Russell a bull terrier in film Russell Madness and appeared in R.L. Stine's The Haunting Hour.
Sean Giambrone Net Worth
There is no information about how much Giambrone makes since his salary and net worth are under review.
Sean Giambrone Kim Possible 2019 Film
Giambrone stars in film Kim Possible as Ron Stoppable alongside Kim Possible. Kim and Ron join a new school and become friends with Athena. Athena becomes the new member of the Team Possible under Kim's guidance. Drakken and Shego resurface in Middleton and its upon the team to stop them.
Sean Giambrone Movies
| | | |
| --- | --- | --- |
| Year | Title | Role |
| 2019 | Kim Possible | Ron Stoppable |
| 2018 | Ralph Breaks the Internet | eBoy |
| 2017 | The Emoji Movie | Travis |
| 2015 | Russell Madness | Russell |
| 2015 | Mark & Russell's Wild Ride | Russell |
| 2012 | I Heart Shakey | Toledo Kid #3 (Afro Boy) |
Sean Giambrone TV Shows
| | | |
| --- | --- | --- |
| Year | Title | Role |
| 2020 | Solar Opposites | Yumyulack (voice) |
| 2018 | Big Hero 6: The Series | Richardson Mole (voice) |
| 2018 | Adventure Time | Shermy (voice) |
| 2014–2018 | Clarence | Jeff Randell (voice) |
| 2014 | R. L. Stine's The Haunting Hour: The Series | Sean |
| 2013–present | The Goldbergs | Adam Goldberg |
Sean Giambrone Emoji Movie
Giambrone plays Travis in The Emoji Movie where Gene the main character sets out on a journey to be as normal as the other emojis since he is the only one with different types of expressions.
Sean Giambrone Photos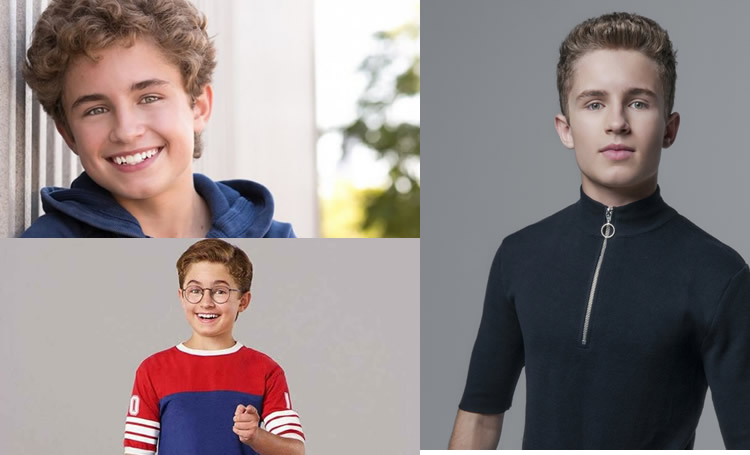 Sean Giambrone Youtube
https://www.youtube.com/channel/UCsfEgGcpgxQSAyHpXarkCpg/featured
Sean Giambrone Twitter
Sean Giambrone Instagram
Sean Giambrone Interview
Source: Young Entertainment Mag
Young Entertainment Mag: Tell us about the fictional Adam. What makes him tick, what motivates him? And tell us about the new season (Season 3). What's coming up?
Sean Giambrone: Adam is a guy who really likes to have fun and what he finds most fun is annoying his family and getting it on video. Also, he loves to live in his imagination. Now that he's getting older in this next season he's kind of confused on what should be the status quo. This season will focus on Adam going through puberty and all of the uncertainties that come with that.
YEM: What's it like on set? The adults of your cast are some pretty illustrious names in comedy. Who makes you laugh or who have you learned from as an actor and comedian? Is your "tv family" close? Have other comedians visited set?
Sean: Oh my gosh, I can honestly say that I have learned and laughed from every cast member. This is such a great group of people and I'm so blessed to be a part of this. We felt a connection from the very beginning in the pilot and it's really grown with time. And yes, there have been other great comedians that have recurring roles like Stephen Tobolowsky, Bryan Callen, Anna Gasteyer, Tim Meadows, Dan Fogler, Michaela Watkins, David Koechner, not to mention the ones that visited the set like Judd Hirsch, Paul Sorvino, David Spade, Charlie Sheen, Martin Starr, and Nick Swardson. What an absolutely incredible experience for me!
YEM: What's it like playing the fictionalized version of a real person? Especially when the real person is I guess sort of your boss? Does the real Adam give you a lot of direction and specify "ways to act" or is your character its own entity that's a bit separate from the real Adam? How is the real Adam Goldberg to work for?
Sean: The thing is Adam is hands-on with every aspect of the Goldbergs. It's the story of his life so he would be, but there's only so much of Adam that can go around. He shares home videos of himself interacting with his friends and family and guides me with a certain key shot for shot remakes of his memories as much as he can. He's just a great guy and I love him. Even though he may be my boss and I'm playing his life, he's never intimidated me. I have always just wanted to play him to the best of my ability. Like you said my character is a bit separate from the real Adam due to the fact that each cast member's version has become their own and we all play off of each other; however, the story is still his.
YEM: Obviously you weren't alive in the '80s. So what's it feel like working on a show set in a time you weren't around for? Do you get most of the references and the jokes, or do you enjoy catching up on the jokes that you don't get? A lot of people enjoy 80's nostalgia, so the vibe of the show is super fun to viewers like me, do you guys on set feel that kind of whimsical 80's fun vibe?
Sean: I was actually a big fan of the 80s because I watched almost all of the John Hughes movies, Star Wars, The Goonies, and Who Framed Roger Rabbit before getting the part and I loved 80s music. There definitely have been a few surprises like the Millie Vanilli incident–I didn't know that was a real thing when I read the script. Although there are times when the entire crew dresses up in 80s costumes to add to the feeling, for the most part the goofiness and fun come from the craziness of the scripts and the incredible talent of the cast.
YEM: What's your favorite bit of 80's nostalgia the show has messed around with? What's your favorite piece of pop culture from the 80's?
Sean: I've loved the nostalgia of Adam's video games and his toys, because this is something that I have always loved as well.  Just to see what video games were like,like the Nintendo system and cool things like the Power Glove. And I can't forget his 80s t-shirts–they're the best!  The show has also addressed a lot of the music of the time which has been a blast to portray. I particularly enjoyed singing "Faith" by George Michael and doing a hip hop rap version with Troy (Gentile) who plays Barry. I finally got to do a rap with Big Tasty!
YEM: What's up next for you besides more Goldbergs? Anything filming or coming out soon?
Sean: Well, I'm in the middle of recording Cartoon Network's Clarence where I play Clarence's best friend, Jeff, which is into its second season. Then this summer I worked on a Disney film called "Mark and Russell's Wild Ride" and what a wild ride it was.  We filmed on Vancouver Island and my co-star in the film is Disney star, Joey Bragg. I play Russell and Joey plays Mark. It's all about an adventure to get Mark's license and I'm his best friend. It was a lot of fun because I got to be involved in car maneuvers that I've never done before and working with Joey was great. I also got to explore a different type of character who had to bring out an inner Joe Pesci every once in a while. This will premiere on Disney XD.
YEM: Is there an actor/comedian/artist you really admire, someone who inspires you?
Sean: Of course, George Segal, Wendy McLendon-Covey, and Jeff Garlin, and then there's other greats like Jack Nicholson and Dustin Hoffman.
YEM: What are some other favorites? TV, Film, music, comedy?
Sean: Malcolm in the Middle, Star Wars, Toy Story, Jim Croce, Cat Stevens, John Denver and recently I've been enjoying Last Man on Earth.
YEM: Is comedy what you feel is your strong suit and the genre you want to stay in?
Sean: I really enjoy comedy, but I get excited to try out dramatic roles as well. I'm wide open and just excited to act.
YEM: Other hobbies/passions?
Sean: I love basketball, drawing cartoons, and soccer.
---
We endeavor to keep our content True, Accurate, Correct, Original and Up to Date.
If you believe that any information in this article is Incorrect, Incomplete, Plagiarised, violates your Copyright right or you want to propose an update, please send us an email to informationcradle@gmail.com indicating the proposed changes and the content URL. Provide as much information as you can and we promise to take corrective measures to the best of our abilities.
---