Sean Hannity Biography
Sean Hannity (Sean Patrick Hannity) is an American Talk Show Host, Author, and Conservative Political Commentator born on 30th December 1961 in New York City, New York. He serves as a host of Fox news channel where he hosts 'Hannity' on weekdays 9-10PM/ET and 'The Sean Hannity Show'- a radio talk show.

Sean Hannity Age
He was born on December 30, 1961, in New York City, United States of America. He turned 58 years old in 2020 and celebrates his birthday on December 30 every year.
Sean Hannity Height
He stands at a height of around 1.82 m.
Sean Hannity Education
He attended Sacred Heart Seminary in Hempstead, New York during his early years and later joined St Pius X Preparatory Seminary High School in Uniondale, New York for his high school. He attended New York Univesity, UC Santa Barbara but later transferred to Adelphi University although he dropped out after two years due to financial difficulty.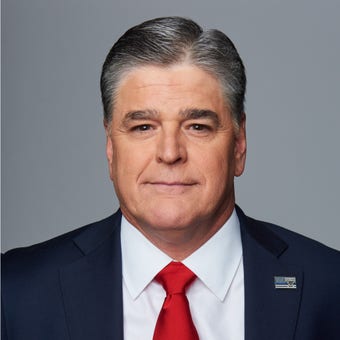 Sean Hannity Parents
He is the youngest child of Lillian Flynn who was both a stenographer and corrections officer at a county jail and Hugh Hannity who worked as an officer for a family court.
Sean Hannity Wife
He married Jill Rhodes Hannity in 1993, Jill is an American journalist born on 27th August 1962 in Alabama. The two first met in 1991 at WVNN radio in Huntsville Alabama at the time Jill was working at WVNN radio while Jill was a political columnist for the Huntsville Times. They dated for a year before tying the knot in 1993.
Sean Hannity Divorce
Hannity and his wife Jill are not divorced although he caused speculation about his marriage when in 2013 during his radio show he admitted to a caller that he actually did think about other women apart from his wife.
"You can't help notice attractive people. And if you say you can, you are full of it". He was also rumored to have been romantically involved with many of his co-workers although the allegations were never proven.
Sean Hannity Children
He and Jill have two children a son named Patrick Hannity who was born in 1999 and a daughter Merri Kelly born in 2002.
Sean Hannity Radio Talk Show
In 2001 he started his radio talk show 'The Sean Hannity Show', where he shares his opinions and ideology on current American issues and politics.
On 10th September 2001, the show began national syndication on over 500 stations nationwide. He signed a $25-million five-year contract extension with ABC Radio (now Citadel Media) in 2004 to continue the show until 2009. After ABC Radio was sold to Citadel Communications Sean signed a $100- million five-year contract in the summer of 2008.
In 2006 the program was made available via Armed Forces Radio Network. Hannity signed a groupwide three-year extension with Clear Channel Communications in January 2007 on over 80 stations.
In September 2013 he signed a long-term contract to remain with Premiere Networks. He also signed contracts to air on several Salem Communications stations at the beginning of 2014. Some of the stations include WDTK Detroit, WIND Chicago, WWRC Washington, D.C., and KSKY Dallas.
Sean Hannity Show
On 12th January 2009, Sean Hannity premiered his new show Hannity o Fox News Channel. The show is a political talk program which air live at 9 pm on Monday through Friday. Hannity begins the show with a monologue detailing the political issues of the day and then transitions to clips backing evidence or showing statements of opposition forces. He then joins a political & legal panel analyzing the situations on hand.
Sean Hannity Website
Hannity. Com
Sean Hannity Fox News
A gutsy talk-show host who always lands on the "right side" of the issues, Hannity is the host of FOX News Channel's Hannity, which airs weeknights from 6 to 7 p.m. Pacific time. Hannity's energy, charisma, and Reagan conservatism score high points with audiences and critics alike as he continues to be one of the hottest commodities in media. Hear Sean weekdays from 12-3 p.m., plus an encore edition Sunday from 1-4 p.m. on News Talk 780 KOH,
Sean Hannity Keurig
Four companies, including the coffeemaker company Keurig, said they will not be advertising on Sean Hannity's Fox News show following a wave of criticism over the conservative host's coverage of sexual misconduct allegations against Republican Senate candidate Roy Moore of Alabama.
In addition to Keurig, four other advertisers confirmed on Twitter over the weekend that they will not be running TV ads on the "Hannity" show: Eloquii, a plus-size women's clothing company; 23 and Me, a DNA genetic testing company; and Nature's Bounty, a vitamin manufacturer.
Although sponsors did not explain the reasoning behind the decision to stop advertising on the show, they tweeted the announcements after critics bashed Hannity for appearing to defend Moore and question the authenticity of accusations made against him.
Sean Hannity And Trump
Hannity developed a relationship with Trump during the election and their friendship grew closer during his presidency. According to a report by New York magazine, Hannity frequently talks to Trump by telephone after Hannity's weekday broadcasts, and on other occasions, and he is one of several dozen cleared callers whose calls to the White House public switchboard can be connected directly to the president.
Sean Hannity Salary
He earns a salary of  $36 million annually.
Sean Hannity Net Worth
He is said to have a net worth of $120 million but no authentic sources have been cited to validate this figure.
Michael Cohen And Sean Hannity
In April 2008 he revealed that he shared a lawyer, Michael Cohen, with President Trump which caused a lot of controversies. Sean had breached journalistic ethics as he had failed to disclose that Cohen was his lawyer while at the same time taking to the Fox airwaves to defend Cohen and criticize those who investigated him.
On 16th April 2018 during a court hearing, Cohen's lawyer told the judge that Cohen had ten clients in 2017-2018 but did "traditional legal tasks" for only three: Trump, Elliott Broidy, and a "prominent person" who did not wish to be named for fear of being "embarrassed". The federal judge ordered the revelation of the third client, whom Cohen's lawyers named as Hannity.
On 16th April 2018, Fox News released a statement attributed to Hannity "Michael Cohen has never represented me in any matter. I never retained him, received an invoice, or paid legal fees and have occasionally had brief discussions with him about legal questions about which wanted his input and perspective.
I assumed those conversations were confidential, but to be absolutely clear they never involved any matter between me and a third party. We definitely had attorney-client privilege because I asked him for that."
Hannity later said on his show that he "might have handed him 10 bucks" for the attorney-client privilege. He later tweeted that his discussions with Cohen were "almost exclusively" about real estate.
Sean Hannity Advertisers
When Sean interviewed Roy Moore and faced a lot of criticism from Media Matters for America some major advertisers pulled their advertising from Hannity's show which lead to Hannity's fan to destroy products made by the companies who removed their promotions from the show and pledged to stop buying their products until the decisions were reversed, causing the CEO of one of the companies to publicly state that the public announcement of his company's removal of advertisements was "unacceptable" and that his company did not intend to take sides in the matter.
Sean Hannity Movie
Hannity was the executive producer and also appeared in the 2017 film Let There Be Light
Sean Hannity Email
One can visit his email which is https://www.hannity.com/ and leave an email since his email is set up directly through his website, one will need to fill out the contact page to send an email
Sean Hannity Books
Let Freedom Ring: Winning the War of Liberty over Liberalism
Deliver Us From Evil: Defeating Terrorism, Despotism, and Liberalism
Conservative Victory: Defeating Obama's Radical Agenda.
Sean Hannity Awards and Honors
2003: He received a Marconi Award for the Network Syndicated Personality of the Year from the National Association of Broadcasters.
2003: Freedom of speech award by Talkers Magazine
2005: Honorary degree by Liberty University
2007: He received a Marconi Award for the Network Syndicated Personality of the Year from the National Association of Broadcasters.
In November 2017 he was inducted into the National Radio Hall of Fame
Sean Hannity Facts and Body Measurements
Here are some interesting facts you don't want to miss about Seann Hannity.
• Full Name: Sean Patrick Hannity
• Date of Birth: 30 December 1961, New York, New York, United States.
• Age/ How old?: 58 years
• Place of Birth: New York, New York, United States
• Birthday: 30 December
• Nationality: American
• Fathers Name: Hugh J. Hannity
• Mothers Name: Lillian F. Hannity
• Siblings: Not disclosed
• Marital Status: Married
• Children/ Kids: Two – Merri Kelly Hannity and Sean Patrick Hannity
• Height/ How tall?: 1.82 m
• Weight: Not disclosed
Frequently Asked Questions About Sean Hannity
Who is Sean Hannity?
He is an American talk show host and conservative political commentator. Hannity is the host of The Sean Hannity Show, a nationally syndicated talk radio show. He also hosts a commentary program, Hannity, on Fox News.
How old is Sean?
She was born on 30 December 1961, New York, New York, United States. He turned 58 years old in 2020. He celebrates his birthday on 30 December every year.
How tall is Sean?
She stands at a height of around 1.82 m.
Is Sean married?
Yes, he is married to Jill Rhodes. They got married in 1993 and together they have two children. The couple resides together in the United States together.
How much is Sean worth?
He has an approximate net worth of $120 million dollars. This amount has been accrued from his leading roles in the Television industry.
How much does Sean make?
Per our average wage estimates for a journalist in the United States, he receives annual salary ranging between $ 24,292 and $ 72,507 that translates to an hourly average wage of between $ 10.15 and $ 31.32.
Where does Sean live?
Because of security reasons, he has not shared his precise location of residence. We will immediately update this information if we get the location and images of his house.
Is Sean dead or alive?
He is alive and in good health. There have been no reports of him being sick or having any health-related issues.
Sean Twitter
Facebook
Instagram
Sean Hannity YouTube
---
We endeavor to keep our content True, Accurate, Correct, Original and Up to Date.
If you believe that any information in this article is Incorrect, Incomplete, Plagiarised, violates your Copyright right or you want to propose an update, please send us an email to informationcradle@gmail.com indicating the proposed changes and the content URL. Provide as much information as you can and we promise to take corrective measures to the best of our abilities.
---