Sheila Miyoshi Jager Bio
Sheila Miyoshi Jager is a historian from the United States. She is a Professor of East Asian Studies at Oberlin College. She is the author of two books on Korea and the co-editor of the third book on Asian nations in the post-Cold War era.
She is a well-known historian of Korea and East Asia, and she is also known for her relationship with Barack Obama.

Sheila Miyoshi Jager Age
Sheila was born in the year 1963 November 19th and is currently 55 years old and will be turning 56 years old on Nov 19th, 1963.
Sheila Miyoshi Jager Husband
Their relationship was only made public on May 2017, several months after the end of Obama's two-term presidency, in David Garrow's Rising Star: The Making of Barack Obama. Jager married Jiyul Kim, a U.S. Army veteran and history professor at Oberlin College. They have four children, and they reside in Ohio.
Sheila Miyoshi Jager Career
Jager is a Professor of East Asian Studies at Oberlin College. She is the author of several books about East Asian history.
Her first book, Narratives of Nation Building in Korea: A Genealogy of Patriotism, was published in 2003. In it, Jager analyzes Korea through the axes of history, gender, and nationalism, by using both theory and data.
She looks at male identity through the figures of Shin Chaeho and Yi Kwang-us between 1910 and 1945 in the first part; the female body as a metonymy for the Korean body politic in the second part; and the leaders of South Korea and North Korea in the third part.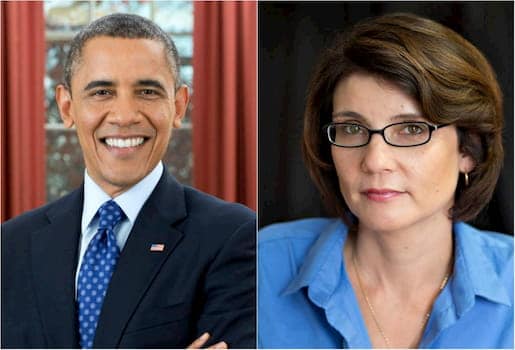 In a review for The Journal of Asian Studies, Roy Richard Grinker, a Professor of Anthropology at George Washington University, called it "a coherent, well-argued, and well-researched study of Korea nationalism", but he deplored.
"This book is not long, yet the scope is so extensive that it demands more detailed and wide-ranging analyses that might complicate her arguments." He also criticized her use of Korean literature as reductive.
In a review for Pacific Affairs, Chiho Sawada also criticized the book for being too short, but he added that it was "an excellent text for courses on not only Korea but postcolonial histories and national/gender identities."
In a review for the Bulletin of the School of Oriental and African Studies, University of London, Swiss academic Martina Deuchler called it "a sophisticated and well-written study," although she warned, "the book is not an easy read."
Her second book, Ruptured Histories: War, Memory and the Post-Cold War in Asia, co-edited with Rana Mitter, was published in 2007. It is a collection of essays by a various scholar about the state of Asia since the end of the Cold War.
In a review for The China Quarterly, Parks M. Coble, a professor of history at the University of Nebraska–Lincoln, concludes that, contrary to Europe, there is no common thread between the Asian nations analyzed in this volume.
Nevertheless, in Pacific Affairs, Associate Professor Kerry Smith of Brown University suggests reading the entire book from cover to cover, not just certain chapters relevant to one's personal interests in specific nations.
Reviewing it for The Journal of Asian Studies, Erik Harms, an Associate Professor of Anthropology at Yale University (then at Duke University), described it as "an insightful collection of expertly researched and theoretically informed case studies from Japan, Korea, China, Taiwan, and Vietnam."
He also noted, "We see how apparently local developments emerge within broader international, regional, and global contexts."
In The Journal of Japanese Studies, Christopher Goto-Jones of Leiden University highlights Mitter and Jager's "attempt to wrestle the question of war memory away from its near-exclusive focus on the singular rupture represented by Japan's defeat in 1945"; instead, they attempt to show how "the continuously shifting international environment impacts the formation (and utility) of national narratives."
Her third book, Brothers at War: The Unending Conflict in Korea, was published in 2013.
In a review for Foreign Affairs, Andrew J. Nathan, a Professor of Political Science at Columbia University, writes that Jager suggests atrocities were committed not only by the North Korean Army but also by the South Korean Army and the United States Army during the Korean War, a conflict which formally ended in 1953 but has never been fully resolved. She also suggests that North Korea may have to become a province of China to survive economically
Sheila Miyoshi Jager Ex Barack Obama
Jager lived with Barack Obama in the 1980s, then a Chicago community organizer. Obama asked her parents in the winter of 1986 if he was able to marry her, but they objected.
Shortly after he entered the Harvard Law School, Obama suggested a second time to Jager, but she rejected him. Their relationship was only made public on May 2017, several months after the end of Obama's two-term presidency, in David Garrow's Rising Star: The Making of Obama.
Sheila Miyoshi Jager Brothers at War
To read more about this book Brothers at War click the following link.
Sheila Miyoshi Jager Books
1. Brothers at War: The Unending Conflict in Korea
2. Narratives of nation-building in Korea
3. On the Uses of Cultural Knowledge
4. The Politics of Identity: History, Nationalism, and the Prospect for Peace in Post-Cold War East Asia
5. On the Uses of Cultural Knowledge – Scholar's Choice Edition