Sheila Mwanyigha Biography
Sheila Mwanyigha's full name is Sheila Mkabili Mwanyigha. She is a Kenyan Radio, Television show host, singer, and songwriter. Mwanyiga currently works as a TV English News anchor with Ebru TV. She is a Nairobi born Taita media darling.
Before joining Ebru TV on June 1, 2016, Sheila Mwanyigha was a show host with NTV's AM Live which aired between 6 am to 9 am from Monday to Friday. Her co-host was Kobi Kihara. Before joining NTV, Sheila was a mid-day presenter on Easy FM (now Nation FM), owned by Nation Media Group.  She is also an accomplished singer, Soft-spoken, and wearing an easy smile.
In the past, she has worked as a co-host of the Tusker Project Fame reality show. Sheila is a singer stage name 'Nikki' and a radio presenter who was born in Nairobi, Kenya. She first appeared in Kenyan music back in 1997 and another she did in 1999. In 2006, she won her first Kisima award, and some international awards nomination awards nominations in the Channel O music awards.
Sheila Mwanyigha Age
Details about Sheila's date of birth are not known therefore it is not known when she celebrates her birthday. She likes to keep her personal matters away from the public eye making it difficult to know her age, hence this information will be updated as soon as it's available.
Sheila Mwanyigha Education
She attended Highridge Primary School, before joining Pangani Girls High School. She then joined the University of Nairobi where she pursued a BA in Sociology and German, followed by a Master's in Sociology (Medical Psychology) in 2014.
Sheila Mwanyigha Family, Mother
Sheila is a Taita girl born in Nairobi to parents  (who were police officers and members of the Kenya Police Band) Agnes Wanjiru Mwanyigah and Gideon Victor Mwanyigha. Her father is the late Director of Music at the Kenya Police. She grew up in a family of two alongside her younger brother Mark Mwanyigha who also serves in the military.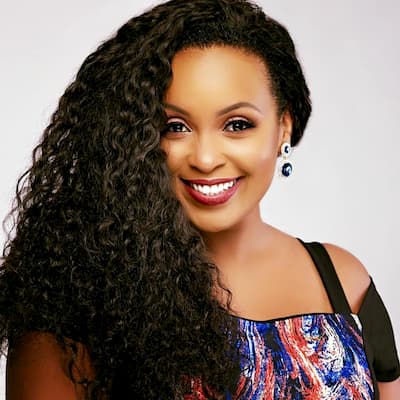 Sheila Mwanyigha Boyfriend
In her day when she was a songstress, she was rumored to have had a thing with rapper CMB Prezzo who was at the peak of his career. Sheila back in 2013, opened up about her life as Rashid Abdalla (Lulu Hassan's husband) girlfriend. She was speaking to Rashid Abdalla on his segment, 'Swali Moja'.
Mwanyigha was deeply in love with Rashid Abdalla. She didn't imagine for a second that she could be the other lady in the relationship. Rashid was her first love, everything was running smoothly until he traveled abroad for further studies. Upon his return, Sheila realized Rashid Abdalla had changed, he was mean with his love to her.
She told Rashid she truly loved the guy but had to let him loose after she realized there was another woman in his life. Asked whether the experience is what made her do the song, "Niwe Wako Milele", Sheila is quick to refute the assertion pointing out that the song is a true story of yet another story of love-gone-sour.
"Ehe heh! Io sasa Rashid ni ngumu!" starts Sheila Mwanyigha, adding, "Nilikua na mtu nilimpenda sana na alinipenda pia lakini vile alikua ananipenda si vile nilikua nataka anipende…kuilikua na mwingine." Sheila goes to reveal that she sincerely loved the guy but there was another woman in his life.
In her words, "I was not the first choice," adding, "Na ni maisha, you will not always be the first choice." Rashid then wishes her well in finding 'the one' upon which she laughs it off and maintains that as long as she's the first choice, she doesn't mind. 'Swali Moja' is a segment on Taarifa Za Magharib at 6:30 PM every weekday on QTV and at 6:30 AM on QFM brought to you by Rashid Abdalla then.
Sheila Mwanyigha Capital FM
She came to be a radio presenter when she had an interview with Caroline Mutoko who worked at Capital FM back then after the interview ended Caroline asked her to have a chat with some guys who wanted to start up a radio station which she did and was called for an interview and got a job to host a program.
Sheila Mwanyigha Achievements
She has a hair and beauty magazine Rembesha that was released on 27th May
She launched her new chat show dubbed #SheilaLivesOutLoud
Sheila Mwanyigha Accident
Sheila says she had an accident that affected her facial beauty. She has a scar near the eyebrow of her left eye A car crash left me with this scar from 19 stitches.
Sheila Mwanyigha Billboard
She once graced the billboards with semi-nude advert photos. The advert was meant for vaseline lotion. The billboard pictures caused a serious debate on the limit of advertising in Kenya with the Consumer Federation of Kenya threatening to sue Vaseline for Sheila Mwanyigha billboard photos that were described as semi-nude by the media.
Frequently Asked Questions About Sheila Mwanyigha
Who is Sheila Mwanyigha?
Mwanyigha's full name is Sheila Mkabili Mwanyigha. She is a Kenyan Radio, Television show host, singer, and songwriter. Mwanyiga currently works as a TV English News anchor with Ebru TV. She is a Nairobi born Taita media darling.
How old is Sheila?
She was born in Nairobi, she has not shared her date of birth with the public, as it is not documented anywhere as of 2020.
Is Sheila married?
Details about her love life are still under review. We will let you know when she gets in a relationship or when we discover helpful information about her love life.
Where does Sheila live?
She is a resident of Nairobi, Kenya, we shall upload pictures of her house as soon as we have them.
Related Biographies.
You may also like to read the Bio, Career, Family, Relationship,  Body measurements, Net worth, Achievements, and more about:
Sheila Mwanyigha
Social Media Contacts
---
More about Kenya
Kenya is a land of contrast – highlands and plains; wet and dry; rural and urban and people of all races. This offers many opportunities to citizens, foreigners, and visitors alike.
Here is more information about Kenya …
Welcome to Kenya. Welcome to Opportunity.
---