Steve Lukather Biography
Steve Lukather (Full name: Steven Lee Lukather) is an American guitarist, singer, songwriter, arranger and also a record producer. Lukather is most famous for being the sole continuous founding member of the rock band Toto. He has recorded guitar tracks for more than 1,500 albums representing a broad array of artists and genres. As a songwriter, arranger, and producer, Lukather also has contributed to albums and hit singles.
Lukather is a very famous contributor to several studio albums by Michael Jackson, such as the Thriller, the best-selling album of all time. In January 2013 is when the latest of his seven solo albums were released. In 1976, he was invited by David Paich (his high school friends) and Steve and Jeff(Porcaro brothers) to join them in forming their band, Toto.
Lukather began the Toto band, and he is still fully contributing to their album composition and touring. Hi's reputation as a guitarist and his association with Paich and the Porcaro brothers allowed him to secure a steady flow of session work in the 1970s and 1980s.
Lukather held a long-time collaboration with, Larry Carlton, jazz guitarist that produced a Grammy-winning live album. Also, he was a member of the jazz-fusion band Los Lobotomys(a collaboration of notable session musicians). Lukather has toured with former Beatles drummer Ringo Starr's live supergroup, the All-Starr Band Since 2012.
Lukather is also highly recognized for his efficiency in the studio, often recording tracks in one take using minimal sound processing. He plays a signature electric guitar manufactured by Ernie Ball Music Man bearing his nickname, Luke. He also plays Yamaha and Ovation Adamas series acoustic-electric guitars. Timothy B. Schmit. In 2017, he wrote a book called"The Gospel According to Luke".
Steve Lukather Early Life
Lukather first played keyboards and drums, and then taught himself how to play the guitar starting at age seven, when he was bought a Kay acoustic guitar and a copy of the Beatles' album Meet the Beatles by his dad. he has said that the album "changed his life" and that he was greatly influenced by the guitar playing of George Harrison in particular.
Steve Lukather Education
At Grant High School, Steve Lukather met David Paich and the Porcaro brothers (Jeff, Steve, and Mike), all of whom eventually became members of Toto. He had been a self-taught musician, and he started taking guitar lessons from Jimmy Wyble. Lukather expanded his knowledge of wider aspects of music, including orchestration with Wyble. In the early 1970s, he became interested in the idea of becoming a session musician, a vocation that provided opportunities to play with a variety of famous musicians.
Steve Lukather Toto
Toto founder Lukather talked about the end of the iconic band saying the last show on the 40th-anniversary tour will be their last. However, he also doesn't write off a later reformation. In an interview with John J. Moser of The Morning, Call Lukather said, that he does not know what the future futures going to be, but he does know that's going to be the last show in Philly for the foreseeable future.
And certainly the end of the Toto configuration of Toto. Exactly what that means is anyone's guess at this stage. Toto had a two-year hiatus in 2008. That was hardly a breakup. The band features original members Steve Lukather, David Paich, and Steve Pocaro. Lead singer Joseph Williams has been with the band since 1986. Toto's last show was on October 20. 2019 in Philadelphia.
Steve Lukather Age
Steven Lee Lukather was born on October 21. 1957 in San Fernando Valley, California, U.S. He celebrates his birthday on October 21st every year.
Steve Lukather Family
Steven Lee Lukather was born in the San Fernando Valley, California. Lukather was born as the only Child of, Bill Lukather(father)who died: "March 2. 1994, Burbank, CA" and Kathy Lukather(died June 20. 2010, North Hollywood, CA.). His paternal parents are: William Lee Lukather(Paternal Grandfather), Phyllis Pinto (Paternal Grandmother), William Elof Johnson (Maternal Grandfather), Jean Schrom Myles (Maternal Grandmother)
Steve Lukather Wife
Lukather is neither married nor dating. He was married to Shawn Batten(an American actress). The couple joined in 2002 and they separated in 2010. She gave birth to their daughter, Lily Rose in 2007 and son, Bodhi in 2010. Before he was married to Marie Currie in November 1981, they got married in an intimate wedding ceremony. She gave birth to daughter Cristina Marie Lukather in May 1985. They welcomed their son, Trevor Lee Lukather, into their family in May 1987. They reportedly got divorced in 1990.
Steve Lukather Body Measurements
Height: 5 feet 8 inches (1.74 m)
Weight: 174 pounds(79 kg)
Shoe Size: Not Available
Body Shape: Not Available
Hair Colour: Black
Eye Colour: Blue
Steve Lukather Salary
Details about Steve's salary are not yet disclosed. However, information about how much he makes will be updated as soon as it is available.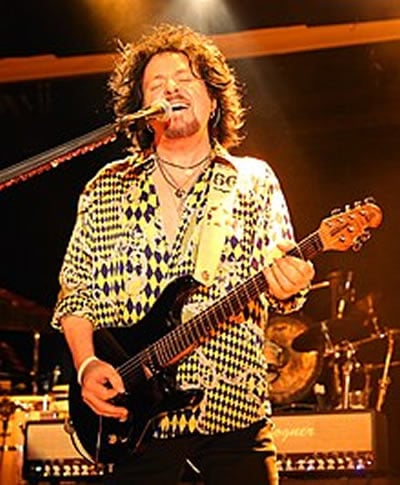 Steve Lukather Net Worth
The American guitarist, singer, songwriter, arranger and also a record producer, Steve Lukather, has an estimated net worth of $80 million dollars which he has earned through his successful career as a guitarist, singer, songwriter, arranger, and record producer.
Steve Lukather Candyman
Candyman is a second solo album of Lukather. The musicians who collaborated the album were for the most part also in Lukather's band Los Lobotomys. Simon Phillips, David Paich, David Garfield, John Pêna, Chris Trujillo, Lenny Castro, Larry Klimas, Fee Waybill, Richard Page, and Paul Rodgers.
It was not clear whether Candyman is on an album of Lukather or it belongs to Los Lobotomys. It was released under the Los Lobotomys name rather than Lukather's, by Japanese and US. The release of Candyman was credited to Lukather alone by Europeans. It was sometimes introduced as "Steve Lukather and Los Lobotomys" and sometimes as just "Los Lobotomys by its touring band.
Steve Lukather Discography
Albums
Transition 2013
Candyman 1994

All's Well That Ends Well 2010
Falling in Between Live 2007
Toto 1978
Ever Changing Times 2008
Santamental 2003
No Substitutions: Live in Osaka 2001
Luke 1997
Lukather 1989
Live At North Sea Jazz Festival 2013
Tales From the Bulge 1996
Toto IV 1982
Here at Last… Bee Gees… Live 1977
Dune 1984
Spirits Having Flown 1979
Toto XIV 2015
40 Tours Around The Sun (Live) 2019

Bee Gees' 1st 1967
Children of the World 1976
Tambu 1995
Break Like the Wind 1992
This Is Spinal Tap 1984
Cucumber Castle 1970
Kingdom of Desire 1992
Living Eyes 1981
Falling in Between 2006
St. Elmo's Fire 1985
Turn Back 1981 Hydra 1979
The Seventh One 1988
Tribute to the Bee Gees 2014
Still Waters 1997
This Is Where I Came In 2001
Staying Alive 1983
Size Isn't Everything 1993
The Bee Gees Sing and Play 14 Barry Gibb Songs 1965
Odessa 1969
Melody 1971
Fahrenheit 1986
High Civilization 1991
Isolation 1984
Life in a Tin Can 1973
A Kick in the Head Is Worth Eight in the Pants 1973
Baked Potato Super Live! 1982
Through the Looking Glass 2002
Baywatch: Music From the Motion Picture 2017
Songs
Stayin' Alive Saturday Night Fever · 1977
Africa Toto IV · 1982
How Deep Is Your Love Saturday Night Fever · 1977
Hold The Line Toto · 1978
Massachusetts Horizontal · 1968
Night Fever Saturday Night Fever · 1977
Too Much Heaven Spirits Having Flown · 1979
To Love Somebody Bee Gees' 1st · 1967
You Should Be Dancing Children of the World · 1976
Rosanna Toto IV · 1982
I'll Be over You Fahrenheit · 1986
I Started a Joke One Night Only · 1998
99 Hydra · 1979
More Than A Woman Saturday Night Fever · 1977
You Win Again E.S.P. · 1987
Don't Forget To Remember Cucumber Castle · 1970
I Won't Hold You Back Toto IV · 1982
Rest Your Love On Me. 1978
Wish You Were Here One · 1989
Stop Loving You The Seventh One · 1988
Georgy Porgy Toto · 1978
First of May Odessa · 1969
Melody Fair Odessa · 1969
Jive Talkin' Main Course · 1975
Tragedy Spirits Having Flown · 1979
I Will Remember Tambu · 1995
Nights on Broadway Main Course · 1975
Alone Still Waters · 1997
Run to Me To Whom It May Concern · 1972
New York Mining Disaster 1941 Bee Gees' 1st · 1967
Heartbreaker One Night Only · 1998
Islands in the Stream One Night Only · 1998
FAQs (Frequently Asked Questions) About Steve Lukather
Who is Steve Lukather?
Lukather is an American guitarist, singer, songwriter, arranger and also a record producer.
How old is Steve Lukather?
Steven Lee Lukather is 62 years old as of 2019.
How tall is Steve Lukather?
Lukather stands at a height of 5 feet"10 inches.
Is Steve Lukather married?
Lukather was married to Shawn Batten in 2002 and Marie Currie in 1981.
How much is Steve Lukather worth?
Lukather has an estimated net worth of $80 million dollars.
How much does Steve Lukather make?
Information is under review.
Where does Steve Lukather live?
Lukather lives in Stadtpark, Hamburg
Is Steve Lukather dead or alive?
Lukather is still alive and in good health.
Where is Steve Lukather now?
Lukather is a guitarist, singer, songwriter, arranger and also a record producer.
Steve Lukather Social Media
Twitter
YouTube
Steve Lukather for DiMarzio Transition Guitar Pickups
---

We endeavor to keep our content True, Accurate, Correct, Original and Up to Date.
If you believe that any information in this article is Incorrect, Incomplete, Plagiarised, violates your Copyright right or you want to propose an update, please send us an email to informationcradle@gmail.com indicating the proposed changes and the content URL. Provide as much information as you can and we promise to take corrective measures to the best of our abilities.
---