Terry Stotts Biography
Terry Stotts (Terry Linn Stotts) is an American professional basketball coach and former player who is the head coach for the Portland Trail Blazers of the National Basketball Association (NBA).
After a playing as a forward in Europe and the Continental Basketball Association (CBA), where he was coached by George Karl, Stotts became a part of Karl's coaching staff on multiple teams in the CBA and NBA.
Stotts later got opportunities as a head coach for the Atlanta Hawks and Milwaukee Bucks, before helping the Dallas Mavericks win the 2011 NBA Championship as an assistant coach.
Terry Stotts Education
Stotts grew up in Illinois, Wisconsin, Guam, and Indiana. He graduated from Bloomington High School North in Bloomington, Indiana in 1976. He was a member of the 1976 Indiana All-Star Team.
He was a starter in all his four seasons with the University of Oklahoma Sooners basketball team and was an Academic All-American selection in his junior and senior seasons and an All-Big Eight Conference selection in his senior season.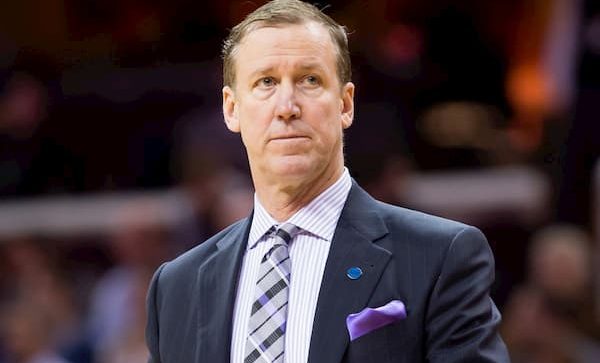 Stotts graduated from Oklahoma in 1980 with a B.S. in zoology and a Master's in Business Administration from Oklahoma in 1988 on a postgraduate scholarship from the NCAA.
Terry Stotts Playing Career
Terry Stotts was a second round selection of the Houston Rockets in the 1980 NBA draft, but he could not find a place on the team.
Stotts began his professional playing career in Italy before joining George Karl's Continental Basketball Association (CBA) team, the Montana Golden Nuggets, in the early 1980s. He played for the team for three seasons.
Stotts then returned to Europe for several seasons, playing in Spain (CB Estudiantes) and France.
Terry Stotts Coaching Career
Early career with George Karl and the CBA
After retiring as a player, Stotts joined Karl's coaching staff as an assistant with the CBA's Albany Patroons in 1990–91. During his first year, Stotts helped lead the Patroons to an all-time CBA-best 50–6 record.
He then coached the CBA's Fort Wayne Fury for one season before rejoining Karl as part of his staff on the Seattle SuperSonics in the NBA. Stotts then moved with Karl to the Milwaukee Bucks in 1998.
Atlanta Hawks
In 2002, Stotts decided to part ways with Karl and joined the Atlanta Hawks as an assistant coach. He was promoted to head coach 27 games into the season after Lon Kruger was fired. He led the Hawks to a 52–85 record before he was let go and returned to the assistant coaching ranks with the Golden State Warriors.
Milwaukee Bucks
In 2005, Stotts became the head coach of the Milwaukee Bucks. He guided them to the playoffs in his first season, but on March 14, 2007 he was fired towards the end of his second season.
Dallas Mavericks
Stotts was hired as an assistant coach for the Dallas Mavericks shortly after Rick Carlisle was hired as head coach in September 2008. Stotts was credited for coordinating the Mavericks' offense that was one of the most efficient in the league in 2010–11, when they won the NBA title.
Portland Trail Blazers
On August 7, 2012, The Portland Trail Blazers hired Stotts as their head coach. At the time, Stotts's NBA coaching record was 115–168. The Blazers went 33–49 in his first year, losing their final 13 games to drop out of the playoff race.
In Stotts's second season with the Trail Blazers, he coached the team to an overall record of 54–28. Trail Blazers beat the Houston Rockets in the first round of the NBA Playoffs with a buzzer-beating three point shot by Damian Lillard to advance to the second round, but fell short to the eventual NBA champion San Antonio Spurs in the second round, ultimately losing in five games.
In Stotts's third season, he led the team to an overall record of 51–31. After sustaining some key injuries, they fell to the Memphis Grizzlies in the first round of the NBA Playoffs 4–1.
Despite losing four of his starters, including star forward LaMarcus Aldridge, in the off-season, his fourth season saw him lead the Trail Blazers to the second round, after defeating the Los Angeles Clippers in the first round.
In the second round, Portland played the top-seeded Golden State Warriors to a very competitive five-game series, but eventually lost 4–1. On May 16, 2016, Terry Stotts agreed on a contract extension with the Trail Blazers.
Terry Stotts Age
Stotts was born on November 25, 1957 in Cedar Falls, Iowa, United States. He is 61 years old as of 2018.
Terry Stotts Height
He stands at a height of 6 ft 8 in (2.03 m) weighing 220 lb (100 kg).
Terry Stotts Family
Stotts is the son of Frank Stotts. He has three siblings two brothers Arlyn Stotts, and Mark Stotts and a sister Audrey Stotts. There is no any information or news about his mother.
Terry Stotts Wife
Stotts is married to Jan Stotts since 1988. There is no much information about his wife or whether they have children.
Terry Stotts Contract
In May of 2016, The Portland Trail Blazers agreed with coach Terry Stotts on a contract extension that sources close to the negotiations say runs through 2020 with an average salary of $5 million.
Terry Stotts Salary
As a Head coach, Terry Stotts reportedly earns around $5 million as his yearly salary from Portland Trail Blazers. He is the eighth highest paid coach in the NBA.
Terry Stotts Net Worth
Stotts has an estimated net worth of $6 million which he has earned from his career as a 
professional basketball coach and former professional basketball player who.
Terry Stotts Head Coaching Record
Team

Year

G

W

L

W–L%

Finish

PG

PW

PL

PW–L%

Result

Atlanta

2002–03

55

24

31

.436

5th in Central

—

—

—

—

Missed playoffs

Atlanta

2003–04

82

28

54

.341

7th in Central

—

—

—

—

Missed playoffs

Milwaukee

2005–06

82

40

42

.488

5th in Central

5

1

4

.200

Lost in First Round

Milwaukee

2006–07

64

23

41

.359

(fired)

—

—

—

—

—

Portland

2012–13

82

33

49

.402

4th in Northwest

—

—

—

—

Missed playoffs

Portland

2013–14

82

54

28

.659

2nd in Northwest

11

5

6

.455

Lost in Conference Semifinals

Portland

2014–15

82

51

31

.622

1st in Northwest

5

1

4

.200

Lost in First Round

Portland

2015–16

82

44

38

.537

2nd in Northwest

11

5

6

.455

Lost in Conference Semifinals

Portland

2016–17

82

41

41

.500

3rd in Northwest

4

0

4

–

Lost in First Round

Portland

2017–18

82

49

33

.598

1st in Northwest

4

0

4

.000

Lost in First Round

Portland

2018–19

82

53

29

.646

2nd in Northwest

0

0

0

–

Career

857

440

417

.513

40

12

28

.300