Tina Louise Biography
Tina Louise (Tina Louise Blacker) is an American Actress born on 11th February 1934 in New York City, New York, U.S. She is popularly known for her role as Ginger Grant in Gilligan's Island. Her breakthrough role was Griselda Walden which earned her a Golden Globe Award for New Star of the Year.
Tina Louise is a member of the Academy of Motion Picture Arts and Sciences and a lifetime member of the Actors Studio. She is also a vocal advocate for improving child literacy. She donated a portion of the proceeds of her 2007 book When I Grow Up, to literacy programs and said in a 2013 interview that she had been volunteering at local public schools since 1996.
Tina Louise Career
Tina got her first role at the age of two after she was featured in an ad for her father's candy store. She played various roles until she decided to focus on school work. She studied acting at the prestigious Neighborhood Playhouse in Manhattan. During her early acting years, she was offered modeling jobs including as a rising starlet and appeared in several pinup magazines such as Adam, Sir! and Modern Man. She also posed for Playboy (May 1958; April 1959)
In 1952 she made her acting debut in the Bette Davis musical revue Two's Company,[4] followed by roles in other Broadway productions, such as John Murray Anderson's Almanac, The Fifth Season, and Will Success Spoil Rock Hunter? She made her Hollywood debut in 1958 in God's Little Acre. In the same year, she was named the "World's Most Beautiful Redhead" by the National Art Council. She took roles on Broadway and in Italian cinema and Hollywood turning down roles in Li'l Abner and Operation Petticoat. Her most notable Italian film credits are the historical epic Garibaldi (1960) that concerned Garibaldi's efforts to unify the Italian states in 1860.
Tina Louise Ginger Grant
Tina Louise played the role of Ginger Grant in the television sitcom Gilligan's Island. Grant is a "movie star", and would casually mention names of some of the biggest movie stars of the day, as co-stars or acquaintances, suggesting that she too was a great star. She also mentions her roommate and fellow actress, Debbie Dawson, several times.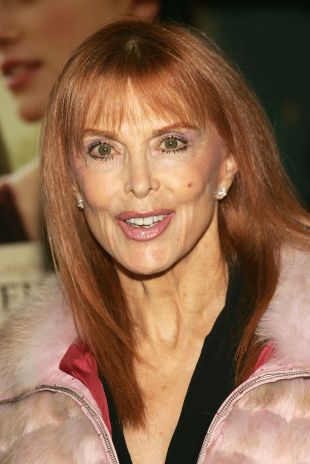 Over time she became unhappy with the role and worried that it would typecast her. In 1978 she did not appear in the movie Rescue from Gilligan's Island nor on another cast reunion film, The Castaways on Gilligan's Island and The Harlem Globetrotters on Gilligan's Island, the only original cast member to decline to reprise the role.
Tina Louise Music Career
Louise also tried her hand in music when she made one record album 'It's Time for Tina' which was released originally on Concert Hall in 1957 (Concert Hall 1521), and later reissued on Urania Records (1958 and 1959 respectively). In 2012 the album was released in iTunes.
Tina Louise Age
She was born on 11th February 1934 in New York City, U.S.A.
Tina Louise Family
Tina was born to Sylvia Horn Blacker (1916 – 2011) and Joseph Blacker. Her mother was a fashion model and his father was a candy store owner in Brooklyn and later an accountant.
Tina Louise Husband
In 1966 Louise married Les Crane, a radio presenter and television talk show host who was one of the pioneers in interactive broadcasting who also scored a spoken word hit with his 1971 recording of the poem Desiderata, winning a "Best Spoken Word" Grammy. They two divorced in 1971.
Tina Louise Daughter
Tina Louise has one child; a daughter Caprice Crane who was born in 1970. She is a novelist, screenwriter and television writer/producer. Her first two novels Stupid & Contagious (2006) and Forget About It (2007) won Romantic Times Reader's Choice Awards, two years in a row, in the Mainstream Fiction Chick Lit category.
Tina Louise Facts and Body Measurements
Tina Louise Salary
There are no details showing her annual or monthly earnings, her salary figures will be updated as soon as they are available.
Tina Louise Net worth
She may have commanded a massive $6 million dollars in playing salary over her career, but her net worth is really owed to her flourishing endorsement portfolio and his acting spirit.
Tina Louise Books
1997: Sunday: A Memoir
2007: When I Grow Up; a book that inspires children to believe they can become whatever they choose through creative and humorous comparisons of animal kingdom achievements.
2009: What Does a Bee Do?
Tina Louise Movies
God's Little Acre
Day of the Outlaw
Stepford wives 1975

The Wrecking Crew 1968
For Those Who Think Young
Evils of the Night
Tina Louise TV Shows
Rituals (TV series)
Nightmare in Badham County
Gilligan's Island
The Jackie Gleason Show
Tina Louise Gilligan's island
Seven people from different walks of life are cast away at an unknown island after a violent storm. They adapt to their life on the island while continuously making attempts to escape.
First episode date:
26 September 1964
Final episode date: 
17 April 1967
Frequently Asked Questions About Brenda Tina Louise
Who is Tina Louise?
She is an American Actress best known for playing movie star Ginger Grant in the CBS television situation comedy Gilligan's Island.
How old is Tina Louise?
She is an American national born 11 February 1934,  New York, New York, United States. She celebrates her birthdate every year on 11 february.
How tall is Tina?
She stands at a height of 1.74m
Is Tina married?
Yes, she was married to  Les Crane. They got married in 1966 and together they have children. There is no accurate detail revealing her husband but soon more relevant information will be added.
How much is Tina worth?
She has not yet revealed her net worth. We will update this section when we get and verify information about the wealth and properties under her name.
How much does Tina make?
There are no details showing her annual or monthly earnings, her salary figures will be updated as soon as they are available.
Where does Tina live?
She is a resident of the United States, we shall upload pictures of her house as soon as we have them.
Is Tina dead or alive?
She is alive and in good health. There have been no reports of her being sick or having any health-related issues.
Where is Tina now?
She is still an active participant in the Acting industry.
Tina Louise Twitter
Tina Louise
Tina Louise Facebook