Tom Brokaw Biography
Tom Brokaw born Thomas John Brokaw is an American television journalist and author, best known for being the anchor and managing editor of NBC Nightly News for 22 years (1982–2004).
Brokaw is the only person to have hosted all three major NBC News programs: NBC Nightly News, The Today Show, and, briefly, Meet the Press. Currently, he serves as a Special Correspondent for NBC News and works on documentaries for other outlets.
Along with competitors Dan Rather at CBS News and Peter Jennings at ABC News, Brokaw was one of the "Big Three" news anchors in the U.S. during the 1980s, 1990s and early 2000s. The three hosted their networks' flagship nightly news programs for over 20 years, and all three began and retired (or died, in Jennings' case) within a year of each other.
Tom Brokaw Education
Brokaw attended Yankton Senior High School. He was governor of South Dakota American Legion Boys State, and in that capacity Brokaw accompanied then-South Dakota Governor Joe Foss to New York City for a joint appearance on a TV game show.
Brokaw began his long relationship with Foss, whom he would later feature in his book about World War II veterans, The Greatest Generation. Brokaw also became an Advisory Board member of the Joe Foss Institute.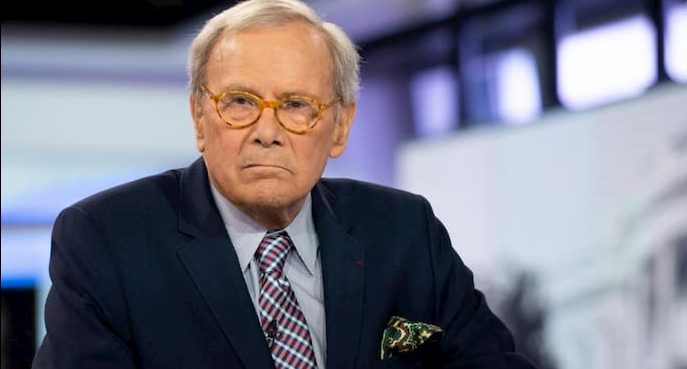 He then matriculated at the University of Iowa in Iowa City, Iowa, but dropped out after a year as he apparently failed to keep up in his studies, in his words majoring in "beer and co-eds".
Brokaw received his Bachelor of Arts in Political Science from the University of South Dakota in 1964.
For several years, he mountain climbed with the "Do Boys," whose members included Douglas Tompkins and Yvon Chouinard.
Tom Brokaw Age
Brokaw was born on February 6, 1940 in Webster, South Dakota, United States. He is 79 years old as of 2019.
Tom Brokaw Family
Brokaw is the son of Eugenia "Jean" (née Conley; 1917–2011), who worked in sales and as a post-office clerk, and Anthony Orville "Red" Brokaw (1912–1982). His father was the eldest of their three sons (Dan and Richard) and named for his maternal great-grandfather, Thomas Conley.
He was a descendant of Huguenot immigrants Bourgon and Catherine (née Le Fèvre) Broucard, and his mother was Irish-American, although the origin of the name Brokaw is contested.
Brokaw's paternal great-grandfather, Richard P. Brokaw, founded the town of Bristol, South Dakota, and the Brokaw House, a small hotel and the first structure in Bristol.
Brokaw's father was a construction foreman for the Army Corps of Engineers. He worked at the Black Hills Ordnance Depot (BHOD) and helped construct Fort Randall Dam. Brokaw father's job often required the family to resettle throughout South Dakota during Brokaw's early childhood.
They lived for short periods in Bristol, Igloo (the small residential community of the BHOD), and Pickstown, before settling in Yankton, where Brokaw attended high school.
Tom Brokaw Wife
Brokaw has been married to author Meredith Lynn Auld since 1962. The couple spend considerable time at their ranch near Livingston, Montana, which they bought in 1989. They have three daughters: Andrea, Jennifer, and Sarah.
Tom Brokaw Salary
Being a lead anchors at NBC, Brokaw earns an annual salary of $10 million.
Tom Brokaw Net Worth
Brokaw has an estimated net worth of $80 million which he has earned from his career as a television journalist and author.
Tom Brokaw Health
On September 6, 2012, Tom Brokaw was hospitalized after appearing on MSNBC's Morning Joe. Brokaw later tweeted that he was "all well" and explained his illness as having accidentally taken half a dose of Ambien in the morning. In August 2013, he was diagnosed with multiple myeloma in at the Mayo Clinic.
Brokaw and his physicians are "very encouraged with his progress". He has continued to work for NBC throughout his treatments. On December 21, 2014, Brokaw announced that his cancer is in full remission. In 2018, he was accused of unwanted sexual advances toward three women, one in 1968, two in the 1990s. Brokaw denied the allegations.
Tom Brokaw The Greatest Generation
The Greatest Generation is a 1998 book by Tom Brokaw that profiles those who grew up in the United States during the deprivation of the Great Depression, and then went on to fight in World War II, as well as those whose productivity within the home front during World War II made a decisive material contribution to the war effort. It popularized the term Greatest Generation for the name of the cultural generation before the Silent Generation.
Originally published: 1998
Country: United States
Publisher: Penguin Random House LLC.
Original language: English
Genres: Biography, Personal narrative
Tom Brokaw Career timeline
1960–1962: KTIV-TV Newscaster, weatherman, and staff announcer
1962–1965: KMTV-TV Reporter
1965: Anchor of WSB-TV late-evening news
1966–present: NBC News
1966–1972: NBC News West Coast correspondent and KNBC anchor
1973–1976: White House correspondent and Saturday anchor of NBC Nightly News
1976–1981: Today Show anchor
1982–1983: NBC Nightly News co-anchor

1983–2004: NBC Nightly News anchor
2004–present: Special correspondent
2004–present: Contributing anchor
2008: Meet the Press moderator (interim)
Tom Brokaw Speeches
1995: University of Washington commencement speech
2011: Northwestern Mutual Annual Meeting Opening Session Speech
2012: Vanderbilt University and Arizona State University commencement speeches
2013: Loyola University New Orleans commencement speech
2015: High Point University commencement speech[51]
2016: University of Mississippi commencement speech
2017: University of South Dakota open forum
Tom Brokaw Book
Brokaw has also written several books on American history and society in the 20th century. He is the author of The Greatest Generation (1998) and other books and the recipient of numerous awards and honors.
1998: The Greatest Generation
1999: The Greatest Generation Speaks
2001: An Album of Memories
2002: A Long Way from Home: Growing Up in the American Heartland
2006: Galen Rowell: A Retrospective
2007: Boom!: Voices of the Sixties Personal Reflections on the '60s and Today
2011: The Time of Our Lives: A Conversation About America
2013: Christmas from Heaven: The True Story of the Berlin Candy Bomber
2015: A Lucky Life Interrupted: A Memoir of Hope
Tom Brokaw
1989 : Peabody Award for a report called To Be An American;
Alfred I. duPont–Columbia University Awards for excellence in broadcast journalism for Dateline NBC documentary special Why Can't We Live Together on hidden realities of racial separation in suburban America;
Alfred I. duPont–Columbia University Award for excellence in broadcast journalism for his interview with Mikhail Gorbachev;
Seven Emmy Awards including one for China in Crisis special report;
1990 : National Headliner Award from the National Conference of Christians and Jews for advancing the understanding of religion, race and ethnicity;
1992 : Al Neuharth Award for Excellence in the Media presented by the Freedom Forum;
1993 : Emmy award for reporting on floods in the Midwest;
1995 : Dennis Kauff Memorial Award for Lifetime Achievement in Journalism from Boston University;
1995 : Lowell Thomas Award from Marist College;
1997 : University of Missouri School of Journalism Honor Medal for Distinguished Service in Journalism;
1998 : Fred Friendly First Amendment Award, a tribute to those "individuals whose broadcast career reflects a consistent devotion to freedom of speech and the principles embodied in the First Amendment.";
1998 : American Legion award for distinguished public service in the field of communication;
1998 : Citizens' Scholarship Foundation of America's President's Award recognizing "devotion to helping young people through scholarships.";
1999 : Congressional Medal of Honor Society's "Tex" McCrary Excellence in Journalism Award;
1999 : Emmy award for international coverage of the Kosovo conflict;
2002: Paul White Award, Radio Television Digital News Association
2003 : Peabody Award for his special report called "A Question of Fairness";
2005 : Elected to the American Academy of Arts and Sciences;
2005 : Four Freedoms Medal: Freedom of Speech And Expression;
2006 : Washington State University Edward R. Murrow School of Communications Lifetime Achievement in Broadcasting Award;
2006 : Sylvanus Thayer Award: United States Military Academy at West Point;
2006 : Walter Cronkite Award for Excellence in Journalism at Arizona State University;
2006 : Induction into the Television Hall of Fame;
2007 : Horatio Alger Award for overcoming adversity to achieve success through the American free enterprise system from the Horatio Alger Association of Distinguished Americans Inc.;
2011 : Charles Osgood Lifetime Achievement Award in Broadcast Journalism from WFUV (90.7 FM);
2012 : The Nichols-Chancellor's Medal awarded by Vanderbilt University;
2012 : Ken Burns Lifetime Achievement Award awarded at Old Sturbridge Village in Sturbridge, Massachusetts;
2013 : Peabody Award for enhancing his reputation since he left the NBC News desk in 2004.
2014 : Presidential Medal of Freedom
2016 : French Legion of Honor, for his support of World War II veterans, along with actor Tom Hanks and Gordon H. Mueller, president and co-founder of the National WWII Museum, New Orleans
Tom Brokaw Twitter
---

We endeavor to keep our content True, Accurate, Correct, Original and Up to Date.
If you believe that any information in this article is Incorrect, Incomplete, Plagiarised, violates your Copyright right or you want to propose an update, please send us an email to informationcradle@gmail.com indicating the proposed changes and the content URL. Provide as much information as you can and we promise to take corrective measures to the best of our abilities.
---