Vinod Khosla Biography
Vinod Khosla is an Indian-born American engineer, businessman, and venture capitalist. Khosla is the founder of Khosla Ventures and is also one of the co-founders of Sun Microsystems.
He was named among the 400 richest people in the world in 2014 by Forbes magazine. He is well-known for a failed decade-long legal battle to overturn the California Coastal Act and privatize Martins Beach.
---
10 Quick Facts About Vinod Khosla
Name: Vinod Khosla
Age: 64 years old as of 2019
Birthday: 28 January
Zodiac Sign: Aquarius
Height: Average
Nationality: American
Occupation: Engineer, Businessman, Venture capitalist
Marital Status: Married
Salary: To be updated
Net worth: 2.1 billion
---
Vinod Khosla Age
Khosla Ventures founder is 64 years old as of 2019. He was born on 28th January 1955 in India.
Vinod Khosla Education
Vinod was born into the family of an officer in the Indian Army who was posted to New Delhi in India. The officer was his father. Vinod grew up in India and attended Mount St Mary's School. As a teenager, Vinod read about the founding of Intel in Electronic Engineering Times and this inspired him to pursue technology as a career.
Hence, he enrolled at the Indian Institute of Technology Delhi and studied a B.Tech in electrical engineering. He also undertook a master's in biomedical engineering from Carnegie Mellon University and an MBA from Stanford Graduate School of Business.
Vinod Khosla Wife and Children
Khosla is married to Neeru Khosla, the co-founder, and chair of the non-profit CK12 Foundation. She was born in India too with American citizenship. The two refer to each other as "childhood girlfriend and boyfriend" and they tied the knot in 1980. They have four children: Neal Khosla, Vani Khosla, Nina Khosla, and Anu Khosla.
Vinod Khosla Net Worth
Khosla's net worth as of 2019 is 2.1 billion USD.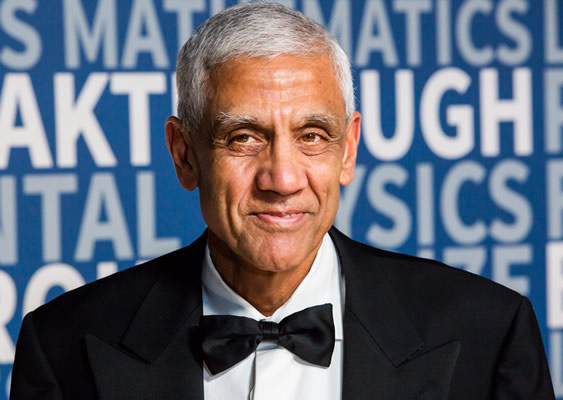 Vinod Khosla Career in Technology
After completing his MBA at Stanford, Khosla began working for an electronic design automation company called Daisy Systems in 1980. In 1982, Khosla and two of his Stanford classmates Andy Bechtolsheim, and Scott McNealy as well as UC Berkeley computer science graduate student Bill Joy, co-founded Sun Microsystems. SUN is an acronym for the Stanford University Network. From 1982 to 1984, Vinod was the company's first chairman and CEO. He left in 1984 to become a venture capitalist.
Khosla's career as a venture capitalist kicked off in 1986 when he joined Kleiner Perkins, a venture capital firm, as a general partner. He has several successful early-stage investments and this made him a name in the company. He also had a key role with several of the tech industry's most spectacular failures, including Asera, Dynabook, BroadBand Office, Excite@Home, and many others.
He made an investment in SKS Microfinance, an Indian microfinance company that lends small loans to poor women in rural India. Khosla is also one of the founders of TiE, The Indus Entrepreneurs, and has guest-edited a special issue of The Economic Times (ET), a business newspaper in India.
Vinod Khosla Khosla Ventures
Vinod founded his company, Khosla Ventures in 2004. The company has its focuses on early-stage companies in the Internet, computing, mobile, silicon technology, biotechnology, healthcare, and clean technology sectors. It is based in Menlo Park, California, and manages approximately $1 billion of investor capital as well as investments funded by Khosla himself.
Vinod Khosla Contacts
Instagram
Facebook
Youtube
Tiktok
Website
Related Biographies
You may also like to read the Bio, Career, Family, Relationship, Body measurements, Net worth, Achievements, and more about: