Johnson Sakaja Biography
Sakaja Johnson is the Governor of Nairobi County. Sakaja became the governor of Nairobi City on August 9, 2022.
Sakaja was born and raised in Nairobi, in the then government quarters in Parklands as the last born in a family of three siblings. He went to Aga Khan Nursery and Primary school up to 1998 and later joined Lenana School where his leadership qualities were apparently very early on.
At Lenana, Sakaja was the prefects' coordinator as well as the law society vice-chairman. During his days at Lenana, he was at one time the best in public speaking in Kenya during the National Music Festivals through a topic titled "My Country Kenya".
Thereafter, he joined the University of Nairobi, after failing to raise the fees to join Havard despite passing the entry exams, where he pursued a degree in Actuarial Science. Sakaja landed his first job at the age of 19 years at Pricewatercoopers (PwC).
After losing the job, a year later, he worked at a cyber cafe with his aunt and in the process started producing music. He developed an interest in rapping and wrote up several songs but never followed through to record and release the songs.
He, however, worked with a gospel music group called Mission Driven. During his life on campus, Sakaja set up various businesses and ended up setting up a financial consultancy firm, Arthur Johnson Consultants, during his fourth year on campus. The firm is still actively running.
---
10 Quick Facts About Sakaja Johnson
Name: Sakaja Johnson Arthur
Age: 37 years
Birthday: 2 February
Zodiac Sign: Not Known
Height: Average
Nationality: Kenyan
Occupation: Governor of Nairobi Count
Marital Status: Married
Salary: Kshs. 924,000
Net worth: $1.3 million
---
Johnson Sakaja Age
Johnson Sakaja is 37 years old as of 2022, he was born on 2 February 1985. He celebrates his birthday on February 2 every year.
Johnson Sakaja Tribe
Johnson Sakaja is a Kalenjin, according to the latest information from online sources. Sakaja's real name is Johnson Koskei Sakaja and was born in Nairobi. He was issued an ID in 2008.
Johnson Sakaja Full Names
Nairobi Governor Johnson Sakaja is known by his full name Sakaja Johnson Arthur.
Johnson Sakaja Height
Sakaja stands at an average height. He appears to be quite tall in stature if his photos, relative to his surroundings, are anything to go by.
However, details regarding his actual height and other body measurements are currently not publicly available. We will update this section when the information is available.
Johnson Sakaja Weight Loss
Nairobi Governor Johnson Sakaja has today revealed his exact weight, stating that he currently weighs 98 kg. He said that in the past, he weighed 145 kilograms but had to cut 47 kilograms by going to the gym so as to look good as a leader.
"I also think it's a good look at a leader, I think a leader should be trim ndio msidhani nakula pesa zenu. DP Ruto actually told me that many years ago," he stated in an interview with pulse live.
The senator revealed that his family's weight loss WhatsApp group has been his greatest motivation in the weight loss journey. Sakaja started his weight loss journey in 2018. He credited his weight loss to a change of lifestyle and diet. He was ranked number one celebrity weight loss transformation in 2018 by pulse live.
"Diet ni muhimu, just reduce the quantities na carbohydrates mingi, add healthy foods halafu kuchapa tizi. Adui sio nyama ni pombe, that's what adds calories mingi sana, kama lazma unywe unapunguza tu. Afya ni muhimu." he said in an interview in the year 2018 at Milele FM.
Johnson Sakaja Education
John Sakaja was born and raised in Nairobi in a family of three siblings. He attended Aga Khan Nursery and Primary school until 1998 and later went to Lenana school where his skills as a leader were shown.
Johnson Sakaja Degree
Sakaja allegedly forged and presented a fake degree certificate from Team University in Uganda,
In the run-up to the 2022 General Election. The High Court has dismissed a petition challenging the validity of Nairobi Senator Johnson Sakaja's academic qualifications due to lack of evidence.
Tertiary/University
Date: Not Available
Education Institution: University of Nairobi
Qualification: Bachelor's Degree in Actuarial Science.
Secondary Education
Date: 1999-2002
Education Institution: Lenana School
Qualification: KCSE
Primary Education
Date: 1998
Education Institution: Aga Khan Nursery and Primary school
Qualification: KCPE
Johnson Sakaja Family
Sakaja was born and raised in Nairobi, in the then government quarters in Parklands as the last born in a family of three siblings.
Not much is known about his early childhood, and he has not revealed much information about his Father or his Brothers or Sisters. This information will soon be updated.
Johnson Sakaja Biological Father
The governor of Nairobi County, Johnson Sakanja was born to his father, John G. Sakaja, can also a politician.
Johnson Sakaja Mother
Here is what Sakaja has to say about his mother. I credit much of who I am today to my mother, Emily Ayoti Kubasu Sakaja, a true queen and the most beautiful woman I've ever encountered.
Despite her passing on when I was only nine, she left an indelible mark in my life. She was an athletic champion who ran for Kenya, worked for the disciplined forces at Kenya Prisons, and was a women's leader in our local church. She taught me the power of integrity; that a good name is worth more than riches.
She taught me never to look down on anyone and because of that my siblings and I formed a tradition we have kept to date. Everywhere we have ever lived, both together and now with our different families, we always make sure that the workers get a meal even when we've had none ourselves. She imparted in me the resilient heart of a champion of never giving up until I win and never letting hate be a feature in any competition.
Her closest friends were all from different communities and she would never allow anyone to bring that up; without knowing, she imparted a national spirit in me, where what matters is someone's values and character, not their tribe. She always affirmed me and taught me how to be confident in my abilities. She taught me that one can be kind yet firm, humble yet great, successful yet grounded, and simple yet classy.
Johnson Sakaja Wife
Apart from being a politician, he also plays the role of a husband and a father to a beautiful wife and two children. Sakaja is best known for saying That he wants to instill greatness and confidence in his kids just as his father did for him.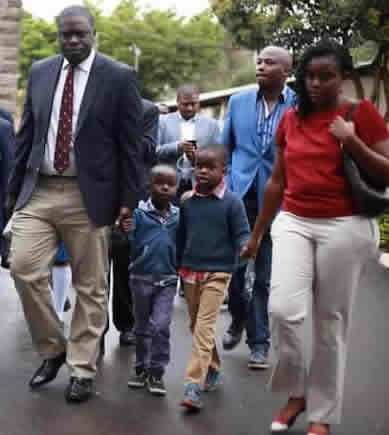 Johnson Sakaja Net Worth
The Kenyan politician Sakaja has a net worth of $1.3 million. He has accumulated most of his revenue from his personal businesses as well as his political career.
Johnson Sakaja Salary
According to our reliable source, governors in Kenya earn a monthly basic salary of Kshs. 924,000 and a number of allowances, thus pushing their gross salaries to over a million
Facts About Johnson Sakaja
Here are some interesting facts and body measurements you should know about Sakaja:
Johnson Sakaja Wiki
Full Names: Johnson Koskei Sakaja
Popular As: Johnson Sakaja
Gender: Male
Occupation / Profession: Politician and Entrepreneur
Nationality: Kenyan
Race / Ethnicity: African
Religion: Christian
Sexual Orientation: Straight
Johnson Sakaja Birthday
Age / How Old?: 37 years old (2022)
Zodiac Sign: Aquarius
Date of Birth: 2 February 1985
Place of Birth: Nairobi, Kenya
Birthday: 2 February
Johnson Sakaja Family and Relationship
Father (Dad): Kubasu Sakaja
Mother: Emily Ayoti Kubasu Sakaja
Siblings (Brothers and Sisters): Two
Marital Status: Married
Wife: Not Available
Girlfriend: Not Applicable
Children: Two
Johnson Sakaja Networth and Salary
Net Worth: $1.3 million
Salary: Ksh. 1,378, 000
Source of Income: Politics
Johnson Sakaja Political Career
Sakaja began his foray into national politics through student politics at the University of Nairobi (NASA – as vice-chair of the Actuarial Students Association and later in SONU). He has been involved in National Politics since the 2005 referendum and played a key role in the 2007 re-election of H.E. Mwai Kibaki.
Sakaja was also instrumental in the constitution-making process and is a key consultant to the COE and Parliamentary Select Committee on the Constitution on the issue of Representation and helped formulate the formula for delimitation of electoral boundaries in Kenya.
Admittedly, his experience in student politics at the University of Nairobi was useful in his new role as chairman of a popular national political party because SONU politics can sometimes get pretty rough and dirty.
Johnson Sakaja Wedding
Details on Johnson Sakaja's wedding are to be updated soon…
Johnson Sakaja Leadership Story
Schooled at Aga Khan Primary and Lenana High schools where he scored clean As Johnson Sakaja claims he started his political career at the age of five.
"Just after finishing Class One at the age of five, my father had decided to make me spend another year in pre-school, an idea that I strongly opposed. I held a one-man demonstration in the house with a placard that I had written "No Class One, No School," the TNA chairman recalls.
"The then Aga Khan headmaster, Joseph Karuga, now the chair of Kenya Primary Head Teachers' Association, said he would allow me to do this only if I attained the top five positions in the entry exam, which I did."
By his final year in Aga Khan, Sakaja's leadership skills were evident for he had already ascended to the position of head boy. Johnson Sakaja also won the United Nations Children's Fund (Unicef) International Children's Debate and the trophy handed to him by the Minister of Environment Francis Nyenze.
"Before her death when I was nine, my mother, who always prophesied I would be a leader, often told me a good name was better than silver and gold," says Sakaja who explains that he bought his dream car, a Mercedes, while in the second year at the University of Nairobi.
"This inculcated in me a virtue of integrity that has stood me in good stead, especially in my position as TNA leader."
While in primary school, Sakaja says he sustained his focus by sticking a photo of his dream car in his school locker.
"Whenever I lost focus in my studies, the sight of the Mercedes Benz that I had stuck on my locker would bring me back to my books," he recalls. "I usually use this simple story to tell the youth to set goals that will keep them grounded instead of wasting time lamenting about their current circumstances".
The eloquent legislator's political career took flight in 2007 when he joined the Kibaki campaign team, albeit as a driver. Just 23 then, he was involved in various political strategies that earned him respect among the president's men.
"After dropping off the big men, I would always drive to college with the four-wheel vehicle, which gave me a lot of perceptional mileage among my fellow students," Sakaja explains.
"But while in the campaigns I also played other key roles, including setting up the PNU tallying center, by which time I was only aged 23 years."
While working for PNU he met Uhuru Kenyatta with whom they worked together on various projects when the latter was the Minister of Finance. Among the things Sakaja says will remain a hallmark of his political career during his work for the last regime is drafting the formula for demarcating constituency boundaries.
"As an actuarial scientist, senior government officials knew I was good in mathematical computations so I was called upon to design mathematical formulae to be used in allocating constituencies to the various regions of the country," Sakaja recalls. "The formula was so water-tight that and well thought out that it was wholly adopted in the Constitution as Article 89."
During that time he wrote a book on devolution, The Operational Framework for Fiscal Decentralisation published by the International Commission of Jurists (ICJ-Kenya).
When President Uhuru Kenyatta was preparing for his presidential bid before the last General Election, the former SONU leader was one of his key strategists, among those who came up with the idea of the president dumping KANU for TNA. This was after plans to rebrand KANU, designs of which he showed to The Standard, failed.
"We came up with the slogan "I believe" with the specific intentions of creating a sense of self-belief, especially among the youth and those who were not where they wanted to be in life," Johnson Sakaja recounts. "The dove was meant to signify a take-off since we have been crawling on the ground with the KANU cockerel for too long. This we correctly predicted would create a national mass movement."
After the composition of TNA, he assembled a communication team that was responsible for planning the historic launch of the party at KICC last year. The team comprised Dennis Itumbi, Machel Waikenda, and Jasper Mbiuki among many young people.
"Leadership is about a dream and as long as you dream, the plan will eventually fall into place," says the man who claims he once helped Pricewaterhouse Coopers, his former employer, resolve a riddle of an Sh100 million company deficit as an intern. "Martin Luther King Junior had a dream although he never had a plan. It was finally actualized with the election of Barack Obama."
In his relationship with the president, Sakaja is very economical with words. "To me, he is both an elder brother and a father figure, which means we can talk about many issues outside politics since he is a good conversationalist," the bulky politician says.
"He is also my boss and he is a no-nonsense man when it comes to matters of national importance. I am glad he believes in the youth potential, which is reflected in his appointments".
Besides politics Johnson Sakaja is also a businessman, having opened Arthur Johnson Consulting while still in university, and has over time diversified his interests to farming, transport, and steel.
The Lenana School alumni is also a guitarist and a former member of Mission-Driven, a gospel band.
"While in campus I ran several businesses, one of them being the biggest laundry at the main campus where I charged students a token amount to clean their clothes," Sakaja, who says he joined politics in college to enable him to do business and provide leadership, adds. "I had a salon, barbershop, laundry, and an ice vending machine. I spent the money I earned to buy a Mercedes-Benz, the car of my childhood dreams, while in the second year."
He says some of the laundry machines that he bought are still at the Main Campus, which is "a testimony to my business acumen".
To remain grounded as a leader, Sakaja says he occasionally visits youth hangouts where he can mingle with the young people and understand their needs.
"Disconnecting a leader from the people is like cutting off his oxygen since serving the people is the sole purpose of leadership," the youthful politician concludes.
"As a leader sometimes you will be misunderstood, which should not worry you provided your conscience is clear, and you are doing the right thing. People will understand later after the success of your enterprise."
Johnson Sakaja House
Sakaja is a resident of Nairobi, Kenya.
Johnson Sakaja Honours and Awards
African Achievers Award Changemaker of the Year 2016
Jacobs Well Award 2016 (Men Impacting Differently)
Johnson Sakaja Video
Frequently Asked Questions About Johnson Sakaja
Who is Johnson Sakaja?
Sakaja Johnson is a Kenyan Politician born on February 2, 1985. He is the current senator of Nairobi county after winning the 2017 general election. He was a nominated Member of Parliament, in office from 2013 to 2017.
How old is Johnson Sakaja?
Sakaja was born on 2 February 1985. He is 35 years old as of 2020. He celebrates his birthday on February 2nd every year. Details of his place of birth will soon be updated.
Is Johnson Sakaja married?
Apart from being a politician he also plays a role as a husband and a father to a beautiful wife and two children.
How much is Johnson Sakaja worth?
The Kenyan politician Sakaja has a net worth of $ 1.3 million. He has accumulated most of his revenue from his personal businesses as well as his political career.
How much does Johnson Sakaja make?
According to our reliable source, governors in Kenya earn a monthly basic salary of Kshs. 924.000 and a number of allowances thus pushing their gross salaries to over a million
Where does Johnson Sakaja live?
Sakaja lives in Nairobi Kenya. Because of security reasons, he has not shared his precise location of residence. We will immediately update this information if we get the location and images of his house.
Where is Johnson Sakaja Now?
Sakaja is a well-known politician and is currently the governor of Nairobi County, Kenya.
Johnson Sakaja Contacts
YouTube
TikTok
Phone Number: 0721326070 
Email Address: jsakaja@gmail.com 
Related Biographies.
You may also like to read the Bio, Career, Family, Relationship, Body measurements, Net worth, Achievements, and more about:
---
More About Kenya
Kenya is a land of contrast – highlands and plains; wet and dry; rural and urban and people of all races. This offers many opportunities to citizens, foreigners, and visitors alike.
Here is more information about Kenya …
Welcome to Kenya. Welcome to Opportunity.
---