Wynonna Judd Biography
Wynonna Judd is an American country music singer. She and her mother, Naomi, form the popular country music duo The Judds. The mother-daughter is dynamic.
Naomi faced extreme poverty during the early years of Wynonna's life. Later on, the duo moved to Nashville to pursue a career in music. Impressively, by the mid-1980s, they became popular with many successful albums and singles to their credit.
The Judds released 26 singles. Of course, the singles topped many US music charts. Unfortunately, the band dissolved in 1991, following Naomi's illness. Thus, Wynonna ventured into her solo music career.
Wynonna has released eight studio albums and over 20 singles as a solo artist. Notably, her first three singles reached the top of the country-music charts. Moreover, three of her solo albums have been certified platinum by the Recording Industry Association of America (RIAA). Judd has also experimented with acting, writing, and philanthropy.
Wynonna Judd Age
Judd was born Christina Claire Ciminella on May 30, 1964, in Ashland, Kentucky, USA. She is 55 years old.
Wynonna Judd Family
Judd is the love child of her 18-year-old then, single mother, Naomi. She was the result of Naomi's relationship with Charles Jordan. However, Charles was not ready to be a father when Wynonna was conceived. But Naomi decided to give birth to Wynonna.
Ultimately, Charles abandoned them. Naomi, aware of hardships she would have to face, married a man named Michael Ciminella.
Shortly thereafter, Naomi gave birth to Wynonna's half-sister, Ashley. Interestingly, Ashley also turned out to be a singer. The family moved to Los Angeles when Wynonna was 4 years old. However, the family could not adjust to the new lifestyle. Thus Michael and Naomi started having arguments. Eventually, the couple divorced in 1972.
As fate would have it, Michael was granted the custody of Ashley, while Naomi took Wynonna and moved from place to place. During this time, Naomi worked as a nurse. Naomi's profession had her working in different hospitals in various cities. The duo finally settled in Kentucky in the mid-1970s.
The mother was a keen country-music fan and an aspiring singer. Naomi practiced music for hours and hoped for a record deal. Similarly, Wynonna got addicted to country music and started practicing with her mother.
During this time, Wynonna states that they were living in extreme poverty. To the extent of going without water or electricity in the rooms at times.
Wynonna and Naomi finally moved to Nashville, Kentucky. This was the center of country music. They moved in search of a record deal, in 1979. They finally got their big break in 1983, after trying for several years.
RCA Records offered them a record deal. Soon, their skills and charm took over.
Wynonna Judd Husband| Children
Judd met Arch Kelley III in 1993, and the couple started dating soon. Wynonna gave birth to her son, Elijah, in 1994. Wynonna and Arch married in 1996. Her daughter, Grace Pauline, was born soon after. The couple divorced in 1998.
She had another failed marriage, with her former bodyguard, before she got married to Cactus Moser in 2012. He was later severely injured in a car accident, which resulted in his left leg being amputated.
Wynonna Judd Son
Elijah, 23, is Judd's firstborn; his dad is her first husband, Arch Kelley, whom she married in 1996. Elijah has a sister, Grace, who is two years younger. Judd and Moser, her third husband, tied the knot on her farm in rural Leiper's Fork, Tennessee, in 2015. In 2012, Moser was severely injured in a motorcycle accident which resulted in the amputation of his left leg above the knee.
Judd is currently on tour with her band Wynonna & the Big Noise, with dates scheduled through April of 2018. Her last studio album, named after her band, dropped in early 2016 and features Jason Isbell on a track called "Things That I Lean On," in addition to a cut titled "Ain't No Thing" penned by Chris Stapleton.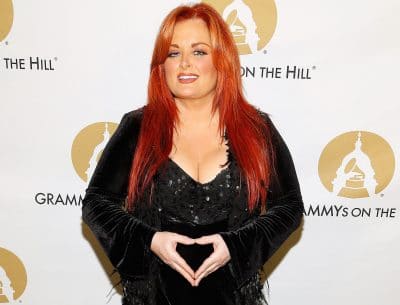 Wynonna Judd Father Died
Charles Jordan, biological father of Wynonna Judd, died Thursday, Aug. 10, at his home in Louisa, Ky., near the West Virginia border, according to the coroner for Lawrence County, Ky. He was 56. Cause of death is still under investigation, the coroner said. The singer learned about her father's death Monday (Aug. 14), a spokeswoman for Judd said. Jordan lived alone. Judd grew up believing that Michael Ciminella, husband to her mother, Naomi Judd, and father to her sister, Ashley Judd, was her father. Wynnona learned that Jordan was her real father several years ago, but the two never met, the spokeswoman said. Jordan's body was cremated. A memorial service was planned on Saturday (Aug. 19), but details were unavailable at press time.
Wynonna Judd Daughter
Grace Pauline Kelley. Wynonna Judd's daughter, Grace Pauline Kelley, has been sentenced to eight years in prison. PEOPLE confirms the 22-year-old, whose father is Judd's first husband Arch Kelley, is currently behind bars at the West Tennessee State Penitentiary in Henning, Tennessee, and has been serving her jail time since April.Kelley's release date is Aug. 10, 2025, but she is eligible for parole on Feb. 4, 2019. A rep for Judd did not immediately respond to PEOPLE's request for comment. Kelley was sentenced to prison for leaving a court-mandated drug recovery program, violating her probation, according to Radar Online, which also reported that her arrest was issued in November 2017.
Kelley pled guilty to meth manufacture, delivery, sale and possession with intent on May 26, 2017 in Williamson County Court. A Tennessee judge ordered her to pay $3,092.50 in fines. The troubled started in 2011. She disappeared for days during a flight layover while returning home from boarding school. A source told Radar that went to "behavioral camp" for six months in December 2012.
Ashley Judd, Kelley's actress aunt,obtained temporary custody of her in 2013 when she accused her mother of popping pills and being abusive. The singer denied the allegations. The troubled continued on December 18, 2015 when she was arrested at a Nashville Walgreen's store.
Months prior, in May 2017, she pled guilty to meth manufacture, delivery, sale and possession with intent in Williamson County Court. She was also charged with manufacturing and delivering meth in nearby Maury County but pleaded guilty to the lesser charge of possession of meth. A spokesperson for Williamson County Court and Williamson County Police Department did not immediately respond to PEOPLE's requests for comment.
Kelley was previously ordered to serve 11 months and 29 days in jail but the sentence was suspended and instead, her jail time was to be served on probation after 30 days in jail in March 2017 followed by 180 days in-house rehab program, 2017 was not the only year of ups and downs for Kelley.
In December 2015, she was arrested in a Walgreens parking lot in Nashville and in May 2016 was charged with promotion of meth manufacture to which she pleaded guilty to the lesser charge of possessing meth, according to Radar Online. That same year, she was arrested in Alabama for being a "fugitive from justice," and her probation was revoked.
Wynonna Judd The Judds Music Career
Judd and her mother formed their very own duo, The Judds, as already stated. So they started making music together. The relationship between them was mostly dysfunctional. For they both had slightly different sensibilities regarding music.
Judd once stated that she knew that she needed her mother more than her mother needed her. Naomi managed to influence a big producer, who was impressed after listening to them. In addition, Naomi had nursed his daughter earlier.
The Judds became increasingly popular in the 1980s. This was following the success of their singles Girls' Night Out, Turn it Loose, Why Not Me, and Grandpa.
The mother acted as the business decision-maker and the lead performer. Wynonna handled the creative parts, such as the lyrics. The duo rocked the country charts and became one of the most popular country duos in the US.
The Judds released six studio albums with RCA Records, until 1991. Moreover, they won several awards, such as the Grammys and the Country Music Association awards.
The duo appeared on TV with Austin City Limits and Square One TV in 1985. Naomi pulled herself out of the duo when they were at the peak of their fame in 1991. Unfortunately, to her being diagnosed with hepatitis C. Therefore, Wynonna got the final push to go solo with her musical ambitions.
Wynonna Judd Concert
Wynonna Judd Songs
(no One's Gonna) Break Me Down
A Little Bit Of Love (goes A Long Long Way)
All Of That Love From Here
Always Will
Burning Love
Can't Nobody Love You (like I Do)
Chain Reaction
Change The World
Come Some Rainy Day
Dance! Shout!
Don't Look Back
Don't You Throw That Mojo On Me
Father Sun
Flies On The Butter (you Can't Go Home Again)
Free Bird
Girls With Guitars
Going Nowhere
He Rocks
Heaven Help Me
Heaven Help My Heart
Help Me
I Can't Wait To Meet You
I Just Drove By
I Saw The Light
I Want To Know What Love Is
I Will Be
I've Got Your Love
Is It Over Yet
Is It Over Yet (club Mix)
It All Comes Down To Love
It's Never Easy To Say Goodbye
It's Only Love
Just Like New
Learning To Live With Love Again
Let's Make A Baby King
Live With Jesus
Lost Without You
Love By Grace
Love Like That
Love's Funny That Way
My Angel Is Here
My Strongest Weakness
New Day Dawing
No One Else On Earth
No One Else On Earth (club Mix)
Old Enough To Know Better
Rescue Me
Rock Bottom
Rock Bottom (single Version)
She Is His Only Need
Somebody To Love You
Sometimes I Feel Like Elvis
Tell Me Why
That Was Yesterday
That's What Makes You Strong
The Kind Of Fool Love Makes
The Other Side
The Wyld Unknown
To Be Loved By You
Troubled Heart And A Troubled Mind
Tuff Enuff
We Can't Unmake Love
What It Takes
What The World Needs
When I Reach The Place I'm Goin'
When Love Starts Talkin'
Who Am I Supposed To Love
Who Am I Trying To Fool
Why Now
You Are
Your Day Will Come
Wynonna Judd Solo Career
Judd performed solo for the first time in January 1992, during the American Music Awards. She announced her very first self-titled album on the show. Besides, unveiling a single from her album, She Is His Only Need.
Impressively, the single topped the country music charts. Interestingly, the following three singles from the album also graced the charts. They were, I Saw the Light, My Strongest Weakness, and No One Else on Earth
Overwhelmingly, the album turned out to be successful. Selling five million copies and receiving five platinum certifications by the RIAA. The second album, which was released in 1993, was titled Tell Me Why and was a perfect sophomore attempt.
The album had five consecutive top hits that graced the country-music charts. With the songs, Rock Bottom and Girls with Guitars became particularly successful across the country. Similarly, the second album also proved to be a platinum album.
Judd's third album, Revelations, was also marked platinum by the RIAA. However, it struggled to recreate the successes of her previous two albums.
Her fourth album, The Other Side, Wynonna adopted a style influenced by rock and blues. Thus the album could not even surpass the success of Revelations. In spite of being marked as gold, it was the least successful album of Wynonna till that time.
Judd followed up with two more partly successful albums, namely, New Day Dawning and What the World Needs Now Is Love. Wynonna briefly united with her mother Naomi in 1999 and announced a New Years' Eve tour. However, her magic was fading. Judd collaborated with a few producers with whom she had worked in the past, but nothing worked the way she wanted.
Wynonna Judd No One Else on Earth Music Video
Wynonna Judd Burning Love Music Video
Wynonna Judd Tour
OCT

5-

WOONSOCKET, RI
Wynonna Judd More Works| 2000's
Judd released another studio album in February 2009, Sing: Chapter 1. It mostly consisted of cover songs.
Wynonna appeared on the famous talk show The Oprah Winfrey Show in September 2010. She talked about her on-stage comeback with her mother Naomi. The Judds eventually arrived back on the horizon and released the single I Will Stand by You.
Wynonna launched her new band Wynonna & the Big Noise in 2011. They released a single from her new album, which she promoted as her most personal album till that time. In February 2016, Wynonna and her band released a studio album, Wynonna & the Big Noise. In 2011, Wynonna released her best-selling novel 'Restless Heart.' Judd has appeared in the TV show 'Who Wants to be a Millionaire' and in the series 'Touched by an Angel' and 'Kath & Kim.
---
We endeavor to keep our content True, Accurate, Correct, Original and Up to Date.
If you believe that any information in this article is Incorrect, Incomplete, Plagiarised, violates your Copyright right or you want to propose an update, please send us an email to informationcradle@gmail.com indicating the proposed changes and the content URL. Provide as much information as you can and we promise to take corrective measures to the best of our abilities.
---