Asante Blackk Biography And Wiki
Asante Blackk is an American actor and Instagram personality from Maryland, who is known for his role in Netflix's miniseries "When They See Us" as Kevin Richardson. The film, When They See Us got him a Primetime Emmy Award nomination. Blackk also appeared in the fourth season of the television series This Is Us (2019).
Asante Blackk Age And Birthday
Asante was born Asante Duah Ma'at on October 20, 2001, in Maryland, United States. He is 18 years old as of 2019. He celebrates his birthday on the 10th of October every year.
Asante Blackk Height And Weight
Asante is a young man of average stature. He stands at a height of about 5 feet 5 inches. His average height is accompanied by a weight of 52 kg.
Asante Blackk Parents And Siblings – Family
Asante's father is known as Ayize and his mother is Aiyana Ma'at. His father is from Alexandria, Virginia while his mother is from England.
Asante Blackk Body Measurements
Height: 5 Feet 5 Inches (165cm)
Weight: 52 kg (114 lbs)
Shoe Size: Not Available
Body Shape: Not Available
Hair Colour: Black
Eye Colour: Brown
Asante Blackk Early Life And Career
Blackk began acting while he was still in elementary school at Henson Valley Montessori School. His first role was Mowgli in a performance of The Jungle Book.
He had one of his first professional roles at The Howard Theatre in Washington, in "How I Learned to Be a Kid". He got an agent after that.
In the film When They See us, Blackk had originally auditioned for the role of portraying Korey Wise, one of the exonerated members of the Central Park Five. He was, however, instead, cast as the 14-year-old Kevin Richardson.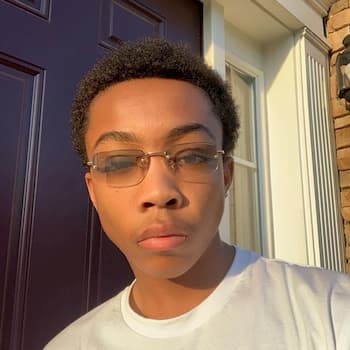 Also in season 4 of the series This Is Us, he portrayed Malik, a teenage father dating Deja (Lyric Ross).
Asante Blackk This is Us
In season 4 of the series This Is Us, in 2019, Blackk played the character, Malik.
The series premiered on NBC on September 20, 2016. It follows the lives and families of two parents, and their three children, in several different time frames.
Asante Blackk When They See Us
Asante is starring in a Netflix miniseries "When They See Us", which is about the innocent teens who were branded the "Central Park Five".
The teens were wrongly convicted of the rape of a white female jogger in the 1989 Central Park case.
The five teens served 6 to 13 years in prison before their convictions were overturned when another man confessed to the crime; DNA confirmed his guilt and exonerated them.
The five teens who are now grown men are Antron McCray, Kevin Richardson, Yusef Salaam, Raymond Santana Jr., and Korey Wise.
In the miniseries, Asante is portraying Kevin Richardson. Kevin was 14 years old when he was arrested. He served seven years in prison.
Speaking about him being cast as Kevin Richardson, Asante said; " It was a challenge trying to snap out of the emotions [on set].
It was really easy to feel the pressure of what was happening, but once "cut" was called — in the courtroom scenes I found myself still angry and still really emotional. I couldn't even imagine myself going through what you went through, and it made me angry for you. This should have never happened.
 These five guys are human. They're not the "wolf pack," the monsters they were portrayed as by the media in 1989. These are guys that have families, that have goals, aspirations, things they want to do with their lives, and they shouldn't just be brought down to a headline or something to be afraid of because they're not at all.
If you see something and it confirms your biases, you might want to take a step back before you jump to a conclusion, because there's a huge chance it isn't true."
Kevin Richardson Remarks
Speaking about his arrest, conviction and the series, Kevin said; "This whole thing was a therapeutic process. PTSD is real and I go through that. People might think on the outside looking in that I'm doing well because we got the settlement.
That doesn't erase the time that I did. We always say we have invisible scars nobody sees. And no matter how you cover it, the scab will keep coming off.
The settlement didn't really mean anything. Just to tell people we told you so from the beginning — that's all we wanted."
He also added, "It's a struggle that I deal with every day. But I didn't want to be an older, bitter man, even though I am angry, yes. But we did want to channel that energy and turn this to something positive so we could build for our future generation.
That's why I love the title "When They See Us." When they see us as black and brown people, we've judged already from the colour of our skin. So like Asante said, take a step back and think.
I want everybody to know that we're survivors of this and we don't want to see another Central Park Five. We don't want to see another Scottsboro Boys. We don't want to see another Emmett Till."
The other main casts are :
Asante Blackk Net Worth
Blackk has not revealed his net worth. He is a simple person and never likes to attract public attention by publicly displaying his wealth. This section is under review, we will update you when details about his net worth are revealed.
Frequently Asked Questions About Asante Blackk
Who is Asante Blackk?
Asante is an American actor and Instagram personality.
How old is Asante Blackk?
Asante is 18 years old as of 2019. He was born on October 20, 2001.
How tall is Asante Blackk?
Asante stands at a height of 5 feet 5 inches.
Is Asante Blackk married?
Asante is not married yet.
How much is Asante Blackk worth?
Blackk has not yet revealed his net worth. We will update this section when we get and verify information about the wealth and properties under his name.
Where does Blackk live?
Because of security reasons, Blackk has not shared his precise location of residence. We will immediately update this information if we get the location and images of his house.
Is Blackk dead or alive?
Asante is still alive and in good health. There have been no reports of him being sick or having any health-related issues.
Asante Blackk Twitter
Asante Blackk Instagram