Kelvin Bahati Gospel Artist Biography
Kelvin Bahati is a Kenyan Gospel Singer. As a man with talent, his humble nature put him in the big league.
Kelvin Bahati Early Life
Bahati was born as Kevin Kioko. He grew up an orphan who lost his mother at the age of 7.
Kelvin Bahati Education
Bahati attended ABC orphanage in Mathare slums in order for him to have shelter and education. He studied at Nakeel school in Kajiado and then at St. Theresa's Boys in Eastleigh where he attained a C+ in KCSE at 2011.
Kelvin Bahati Music Career
Bahati began his musical journey during his high school years. He was discovered when he made a solo performance in 2010 playing the guitar at the Music Festival National Level held in Nakuru. The following year Bahati went ahead and represented his school, St. Theresa Boys High School in Eastleigh where he sang and played the guitar at the National Music Festival in 2011 that amazed the crowd.
Straight from high school, Bahati coupled up with J. Blessing and L.B films who did his first song 'Siku ya Kwanza'. This song went ahead to be a great hit song that propelled him to immediate celebrityhood in the gospel industry with people increasingly requesting his song.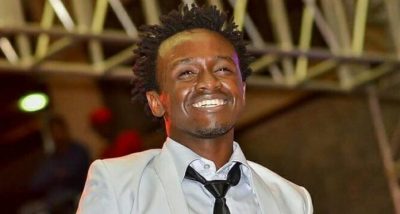 Kelvin Bahati Age
Bahati was born on December 22, 1992.
Kelvin Bahati Family
Bahati grew up as an orphan who lost his mother at the age of 7.
Kelvin Bahati Net
Working as a musician, there is no doubt Bahati earns a good salary and has been able to accumulate good net worth. However, his exact net worth has not yet been revealed but the information will be updated as soon as it is available.
Kelvin Bahati Award and Achievements
Bahati had the privilege of being awarded Groove award winner for best male gospel singer 2014. He also received various nominations for best video of the year and best collaboration.
On top of this he has been named the best gospel artiste in Africa in the Afrimma awards 2014 hosted at the Eisemann center in Texas, USA an award that is usually reserved for musicians who have matured in the entertainment industry.
Kelvin Bahati Gospel Artist Opens up About His Family (Pulse)
"As you have heard in my song, Mama, I was nine years when my mother passed on but now I have come to find out that I was actually seven then," Bahati, the singing orphan and now the most promising gospel singer recalls.
"By the way, don't shed tears if you get moved by the tribulations in my life as I am full grown now," in quick succession, he jokes, his uplifted ambition betraying the pitfalls that have stalked his entire humble upbringing.
"Seven," I pose with a puzzled gesture. We are here to connect the missing links. A prolonged awkward silence throws us to an uncalled for an interlude.
It is only days after the talented contemporary gospel star docked at the Pulse desk, revealing his desire to reconnect with his family that sort of neglected him after his mother died while he was a toddler. His father, whom he cut links with shortly after his mother's demise is also diseased. Even then, he was a stranger, after he remarried and relocated homes, with a poor Bahati finding himself alone in Kariobangi, a Nairobi slum, the only home he now knows.
"I had been living in ABC Kenya Children's home in Kariobangi, until I learned of the passing of my father. I was in Class Eight. Somehow, I managed to attend the burial and it was after this when my step-brother took me. He is the only family I have ever known of," says Bahati, of his guardian, Kioko Bahati. With Pulse and his step-brother as his back-up, two weeks ago, the young Bahati finally gathered courage and took a journey to his late mother's native Makueni County to trace his background.
The grueling two-days search was an experience, one that saw them face resistance and even life-threatening handles. Into a remote village, they finally docked, and there was Bahati's 105-year old grandfather.
"The old man was utterly shocked. It was an emotional and fulfilling reunion. He informed me that my grandmother passed on years ago," Bahati says, livening up in jubilation before dazing into another emotional interlude. His mind goes down memory lane and as he reminisces, his hidden emotions so buried in his brave face tells of a memorable pilgrim.
"I have lived for 13 years without seeing my family and I needed to see them. Amazing, my grandfather recognized me even with my short locks. The meeting was a humbling experience. The place is very dry and the realization of where I actually belong inspired me to work harder. It sparked one of my biggest dreams of being a factor of change in my society," he recollects.
He spent the weekend at the village and as he familiarised himself with his maternal family, no one was giving a word about his paternal end and sitting for this interview, every query we try to raise about the missing links is met with resistance. "I only talk about this when I am giving motivational talks to schools. I know that I can only count myself successful once I embrace forgiveness. This is what has opened many doors in my life," he says.
He adds: "I encourage everyone to trace their roots and remember their humble beginnings. I believe the city can change us but we have to remind ourselves of where we come from. It gives one such a sense of humility to see God's favour upon your life. I don't regret anything as there is power in humble beginning." "My dream is to be the voice of an African child. There are many people I am yet to inspire with God's word," he concludes.
Frequently Asked Questions About Bahati
Who is Bahati?
Bahati is a Kenyan Singer.
How old is Bahati?
Bahati is 26 years old a of 2019.
Is Bahati married
Bahati is married to his lovely wife Diana.
Bahati Salary?
Not available.
How much is Bahati net worth?
Not available.
Where does Bahati live?
Bahati lives in Nairobi Kenya
Where is Bahati now?
Bahati is still pursuing his career in music.
Kelvin Bahati  Love Song: Ten over ten
 Kelvin Bahati Latest song: DK KWENYE BEAT and BAHATI-SORRY
 Kevin Bahati Instagram
https://www.instagram.com/p/BuigQA2HAOZ/
 Kevin Bahati Twitter
Bahati Interview
---
More About Kenya
Kenya is a land of contrast – highlands and plains; wet and dry; rural and urban and people of all races. This offers many opportunities to citizens, foreigners, and visitors alike.
Here is more information about Kenya …
Welcome to Kenya. Welcome to Opportunity.
---
Other Famous People in Kenya