Brandon Micheal Hall Biography
Brandon Micheal Hall is an American actor, known for his starring roles in the television series Search Party (2016–present), The Mayor (2017), and God Friended Me (2018–present). Brandon has been able to collect massive fame and recognition already at an early age.
Hall was in Cecile on the Phone (2017). He was in Monster Party (2018) and Lez Bomb (2018). Hall was in LFE (2015), a made-for-TV-movie, directed by David Slade. The TV film had been intended as a television series pilot. In 2016, he was cast in Search Party. In January 2017, Hall was cast in The Mayor. In May 2018, he was cast in God Friended Me.
Brandon Micheal Hall Age
Born on 3 February 1993 in Anderson, South Carolina, Hall is 26 years young as of 2019. He was raised by his single mother, who is a minister. His zodiac sign is Aquarius.
Brandon Micheal Hall Height and Weight
The famous actor stands tall at a height of 5 Feet 9 Inches. He weighs 80 KG or 176 lbs. He has an athletic body type with black eyes and black hair
Brandon Micheal Hall Mother | Brandon Micheal Hall siblings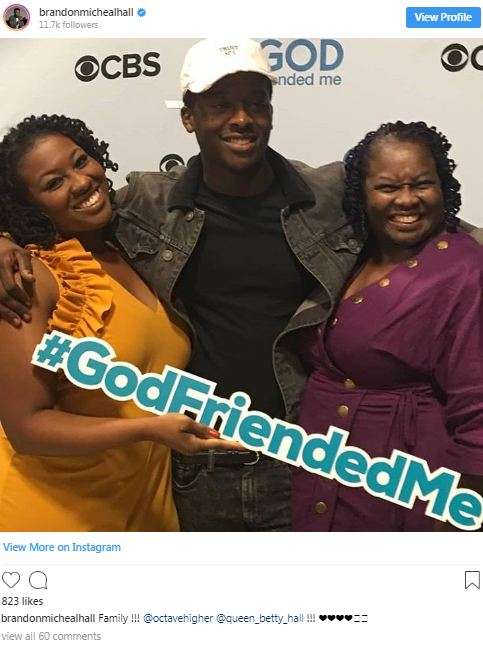 Talking of family, Brandon was raised alongside his elder sister Octavia Hall by a single mom, who is a pastor. She never let them feel the absence of their father as she fulfilled every need of him and his sister. The actor has never spoken about his father because he was largely absent when he was growing up. Hence Brandon has always been momma's son.
Halls's mother, Betty Hall is a preacher. As a pastor of the Kingdom Global Ministry in Anderson, she was surprised when she found out her son was going to play a role as an atheist in the movie 'God Friended me'.
"Well at first my mom was like 'Whoa, alright!'" Brandon Micheal Hall told The Cheat Sheet.
Hall revealed that his conversations with his mother have evolved as well. "Now she's like 'alright, well let's talk about it. What are your thoughts? Do you believe?' My mom is asking me these things now."
In addition, he said "My mom is very loving. I just never thought within the religion I had the opportunity to say like 'actually I'm questioning certain things and feeling a certain way about certain things.'"
Brandon Micheal Education
Hall attended Pendleton High School for his freshman and sophomore years. He later transferred to South Carolina Governor's School for the Arts & Humanities in Greenville. Hall continued to study drama at the Juilliard School in New York City, from which he graduated in 2015.
Brandon Michael Hall Net Worth
Michael Hall's net worth comes from being a TV Actor. Hall ranked in the list of Famous celebrities Group. Also, ranked with those people who were born on February 3. Brandon is one of the famous people with the profession TV Actor. Although Brandon has not shared with media the actual figure of his salary. His estimated net worth is currently $1.2 Million.
Brandon Michael Hall Relationship | is Brandon Micheal Hall Married?
Hall has been successful in keeping his love life a secret, from the public's reach. He is more focused on growing his acting career, maybe that could be the reason he is not interested in relationships or marriage. But all these are speculations, chances are he might be hiding his relationship status behind the camera.
is Brandon Micheal Hall religious?
Micheal Hall grew up going to church four or five times every Sunday. His mom was a preacher and they would travel around Georgia, North Carolina, and South Carolina so she could teach and sing before multiple congregations. Hall, 25, still goes to church now amid his blossoming acting career.
Brandon Michael Hall God Friended Me
God Friended Me is an American comedy-drama series. It was ordered to series on May 11, 2018, and stars Brandon Micheal Hall, Violett Beane, Suraj Sharma, Javicia Leslie, and Joe Morton. The series premiered on September 30, 2018, on CBS. On October 19, 2018, it was announced that the series had received a full-season order from CBS for 20 episodes.
On January 29, 2019, CBS renewed the series for a second season which premiered on September 29, 2019. Micheal Hall as Miles Finer, a skeptical atheist who hosts a podcast about his atheism. Miles' life is thrown into chaos when he is friended by God on Facebook, who then sends him friend suggestions. This sends him on a journey to change people's lives.
Brandon Micheal Hall Movies and Tv Shows
The Airport Run –
(Short 2018) as Elijah
God Friended Me –
(TV Series 2018-2019) as Miles Finer (23 episodes, 2018-2019)
Always a Bridesmaid –
(2019) as Kenny
Monster Party –
(2018) as Dodge
Lez Bomb –
(2018) as Austin
The Mayor –
(TV Series 2017-2018) as Courtney Rose (13 episodes, 2017-2018)
Search Party –
(TV Series 2016-2017) as Julian (20 episodes, 2016-2017)
Cecile on the Phone –
(Short 2017) as Donald
The Times –
(Short 2016) – Daniel
Search Party –
(Short 2016) as Sean
The Characters –
(TV Series 2016) as Rookie (1 episode, 2016)
Broad City –
(TV Series 2016) as Delivery Guy (1 episode, 2016)
Unforgettable –
(TV Series 2016) as Officer Richie Gardner (1 episode, 2016)
LFE –
(TV Movie 2015) as Kevin
Reagan in Kabul –
(Short 2013) as Bryan / Luke
Brandon Micheal Hall Twitter