Carlton Pearson Biography
Carlton Pearson born Carlton D'metrius Pearson, is an American minister and singer. He was born on March 19, 1953, in San Diego, California.
Carlton Pearson is a native of San Diego California, where he spent the first 18 years of his life with his parents and five siblings. He was raised in a traditional fundamentalist Christian home, a fourth generation Pentecostal preacher.​
​
After studying at the Oral Roberts University in Tulsa Oklahoma, where he majored in Biblical Literature/English Bible and minored in Theology/Historical Studies, he served for 15 years on its Board of Regents, and two years as Associate Evangelist of The Oral Roberts Association, (ORA).
​In 1977, Pearson founded Higher Dimensions Ministries (now New Dimensions ), in Tulsa, which grew from a traveling evangelistic team in '77, to a multi-faceted global ministry, which included a local church of over 5,000, a home for unwed mothers, one for ex-offenders returning to society, a full service licensed Counseling Center, prison and nursing home outreaches, a national Purity With Purpose Discipleship Program for men and women, with graduates nationally and internationally, a 645 acre horse Ranch for troubled Youth and Teens.
Pearson was consecrated to the office of Bishop in 1996 through a College of Bishops headed by Bishop Charles E Blake, presently the Presiding Bishop of the Churches of God In Christ, the denomination of his upbringing, and through whom he was officially ordained into the ministry in 1971. He founded and presided as Bishop of the Azusa Interdenominational Fellowship of Christian Churches and Ministries, a network of over six hundred churches and ministries.
He has served on the College of Bishops of the International Communion of Charismatic Churches and on the boards of several other charitable and humanitarian organizations, including the Human Rights Campaign of Wash DC, an organization promoting the civil rights of America's GLBTQ community.
He has authored a variety of books and booklets and more recently, he has felt a passion to proclaim the "Gospel Of Inclusion" and has written a widely acclaimed book by that name, published by Simon and Schuster.
The book emphasizes multi-cultural dialogue and a common respect for all faith disciplines. It confronts the Christian church's exclusivism as being inconsistent, in spirit with the teachings of Jesus and that it is more important what Jesus said about God than what the church says about Jesus.
Carlton Pearson published a book recently, and I figure that caused some of the alarm. God Is Not a Christian defends his views, answers his critics, and, according to the sole reviewer "he also throws in a lot of ideas about God, the divinity of man, and why he views Scripture as flawed in places. This will bother some of his conservative Christian readers."
Carlton Pearson Age
Carlton Pearson was born on March 19, 1953.
Carlton Pearson Net Worth
He is estimated to be worth $16 million. This majorly comes from his ministry and acting career.
Carlton Pearson Children | Carlton Pearson Wife | Carlton Pearson Family
In 1993, Carlton Pearson married the former Gina Marie Gauthier (pronounced Go-chay), who is a professional Life Coach, Landmark Education and Yoga enthusiast. They are the proud parents of one son, Julian D'Metrius, and a daughter, Majestè Amour.
Carlton Pearson Divorce
On August 25, 2015, Gina Pearson filed for divorce from Carlton. On May 19, 2016, before the divorce was finalized, Mrs. Pearson dismissed her petition for divorce.
Bishop Pearson, at the invitation to serve as the Interim Senior Minister at Christ Universal Temple in Chicago, moved his family and ministry headquarters from Tulsa, Oklahoma to Chicago where he is Founder/Executive Director of New Dimensions Chicago, building a local multi-cultural and radically Inclusive spiritual community that emphasizes radical inclusion, expanded consciousness and Self-Actualization (the development of the personal Self and Soul) and includes a cyber ministry reaching a global Internet audience of thousands.
​
His newest book, God Is Not A Christian, Nor A Jew, Muslim, Hindu…God Dwells With Us, In Us, Around Us, As Us, was published by Simon and Schuster and released in the spring of 2010. He is presently working on his next book titled "You're Not In Trouble, You're In Transition: Making, Managing and Mastering Change."
Carlton Pearson Cancer
Around 2005, Carlton Pearson was diagnosed with prostate cancer. The bishop was hospitalized that same year. Cancer severely damaged his body but not his self-assurance.
Carlton Pearson Songs
We'll understand it better by and by
Old Songs Medley
I know Lord Will Make A Way Somehow
Father, I strech my hands to thee
Shine On Me
Jesus, I'll never forget/He's done so much for me
How I Got Over
Going to heaven to meet the king
Precious Memories
In the Arms of Jesus
Forever You're My King
To Him Who Sits on the Throne
Mother Sherman Story
Old Songs Medley Highlights
This Train
Catch On Fire
Near The Cross
Is Your All on the Altar
Praise the Lord With Me
Church Medley
Rain on My Field
We Declare Your Glory
Mighty God
Come into This House
I know I've been changed
Come On and Praise the Lord
Praise, Praise, Praise
Jesus Be A Fence Around Me
I Know the Lord
He Lifted Me
Take It by Force
All the Way
 Carlton Pearson Movies
Heretic
Heretic is a documentary film following the life and work of Rob Bell, one of the most polarizing figures in modern day Christianity.
The film follows Rob with unprecedented access over several years as he challenges deeply held conservative ideals while grappling with some of the most important questions of our time: Can faith and science coexist, or do belief and progress stand in opposition? Is religion insufficient for explaining the complexity of our modern world, or does it give language to something even greater?
And do spiritual traditions simply serve to further divide our world, or can they offer real help and hope for a better tomorrow?
Come Sunday
Come Sunday, recounts the account of Carlton Pearson, a Pentecostal religious administrator who wound up one of the principal African Americans to have a megachurch in Tulsa — and lost everything by changing his convictions.
"Come Sunday," directed by Joshua Marston from a script by Marcus Hinchey, then cuts to a sermon at the reverend's Tulsa church, called Higher Dimensions. He's talking about his encounter and he's getting a great response from his mega-congregation, including his pal Henry a manager of the venue.
Organist Reggie is clearly feeling the spirit, too. In the subsequent scenes, we get little glimpses into how such places of worship are run like businesses, with religious holidays packaged like rock concerts, and more.
It's unquestionably in accordance with the convictions appeared in Come Sunday, gushing April 13. While numerous ministers in the general population eye have confronted examination because of outrages including misappropriation or having illicit relationships, Pearson's wrongdoing according to his congregation was lecturing that there is no hellfire.

Self
| Title | Year | Status | Character |
| --- | --- | --- | --- |
| What Is New Thought? | 2013 | Documentary | |
| The Mo'Nique Show | 2011 | TV Series | Himself |
Carlton Pearson Live At Azusa
Carlton Pearson Gay
Pearson appears to enjoy full possession of his faculties, as far as he demonstrates, he has not publicly admitted to any homosexual inclinations that I know of (or can find), and nobody anywhere has reported a divorce. Pearson was later called "gay" by many of those same peers because of his teaching and allowance of the LGBTQ community into his "inclusive" church.
He did not hesitate to respond to the accusations and address his accusers in an open letter on his Facebook page. The minister responded by saying he is not gay but would not be ashamed nor would he apologize if he were. He has been married to his wife, whom he loves dearly, for more than 20 years but has many married and single gay friends that they both love and respect.
Carlton Pearson Son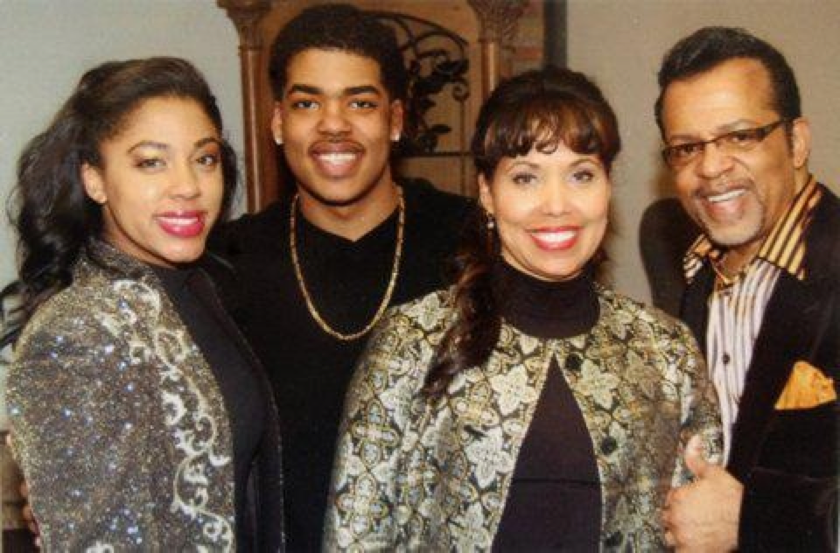 Carlton Pearson Old Songs Medley
Carlton Pearson Church
The Fellowship of Affirming Churches and Ministries (TFCAC); and is on the adjunct pastoral staff of All Souls Unitarian Church in Tulsa, Oklahoma.
He has also founded the Metacostal Network of Churches and Ministries bridging the gap between his Pentecostal roots in spiritual transcendence and embracing a Metaphysical approach to ministry and progressive spirituality.
Youtube Channel
Watch all videos by Pearson on his Youtube Channel

Facebook
Follow him @carltondpearson on Facebook.

Carlton Pearson Interview Highlights
Bishop Carlton Pearson attends a special Los Angeles screening of Come Sunday, which is based on his life.
On growing up in the church
Carlton Pearson: I'm a fourth-generation classical Pentecostal minister: my dad, his dad, my maternal great-grandfather and several of my uncles on both sides. And it kind of [was] something that always fascinated me — I just loved preaching and felt an urge when I was as young as 5 years old. …
My parents would punish me by not letting me go to church. That's how badly I wanted to go. I knew the songs, I knew the "saints." All of our family on both sides – all cousins, all relatives – our lives literally revolved around the church.
On Higher Dimensions, Pearson's former megachurch in Tulsa, which was known for its diverse staff, choir and congregation
Carlton Pearson: And under an African American's leadership. Black people have always integrated somewhat to non-black churches or churches that are predominantly white, but not under a black man's leadership. Usually, whites don't come to a black person's church as much.
We made sure that our leadership was visibly integrated. When I was very young when I started in my 30s, so we attracted a lot of young, curious, eager people that didn't want a traditional church, that wanted something a little bit different …
We had a high music content – I mean, the band was slammin'. Of course, I was single in those days, and I didn't realize that there were a lot of single women who came until I got engaged, and the balcony emptied out.
On arriving at the pivotal moment where he doubted his previous beliefs
Carlton Pearson: I was frustrated that we as Christians – we had traffic jams every Sunday morning, and I kept saying: We're not really growing, we're just getting fat. It's spiritual incest here – we're seeding into ourselves. We're not really winning "lost people." They don't know we exist. I went to the city, to the town carnival, and I took my kids. And that's the first time I'd been since I was a freshman in college.
And I noticed that – I'd been on nationwide television for years – nobody at that place recognized me. I didn't see people I knew. And I thought: Well maybe – who are these people? We're not reaching this element of our Tulsa community. … I just thought: I don't think these folks have a clue of what we're talking about.
And I said to my people: You're not really witnessing, you're afraid to. So stop telling people they have to get saved – tell them they're already safe with God, that any issue between them and God was resolved in Christ. Don't impose sin, don't ask them/tell them that they're on their way to hell and all that kind of stuff. Come in another way.
On the millions who still believe what Pearson used to believe, and the millions who believe it to be total hokum
Carlton Pearson: We are dealing with at least 2,000 years of entrenched indoctrination – at least 2,000 with Christianity, 6,000 if you include Judaism. The concept, though, of a god who has terrible anger management problems, freaks out with these tantrums and throws earthquakes and volcanoes and tsunamis and cancer and AIDS on people, is a very frightening presupposition.
It worried me for years. Not the love of God, not the cross of Calvary, but that eternal torment, not just punishment for the time that's worth the crime, but that you eternally … How can mercy endure forever, and torment endure forever? One would cancel out the other.
And I believe that I'm actually trying to correct the thinking of my people, God's people, the Christian church, Judeo-Christian ethics – change our belief about a God who is angry and who we need Jesus to protect us from. Now that's radical, it's revolutionary and it's evolutionary.
Now the same people who watched this movie and said "but he lost everything" are forgetting that 117 million people may get to hear this message. What am I doing in the movie? I'm not dead yet.
Interview adopted from npr.org
---
We endeavor to keep our content True, Accurate, Correct, Original and Up to Date.
If you believe that any information in this article is Incorrect, Incomplete, Plagiarised, violates your Copyright right or you want to propose an update, please send us an email to informationcradle@gmail.com indicating the proposed changes and the content URL. Provide as much information as you can and we promise to take corrective measures to the best of our abilities.
---