Donny Osmond Biography
Donny Osmond born Donald Clark Osmond, is an American singer, actor, radio personality, and former teen idol.  He is the seventh of nine children: eight boys and one girl. Osmond was raised as a member of The Church of Jesus Christ of Latter-day Saints in Utah along with his siblings.
The entire Osmond Family has a long and varied career, which had a humble beginning singing barbershop harmony on Main Street Disneyland. Soon thereafter, Donny and his siblings became very successful teen idols worldwide.
His music journey began at the early age of 5 when he made his first television appearance with his brothers on the Andy Williams Show. Andy enjoyed the brothers so much that they became regulars on the show displaying various talents of singing, dancing, ice skating, or whatever they were asked to do. During breaks from the show, he began touring with his family all over the US, Europe, and Asia.
In the early 70s, when Donny was just a teenager, he and his brothers became a genuine entertainment phenomenon. The Osmond Brothers, as the group was known, released hit after hit and toured the world.
Donny's debut single, "Sweet & Innocent", became his first Top 10 hit at the age of 14. He later went on to release million-selling hits like "Go Away Little Girl", "Puppy Love" and "Too Young". Donny's "Puppy Love" gave him his first number 1 hit in the UK, and was a multimillion-selling smash hit single worldwide.
Donny began a series of duets with his sister Marie, which included more Top 10 hits like "I'm Leaving It All Up To You" and "Morning Side of the Mountain". The two went on to host one of the most successful television variety shows ever, the "Donny & Marie Show". Donny and Marie are listed in The Guinness Book of World Records as the youngest prime time television hosts ever. They also received a People's Choice Award.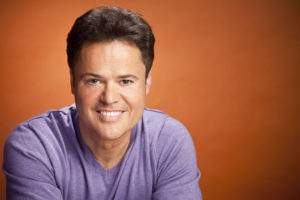 Today, Donny performs at the Las Vegas Flamingo Hotel with his sister, Marie. The show began back in September 2008 and was originally scheduled to run for 6 months. The response was so overwhelming that the Flamingo immediately asked for a two-year extension. The Donny & Marie Show is scheduled to continue through 2014. To date, Donny & Marie have been awarded "The Best Show in Las Vegas" for 2102, 2013, & 2014, according to the Las Vegas Review-Journal
From 2010 to 2012, and concurrent with his nightly performances at the Las Vegas Flamingo Hotel, Donny hosted two daily internationally syndicated radio shows for McVay Syndication in a partnership with TeshMedia Group: The Donny Osmond Radio Show and Donny's 8-Track Playback. Formatted to fit both Hot AC and Classic stations, his lifestyle-driven music radio show delivered helpful and insightful information to listeners who are looking for "a friend to help them through the day."
On occasion, Donny has co-hosted the nationally syndicated nightly entertainment newsmagazine, "The Insider," and as a special correspondent for its sister show "Entertainment Tonight." He, along with his sister have recently co-hosted two primetime television specials, "Miss USA" and "America's Favorite Mom." The two have a long history of working together that began in the late 70s on the original Donny & Marie show.
2008 was a milestone year for the entire Osmond family, particularly Donny's brothers: Alan, Wayne, Merrill, and Jay – The Osmond Brothers — it marked their 50th anniversary as performers. To commemorate it, the family gathered for a concert that was videotaped and broadcast nationally on PBS as a pledge drive special. Following the concert, the seven performing Osmonds went on a month-long tour through the UK, Australia, and Asia. It was the first time in 27 years all performing Osmonds were on one stage and also marked the final world tour for the Osmond family as an entire group.
In 2007, Donny hosted two television series on British network television, "Identity" and "Pyramid", was the special correspondent for "Entertainment Tonight" covering "Dancing with the Stars," and performed at "The Concert for Diana," which was seen worldwide by 2 billion viewers. Also during this year, Donny completed his 55th CD entitled, From Donny… with love, a compilation album of his favorite love songs.
Donny had performed on Broadway prior to 2006 in George M. Cohan's Little Johnny Jones, but his stay was short-lived. All that changed when Donny was invited by Disney to star in the Broadway production of Beauty and The Beast. Playing the role of the villainous Gaston was a change for Donny, who said it was an opportunity for his "mischievous side to shine." After his 12-week run ended, he was asked to return in July 2008 for the final performance as it closed its doors.
In 2005, Donny co-wrote and recorded What I Meant To Say, and it may be, for him, the most satisfying albums, yet. Not only did the album hit the charts immediately following its release in the United Kingdom, each song gave Donny some of the most rewarding creative experiences in his long and remarkable career. The title track, What I Meant To Say, reveals the depth of intimacy and affection that each song on the album expresses.
When the 2002 Olympics occurred in Donny's backyard — Utah — he, Marie and their father, George Osmond, participated in the official Olympic Torch Relay. Additionally, Donny & Marie were invited to perform in the Closing Ceremonies.
Reuniting with Marie on TV, he co-hosted the nationally syndicated daytime talk show Donny & Marie, for which he was not only Emmy-nominated for "Best Talk Show Host", but also for "Best Producer".
One of Donny's greatest achievements occurred in the early 90s when he played the title role in the North American production of Sir Andrew Lloyd Webber and Tim Rice's musical Joseph and the Amazing Technicolor Dreamcoat.
Donny Osmond Age
He was born December 9, 1957, to George and Olive Osmond in Ogden Utah, USA.
Donny Osmond Siblings
He is the brother of Alan, Jay, Jimmy, Merrill, Wayne, Marie, Tom, and Virl Osmond.
Donny Osmond Wife
Osmond married Debra Glenn on May 8, 1978, in the Salt Lake Temple.
Donny Osmond Children
Together with his wife Debra Glenn, they have five sons: Donald Clark Osmond, Jr., Jeremy James Osmond, Brandon Michael Osmond, Christopher Glenn Osmond, and Joshua Davis Osmond.
Donny Osmond Grandchildren
He has ten grandchildren and still counting. Among them are; Dylan James Osmond, Emery Anne Osmond, Truman Clark Osmond, Daxton Michael Osmond, Tayte Darton Osmond among others.
Donny Osmond Body Measurements
Height: 5ft 9in (5′ 9″) or 1.75 m
Weight:
Shoe Size:
Body Shape:
Hair Colour:
Donny Osmond Net Worth
He has an estimated net worth of $17 million.
Donny Osmond Songs
I'll Make a Man Out of You
Puppy Love
Soldier Of Love
Go Away Little Girl
The Twelfth Of Never
Sweet and Innocent
Young Love

Breeze on By
Morning Side of the Mountain
Any Dream Will Do
Deep Purple
My Love Is a Fire
This Is the Moment
Where Did All the Good Times Go
Sacred Emotion
Crazy Horses
Whenever You're in Trouble
A Little Bit Country, a Little Bit Rock 'n' Roll
Sure Lookin'
Soul and Inspiration
Life Is Just What You Make It
Would I Lie to You
Close Every Door

No One Has to Be Alone
Too Young
What I Meant to Say
Could She Be Mine
Keep Her in Mind
My Perfect Rhyme
Mulan: I'll Make a Man Out of You
Hey There, Lonely Girl
If It's Love That You Want
---

We endeavor to keep our content True, Accurate, Correct, Original and Up to Date.
If you believe that any information in this article is Incorrect, Incomplete, Plagiarised, violates your Copyright right or you want to propose an update, please send us an email to informationcradle@gmail.com indicating the proposed changes and the content URL. Provide as much information as you can and we promise to take corrective measures to the best of our abilities.
---