Marie Osmond Biography
Marie Osmond (Olive Marie Osmond ) is an American country musician, doll designer and actress born on 13th October 1959 in Ogden, Utah, United States. She is a member of the show business family the Osmonds. She is popularly known for hosting 'The Osmonds' alongside her brother Donny. They also host known as 'Donny and Marie' show in Las Vegas, Nevada.

Marie began her career in music along her brothers. In 1970 she gained success as a solo artist on the popular music charts and became a teen idol. She signed with MGM/Kolob Records . In 1973 she released her first single as a solo artist 'Paper Roses' which was a cover song and became a No. 1 country hit, reached the Top 5 on the Billboard magazine pop chart.
In 1974 she released another single, "In My Little Corner of the World" (another Anita Bryant cover), and an album with the same title both entering the Billboard country Top 40.
She released her fourth studio album 'This Is The Way That I Feel' in 1977. Her latest work was 'Music Is Medicine' which was announced through a social media campaign in late 2015. The album was released on 15th April 2016 both in CD and digital format.
Marie Osmond Age/ How Old is Marie Osmond
Marie was born on 13th October 1959 in Ogden, Utah, United States (59 years as of 2018)
How Tall is Marie Osmond
Marie stands at 5 ft 5 inches/ 1.65 m.
Marie Osmond Family
Marie was born as the only daughter of Olive May (née Davis; 1925–2004) and George Virl Osmond (1917–2007). She is the eighth of nine children. Her brothers are Virl, Tom, Alan, Wayne, Merrill, Jay, Donny and Jimmy Osmond. Her brothers are in the show business, singing and performing on national television as The Osmond Brothers.
Marie Osmond Husband/ Is Marie Osmond Married
Marie has been married thrice and engaged once. In 1979 she got engaged to Jeff Clayton but she called off the engagement in July the same year. At the moment she said that she did not want to fool around with marriage. She reasoned that it was difficult to make a commitment and that marriage is a serious involvement.
On 26th June 1982 Marie married Stephen Lyle Craig, a Brigham Young University basketball player. They divorced in October 1985.
Marie married Brian Blosil on 28th October 1986 at the Jordan River Temple in Utah. On 30th March 2007 Osmond and Bosil announced that they were divorcing with both parties releasing a joint statement stating that neither one assigned fault for the divorce.
On 4th May 2011 Marie remarried her first husband Stephen Craig in a small ceremony in the Las Vegas Nevada Temple wearing her dress from the 1982 wedding.
Marie Osmond Wedding
Marie Osmond told Closer Weekly that she is happy with Steve Craig who she married for the second time in 2011.
They were first wed from 1982 to 1985. The couple tied the knot again in Las Vegas at a Mormom temple then had the reception at their Nevada home.
Marie Osmond Children
Marie has eight children; 3 biological children and 5 adopted. She has a son Stephen James Craig born on 20th April 1983 from her first marriage to Stephen Lyle Craig. She has two children Rachael Lauren (born on 19th August 1989) and Matthew Richard (born on 6th July 1998) from her second marriage to Blosil.
Her adopted children are Jessica Marie (born on 17th December 1987), Michael Bryan (May 4, 1991 – February 26, 2010), Brandon Warren (born in November 1996), Brianna Patricia (born on 19th November 1997) and Abigail Olive May (born on 5th September 2002).
Marie Osmond Son
On 26th February 2010 Marie's son Michael committed suicide by jumping from the eighth floor of his apartment building in Los Angeles. He reportedly battled. When an autopsy was done on him no drugs were found in his system.
In 2007 Michael spent time in rehab for substance abuse. At that time Osmond's brother Donny told PEOPLE that his sister had been dealing with Michael's issues "for a very long time."
Marie Osmond Daughter
Marie's daughter Jessica is bisexual, on 29th April 2009 Marie announced that Jessica was bisexual and at that time she was living with her partner Los Angeles. She expressed support towards her daughter and for same sex marriage rights.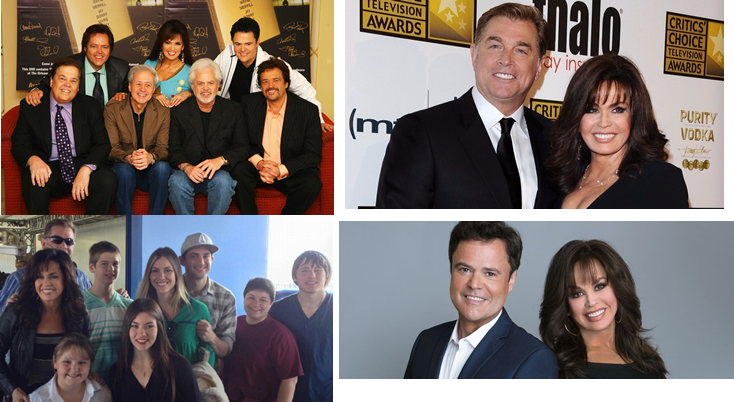 Marie Osmond Net Worth
Marie has an estimated net worth of $17 million.
Marie Osmond Dolls/ Marie Osmond QVC
Marie Osmond debuted her doll line on QVC in 1991. QVC is the primary distributor for her dolls but they are also available in retail shops and through the internet.
Her first toddler doll she created was named after her mother "Olive May" and was the one that set a collectible record on QVC. Since then she has sculpted several dolls, including "Remember Me," "Baby Adora Belle," "Kissy and Huggs" and her hallmark doll "Adora Belle."
Her doll collection has garnered numerous award nominations, including "Trendsetter of the Year" and Dolls magazine's "Awards of Excellence."
Donny and Marie
Marie and Donny Osmond are siblings, in 1975 they hosted a special variety show which was later picked up mid-season as a weekly variety show and began airing in 1976 as Donny & Marie, and ran on ABC until 1978 before it was renamed The Osmond Family Hour in 1979.
Donny and Marie Show
Donny and Marie has a show Donny & Marie since 2008 which is hosted in the 750-seat showroom at the Flamingo Hotel in Las Vegas, Nevada. The 90 minute show was originally scheduled for a six-week run but it has run for 10 years with scheduled performances through November 16, 2019 according to the website ticketmaster.com.
During the show Marie & Donny sing together at the beginning and end of the show, and have solo segments in between. They are backed by eight dancers and a nine-piece band.
Marie Osmond Weight Loss/ Marie Osmond Nutrisystem
In 2007 Marie weighed 165 pounds but by 2009 she had shed 45 pounds with the help of the NutriSystem diet plan. During an interview she said that she believed most of her weight struggles were caused by the entertainment industry.
"You see the Twiggy models, and you [feel like you] have to be emaciated to be accepted in society. There were a lot of head trips. … Every week I was standing by Raquel Welch and Cheryl Tiegs and Cheryl Ladd, and I'm 14 and looking really stupid. I think that girls do that, [and] women do that. We compare our worst to everybody's best."
Marie Osmond Measurements
Weight: 119lbs/ 54 kgs
Height: 5ft 5 inches/ 1.65 m
Breast Size: 39 inches (99 cm)
Waist Size: 27 inches (69 cm)
Hips Size: 37 inches (94 cm)
Bra Size/ Cup Size: 36c
Feet/ Shoe Size: 7 (US)
Dress Size: 6 (US)
Marie Osmond Death
Marie has battled depression, in August 2006 several U.S. tabloids suggested that she had attempted suicide. Her publicity team denied the reports and claimed she had suffered an adverse reaction to a medication she was taking.
Marie Osmond Books
2001: Behind the Smile: My Journey Out; the book discusses her struggles with postpartum depression.
2009: Might As Well Laugh About It Now; The book focuses on the milestones and missteps in Osmond's life.
2010: Marie Osmond's Heartfelt Giving: Sew and Quilt for Family and Friends; a step-by-step instructions for more than 20 projects, all designed by Osmond.
2013: The Key Is Love: My Mother's Wisdom, A Daughter's Gratitude; It focuses on the values of her mother.
Marie Osmond Filmography
Year

Title

Role

1975

Hugo the Hippo

Singing Voice

1976

Donny & Marie Osmond 1976 Christmas Show

Herself

1976–1979

Donny & Marie (1976 TV series)

Herself / Host / Various Characters

1977

Donny & Marie Osmond 1977 Christmas Show

Herself

1978

Goin' Coconuts

Marie

The Gift of Love

Beth Atherton

Donny & Marie 1978 Christmas Show

Herself

1979

Marie (TV pilot)

Marie Owens

Donny & Marie 1979 Christmas Special

Herself

1980

Marie (1980 TV series)

Herself / Host / Various Characters

The Osmond Family Christmas Special

Herself

1981

The Osmond Family Holiday Special

Herself

1982

Side by Side: The True Story of the Osmond Family

Olive Osmond

Rooster

Sister Mae Davis

The Love Boat

Maria Rosselli

1983

I Married Wyatt Earp

Josephine 'Josie' Marcus

1984

The Velveteen Rabbit

Velveteen Rabbit / Fairy Princess (voice)

Rose Petal Place

Rose Petal (voice)

1985

Rose Petal Place: Real Friends

Ripley's Believe It or Not!

Co-Host

1986

Marie Osmond's Merry Christmas

Herself

1995–1996

Maybe This Time

Julia Wallace

1996

Almost Perfect

Herself

1998

Buster & Chauncey's Silent Night

The Queen (voice)

1998–2000

Donny & Marie (1998 TV series)

Host

1999

Diagnosis: Murder

Herself

O' Christmas Tree

Star (voice)

2000

Movie Stars

Herself

2007

Dancing with the Stars (U.S. season 5)

Contestant

2012

Ladies and Gentlemen… Marie Osmond

Herself

2012–2013

Marie (talk show)

Herself / Host
Marie Osmond Albums
2016: Music Is Medicine
2010: I Can Do This
1989: Steppin' Stone
1988: All in Love
1986: I Only Wanted You
1985: There's No Stopping Your Heart
1977: This is the Way That I Feel
1975: Who's Sorry Now
1974: In My Little Corner of the World
1973: Paper Roses
Marie Osmond Songs
Paper Roses
Deep Purple
There's No Stoppin' Your Heart
Read My Lips
Soul and Inspiration
A Little Bit Country, a Little Bit Rock 'n' Roll
In My Little Corner of the World
Everybody's Crazy 'Bout My Baby
I Only Wanted You
Until I Fall in Love Again
It Takes Two
Baby You're Crazy
I'll Be Faithful to You
Take Me Back Again
Like a Hurricane
May Tomorrow Be a Perfect Day
Then There's You
A" My Name Is Alice
Give Me a Good Song
Living on My Suspicion
True Love Lasts Forever
A Beautiful Life
Least of All You
Lonely as the Night Is Long
Everything Good Reminds Me Of You
Ain't Nothing Like The Real Thing
My Home Town Boy
Please Tell Him That I Said Hello
Winning Combination
Baby, I'm Sold on You
You're My Superman
One of These Days
Marie Osmond Facebook
Marie Osmond Instagram
Marie Osmond Twitter
Marie Osmond Paper Roses
---
We endeavor to keep our content True, Accurate, Correct, Original and Up to Date.
If you believe that any information in this article is Incorrect, Incomplete, Plagiarised, violates your Copyright right or you want to propose an update, please send us an email to informationcradle@gmail.com indicating the proposed changes and the content URL. Provide as much information as you can and we promise to take corrective measures to the best of our abilities.
---