Drew Houston Biography
Drew Houston (Full name- Andrew W. Houston; /ˈhaʊs.tən/) is an American billionaire Internet entrepreneur who was born on March 4, 1983, Acton, Massachusetts, USA. He is the co-founder and CEO of Dropbox, an online backup and storage service.
Before filing for IPO in February 2018, Houston held 24.4 percent voting power in Dropbox. By age 24, he had worked in a number of startup businesses, and had even founded one, Dropbox.
---
10 Quick Facts About Drew Houston
Name: Drew Houston
Age: 36 years
Birthday: 4 March
Zodiac Sign: Aquarius
Height: Average
Nationality: American
Occupation: Internet entrepreneur
Marital Status: Dating
Salary: Under Review
Net worth: Under Review
---
Drew Houston Family
Houston's parents are Ken and Cecily Houston. While interviewing with Forbes on Nov 23, 2015, they talked briefly about their son, saying that he showed very early signs of entrepreneurship. Despite having an engineer father and mother who used to work as the high school Librarian, Drew Houston chose an entirely different career path irrespective of his parent's profession.
Drew Houston Wife | Cece Cheng
Houston is single, but has been reported to be in a serious relationship with CeCe Cheng. Cheng is a graduate from Princeton and is currently working as a partner at the Makers Fund from 2017. She previously worked as a head of Marketing and Communication for Qwiki. The two were mostly in the news when they were named as the youngest billionaire couple of the Silicon Valley back in 2011.
Drew Houston Age
Houston was born on 4 March, 1983, Acton, Massachusetts, to an electrical Engineer (father) and a high school librarian (mother). He was invited by a games company to work with them by age 14. Houston is 36 years old in 2019.
Drew Houston Net Worth
Drew Houston has earned most of his fortune and wealth by creating online storage, Dropbox. It is the same backup folder that has mounted his successful entrepreneur journey in the field of Information and Technology.
Houston owns 127 million shares of Dropbox's Class B stock. He has a net worth estimated to be around $3.1 Billion.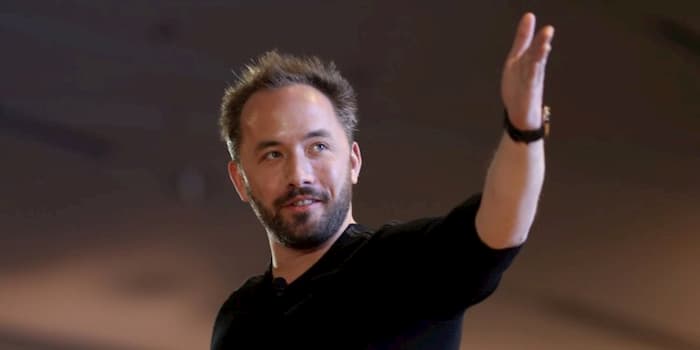 Drew Houston Dropbox
Dropbox is an online file sharing service which Houston launched in 2007 with Arash Ferdowsi, his MIT classmate. While riding the Chinatown bus from Boston to New York, Drew Houston realized he had left his thumb drive containing files he needed at home.
In his interview with Business Insider, Houston said that the initial idea for creating Dropbox was born out of his immense frustration over leaving his thumb drive behind. This frustration led to him opening the editor and start to write some code without an idea of what it would become.
Dropbox faced many huddles before it became successful. After pitching his idea to Y Combinator co-founder Paul Graham, Graham told Houston he liked his idea, but to get into the accelerator, Houston would need a co-founder. That is how he ended up teaming with Ferdowsi who had expressed his interest in the idea earlier on. After a conversation that lasted no more than two hours, Ferdowsi agreed to drop out of MIT and work with Houston.
Drew Houston Steve Jobs
Apple expressed interest in Dropbox early on, and teams within Apple met with folks at Dropbox to discuss technical details of the service. Eventually, Steve Jobs requested a meeting, one that became somewhat testy. Jobs was not amused when Houston turned down his offered to buy Dropbox in 2009. Facebook's Mark Zuckerberg had also expressed interest in the startup.
Drew Houston Contacts
Related Biographies.
You may also like to read the Bio, Career, Family, Relationship,  Body measurements, Net worth, Achievements, and more about: