Who Is Jim Ratcliffe? Jim Ratcliffe Biography
Jim Ratcliffe (Sir James Arthur Ratcliffe) is a British billionaire chemical engineer turned financier and industrialist. Ratcliffe is the chairman and CEO of the Ineos chemicals group, which he founded in 1998 and of which he still owns two-thirds, and which has been estimated to have a turnover of $80 billion.
Jim Ratcliffe Age
Ratcliffe was born on 18 October 1952, in Failsworth, Lancashire, England. He is 66 years old as of 2018.
Jim Ratcliffe Family
Jim Ratcliffe Wife
Ratcliffe married Amanda Townson in 1995, they had two sons, and later divorced in 1995. He also has one daughter with his second wife, Alicia.
Jim Ratcliffe Ineos
Ratcliffe formed Ineos in Hampshire to buy-out INSPEC and the freehold of the Antwerp site in 1998. In April 2010, Ratcliffe moved Ineos's head office from Hampshire to Rolle, Switzerland, this was in April 2010, by making that move, he decreased the amount of tax the company paid by £100m a year.
In 2015, Ratcliffe opened the UK headquarters of the chemicals and energy group in Knightsbridge, London along with gas and oil trading and other functions, saying he was "very cheerful about coming back to the UK". He was pleased with UK policy, London as a business base and untroubled by the prospect of Brexit. The full year 2015 EBITDA was €577 million compared to €253 million for the year of 2014.
Jim Ratcliffe Net Worth | Jim Ratcliffe Rich List
On 13 November 2017, Ratcliffe bought FC Lausanne-Sport, a Swiss Super League football club. In the Sunday Times Rich List 2018, he was named as the richest man in the UK, with a net worth of £21.05 billion.
Jim Ratcliffe Brexit
Ratcliffe slammed the EU over expensive regulations and "stupid" green taxes and supported BREXIT for its friendliness to doing business.
Sir Jim Ratcliffe Monaco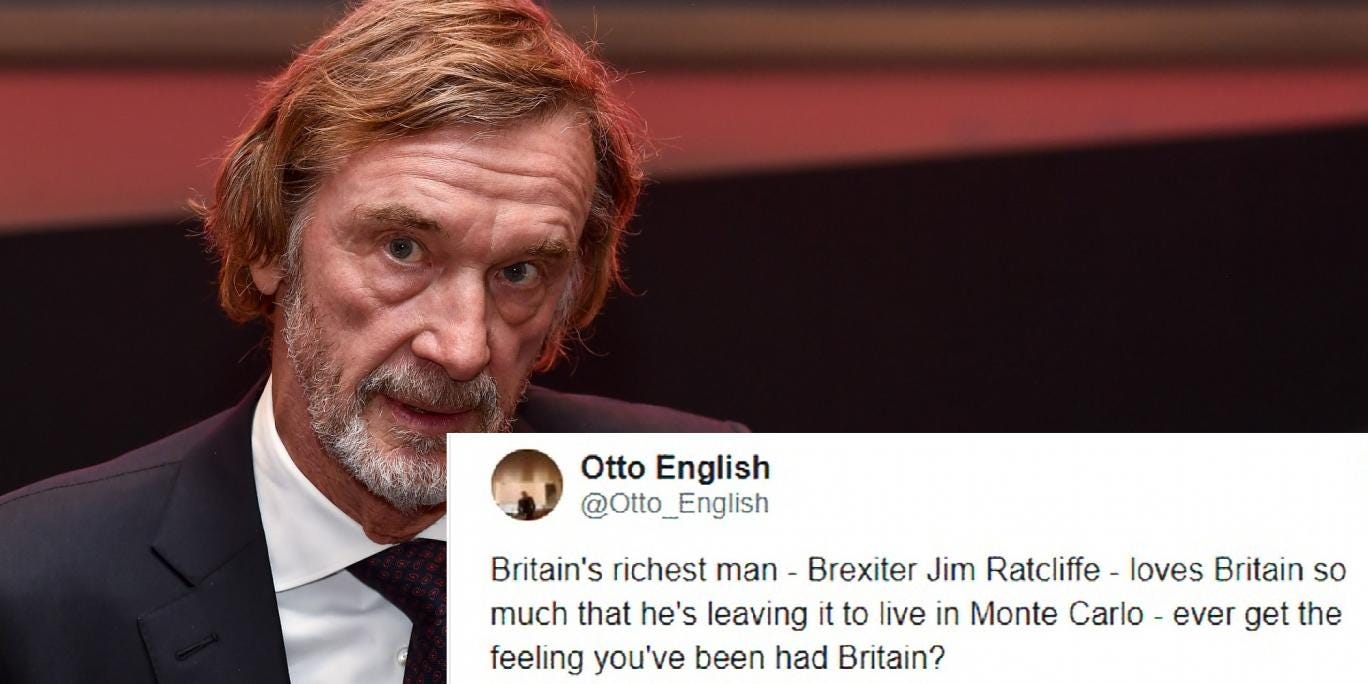 After supporting Brexit, Britain's richest man, Sir Jim Ratcliffe, has announced plans to move to Monaco. The 65-year-old who is the CEO of the chemical firm Ineos and has an estimated fortune of £21 billion. He said during the 2016 referendum that he believed Britain would prosper outside of the European Union but isn't sticking around after Brexit. Doesn't that sound familiar?
The Sunday Times reports that Ratcliffe has been working with accountant PwC on a "tax avoidance plan" which will see him depriving the UK economy of between £400m and £4bn. Because nothing says patriotism like moving abroad to pay less tax, right?
Given so many other high profile cases of Brexiteers, such as Dyson founder James Dyson, announcing plans to move their businesses abroad, the internet wasn't impressed with the news that Ratcliffe will be sunning it up in Monaco while the impact of Brexit hits the UK.