Gayle King Biography and Wiki
Gayle King is an American television personality,  journalist, and author. Currently, she is working as a co-anchor of the CBS News morning show 'CBS This Morning', a position she has held since 2012. She is an editor-at-large for O, The Oprah Magazine. She is also famously known for being Oprah Winfrey's best friend.
Gayle King Age
King is 65 years old as of 2019, she was born on December 28, 1954, in Chevy Chase, Maryland, United States of America. She celebrates her birthday on December 28th every year and her birth sign is Capricorn.
Gayle King Height
King stands at a height of 5 ft 9 in (1.78 m) and Weighs 168 lbs (76 kg). She also appears to be quite tall in stature in her photos.
Gayle King Education
In her younger days, Gayle attended an American school in Turkey. She joined the University of Maryland and graduated in 1976 with a double degree in psychology and sociology.
Gayle King Parents, Family
Gayle was born to her parents Scott King, an electrical engineer, and Peggy King, a homemaker. Due to her father's work, King spent several years of her childhood in Turkey, where she attended an American school. Gayle's family later returned to Maryland.
Gayle King Husband
Gayle was married to attorney William Bumpus, a former assistant attorney general in Connecticut. The two got married in 1982 and were together till 1993 when they got a divorce due to William Sr.'s affair with another woman.
In 2016, in an interview with Vanity Fair, Gayle was asked to name one living person that she despises the most. Gayle before she said anything she began by saying that despise' is a strong word and she is not a huge fan of the woman she caught naked with her now ex-husband on June 24, 1990, at 9:16 p.m. but  she doesn't remember the details."
Gayle King Children
King is a mother of two: a son and a daughter. Her children are all grown up. Gayle's daughter is Kirby Bumpus and her son is William Bumpus Jr. They were born 11 months apart from each other and are both Oprah Winfrey's godchildren.
Gayle King Boyfriend
King is currently not in a relationship that is known to the public. However, she has revealed that she has tried her luck in love a couple of times ever since her divorce in 1993. Among the questions that she first asks her potential suitor is: 'Are you married?'. She says she had an experience of going on a date with a man who mentioned his wife while they were talking. When she asked him, he said they were separated although they lived in the same house and she was like, 'Check, please, I know that story.'"
She continued to say she was married to a cheater and went to marital counseling. She has been divorced since 1993, so she is healed and everything. She has worked it out and she is not bitter.
Gayle King Salary
Between the year 2014 to 2019 Gayle's salary at CBS was $5.5 million. In May 2019 it was revealed that she had negotiated a new deal that is worth a minimum of $11 million per year.
Gayle King Net Worth
King has an estimated net worth of $40 million dollars as of 2020. This includes her assets, money, and income. Her primary source of income is her career as a Television Personality. Through her various sources of income, King has been able to accumulate a good fortune but prefers to lead a modest lifestyle. It is widely known that her best friend, Oprah Winfrey, has a role to play in her huge wealth.
Gayle King Measurements and Facts
Here are some interesting facts and body measurements you should know about Gayle King.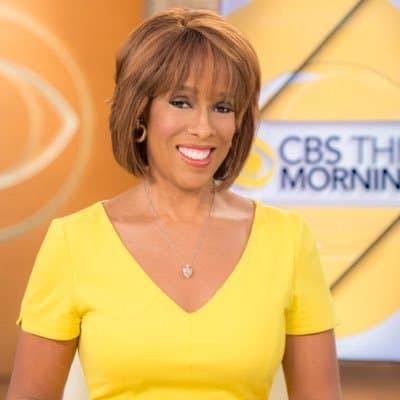 Gayle King Bio and Wiki
Full Names: Gayle King
Popular As: Television personality
Gender: Female
Occupation / Profession: Television personality
Nationality: American
Race / Ethnicity: Afro-American
Religion: Christianity
Sexual Orientation: Straight
Gayle King Birthday
Age / How Old?: 65 years as of 2019
Zodiac Sign: Capricorn
Date of Birth: December 28, 1954
Place of Birth: Chevy Chase, Maryland
Birthday: December 28th
Gayle King Body Measurements
Body Measurements: 38-29-40 inches
Height / How Tall?: 5 ft 9 in (1.78 m)
Weight: 168 lbs (76 kg)
Eye Color: To be updated
Hair Color: To be updated
Shoe Size: To be updated
Dress Size: 12
Breast Size: 38 inches
Waist Size: 29 inches
Hip Size: 40 inches
Gayle King Family and Relationship
Father (Dad): Scott King

Mother: Peggy King
Siblings (Brothers and Sisters): To be updated
Marital Status: Single
Husband/Spouse: Ex-husband William Bumpus
Dating / Boyfriend: To be updated
Children:  Son ( William Bumpus Jr.) Daughter (Kirby Bumpus)
Gayle King Networth and Salary
Net Worth: $40 million
Salary: $11 million
Source of Income: Television personality
Gayle King House and Cars
Place of living: New York City
Cars: Car Brand to be Updated
Gayle King CBS This Morning
Gayle is a co-host of CBS This Morning, an American morning television program. She is an experienced television journalist, hence interviews top newsmakers and delivers original reporting to CBS This Morning and all CBS News broadcasts and platforms. Alongside CBS This Morning, Gayle also works as an Editor-at-Large of the award-winning O, the Oprah Magazine.
CBS This Morning is America's fastest-growing network morning news broadcast and is CBS's most successful morning news broadcast in more than two decades. Since she joined CBS News in 2011, Gayle has conducted revealing and news-making interviews with world leaders, political figures, and celebrities for the broadcast, including Michelle Obama, former New York City Mayor Michael Bloomberg, Jack, and Suzy Welch, Taylor Swift, and Cicely Tyson.
Gayle has tackled a number of high-profile assignments, including reporting from Newtown, Conn. in the aftermath of the Sandy Hook Elementary School shooting in 2012. Gayle was honored with an Alfred I duPont-Columbia Award as part of CBS News' division-wide coverage of the Newtown tragedy. Gayle in 2014 she contributed to CBS News' Election Night coverage and co-anchored CBS News' special coverage of several breaking news stories, including the Paris terrorist attacks, the San Bernardino shootings, and the Supreme Court's landmark decision to legalize same-sex marriage.
Previously Gayle hosted The Gayle King Show, a live, weekday television interview program on OWN: The Oprah Winfrey Network. It attributed a discussion of a broad variety of topics that include politics and cultural developments, was also broadcast on XM Satellite Radio, where it premiered in 2006. Gayle also contributed to the CBS News team that received an Alfred I. DuPont Award for the Network's coverage of the Sandy Hook Elementary School.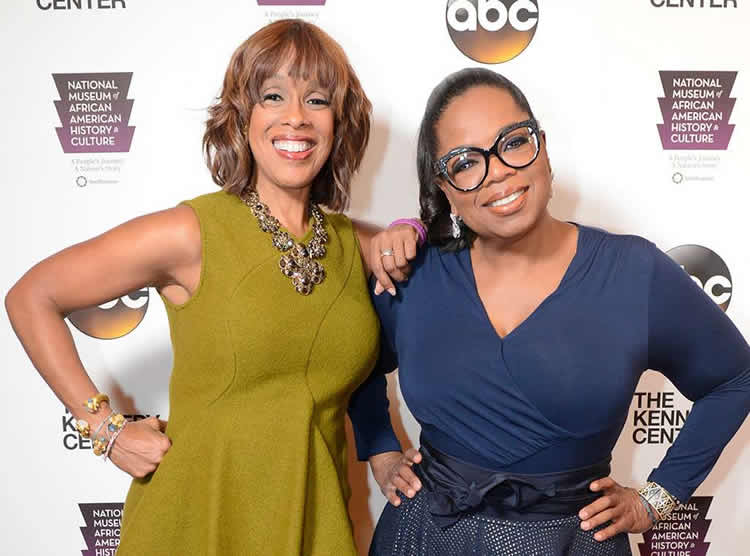 Gayle King Oprah
Gayle and Oprah Winfrey are really close friends to the point of being called BFFs. The two met while they were working at a Baltimore television station, long before they became famous. Gayle worked as a production assistant and Oprah was the station's news anchor.
It is said that one evening there was a terrible snowstorm in Baltimore. Winfrey suggested that Gayle forgoes the treacherous drive home and instead spend the night at her nearby home. Gayle is quoted as saying that she was reluctant at first, noting that she didn't have clothes to change into. Oprah also said that she didn't loan her clothes. They spent the evening talking, laughing, gossiping, and forming the foundation of their friendship. Gayle said that they all had similar philosophies on life and even liked and disliked the same people at work.
When Gayle was leaving Baltimore for Kansas City to become a news anchor, Oprah was already making her mark in Chicago. The two kept their friendship going despite the long distance. They have been friends since 1976 and Oprah is the godmother of Gayle's two children.
Gayle King Weight Loss
Gayle works out for one hour for five to six days a week. For 30 minutes she does cardio, sometimes on the treadmill, followed by 30 minutes of strength training either with resistance bands or free weights. One day she concentrates on her upper body; the next day on her lower body. On the weekends, when she has more time, she covers both. In addition, she also throws in abdominal exercises at least 3 to 4 days a week.
Gayle King and Charlie Rose
Charlie Rose is King's friend and former colleague at CBS This Morning. He was dismissed amid multiple allegations of sexual misconduct. He apologized in a statement to the Post while adding that not all of the allegations were accurate.
Speaking about the matter, King said, "I don't feel as if I've had to reconcile my feelings." "I don't believe in turning your back on a friend, even when a friend has done something you adamantly disagree with and you're disappointed in. But I also know that you listen to women, and I don't discount their stories, either."
Speaking to the Times, she said, in some cases, firing can be a harsh punishment and cautioned against punishing alleged offenders without due process. "I do worry about that because I think when a woman makes an accusation, the man instantly gets the death penalty," she said. "There has to be some sort of due process here. All of these inappropriate behaviors are not all the same."
Similarly, she believes that some men should be given second chances. But, she added, "you can't come back if you don't get the lesson and you haven't acknowledged that you behaved badly."
Gayle King Cable Hall of Fame
Gayle a CBS This Morning co-host was inducted into Broadcasting & Cable's Hall of Fame on Monday, October 29, 2018. She said that she felt that she is getting started. Gayle was honored for her 40 years of excellence in broadcast television at a ceremony in New York City.
"This really is one of those nights when I really wish my mom and dad were here to see me because they wouldn't believe it," King said. "I can't even believe that I'm actually standing here."
Gayle began appearing on television at WDAF-TV in Kansas City, Missouri. Later she moved on to CBS affiliate WFSB-TV in Hartford, Connecticut, where she reported for 18 years. She even hosted her own syndicated daytime program. Additionally, Gayle has also worked at WJZ-TV in Baltimore and WTOP-TV in Washington, D.C.
Even with an alarm clock set at 3:22 a.m. on the weekdays, Gayle said she's always excited to go to work every day.
"I walk past Walter Cronkite's map every single morning and let me tell you, it is, and still is, a very very big deal to me. She continued to state that the truth is, that she can't wait to go to work.
Oprah Winfrey Gayle's longtime best friend made a special introduction at the ceremony and said Gayle's "greatest virtue is being happy for other people's success. She also stated that throughout her career, Gayle has been her greatest cheerleader and happy for any and everything that has ever come on her way. Oprah said that Gayle is happy for every coworker and happy for every friend.
Gayle joins distinguished past honorees, including Winfrey, Norman Lear, Lucille Ball, and Walter Cronkite. Maya Angelou says your legacy isn't one thing, your legacy is actually every life you touch, so Gayle, we're here tonight to celebrate you for continuing to build a legacy and the space of nice," Winfrey said.
Gayle King Aryana Richardson Interview
Gayle a CBS This Morning co-host was interviewed by Richardson, a Girls Inc. of Lynn Hero,  at a Hearts on Fire University event recently held at Encore Boston Harbor.
Aryana, a sophomore at The George Washington University's School of Media and Public Affairs, was selected to interview King because of her interest in journalism and her long-standing relationship with Girls Inc. of Lynn.
Deb Ansourlian, executive director of Girls Inc. of Lynn said that they could not be more proud of Ary! since it is indeed a joy to see her develop into a strong, smart, and bold leader using many of the skills she learned at Girls Inc. of Lynn.
Richardson said that she is so grateful to Girls Inc. of Lynn and Hearts on Fire for this really cool and unique opportunity. She continued to say that It made her even more excited to pursue her career in journalism. She will always remember how Gayle advised that when someone tells you 'NO,' you have to flip it around and turn your game ON."
Gayle King Colloquium
Gayle an award-winning television journalist, a co-host of "CBS This Morning" and editor-at-large of O, The Oprah Magazine,  spoke at the annual Council for Women of Boston College Colloquium on October 17, 2019, at 5 p.m. in Robsham Theater.
Launched in 2015, the CWBC Colloquium hosts exceptional thought leaders to consider contemporary issues through the lens of women's leadership.  The academic conference is made possible by the Council for Women of Boston College and the Institute for the Liberal Arts.
Gayle King Kobe Bryant
In 2020, shortly after the death of Kobe Bryant, King received social media criticism, most notably from rapper Snoop Dogg who later apologized, for a CBS This morning interview with former WNBA player Lisa Leslie, in which King brought up Bryant's 2003 allegations of sexual harassment.
She was also supported, most notably by longtime friend Oprah Winfrey. King said the CBS had used an excerpt from the interview out of context. In a statement, the network said the extract was not reflective of King's "thoughtful, wide-ranging interview" King had conducted with Leslie.
Gayle King House
Based on the background of Gayle's broadcasts, she's living in her $7 million Midtown NYC penthouse, which she gave fans a tour of in 2011 on Nate Berkus' show.
At the time, she said that she decided to paint the ceiling of every room in the 2,350 square-foot E 57th Street space a different color because that's what her BFF Oprah Winfrey said to do.
Frequently Asked Questions About Gayle King
Who is Gayle King?
King is an American television personality,  journalist, and author. Currently, she is working as a co-anchor of the CBS News morning show 'CBS This Morning', a position she has held since 2012.
How old is Gayle King?
King is 65 years old as of 2019, she was born on December 28, 1954, in Chevy Chase, Maryland, United States of America.
How tall is Gayle King?
Gayle stands at a height of 5 ft 9 in (1.78 m).
Is Gayle King married?
King is currently not in a relationship that is known to the public. However, she has revealed that she has tried her luck in love a couple of times ever since her divorce in 1993.
How much is Gayle King worth?
King has an approximate net worth of $40 million. She accumulated the net worth through her career as a journalist, radio show host, television show host, and news anchor.
How much does Gayle King make?
Between the year 2014 to 2019 Gayle's salary at CBS was $5.5 million. In May 2019 it was revealed that she had negotiated a new deal that is worth a minimum of $11 million per year.
Where does Gayle King live?
She is a resident of New York City, USA, we shall upload pictures of her house as soon as we have them.
Is Gayle King dead or alive?
King is alive and in good health. There have been no reports of her being sick or having any health-related issues.
Where is Gayle King now?
King is pursuing her career in journalism. She is a co-host of CBS This Morning, an American morning television program.
Gayle King Social Media Contacts
Related Biographies.
You may also like to read the Bio, Career, Family, Relationship,  Body measurements, Net worth, Achievements, and more about:
Reference:
We acknowledge the following websites that we have referenced as we were writing this article.:
Wikipedia
IMDB
FaceBook
Twitter
Instagram and
Youtube
---

We endeavor to keep our content True, Accurate, Correct, Original and Up to Date.
If you believe that any information in this article is Incorrect, Incomplete, Plagiarised, violates your Copyright right or you want to propose an update, please send us an email to informationcradle@gmail.com indicating the proposed changes and the content URL. Provide as much information as you can and we promise to take corrective measures to the best of our abilities.
---