Henry Fonda Biography
Henry Fonda ( born Henry Jaynes Fonda) was an American film and stage actor with a career spanning five decades. He made his mark early as a Broadway actor. He also appeared in 1938 in plays performed in White Plains, New York, with Joan Tompkins. His career gained momentum after his Academy Award-nominated performance as Tom Joad in The Grapes of Wrath, a 1940 adaptation of John Steinbeck's novel about an Oklahoma family who moved west during the Dust Bowl after making his debut in Hollywood. Find details about his Education, Height and More below.
Throughout five decades in Hollywood, Fonda cultivated a strong, appealing screen image in such classics as The Ox-Bow Incident, Mister Roberts, and 12 Angry Men. Later, Fonda moved both toward darker epics such as Sergio Leone's Once Upon a Time in the West and lighter roles in family comedies such as Yours, Mine and Ours with Lucille Ball, winning the Academy Award for Best Actor at the 54th Academy Awards for the movie On Golden Pond, his final film role.
He started his acting career at the Omaha Community Playhouse when his mother's friend Dodie Brando (mother of Marlon Brando) recommended that he try out for a juvenile part in You and I, in which he was cast as Ricky. He was fascinated by the stage, learning everything from set construction to stage production, and embarrassed by his acting ability. When he received the lead in Merton of the Movies, he realized the beauty of acting as a profession, as it allowed him to deflect attention from his own tongue-tied personality and create stage characters relying on someone else's scripted words. He decided to quit his job and go east in 1928 to seek his fortune.
He arrived on Cape Cod and played a minor role at the Cape Playhouse in Dennis, Massachusetts. A friend took him to Falmouth, MA where he joined and quickly became a valued member of the University Players, an intercollegiate summer stock company. There he worked with Margaret Sullavan, his future wife. James Stewart joined the Players a few months after Fonda left, though they were soon to become lifelong friends. Fonda left the Players at the end of their 1931-1932 season after appearing in his first professional role in The Jest, by Sem Benelli. Joshua Logan, a young sophomore at Princeton who had been double-cast in the show, gave Fonda the part of Tornaquinci, "an elderly Italian man with a long white beard and even longer hair."
Henry Fonda Photo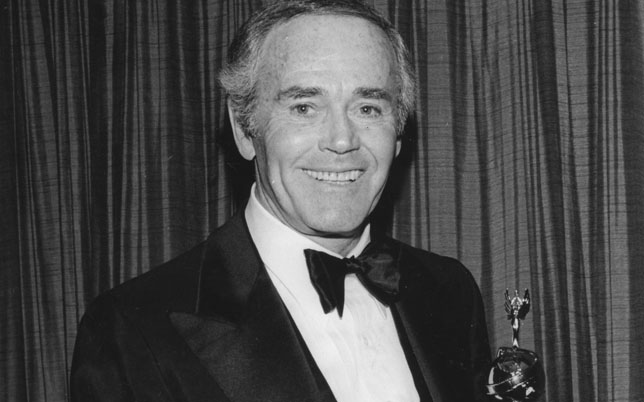 Also in the cast of The Jest with Fonda and Logan were Bretaigne Windust, Kent Smith, and Eleanor Phelps. The marriage was brief, but when James Stewart came to New York his luck changed. Getting contact information from Joshua Logan, Jimmy, as he was called, found Hank Fonda and these small-town boys found they had a lot in common, as long as they didn't discuss politics. The two men became roommates and honed their skills on Broadway. Fonda appeared in theatrical productions from 1926 to 1934. They fared no better than many Americans in and out of work during the Great Depression, sometimes lacking enough money to take the subway.
Henry Fonda Age
The American film and stage actor was born on 16th May 1905 in Grand Island, Nebraska, United States. He died on 12th August 1982 in Cedars-Sinai Medical Center, Los Angeles, California, United States. He was 77 years old when he died.
Henry Fonda  Height
Have you been wondering what was actor's height was, well according to our research, the American film and stage actor with a career spanning five decades had a standing height of 1.87 m tall.
Henry Fonda Family
He was the son of printer William Brace Fonda, and his wife, Herberta (Jaynes). The family moved to Omaha, Nebraska in 1906. His patrilineal line originates with an ancestor from Genoa, Italy, who migrated to the Netherlands in the 15th century. A branch of the Fonda family immigrated to the Dutch colony of New Netherland on the East Coast of North America in 1642. They were among the first Dutch population to settle in what is now upstate New York, establishing the town of Fonda, New York. By 1888, many of their descendants had relocated to Nebraska.
He was brought up as a Christian Scientist, though he was baptized an Episcopalian at St. Stephen's Episcopal Church[citation needed] in Grand Island. He said, "My whole damn family was nice." They were a close family and highly supportive, especially in health matters, as they avoided doctors due to their religion. Despite having a religious background, he later became an agnostic.
Henry Fonda Spouse
He was married five times and had three children, one of them adopted. His marriage to Margaret Sullavan in 1931 soon ended in separation, which was finalized in a 1933 divorce. He married Frances Ford Seymour Brokaw, widow of a wealthy industrialist, George Tuttle Brokaw in 1936. The Brokaws had a daughter, Frances de Villers, nicknamed "Pan", who had been born soon after the Brokaws marriage in 1931. He met his future wife Frances at Denham Studios in England on the set of Wings of the Morning, the first British picture to be filmed in Technicolor.
Henry Fonda  Education
He attended the University of Minnesota, where he majored in journalism, but did not graduate. He later took a job with the Retail Credit Company.
Henry Fonda Net Worth
He was an American actor who has a net worth equal to $20 million at the time of his death (after adjusting for inflation). He was born in Grand Island, Nebraska in May 1905 and passed away in August 1982. He was a film and stage actor who appeared on Broadway.
Henry Fonda Westerns
List of Western movies/films with performances by Henry Fonda, listed alphabetically with movie trailers when available. These Henry Fonda Western roles include starring, supporting and cameo appearances. You can sort these Henry Fonda Western movies for additional information as well, such as who directed the films and when they were released. Over the years Henry Fonda has become known for playing characters in Western movies, so this list is the perfect resource for finding some you haven't already seen.
Henry Fonda Movies
Meteor (Movie)
The President of the United States
1979
City On Fire (Movie)
Fire Chief
1979
Wanda Nevada (Movie)
Old Prospector
1979
Fedora (Movie)
Himself
1978
The Swarm (Movie)
Dr. Krim
1978
The Great Smokey Roadblock (Movie)
Elegant John
1978
Rollercoaster (Movie)
Simon Davenport
1977
Tentacles (Movie)
Mr. Whitehead
1977
Henry Fonda Children
hey had two children, Jane who was born on December 21, 1937, and Peter who is born February 23, 1940, both of whom became successful actors. Jane has won two Best Actress Academy Awards, and Peter has been nominated for two Oscars, one for Best Actor.
Henry Fonda Cause Of Death
According to research, it is said that Henry Fonda, who exemplified for nearly half a century a man of honesty and decency in more than 100 film and stage roles, died early yesterday of chronic heart disease in Los Angeles. He was 77 years old. He had battled heart disease since 1974 when a pacemaker was placed in his chest. But his dedication to his craft kept him on a strenuous schedule until last year, when his worsening health forced him to be hospitalized often and to move about in a wheelchair.
The actor, who retained a boyish candor and a gentle but firm manner, had long been a quintessential American hero. His image of a prairie Galahad was enhanced by his clean-cut features and a firm jaw, tall, lean frame, loping stride and dry wit, expressed with a distinctive Middle Western twang. 'Of the Highest Order'
Henry Fonda Instagram
https://www.instagram.com/p/BGOFlRUL3s2/?utm_source=ig_web_copy_link
Henry Fonda twitter
Henry Fonda YouTube
https://youtu.be/IvfGvbylFx4