Horace Grant Biography
Horace Grant is a retired, American basketball player. He attended and played college basketball at Clemson University before playing professionally in the National Basketball Association (NBA), where he became a four-time champion with the Chicago Bulls and Los Angeles Lakers. Horace is the twin brother of former NBA player Harvey Grant.
Horace Grant Age|Measurements
Horace Grant was born on July 4, 1965, in Augusta, Georgia United States. Horace and his twin brother, Harvey, grew up in Mitchell, Georgia. He is 53 years old as of 2019. Grant weighs at 111 kg. Horace Grant stands at a height of 2.11 m.
Horace Grant Family
Horace Grant was born in Augusta, Georgia to Harvey Lee (father) and Grady Mae (mother). His nephews are Jeremi Grant, Jerian Grant and Jerai Grant who are also netballers.
Horace Grant Wife
Horace Grant is married to Donna Grant with he stayed with from 1988 to 1994, the couples were blessed with two kids but finally, they divorced. He then married another wife Andrea Grant in 2003 with whom he got four children with.
Horace Grant Kids
Horace Grant has two kids from his first wife namely Horace Jr and Deon Grant the other kids are from his second wife namely Eva Grant, Gianna Grant, Maia Grant, Elijah Grant, and Naomi Grant.
Horace Grant Education
Horace Grant attended school in Sparta, Georgia. After he graduated from high school, he attended Clemson University, where he was a member of Pi Kappa Alpha.
Horace Grant Career highlights and awards
4× NBA champion (1991–1993, 2001)
NBA All-Star (1994)
4× NBA All-Defensive Second Team (1993–1996)
Consensus second-team All-American (1987)
ACC Player of the Year (1987)
First-team All-ACC (1987)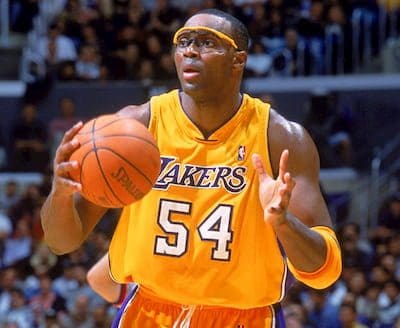 Horace Grant
NBA
Chicago Bulls
Horace Grant was drafted by the Chicago Bulls with 10th overall pick of 1987 NBA draft. He teamed with his fellow draft-day acquisition Scottie Pippen to form the Bulls' forward tandem of the future, although he backed up with incumbent Charles Oakley, one of the league's premier rebounders and post defenders.
In 1988, Grant moved into the starting lineup when Oakley was traded to the New York Knicks for center Bill Cartwright. He immediately became the Bulls' main rebounder, and established himself as the Bulls' third scoring option after Michael Jordan and Pippen, forming one of the league's best trios.
Grant was noted for his defensive play; he was selected four times for the NBA All-Defensive Team. He helped Chicago win three consecutive NBA championships (1991, 1992, and 1993), securing the third with a last-second block on Kevin Johnson.
Grant, who was diagnosed with nearsightedness and wore eyeglasses, began wearing goggles fitted with prescription lenses on the court starting with the 1990-91 season.
The goggles soon became a trademark for Grant; Although he eventually received LASIK surgery to correct his sight, he continued to wear the goggles on the court after he had heard from parents that he had become an inspirational figure to children who wore eyeglasses.
After Jordan's first retirement following the 1992–93 season, Grant became the number-two star behind Pippen, and helped the Bulls push the Knicks to seven games in the second-round playoff series before being eliminated. Grant played in the 1994 NBA All-Star Game, posting four points and eight rebounds in 17 minutes.
Orlando Magic
After posting career-bests in scoring (15.1 ppg), rebounding (11.0 rpg), and assists (3.4 apg), he left the Bulls as a free agent and joined the Orlando Magic, led by Shaquille O'Neal and Penny Hardaway.
On May 5, 1995, Grant made the final basket in Boston Garden history in Orlando's series-clinching victory over the Boston Celtics. Grant helped the Magic reach the 1995 NBA Finals, where they were swept in four games by the Houston Rockets. Grant spent the next several seasons with the Magic.
Seattle Supersonics
Horace Grant was traded to the Seattle SuperSonics along with 2000 and 2001 second-round picks for Dale Ellis, Don MacLean, Billy Owens, and rookie Corey Maggette just before the start of the 1999–2000 season.
Los Angeles Lakers
After one year with the Sonics, he was involved in a three-way trade in which Glen Rice of the Los Angeles Lakers was sent to New York, Patrick Ewing of the Knicks was sent to Seattle, and Grant to the defending champion Lakers. He helped them win another championship in the 2000–01 season.
Return to the Magic
In the offseason, Grant decided to leave Los Angeles and sign back with the Orlando Magic. Grant was cut by the Magic in December 2002 after then-coach Doc Rivers implied Grant was a "cancer" on the team.
Return to the Lakers
Grant chose to retire after getting cut by the Magic. However, he decided to return for another run with the Lakers for the 2003–04 season as a backup to Karl Malone. He then retired permanently following the Lakers' loss to the Detroit Pistons in the 2004 NBA Finals.
Horace Grant Net worth
Horace Grant is a retired American basketball player who has an estimated net worth of $ 35 million as of 2019.
Horace Grant House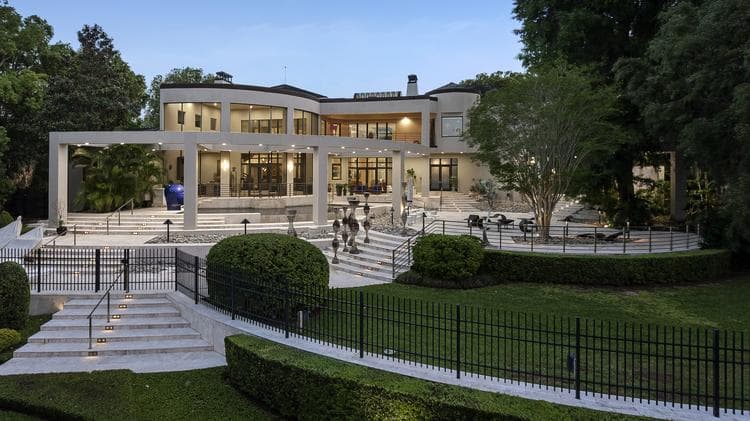 Horace Grant wearing goggles after eye surgery
In a Reddit AMA held on Thursday, Grant responded to a question about why he wore goggles when he played basketball, which was actually necessary, and later on, as a symbol for his fans.
Dr. David Orth, the Bulls' ophthalmologist, said that Grant's eyes were "barely good enough to drive in the NBA plays. After Orth prescribed goggles for Grant, he "wore them religiously."
That is until they became a vulnerability after the Knicks' Charles Oakley repeatedly knocked them off during the 1991 NBA playoffs. Grant decided not to wear them in later rounds, which made his play noticeably worse.
After playing poorly against the Lakers in Game 1 of the 1991 NBA Finals, Grant returned to using his goggles, which, of course, significantly improved his play in Game 2.
Two lessons we've learned here: 1) Listen to your doctors, because you might win four NBA championships and earn an All-Star appearance later in life, and 2) Horace Grant's an amazing guy for continuing to wear goggles after surgery to "make it cool" for his young, spectacled fans.
Horace Grant got the googles because he was nearly to be blind.  He wore them because of his safety while playing during those years. After a few years, he got another Lasik surgery, that kept him wearing without the prescription [sic] lenses because his grandparents and parents came up to him and thanked him for wearing them.
Their kids and grandkids would get made fun of by wearing protective eyewear playing sports, so I kept wearing them to help make it cool to wear goggles for the kids.
Horace Grant Highlights
Horace Grant Seattle Supersonics
Horace Grant was acquired by Seattle Supersonics from Orlando on draft night, he was therefore introduced into the SuperSonics."I've been doing this for a long time, so I know it's a business," said Grant.
"Of course, I left some friends back there, but this gives me a chance to make some more friends. It really didn't bother me.
"The Sonics landed Grant, who played for the Magic for five years, Wednesday night in a trade in which they gave up veterans Billy Owens, Don MacLean and Dale Ellis, and draft-pick Corey Maggette. Orlando sent second-round draft choices in 2001 and 2002 to Seattle to complete the deal.
The Sonics picked Maggette, a 6-foot-6 forward who left Duke after his freshman season, with the 13th selection in the draft at Orlando's request. Grant signed with the Magic as a free agent after the 1993-94 season after playing his first seven years with Chicago.
He helped the Bulls win three NBA championships. With two seasons left on his contract at $6.5 million and $7 million, Grant was not surprised to be sent all the way to the West Coast by Orlando.
He helped the Magic get into the playoffs by averaging 8.9 points and 7 rebounds this season when he played in all 50 of his team's games. "I think the Magic just wanted to go in another direction," he said at a news conference.
"A youth movement. They don't know what's going on down there in terms of Penny (Hardaway). So I think it worked out for both sides. I'm extremely happy to be here." After missing the playoffs for the first time in nine seasons, the Sonics needed to get a veteran front-line player.
They could lose forward Vin Baker and Detlef Schrempf as free agents, and they're not expected to bring back center Olden Polynice. Polynice averaged 8.9 rebounds per game this past season.
The Sonics will try to re-sign Baker, and they also hope to talk Schrempf into coming back for a 15th NBA season.
In Seattle, Grant joins a team that went 25-25 this season, finishing ninth in the Western Conference. The Sonics are led by Gary Payton, who tied for sixth in the league in scoring with 21.7 points this season.
"From what I know, he's excited about the trade and having me here," Grant said of Payton. Grant said he thinks he can help the Sonics, mainly on defense. "I think my best asset would have to be my defense," he said.
"A no-nonsense attitude. Hard work. And 12-to-15-foot jumpers. "Watching the Sonics this past year, they really needed that toughness. That's what made the Sonics. I think with me being here anchoring their defense, which I'm known for, I think we'll get back to it."
Horace Grant Facebook
Horace Grant Twitter
Horace Grant Instagram