Ian Hislop Biography
Ian Hislop (David Hislop)  is a British journalist, satirist, writer, broadcaster, and editor of the magazine Private Eye.
His father, David, was a civil engineer who worked on projects around the world, taking his wife, Helen, as well as his two children (Ian has an older sister, Anne) with him. The Hislop's moved to Nigeria, then Kuwait, Saudi Arabia and Hong Kong. His father was from Scotland and the mother from Jersey.
Early Life
When Hislop was 12, his mother came to his school – Ardingly College in Sussex, where he had boarded since he was eight – to tell him that his father had died of stomach cancer. The family had known that David had been ill but it was only a few brief months between diagnosis and death, at the age of 45. In his late 20s, his mother – still in her 60s – was dying, at the same time that his wife, Victoria, was in the hospital having suffered a miscarriage.
He was educated at Ardingly College, an independent boarding school, where he became Head Boy and began his satirical career directing and appearing in revues alongside Nick Newman. Hislop and Newman's association continued when they attended Oxford University together, later working together at Private Eye and on a number of comedy scriptwriting jobs. Hislop applied to read Philosophy, Politics, and Economics at Oxford but changed to English Literature before arriving at Magdalen College. While at university, Hislop was actively involved in student journalism; he relaunched and edited the satirical magazine Passing Wind. He graduated with a BA in 1981.
Ian Hislop Private Eye
At Oxford, Hislop revived and edited the magazine Passing Wind, for which he interviewed Richard Ingrams, who was then editor of Private Eye, and Peter Cook, then the majority shareholder. Hislop's first article appeared in 1980 before he sat his university finals. A parody of The Observer magazine's "Room of My Own" feature, it described an IRA prisoner on the dirty protest decorating his cell in "fetching brown". Hislop joined the publication immediately after leaving Oxford and became editor in 1986 following Ingrams's departure.
As editor of Private Eye, Ian Hislop is reputedly the most sued man in English legal history, although he is not involved in as many libel actions as he once was. A libel case was brought against Private Eye and Hislop in 1986 by the publisher Robert Maxwell after the magazine accused him of funding Labour leader Neil Kinnock's travel expenses as a means of gaining a peerage. After the case, Hislop quipped: "I've just given a fat cheque to a fat Czech".
After his death in 1991, Maxwell was revealed to be the extensive fraudster, illegally drawing on his companies' pension funds; his last writ for libel against the Eye and Hislop was about this "malicious" and "mendacious" claim.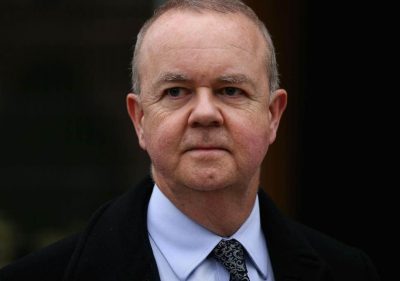 Ian Hislop Age | Birthday
Ian Hislop was born on 13th July 1960 in Mumbles, South Wales, United Kingdom. He celebrates his birthday on 13th July every year.
Ian Hislop Family
Parents
He was born to a Scottish father, David Hislop, from Ayrshire, and a Channel Islander mother born in Jersey, Helen Rosemarie née Beddows. His paternal grandfather, David Murdoch Hislop, died just before he was born. His maternal grandfather, William Beddows, was originally from Lancashire.
Ian Hislop Wife
On 16th April 1988, Ian Hislop married Victoria Hamson, who is an author. They have two children Emily Helen Hislop (born 1990) and William David Hislop(born 1993).
Children
They have two children Emily Helen Hislop (born 1990) and William David Hislop(born 1993).
Ian Hislop Body Measurements
Height: 1.68m
Weight: Not Available
Shoe Size: Not Available
Body Shape: Not Available
Hair Colour: Not Available
Ian Hislop Net Worth
Ian Hislop has an estimated net worth of $10 million which he has earned through his successful career as a journalist, satirist, writer, broadcaster, and editor of the magazine Private Eye.
Ian Hislop Books
2015: Private Eye Annual 2015 (Annuals)
2006: Have I Got News for You
2006: The Wipers Times: The Complete Series of the Famous Wartime Trench Newspaper

2000: Son of Blair: The Sequel: Further Letters from the Vicar, the Rev. A.R.P. Blair MA (Oxon)
1998: St. Albion Parish News
2017: A Bunch of Amateurs
1991: Stress, Distress, and Illness
1987: Battle for Britain
Ian Hislop News
BBC ones Have I Got News For You is renowned for its sharp take on current affairs, but the balance of male to female presenters is seriously off-kilter.
The satirical panel show has been presented by 11 politicians over its 28 years of existence, and only one – Ann Widdecombe – was a woman.
In a new interview with Radio Times, team captains Ian Hislop and Paul Merton have said the reason for the skewed gender make-up of the show is simply because women don't want to take part.
Merton told Radio Times magazine: 'The producers always ask more women than men. More women say no.'
He explained that since the show first started off, it had been the case.
Hislop said: 'Everyone you think should have been asked has been. Really, they really have.
'There was a period where people said, "Why haven't you had French and Saunders on? Why haven't you had the following people?" And you say, "Well, it's not compulsory."'
He continued: 'On the whole, women are slightly more reticent and think, maybe modestly: "I can't do that." Maybe more men in public life say: "Yes I can do that."
' Although Ann Widdecombe is the only female politician to have hosted the programme, there have been some women guests present on the show.
'Kirsty Young has done it a few times. Jane Leeves from Frasier has done it, Liza Tarbuck a long time ago, Jennifer Saunders has done it a couple of times, Jo Brand has done it maybe half a dozen times… So unless Ann Widdecombe has put off an entire gender, it must be because they've been asked and they've said no,' according to Merton.
Merton described his 'worst experience' on the comedy show as when Widdecombe returned to host for a second time.
He said the former Conservative politician was pointing out to the show bosses which jokes wouldn't work on the show after seemingly gaining confidence in the role following her first presenting stint on the panel show.
He added: 'She turned to me at one point and said, 'Come on, be amusing; that's what you're being paid for.' Even as I say it, it sends a shiver through my heart!
'It's like, the arrogance of the woman, you know? Suddenly she thought she was Victoria Wood!'
Hislop had described allegations of sexual misconduct in Westminster as 'not a high-level crime', prompting Brand – who was acting as guest host for the episode – to cut in and tell the all-male panel not to undermine sexual harassment.
'If I can just say – as the only representative of the female gender here today – I know it's not high-level, but it doesn't have to be high-level for women to feel under siege in somewhere like the House of Commons,' she said.
Ian Hislop Brexit
Frequently Asked Questions About Ian Hislop
Who is Ian Hislop?
Ian Hislop is a British journalist, satirist, writer, broadcaster, and editor of the magazine Private Eye.
How old is Ian Hislop?
Ian Hislop is 69 years as of 2019. He was born in 1960
How tall is Ian Hislop?
Ian Hislop stands at a height of 1.68m
Is Ian Hislop married?
Ian Hislop is married to Victoria Hislop.
How much is Ian Hislop worth?
He has an estimated net worth of $10 million
Is Ian Hislop dead or alive?
Ian Hislop is still alive and in good health.
---

We endeavor to keep our content True, Accurate, Correct, Original and Up to Date.
If you believe that any information in this article is Incorrect, Incomplete, Plagiarised, violates your Copyright right or you want to propose an update, please send us an email to informationcradle@gmail.com indicating the proposed changes and the content URL. Provide as much information as you can and we promise to take corrective measures to the best of our abilities.
---