James Mworia  Biography
James Mworia (James Mwirigi Mworia) was born in 1978. He is a Kenyan lawyer, accountant, and business executive. He is the managing director and the chief executive officer of centum investments. In September 2016, he was named the highest-paid executive among the five largest corporations in Kenya, with an annual compensation package valued at KES:201.1 million (approx. US$2 million) annually.
James Mworia Age
James Mworia was born in 1978, He is 41 years of age as of 2019.
James Mworia Wife
James is married to Joan Mworia, The two met at a very young age.
James Mworia Education Background
2016: Graduate student at Machakos University, Doctor of Business (Honoris Causa), Business.
1997 – 2001: Undergraduate student at the University of Nairobi, Bachelor of Law.
1996 – 1998: Student at Strathmore University, CPA (K), Accounting and Finance
Secondary school student at Alliance High School.
James Mworia Career
In 2001, he began working as a filing clerk at Centum Investments. He gradually rose through the ranks, and in 2005 he was appointed chief investment officer at Centum Investments. He served in that position until December 2006, when he joined TransCentury Investments as its head of investments.
In 2008, at age 30, he was appointed chief executive officer (CEO) and managing director at Centum.
James Mworia Salary | Networth
James' salary is about $2 million dollars annually.
James Mworia Parents
James' mother was a primary school teacher and later a businesswoman, and his father a lawyer. they both shaped James to have a business mindset at a young age.
James Mworia Job History
October 2016 – Present: Chancellor, Machakos University
January 2016 – Present: Chairman, Almasi Beverages Limited
June 2015 – Present: Director, Nairobi Stock Exchange
December 2014 – Present: Chairman, Sidian Bank
December 2008 – Present: Group Chief Executive Officer, Centum Investment Company Limited
January 2007 – November 2008: Senior Investment Officer, TransCentury Limited
2002 – 2007: Lecturer at Strathmore University (CFA and ACCA lecturer)
August 2001 – December 2006: Investment Manager, Centum Investment Limited.
James Mworia Membership
Chairman of the board of directors at Sidian Bank.
Board member at the Nairobi Stock Exchange
James Mworia Honors and Awards
October 2011: Africa Young Business Leader of the Year 2011, All Africa Business Leader Awards (AABLA)
This award seeks to recognize business leaders below the age of 40 years who have displayed the exemplary character of leadership and innovation in business.
September 2012: Tutu Fellow 2012, African Leadership Institute in conjunction with Said Business School University of Oxford
Tutu Fellows go through a rigorous program that exposes them to a variety of leadership learning experiences. The 2012 class was made up of 23 high potential emerging leaders between the ages of 25 and 40. The program started with a 9-day workshop at Mont Fleur in Stellenbosch, followed by the preparation of a scenario analyses on the future of the African continent, a community project and a written assignment on the comparative review of…more
June 2015: East African Business Leader of the Year Award, AABLA
James Mworia Photo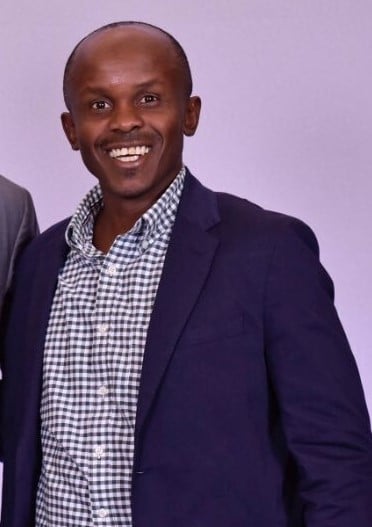 James Mworia Interview
"But imagine for a moment that you order flowers for a loved one using your cellphone provider – if the experience is positive, you might book movie tickets, organize a baby sitter, arrange a holiday, and if all of these experiences work, you will eventually trust them enough to buy a car or finance your house using your cellphone provider," he explains. "Once your telco has earned your trust, with each engagement, the trust journey grows, as does the perception of the telco and eventually the user dependency changes from just airtime to everything."
For your employees to take your customers on the trust journey, they need the skill, knowledge, and capability. Every experience is an opportunity where brands get to exceed customer expectations. Your employees are directly linked to your business' success. An adequately skilled employee must be available to handle the interaction and to elicit the desired outcome, be that a sale, a query resolution, or a service.
Employees must be empowered with knowledge and support to provide positive customer experiences and businesses that don't embrace this will become redundant. CEO involvement is not optional – all leaders must constantly reinforce the message of the importance of the customer.
"The culture of an organization should be: If we are not here for the customer, why are we here at all?" Ball emphasizes. "Disruptive technologies such as Airbnb and Uber are changing the way business gets done. Customers have a real choice with an on-demand economy, and rapidly changing technology is changing the way we do business forever. Every employee must have a customer connection, understanding that whatever they do today, moves the business forward for better customer experience."
Customers need to have multichannel accessibility – and the service should be personalized, consistent and interactive. Providing feedback loops gives us the opportunity to listen to the voice of the customer. "Every engagement should be measured and those brands that put their employee performance up against the actual customer experience will understand that they have their customers on the "trust journey". When employees and customers are happy, the trust grows and the business is winning. You can't have one without the other," Ball concludes.
Adopted from: howwemadeitinafrica.com
James Mworia Twitter
James Mworia Video
---
We endeavor to keep our content True, Accurate, Correct, Original and Up to Date.
If you believe that any information in this article is Incorrect, Incomplete, Plagiarised, violates your Copyright right or you want to propose an update, please send us an email to informationcradle@gmail.com indicating the proposed changes and the content URL. Provide as much information as you can and we promise to take corrective measures to the best of our abilities.
---