Who Is Nidal Hasan | Who Is Nidal Malik Hasan | Nidal Hasan Biography | Nidal Hasan Md
Nidal Hasan (Full name: Nidal Malik Hasan) is a former American Army Major convicted of killing 13 people and injuring more than 30 others in the Fort Hood mass shooting on November 5. 2009. Hasan was a United States Army Medical Corps psychiatrist who admitted to the shootings at his court-martial in August 2013.
A jury panel of 13 officers convicted him of 13 counts of premeditated murder, 32 counts of attempted murder, and unanimously recommended he be dismissed from the service and sentenced to death. Hasan is incarcerated at the United States Disciplinary Barracks at Fort Leavenworth in Kansas awaiting execution.
During the six years that Hasan was an intern and resident at Walter Reed Army Medical Center, colleagues and superiors were concerned about his job performance and comments.
Hasan was not married at the time and was being described as socially isolated, stressed by his work with soldiers, and upset about their accounts of warfare. Two days before the shooting, which occurred less than a month before he was due to deploy to Afghanistan, Hasan gave away many of his belongings to a neighbor.
Prior to the shooting, Hasan had expressed critical views described by colleagues as "anti-American". An investigation conducted by the Federal Bureau of Investigation (FBI) concluded that his e-mails with the late Imam Anwar al-Awlaki were related to his authorized professional research and that he was not a threat.
The FBI, Department of Defense (DoD) and U.S. Senate all conducted investigations after the shootings. The DoD classified the events as "workplace violence", pending prosecution of Hasan in a court-martial. The Senate released a report describing the mass shooting as "the worst terrorist attack on U.S. soil since September 11, 2001".The decision by the Army not to charge Hasan with terrorism is controversial.
Nidal Hasan Age
Nidal Malik Hasan is a former American Army Major convicted of killing 13 people and injuring more than 30 others in the Fort Hood mass shooting on November 5. 2009. He was born on September 8. 1970 in Arlington County, Virginia, United States. Hasan is 49 years old as of 2019.
Nidal Hasan Family
He was born in Arlington County, Virginia at Virginia Hospital Center to Palestinian parents who immigrated to the U.S. from al-Bireh in the West Bank. Raised as a Muslim together with his two younger brothers, he attended Wakefield High School in Arlington for his freshman year.
After his family moved to Roanoke in 1985, he attended William Fleming High School in Roanoke, Virginia. He graduated from high school in 1988. Hasan and his brothers helped their parents run the family's restaurant in Roanoke. Their father died in 1998 and their mother in 2001. As adults, one brother continued to live in Virginia and the other moved to Jerusalem.
Nidal Hasan Wife
According to military records, Hasan was unmarried. However, David Cook, a former neighbor, said around 1997 Hasan had two sons living with him and attending local schools. Cook said, "As far as I know, he was a single father. I never saw a wife."
Nidal Hasan Death | Nidal Hasan Death Date
Also near Ramallah, cousin Mohammed Hasan said that "because he's a Muslim he didn't want to go to Afghanistan or Iraq and he didn't want to expose himself to violence and death".
According to Al-Awlaki, Hasan said he had become a devout Muslim around the time the imam was preaching at Dar al-Hijrah in 2001 and 2002. (Note: This followed the death of Hasan's mother in 2001; Hasan prayed most of the time at a mosque in Silver Spring, Maryland, to which he belonged for ten years, as noted above in the previous section of this article.)
The Department of Justice's effort to clear the way for the federal government to resume capital punishment after a nearly two-decade pause won't immediately change the individual statuses of those on the military's death row, but some experts do view it as a potential sign of things to come.
There are currently four death row inmates in the military justice system: Ronald Gray, Hasan Akbar, Timothy Hennis, and Nidal Hasan.
All are former soldiers.
In 2009, Nidal Hasan was an Army major when he killed 13 people and wounded more than 30 others in a mass shooting at Fort Hood, Texas.
"Attorney General William Barr's announcement does not affect the individual status of any of the four death row inmates," a Department of the Army official said on background. "The military will make an appropriate announcement if and when an execution date has been scheduled for any of our prisoners."
The new policy under the Trump administration clears the legal path to resume using lethal injection for federal death row inmates, which is also how the military would perform an execution. The policy switches away from a three-drug cocktail that was caught up in legal challenges to using a single drug — pentobarbital — to execute inmates.
Although the statuses of the four individuals on military death row are not likely to change anytime soon, the eagerness of President Donald Trump's DOJ to change the status quo could bode badly for the death row inmates at U.S. Disciplinary Barracks, Fort Leavenworth, Kansas.
"If I were on death row, I would consider this a very bad sign, but not a sign that anything is happening immediately. There is going to be litigation over this," said Eugene Fidell, a Yale Law School lecturer on habeas corpus and military justice.
The military hasn't executed a prisoner since 1961, though capital punishment remains a legal penalty under the Uniformed Code of Military Justice. Military death row was more populated in the past decades, but legal challenges stemmed from the number of occupants.
In the 1970s, capital punishment was invalidated by the Supreme Court, only to be later reinstated by that same legal body. And in 1983, the Armed Forces Court of Appeals also ruled the penalty unconstitutional, only to be again reinstated by an executive order from President Ronald Reagan the following year.
Since then, more cases have wound their way toward and away from the death penalty.
"Some have gone away because of clemency, or errors found on appeal," Fidell, who also served as a judge advocate in the Coast Guard, said. "So there's been a lot of cases that have gone through the system, but the system does tend to winnow them out. And presidents have not fallen all over themselves to clear the path for executions."
Retired Lt. Col. Jeffrey Addicott, a former Army judge advocate who tried a death penalty case that was ultimately commuted to life, said that he hopes the DOJ guidance signals a change on the military side.
"Hopefully it is a harbinger of things to come," Addicott said. "Obviously the military appeal system is broken and hopefully the DOJ's decision will energize a revamping of the military's appeal process so that the victims can have justice."
"Although the military rules of evidence are the word for word the same as the federal rules of evidence, the military appeal system takes a somewhat different track than the Federal Court appeal system, but both ultimately merge together at the U.S. Supreme Court," he added.
As it stands, Ronald R. Gray, a former Army private convicted in 1988 of multiple murders and rapes, appears to be the closest to being put to death.
Gray was initially given an execution date in 2008 after then-President George W. Bush approved it, but a stay was granted less than a week afterward. That stay of execution was lifted in 2016, but even he doesn't face any immediate execution date.
Hasan, the Army psychiatrist who opened fire in a shooting rampage at Fort Hood, may also wait to learn of an outcome. His's former defense lawyer, retired Col. John P. Galligan, told Army Times that they spoke last week on the day in which the new DOJ guidance was announced.
Galligan, a former Army judge advocate who still represents Hasan on some civil cases, said that his client could be affected by the new guidance, but there remain many avenues to appeal his sentence.
"(Hasan's) case hasn't even really gotten through the initial stages of the appeal," Galligan said. "The case is still being litigated on post-trial discovery issues … I think it'd be a long time before that [the death penalty] becomes one of the pertinent issues to be addressed on appeal."
Hasan Akbar is another former soldier on death row. He was sentenced to death for a premeditated attack that killed an Army captain and an Air Force major early on the morning of March 23, 2003, at Camp Pennsylvania, Kuwait, at the start of the U.S. invasion of Iraq.
Also on death row is Timothy Hennis, a former master sergeant who was convicted and sentenced to death for the murders of a North Carolina woman and her two children in 1985.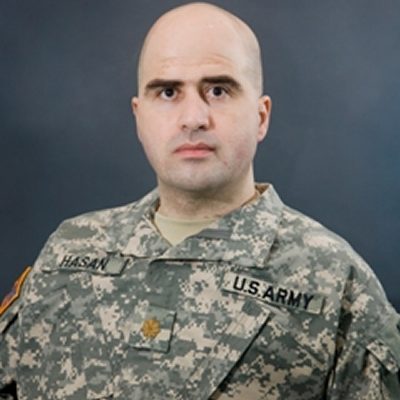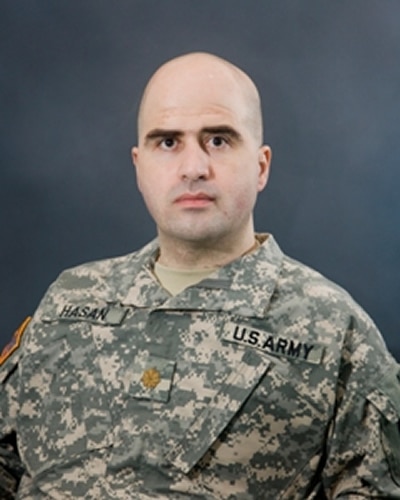 Nidal Hasan Net Worth
Nidal Malik Hasan is a former American Army Major convicted of killing 13 people and injuring more than 30 others in the Fort Hood mass shooting on November 5. 2009. He Has Earned $278,000 thousand dollars in Salary Since the Fort Hood Shooting.
Nidal Hasan Career
Hasan joined the United States Army immediately after high school in 1988 and served eight years as an enlisted soldier while attending college. He graduated from Virginia Tech in 1997 with a bachelor's degree in biochemistry.
He gained admission through a selective process for medical school at the Uniformed Services University of the Health Sciences (USUHS).  After earning his medical degree in 2003, Hasan completed his internship and residency in psychiatry at Walter Reed Army Medical Center. While an intern at Walter Reed, he received counseling and extra supervision.
He studied for a Master in Public Health degree at USUHS with a two-year fellowship in Disaster and Preventive Psychiatry at the Center for Traumatic Stress at USUHS, which he completed in 2009. In May 2009, Hasan was promoted from captain to major. Before being transferred to Fort Hood in July 2009, he received a poor performance evaluation from supervisors and medical faculty. Despite these concerns, his former army boss, Lt. Col Ben Phillips, graded his performance as "outstanding", as revealed when Phillips was cross-examined during Hasan's trial.
According to The Washington Post, Hasan made a presentation titled "The Quranic World View as It Relates to Muslims in the U.S. Military" during his senior year of residency at Walter Reed, which was not well received by some attendees.
He suggested that the Department of Defense "should allow Muslims [sic] Soldiers the option of being released as "Conscientious objectors" to increase troop morale and decrease adverse events." On a previous slide, he explained that "adverse events" could be refusal to deploy, espionage, or killing of fellow soldiers (as had occurred in Vietnam).
Retired Colonel Terry Lee, who had worked with Hasan, later recalled that the fatal shooting of two recruiters in Little Rock, Arkansas greatly affected Hasan. The suspect Abdulhakim Mujahid Muhammad later claimed to be an Al Qaeda terrorist.
He was charged with murder. Lee told Fox News that Hasan made "outlandish" statements against the American military presence in Iraq and Afghanistan, that "the Muslims should stand up and fight against the aggressor", referring to the United States. After 2004, Hasan became more agitated and frequently argued with soldiers. He expressed hope that President Barack Obama would withdraw troops.
His relatives in Israel and the U.S. who spoke to the press portrayed him as a quiet, peace-loving and deeply religious man who served his country proudly, but suffered from religious harassment. Cousin Nader Hasan disputed that Hasan had ever been "disenchanted with the military," but that he dreaded war after counseling soldiers who had returned with post-traumatic stress disorder.
He was "mortified by the idea" of deploying after having been told on a "daily basis the horrors they saw over there". Nader claimed that Hasan had been harassed by his fellow soldiers. "He hired a military attorney to try to have the issue resolved, pay back the government, to get out of the military.
He was at the end of trying everything." Hasan's aunt also said that Hasan sought discharge because of harassment relating to his Islamic faith. An army spokesman could not confirm the relatives' statements; the deputy director of the American Muslim Armed Forces and Veterans Affairs Council said that the reported harassment was "inconsistent" with their records.
His uncle Rafiq Hamad, who lives in Ramallah in the West Bank, said Hasan was a gentle and quiet man who fainted while observing childbirth, which was why he chose psychiatry. He was deeply sensitive and mourned a pet bird for months after it died. Also near Ramallah, cousin Mohammed Hasan said that "because he's a Muslim he didn't want to go to Afghanistan or Iraq and he didn't want to expose himself to violence and death".
Mohammed stated his cousin was a "pleasant young man" who was happy to have graduated and to be joining the army after his uncle and cousins had also served. They never talked about politics, but Hasan had complained that "he was being treated like a Muslim, like an Arab, rather than an American; he was being discriminated against."
Nidal Hasan Fort Hood | Where Is Nidal Malik Hasan Now | Nidal Hasan News
A military court on Wednesday sentenced Major Nidal Hasan to death for the 2009 shooting rampage at Fort Hood, giving the Army psychiatrist a path to the martyrdom he appeared to crave in the attack on unarmed fellow soldiers.
Hasan, who has said he acted to protect Islamic insurgents abroad from American aggression, never denied being the gunman. In opening statements, he acknowledged to the jury that he pulled the trigger in a crowded waiting room where troops were getting final medical checkups before deploying to Iraq and Afghanistan.
The same jurors who convicted Hasan last week had just two options: either agree unanimously that Hasan should die or watch the 42-year-old get an automatic sentence of life in prison with no chance of parole.
Kathy Platoni, an Army reservist who still struggles with images of Capt John Gaffaney bleeding to death at her feet, said she was surprised by the verdict but not opposed to the punishment.
"What Nidal Hasan wanted was to be a martyr and so many of the (victims') families had spoken to the issue of not giving him what he wants because this is his own personal holy war," said Platoni, who watched most of the trial from inside the courtroom.
"But on the other hand, this is from the bottom of my heart, he doesn't deserve to live," she said. "I don't know how long it takes for a death sentence to be carried out, but the world will be a better place without him."
Hasan had no visible reaction when the verdict was read, staring first at the jury forewoman and then at the judge. Some victims' relatives were in the courtroom but also showed no reaction, which the judge had warned against before the verdict.
Officials said Hasan will be taken back to the county jail and then transported on the first available military flight to the military prison at Fort Leavenworth in Kansas. The timing on the flight wasn't immediately clear.
Hasan could become the first American soldier executed in more than half a century. But because the military justice system requires a lengthy appeals process, years or even decades could pass before he is put to death.
The lead prosecutor assured jurors that Hasan would "never be a martyr" despite his attempt to tie the attack to religion.
"He is a criminal. He is a cold-blooded murderer," Colonel Mike Mulligan said Wednesday in his final plea for a rare military death sentence. "This is not his gift to God. This is his debt to society. This is the cost of his murderous rampage."
For nearly four years, the federal government has sought to execute Hasan, believing that any sentence short of a lethal injection would deny justice to the families of the dead and the survivors who had believed they were safe behind the gates of the Texas base.
And for just as long, Hasan has seemed content to go to the death chamber for his beliefs. He fired his own attorneys to represent himself, barely put up a defense during a three-week trial and made almost no effort to have his life spared.
Mulligan reminded the jury that Hasan was a trained doctor yet opened fire on defenseless comrades. He "only dealt death," the prosecutor said, so the only appropriate sentence is death.
He was never allowed to argue in front of the jury that the shooting was necessary to protect Islamic and Taliban leaders from American troops. During the trial, Hasan leaked documents to journalists that revealed him telling military mental health workers in 2010 that he could "still be a martyr" if executed.
When Hasan began shooting, the troops were standing in long lines to receive immunizations and doctors' clearance. Thirteen people were killed and more than were 30 wounded. All but one of the dead were soldiers, including a pregnant private who curled on the floor and pleaded for her baby's life.
The attack ended only when Hasan was shot in the back by an officer responding to the shooting. Hasan is now paralyzed from the waist down and uses a wheelchair.
The military called nearly 90 witnesses at the trial and more during the sentencing phase. But Hasan rested his case without calling a single person to testify in his defense and made no closing argument. Even with his life at stake during the sentencing hearing, he made no attempt to question witnesses and gave no final statement to jurors.
Death sentences are rare in the military, which has just five other prisoners on death row. The cases trigger a long appeals process. And the president must give final authorization before any service member is executed. No American soldier has been executed since 1961.
Hasan spent weeks planning the November 5, 2009, attack, including buying the handgun and videotaping a sales clerk showing him how to change the magazine.
He later plunked down $10 at a gun range outside Austin and asked for pointers on how to reload with speed and precision. An instructor said he told Hasan to practice while watching TV or sitting on his couch with the lights off.
When the time came, Hasan stuffed paper towels in the pockets of his cargo pants to muffle the rattling of extra ammo and avoid arousing suspicion. Soldiers testified that Hasan's rapid reloading made it all but impossible to stop him. Investigators recovered 146 shell casings in the medical building and dozens more outside, where Hasan shot at the backs of soldiers fleeing toward the parking lot.
In court, Hasan never played the role of an angry extremist. He didn't get agitated or raise his voice. He addressed the judge as "ma'am" and occasionally whispered "thank you" when prosecutors, in accordance with the rules of evidence, handed Hasan red pill bottles that rattled with bullet fragments removed from those who were shot.
Nidal Hasan Paralyzed | Nidal Malik Hasan Paralyzed
Hasan was initially hospitalized in the intensive care unit at Brooke Army Medical Center at Fort Sam Houston in San Antonio, Texas, under heavy guard, with his condition described as "stable".
News reports on November 7. 2009, indicated that he was in a coma. On November 9, Brooke Army Medical Center spokesman Dewey Mitchell announced that Hasan had regained consciousness, and been able to talk since he was taken off a ventilator on November 7.
On November 13, Hasan's attorney, John Galligan, announced that Hasan was paralyzed from the waist down from the bullet wounds to his spine, and would likely never walk again. In mid-December, Galligan indicated that Hasan was moved from intensive care to a private hospital room, yet still remained under guard while recovering. Galligan further stated that doctors said Hasan would need at least two months in the hospital to learn "to care for himself".