Rick Barnes Biography
Rick Barnes is a men's college basketball head coach for the Tennessee Volunteers of the Southeastern Conference (SEC). He coached Texas from 1998 to 2015, taking the team to the NCAA Division I Men's Basketball Tournament in 16 of his 17 seasons with the Longhorns, including 14 straight from 1999 to 2012, as well as a Final Four appearance led by T. J. Ford in 2003.
Barnes previously coached at George Mason University, Providence College, and Clemson University. Rick Barnes is a 1977 graduate of Lenoir-Rhyne College where he was a member of the men's basketball team.
Rick Barnes Age
Rick Barnes was born on 17th July 1954. He is 65 years old as per 2019.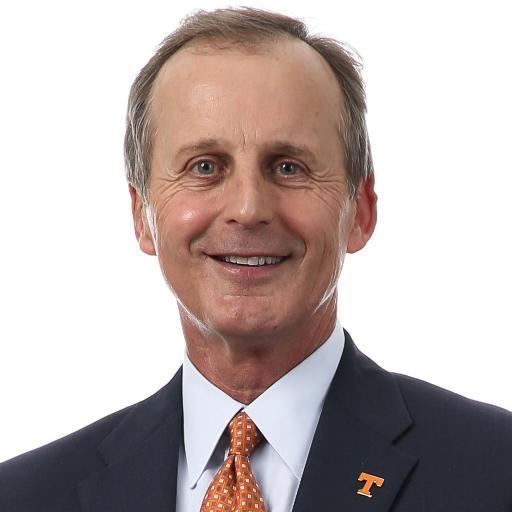 Rick Barnes family and Personal Life
Barnes is a Christian. He has two children with his wife Candy. His son Nick is a missionary in the Middle East. His daughter Carley lives in Texas.
In 2007, Barnes made a cameo appearance in the NBC television series Friday Night Lights as a recruiter for the fictional school TMU
Rick Barnes wife
Candy Barnes is Rick Barnes' wife and together they have two children; Nick Barnes a missionary in the Middle East. Carley Barnes their daughter who lives in Texas.
Rick Barnes Coaching Career
Apart from coaching at Texas, Barnes coached at George Mason, Providence, and Clemson. Barnes advanced to three NCAA tournaments at Providence and three consecutive at Clemson before leaving for Texas in 1998. Barnes won his only post-season conference tournament championship to date in 1994, while at Providence.
Texas
Barnes' success at Texas, a traditional football powerhouse, sparked interest in college basketball at the university and throughout the state. Barnes was hired in April 1998, and the basketball program immediately displayed his impact.
Despite playing with just seven scholarship players for the majority of the 1998–1999 season and opening the season with a 3-8 record the Longhorns won 16 of their final 21 games, winning the regular-season Big 12 conference championship by a two-game margin, and finishing the year at 19-13 and in the NCAA Tournament.
At Texas, Barnes won a school-record 402 games and transformed the school into one of the top college basketball programs in the nation. He guided the Longhorns to 16 NCAA Tournament appearances. They reached the Final Four in 2003, their first in over 50 years, and advanced to the Elite Eight in 2006 and 2008.
He also led Texas to their first ranking in 2010 and owns the only 30-win seasons in school history. He coached two national players of the year, T. J. Ford (2003) and Kevin Durant (2007). He also won four Big 12 Coach of the Year awards (1999, 2003, 2008, 2014) during his time in Austin, establishing himself as a nationally regarded coach.
Barnes has an overall record of 24–24 (.500) in the NCAA tournament (19-16 at Texas). In nine of his 17 years at Texas (16 NCAA Tournament appearances), the Longhorns went on to lose to a lower seed in the NCAA Tournament. He was fired in 2015 after Texas failed to advance to the Sweet 16 for the seventh straight season.
Rick Barnes Dean Smith
Rick Barnes, in his days as a young, fiery basketball coach, was never afraid to go after Dean Smith.
He went after Smith during the first round of the 1995 ACC Tournament, after Smith pointed a finger at one of Barnes' Clemson players after a hard foul, telling him what he thought of the foul.
Barnes charged down the sideline toward Smith, having to be physically separated by officials. It was the third act in a feud that made up the 1994-1995 season between Clemson and North Carolina, Barnes and Smith.
Smith and his Tar Heels complained about Clemson playing too physical during their first meeting of the season, a game in which Barnes was ejected, in part, according to reports, because North Carolina took 51 foul shots on 32 fouls called against Clemson. The Tigers shot just seven free throws in the game.
Smith's team complained about Barnes and his Clemson team again, for the same reason, after the two teams met in Chapel Hill later in the season.
Eventually, the two were summoned by then ACC commissioner Gene Corrigan, who sat them down in-person to work things out. Both coaches were fined $2,500 money that was donated to charity for the finger-pointing in the ACC Tournament.
"I regret that this incident took place," Barnes said in June of 1995. "We must hold sportsmanship in high regard. This closes the book on this matter and I will tell my team that this closes the book on this matter."
All these years later, an older and wiser Barnes still feels that regret, wishing the run-ins never took place.
"I said it, talking to some of their people over there the other day, you go back in life and there are some things you wish would have happened differently, and that's one of 'em for me," Barnes said on Friday before practice at Pratt Pavilion.
"I don't want anybody to ever think that I didn't have the utmost respect for North Carolina basketball and Coach Smith."
Barnes and Tennessee (4-3) will face Number 7 North Carolina (9-1) at 5 p.m. Sunday at the Dean Smith Center, the gym named for the legendary Carolina coach. The late coach was more than an icon in Barnes' eyes.
"When I got into this business, the (five) coaches I really studied as hard as you could study would be John Wooden, Dean Smith, Bobby Knight, and Vince Lombardi and Tom Landry," Barnes said. "Those were the five guys that I really wanted to know everything I could about.
"You think about it, those five guys have made an incredible impact on their profession."
Smith won 879 games in North Carolina from 1961-97, winning two national championships and going to 11 Final Fours. His impact on his profession was more than numbers, though.
Rick Barnes Salary
Barnes was paid $3.25 million this season, according to USA Today's salary database, after agreeing to a contract extension that included $100,000 annual raises. His new contract gave him the second-biggest salary in the SEC, trailing only Kentucky coach John Calipari's $9.2 million.
Rick Barnes Tennessee
Barnes was hired by the Tennessee Volunteers in 2015 and increased their win total in each of his first four seasons. In 2018, he was named Southeastern Conference Coach of the Year after leading the Volunteers to a share of their first regular-season SEC title in a decade and a spot in the conference championship game, earning his sixth-career conference coach of the year award.
In 2018–2019, he was named the Naismith College Coach of the Year after the Vols finished 31–6 and reached the Sweet 16 of the NCAA Tournament. They were ranked number one for several weeks during the season.
Rick Barnes Texas
An emotional Rick Barnes fought back tears in saying goodbye to Texas after 17 years Sunday, insisting he is grateful for his time with the Longhorns and is not bitter about being fired.
"The wins and losses are fleeting, but it's the relationships that matter," Barnes said at a 40-minute farewell news conference. "We know as a coach, this whole thing is about players. We've been blessed as a staff here to have so many players who have affected our lives."
But Barnes also revealed that he had been told by athletic director Steve Patterson that he would be back for another season after Texas lost to Butler in the Round of 64 of the NCAA tournament.
"Some things changed," Barnes said.
Barnes confirmed Patterson told him a few days ago he had to fire members of his coaching staff or be fired himself. That ultimatum was leaked to the media Thursday, publicly turning up the pressure on Barnes and his assistants. Barnes blamed the leaks on the athletic department but didn't name any individuals behind them.
"I was shocked," by the leaks, Barnes said. "I couldn't do that. That would be me saying this is about me. I've been carried by a lot of people here. We're in this together."
Barnes said his staff offered to quit but he refused to let them.
Patterson did not attend the news conference.
The university released a statement announcing a mutual agreement to part ways that included a comment from Patterson thanking Barnes for his service. But Barnes left no doubt that he was fired.
"I don't want anyone to think I'm bitter," Barnes said. "Do those emotions rage up inside you? Yeah, they do. I told Steve I wanted a chance to finish the job."
Texas said it will begin a national search for Barnes' replacement immediately.
Two coaches interested in the Texas opening and who will be in the mix to replace Barnes are Wichita State's Gregg Marshall and VCU's Shaka Smart, according to sources.
One source told ESPN that Patterson could go for an outside-the-box hire with NBA ties. Patterson has NBA connections as a former executive with the Houston Rockets and Portland Trail Blazers.
The 60-year-old Barnes said he would like to coach again but didn't say where. Given his résumé, his name is likely to surface as a potential candidate for several job openings around the country. He had four years left on his Texas contract and is due a severance payment of $1.75 million.
Barnes leaves a legacy of winning at Texas.
His Longhorns teams reached the NCAA tournament 16 times, and he won three Big 12 regular-season titles. Barnes won 402 games at Texas, the most in school history, and this season he became just the 13th active coach to reach 600 career wins. Texas made the Final Four in 2003 for the first time in more than 50 years.
The Longhorns also made it to the tournament's Elite Eight in 2006 and 2008 and boasted rosters full of future NBA talent in players like T.J. Ford, Kevin Durant and LaMarcus Aldridge. Ford (2003) and Durant (2007) both earned national player of the year honors.
"They are the program," Barnes said. "They are the ones who created the real legacy."
Ford, who attended the news conference, was the player Barnes leaned on to build the program.
"No player ever taught me more about the game than he did," Barnes said. Ford said Barnes recruited him on the promise of the powerhouse Texas could be.
"He sold me on making an impact and changing the culture of basketball at the University of Texas and the entire state," Ford said. "That's something we'll all remember and cherish because those memories will never go away."
It was the inability to make deep runs into the tournament in recent years despite the talent that ultimately cost Barnes the loyalty of the Texas fan base, which complained the program had become stagnant. Texas hasn't advanced past the first weekend of the NCAA tournament since 2008.
"You want the fairy-tale ending. You want it all to end right. Sometimes you don't get what you want in life," Barnes said.
Rick Barnes Awards
Rick Barnes won the following awards;
2009-Legends Of Coaching Award
2019-Naismith Men's College Coach of the Year