Stephen M Ross Biography
Stephen M Ross is an American real estate developer, philanthropist, and sports team owner. Ross is the chairman and majority owner of The Related Companies, a global real estate development firm he founded in 1972.
Related is best known for developing the Time Warner Center, where Ross lives and works, as well as the Hudson Yards Redevelopment Project. According to Forbes magazine, Ross had a net worth of $4.4 billion. Ross is also the principal owner of the Miami Dolphins and Hard Rock Stadium.
---
10 quick Facts  About Stephen M Ross
Name: Stephen Michael Ross
Age: 82 years
Birthday: May 10th
Height: 6 feet 2 inches
Birthsign: Taurus
Nationality: American
Occupation: Real Estate developer
Marital Status: Divorced
Salary: Under review
Net Worth: $8.209 billion as of 2022
---
Stephen M Ross Age
Ross is 82 years as of 2022. He was born on 10 May 1940, in Detroit, Michigan, United States of America. Stephen celebrates his birthday on May 10th every year. His birth sign is Taurus.
Stephen M Ross Height
Ross stands at a height of 6 feet 2 inches to 1.88m.
Stephen M Ross Weight
Ross is a man of moderate weight. His actual weight including other body measurements are not available at the moment. We will update this section as soon as we get them.
Stephen M Ross Education
Stephen first attended Mumford High School in Detroit and later graduated from Miami Beach Senior High School. joined the University of Florida for two years before transferring to the University of Michigan, where he earned his B.S. degree in accounting in 1962. He later received a Juris Doctor from the Wayne State School of Law in 1965 and an LL.M. degree in Taxation from the New York University School of Law in 1966.
Stephen M Ross Family
Ross was born into a Jewish family in Detroit, Michigan. Our efforts to find out more about his family came to no avail as no such information is publicly available. Thus the identity of his father and his mother is still unclear. It is also not known if he has any brothers or sisters. This post will be updated as soon s we get any information about his parents and siblings. Nevertheless, Ross had an uncle called Max Fisher, who was also a businessman whom he terms as his role model and Inspiration.
Stephen M Ross Uncle, Max Fisher
Ross's uncle, Max Martin Fisher (July 15, 1908 – March 3, 2005) was an American businessman and philanthropist. He was a benefactor/alumnus of the Fisher College of Business at Ohio State University. He spent much of his life raising money for philanthropic and political endeavors and was a supporter of charitable and civic organizations. His skill at diplomacy made him an advisor on the Middle East and Jewish issues, to every administration from President Dwight D. Eisenhower's to President George W. Bush's.
Stephen M Ross First Wife
There is no provided information about his wife.
Stephen M Ross Wife
Stephen is not married a sof 2022, he just recently separates from his wife of 18 years, Kara Ross. The couple got married in 2003 and announced their divorce in April 2021. This was his second marriage and he has never disclosed the identity of his first wife.
Stephen M Ross Children
Ross is a proud father of two biological children and the other two are from his former wife's previous marriage. His daughter is Jennifer, Kimberly, Avery, and Drew. He has never shared the identity of the mother of his two daughters. He likes to keep personal information about his daughters away from the public domain.
Stephen M Ross Net Worth
Ross has a net worth of $8.209 billion as of 2022. This includes his assets, money, and income. His primary source of income is his career as a businessman. Through his various sources of income, he has been able to accumulate a good fortune but prefers to lead a modest lifestyle.
Stephen M Ross Houses
Ross is a wealthy man and getting the home he desires hasn't been a problem for him. The billionaire owns a home in the Time Warner Center in Manhattan, Ross also owns an 11,000 square foot oceanfront mansion in Palm Beach named "The Reef".
Stephen M. Ross Measurements and Facts
Here are some interesting facts and body measurements you should know about
Stephen M Ross Wiki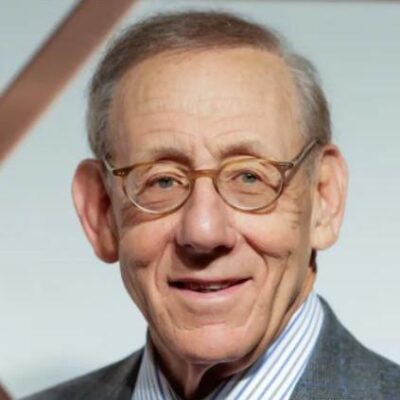 Full Names: Stephen Michael Ross
Popular As: Ross
Gender: Male
Occupation / Profession: real estate developer, philanthropist, and sports team owner
Nationality: American
Race / Ethnicity:  Not Available
Religion: Jewish
Sexual Orientation: Straight
Stephen M Ross Birthday
Age / How Old?: 82 years
Zodiac Sign: Taurus

Date of Birth: 10 May 1940
Place of Birth: Detroit, Michigan, United States of America
Birthday: 10th May
Stephen M Ross Body Measurements
Body Measurements: Not Available
Height / How Tall?: 6 feet 2 inches or 1.88 meters
Weight: Not Known
Eye Color: Brown
Hair Color: Grey
Stephen M Ross Family and Relationship
Father (Dad): Not Known
Mother: Not Known

Siblings (Brothers and Sisters): Not known
Marital Status: Divorced
Wife/Spouse or Husband/Spouse: Was married to Kara Ross
Children:  Sons ( None) Daughter(s) (Two)
Stephen Ross Net Worth and Salary
Net Worth: $8.209 billion as of 2022
Salary:  Under Review
Source of Income: his various businesses
Stephen Ross House and Cars
Place of living: Time Warner Center in Manhattan
Cars:  Car Brand to be Updated
 Stephen M Ross College
The Stephen M. Ross School of Business is the business school of the University of Michigan. Numerous publications have ranked the Ross School of Business' Bachelor of Business Administration, Master of Business Administration and Executive Education programs among the top in the country and the world.
Located in: University of Michigan
Address: 701 Tappan Ave, Ann Arbor, MI 48109, USA
Endowment: 435 million USD
Dean: Scott DeRue
Stephen M Ross School Of Business Ranking
The school is overall ranked position 25 out of 100 while regionally it is ranked position 17 out of 100.
Stephen M Ross Foundation
Ross was co-chair of the University of Michigan's fundraising campaign, which was completed May 2007. In 2004, Ross made the single largest contribution (at the time) to the University of Michigan by donating $100 million to the school. The University renamed its business school, Ross School of Business in his honor.
On September 12, 2013, it was announced Ross had committed an additional $200 million gift to the University, to be distributed equally among the Ross School of Business and the University's athletic department. It replaced Charlie Munger's 2013 contribution of $115 million as the largest single gift in the University's history.
On September 20, 2017, Ross donated an additional 50 million to the University of Michigan, the majority of which would support career development programs for students, innovative action-based learning experiences, and resources for attracting and developing junior faculty.
He was on the executive committee of NYC2012, New York's initiative to bring the summer Olympic Games to New York City in 2012, which failed when London won. Ross is chairman of Equinox Holdings, and chairperson emeritus of the Real Estate Board of New York (REBNY), the city's leading real estate trade association.
As a member of the board of trustees of the Solomon R. Guggenheim Foundation, Ross was involved in the planning of a major renovation of the Frank Lloyd Wright iconic building and other new museums. He is a trustee of New York-Presbyterian Hospital, the Urban Land Institute, the NY Chapter of Juvenile Diabetes Research Foundation International, and the Levin Institute.
He is a director of the Jackie Robinson Foundation and the World Resources Institute. He also serves on the Executive Committee and is a trustee of Lincoln Center. Ross was a major supporter and contributor to the 2012 presidential campaign of Mitt Romney.
He serves on the Board for the Cornell Tech Campus, a $2B redevelopment of Roosevelt Island including the Joan & Irwin Jacobs Technion-Cornell Institute, a partnership between Cornell University and the Technion – Israel Institute of Technology that when completed will house several thousand post-graduate students, hundreds of faculty, and a high-tech business incubator.
On March 27, 2017, Ross cast the only "no" vote in the NFL owners' 31–1 "yes" decision on the Oakland Raider's request for approval to move to Las Vegas starting in the 2019 season. Ross said he had no personal problems with Raiders owner Mark Davis and wished the franchise well.
He did not think the Raiders did everything they could to stay in Oakland, and also that having 3 teams move within only 15 months (the Rams and Chargers both moved to Los Angeles) was not good for players or fans. Ross also stated prior to his Dolphins playing the Chargers in their first home game since the move to Los Angeles that he did not believe that Chargers owner Dean Spanos made his best effort to stay in San Diego.
This made him a popular figure with the betrayed San Diego fan base. Ross invested in a partnership named RERI that was donated to the University of Michigan in 2003. RERI obtained its own appraisal for the donation in the amount of $32,935,000.
The university sold the Ross-donated remainder interest in December 2005 for $1.94 million, below the $6.5 million appraised value. The IRS denied the entire $33 million tax deduction and imposed a multi-million dollar penalty in July 2017.
Ross's long-time accountant Alan Katz and business associate, Harold Levine was instrumental in the partnership. They are currently under criminal investigation for the tax plan.
Stephen M Ross Miami Dolphins
In February 2008, Ross bought 50 percent of the Miami Dolphin franchise, Dolphin Stadium (now known as Hard Rock Stadium) and surrounding land from then-owner Wayne Huizenga for $550 million, with an agreement to later become the Dolphins' managing general partner.
On 20 January 2009, Ross closed on the purchase of an additional 45% of the team from Wayne Huizenga. The total value of the deal was $1.1 billion. This means Ross is now the owner of 95% of both the franchise and the stadium. Ross announced his intention to keep Bill Parcells as the director of football operations. Parcells later stepped down from his position shortly before the 2010 NFL season.
Since buying the Dolphins, Ross has brought in Gloria Estefan, Marc Anthony, Venus Williams, and Serena Williams, as minority owners of the team. In 2013, Ross made a push to obtain multi-million-dollar public funding from the state of Florida and Miami-Dade taxpayers to help renovate Hard Rock Stadium, the Dolphins' home field.
After this effort failed in the Florida legislature, a team spokesman said that Ross does not intend to move the team but that under an eventual future owner the Dolphins' future in the Miami area is bleak. Although Ross said he intends to keep the Dolphins "in town", there has been speculation that the team may seek to move out of Miami to a nearby locale such as Palm Beach.
Stephen M Ross Private Jet
There is no provided information about his private jet. This information will soon be updated.
Stephen M Ross AC Milan
Reports out of Italy are suggesting that American billionaire Stephen Ross, who is the majority owner of the NFL's Miami Dolphins, might be interested in purchasing AC Milan in a cut-price deal from Elliot Management.
News broke yesterday that UEFA had rejected the settlement offer from Milan in regards to Financial Fair Play violations. The reason for the rejection was not the previous spending, although that does play some part in the unsteadiness of the financial footing that Milan is on, with the loan from Elliott Management coming due in October.
Stephen M Ross Ameriprise
Address: 105 W Madison St Ste 2100, Chicago, IL 60602, USA
Phone: +1 312-782-4000
Stephen M Ross The Related Companies
Related is an integrated and diversified real estate development company. Its business includes development, acquisitions, management, finance, marketing, and sales. Headquartered in New York City, Related has offices and real estate developments in Boston, Chicago, Los Angeles, Las Vegas, San Francisco, South Florida, Abu Dhabi, and Shanghai. The company directly employs approximately 2,000 people.
The company's existing portfolio of real estate assets, valued at over $15 billion, is made up of mixed-use, residential, retail, office, trade show, and affordable properties in what the company calls "premier high-barrier-to-entry markets." Related is the largest owner of luxury residential rental properties in New York with over 5,000 units in its portfolio and has developed mixed-use projects such as Time Warner Center in New York and CityPlace in West Palm Beach and is currently developing the 26-acre Hudson Yards project on Manhattan's west side.
Related also manages approximately $1.5 billion of equity capital on behalf of sovereign wealth funds, public pension plans, multi-managers, endowments, Taft-Hartley plans, and family offices. Related also owns Equinox Fitness Clubs and a partnership interest in Union Square Events, the catering, culture, sports, and events business of Danny Meyer's Union Square Hospitality Group.
How Did Stephen M Ross Make His Money
Ross began his career as a tax attorney at Coopers & Lybrand in Detroit. In 1968, he moved to New York City and accepted a position as an assistant vice president in the real estate subsidiary of Laird Inc. and then worked in the corporate finance department of Bear Stearns.
In 1972, he left employment and lived off $10,000 lent to him by his mother, he utilized his federal tax law knowledge to organize deals for wealthy investors allowing them to shelter income with the generous incentives granted by the federal government to promote the construction of federally subsidized affordable housing.
He was very successful, earning $150,000 in his first year, and he was soon arranging more complicated transactions. Using his earnings along with his newfound experience, he started to develop real estate on his own, and with an emphasis on high-quality architecture and engineering, he quickly earned a solid reputation in the American real estate arena.
With a focus on the northeastern United States and Florida, he developed apartments, condominiums, retail, office parks, and mixed-use developments. In 1972, he founded The Related Companies, a real estate development company.
Stephen M Ross Football
RSE Ventures is a private investment firm that focuses on sports and entertainment, media and marketing, food and lifestyle, and technology. RSE Ventures was co-founded in 2012 by Ross and Matt Higgins (businessman), former Executive Vice President of the New York Jets and current Vice Chairman of the Miami Dolphins. RSE builds, owns, and operates a variety of companies, including the Drone Racing League, Thuzio, VaynerMedia, and Relevant.
Frequently Asked Questions About Stephen M. Ross
Who is Stephen M Ross?
Stephen M Ross is an American real estate developer, philanthropist, and sports team owner. Ross is the chairman and majority owner of The Related Companies, a global real estate development firm he founded in 1972.
How old is Stephen M Ross?
Ross is 82 years as of 2022. He was born on 10 May 1940, in Detroit, Michigan, United States of America. Stephen celebrates his birthday on May 10th every year.
How tall is Stephen M Ross?
Ross stands at a height of 6 feet 2 inches to 1.88m.
Is Stephen M Ross married?
Since his divorce from his second wife Kara in 2021, he has not been involved in any public love affairs. Details about his love life are still under review. We will let you know when he gets in a relationship or when we discover helpful information about his love life.
How much is Stephen M Ross worth?
Ross has a net worth of $8.209 billion as of 2022. This amount has been accrued from his various business ventures.
How much does Stephen make?
Ross has not disclosed to the public the amount of money he earns on a monthly or annual basis. It is however believed that he makes a handsome income which has contributed to the growth of his net worth. We will update this post as soon as we get the credible figure he earns as income.
Where does Ross live?
Ross resides in Southampton, New York. He also owns two other homes including his home in the Time Warner Center in Manhattan, and his 11,000 square foot oceanfront mansion in Palm Beach named "The Reef".
Is Stephen dead or alive?
Ross is alive and in good health. There have been no reports of him being sick or having any health-related issues.
Where is Stephen Now?
Ross is still pursuing his career as a real estate developer, businessman, and sports team owner.
Stephen Social Media Contacts
Instagram

Facebook
Youtube
Tiktok
Website
Related Biographies.
You may also like to read the Bio, Career, Family, Relationship,  Body measurements, Net worth, Achievements, and more about:
Featured Famous Business People