Steve Ballmer Biography
Michigan born Steve Ballmer is an American businessman, investor and philanthropist who was the chief executive officer of Microsoft from January 2000 to February 2014, and is the current owner of the Los Angeles Clippers of the National Basketball Association (NBA).Steve as of January 2018, his personal wealth is estimated at US$38.7 billion, ranking him the 21st richest person in the world.
He was hired by Bill Gates at Microsoft in 1980 after dropping out of Stanford University. Steve later he became President in 1998, and replaced Gates as CEO in 2000. Ballmer on February 4, 2014, he retired as CEO and was succeeded by Satya Nadella; Ballmer resigned from the Board of Directors on August 19, 2014 to prepare for teaching a new class.
Ballmer placed a bid of $2 billion to purchase the NBA's Los Angeles Clippers after NBA commissioner Adam Silver forced Donald Sterling to sell the team on May 29, 2014. Ballmer officially became the Clippers owner on August 12, 2014; Microsoft co-founder Paul Allen is a fellow owner in the NBA, having owned the Portland Trail Blazers since 1988.
Ballmer's time as Microsoft CEO has been seen as mixed, with critics noting the company's tripling of sales and doubling of profits, but losing its market dominance and missing out on 21st century technology trends.
Steve Ballmer Education
Ballmer lived in Brussels for three years in 1964, where he attended the International School of Brussels. In 1973, Ballmer attended college prep and engineering classes at Lawrence Technological University. Ballmer later graduated valedictorian from Detroit Country Day School, a private college preparatory school in Beverly Hills, Michigan, with a score of 800 on the mathematical section of the SAT and was a National Merit Scholar. He currently sits on the school's board of directors. He graduated magna cum laude from Harvard University with a B.A. in applied mathematics and economics in 1977.
While at college, Ballmer served as a manager for the Harvard Crimson football team and a member of the Fox Club, worked on The Harvard Crimson newspaper as well as the Harvard Advocate, and lived down the hall from fellow sophomore Bill Gates. Ballmer scored highly in the William Lowell Putnam Mathematical Competition, an exam sponsored by the Mathematical Association of America, scoring higher than Bill Gates. He also worked as an assistant product manager at Procter & Gamble for two years, where he shared an office with Jeffrey R. Immelt, who later became CEO of General Electric. In 1980 this is when he dropped out of the Stanford Graduate School of Business to join Microsoft.
Steve Ballmer Microsoft
Ballmer joined Microsoft on June 11, 1980, and became Microsoft's 30th employee, the first business manager hired by Gates.
He was at first being offered a salary of $50,000 as well as a percentage of ownership of the company. In 1981 when Microsoft was incorporated Ballmer owned 8% of the company. Ballmer sold 39.3 million Microsoft shares in 2003 equating to approximately $955 million, thereby reducing his ownership to 4%. Within the same year, he replaced Microsoft's employee stock options program.
Following Ballmer's hire in the 20 years , he headed several Microsoft divisions, including operations, operating systems development, and sales and support. He became Executive Vice President, Sales and Support from February 1992 onwards. Ballmer led Microsoft's development of the .NET Framework. He was then promoted to President of Microsoft, a title that he held from July 1998 to February 2001, making him the de facto number two in the company to the chairman and CEO, Bill Gates.
Ballmer was officially named chief executive officer On January 13, 2000. Ballmer, as CEO, he handled company finances and daily operations, but Gates remained chairman of the board and still retained control of the "technological vision" as chief software architect. Ballmer relinquished day-to-day activities when he stepped down as chief software architect in 2006, while staying on as chairman, and that gave Ballmer the autonomy needed to make major management changes at Microsoft.
Steve Ballmer Age
Steve was born on March 24, 1956, in Detroit, Michigan, U.S.. He is 63 years old as of 2019.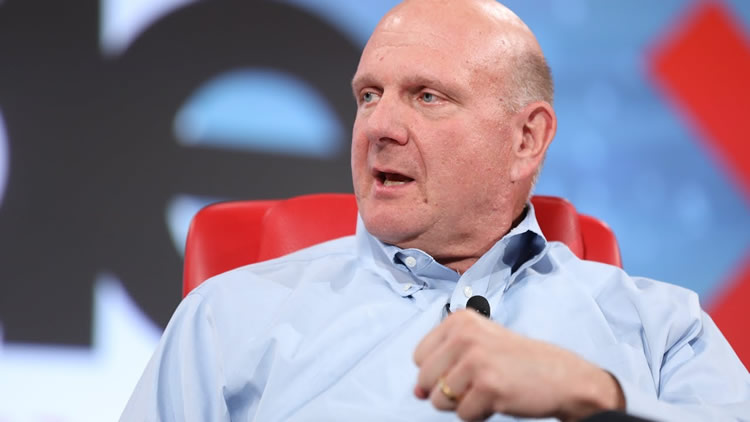 Steve Ballmer Family
He was born in Detroit; Ballmer is the son of Beatrice Dworkin and Frederic Henry Ballmer (Fritz Hans Ballmer), a manager at the Ford Motor Company. Ballmer's father was a Swiss immigrant, and his mother was Belarusian Jewish. Through his mother, he is a second cousin of actress and comedian Gilda Radner. He grew up in the affluent community of Farmington Hills, Michigan.
Steve Ballmer Wife
Ballmer married his wife Connie Snyder in 1990,  the couple  have three sons. The live in Hunts Point, Washington. Ballmer's wife Connie  is currently an advocate for the well being of children. Connie  participates in many non-governmental organization activities and non-profit oriented boards for several organizations.
Steve Ballmer Children
Ballmer and his wife Connie had 3 sons namely; Sam, Peter and Aaron Ballmer.The three of them all attended Lakeside High School where their mum sits on the board of Trustees since 2004. Ballmer's sons are all doing well for themselves as they seem not to be relying on their father's wealth.
Sam Ballmer one of Ballmer's son studied Cognitive Science at the University of Southern California Bellevue, Washington. Sam worked as a Digital Marketing Manager at Motif Investing for more than 2 years and later served as a Financial Adviser in the same organisation. The second son of Bammer known as Peter Ballmer studied Computer Science at Stanford University and currently works as Rotational Product Manager at Zynga. When he was at Stanford, he was a member of a stand-up comedy club and Chi Sigma Fraternity. On the other hand, Aaron Ballmer graduated from Saint Bonaventure University and currently works as a Strength and Conditioning Coach-Intern at Brown University. Aaron Ballmer is more inclined to sports, unlike his elder siblings.
Steve Ballmer  Body Measurements
Height: 1.96 meters or 6 feet 4 inches
Weight: 82 Kg
Shoe Size: Not Available
Body Shape: Not Available
Hair Colour: Not Available
Steve Ballmer House
Ballmer's family lives in their home in Hunts point, Washington they used to live in Whidbey Island, Washington in a 3 bedroom and 2 bathroom small but lovely island house. Ballmer's Hunts point home seats on a 91,372 square feet/ 2.1 acres of land, with the actual home size being 3,915 squre feet. Apart from its spacious living room the home has 4 bedrooms and 3 bathrooms which sit next door to Craig McCaw's estate.
Steve Ballmer Net Worth|Wealth
As of October 2019 Steve has an estimated net worth of US$51.9 billion, making him one of the richest men in the world.
He was the second person after Roberto Goizueta to become a billionaire in U.S. dollars based on stock options received as an employee of a corporation in which he was neither a founder nor a relative of a founder. His personal wealth as of December 11, 2017 is estimated at US$37.1 billion. While CEO of Microsoft in 2009, Ballmer earned a total compensation of $1,276,627, which included a base salary of $665,833, a cash bonus of $600,000, no stock or options, and other compensation of $10,794.
Steve Ballmer Religion
Steve  is of Swiss and Jewish ethnicity.
Steve Ballmer Contact|Email
Email:  sballmer@microsoft.com
Telephone:  425-882-8080
Steve Ballmer On Steve Jobs Death
When Microsoft's Bill Gates  and Steve were reached by the news that Steve Jobs has passed away they issued a statements praising their fallen adversary.
These news came just after Apple's iconic ex-leader Steve Jobs died last night. His death came after pro-longed concerns about his health led him to step down from his role as Apple's CEO, handing the reigns over to Tim Cook.
CEO Ballmer and founder Gates quickly published statements celebrating Jobs' life Of the two Ballmer's was the shorter.
"I want to express my deepest condolences at the passing of Steve Jobs, one of the founders of our industry and a true visionary. My heart goes out to his family, everyone at Apple and everyone who has been touched by his work," read Ballmer's statement.
Steve Ballmer Clippers
Before the Steve Ballmer era, the Los Angeles Clippers was owned by Donald Sterling. For those who dont know Donald Sterling, he purchased the San Diego Clippers in 1981 for $12.5 million dollars and was banned from the NBA at 80 years of age in 2014.
Donald was recorded by his girlfriend making racist remarks about black people, which is already plenty of reason to approve of his discharge from the league. Other racist actions from Sterling have been recognized as well.
A month later, Ballmer gladly paid $2 billion for the franchise, stating that it was a low-risk business decision on his end with "real upside opportunity." Ballmer's price that he negotiated to was one of the highest ever spent on a sports franchise, and fans and NBA employees alike have been glad for Ballmer's ownership ever since.
Steve Ballmer Bill Gates
Bill Gates Microsoft co-founder and former chief executive Steve Ballmer were like brothers. They were both in charge of major technology giant but, eventually, one got more say. Commonly all brotherhoods or relationships, with the good comes the bad.
Ballmer, after being a C.E.O. of the company for 14 years before retiring and buying the Los Angeles Clippers for $2 billion, he opened up about some of the thornier details of their relationship in a new interview with Bloomberg, published Friday.
"We started off as friends, but then really got quite enmeshed around Microsoft," said Ballmer, who was Gates's chosen successor. The fear first started building when Ballmer took over as C.E.O. "We had a very miserable year. Bill didn't know how to work for anybody, and I didn't know how to manage Bill. I'm not sure I ever learned the latter."
Steve Ballmer Book
Steve Ballmer: Opportunities in Difficult Times  Audible Audio book – Original recording
Steve Ballmer Quotes
Great companies in the way they work, start with great leaders.
Google's not a real company. It's a house of cards.
Linux is a cancer that attaches itself in an intellectual property sense to everything it touches.
There's no chance that the iPhone is going to get any significant market share.
Diversity of form factor matters, and not compromising either form factor. You need diversity of price point. That's quite important.

I don't know what a monopoly is until somebody tells me.
Steve Ballmer Philanthropy
Ballmer and his wife Connie donated $50 million to the University of Oregon, this was reported on November 13, 2014. Ballmer's wife Connie is a University of Oregon alumna, and serves on the institution's board of trustees. The funds will go towards the university's $2 billion fundraising effort, and will focus towards scholarships, public health research and advocacy, and external branding/communications.[100]
On the same date of the month of 2014, it was announced that Ballmer would provide a gift, estimated at $60 million, to Harvard University's computer science department. The gift was meant to allow the department to hire new faculty, and hopefully increase the national stature of the program. Steve previously donated $10 million to the same department in 1994, in a joint-gift with Bill Gates.
He serves on the World Chairman's Council of the Jewish National Fund, which means he has donated US$1 million or more to the JNF.
Frequently Asked Questions About Steve Ballmer
Who is Steve Ballmer?
Ballmer is an American businessman, investor and philanthropist.
How old is Steve Ballmer?
Steve is 63 years old as of 2019. He was born on March 24, 1956, in Detroit, Michigan, U.S.
How tall is Steve Ballmer?
Steve stands at a height of 1.96 meters or 6 feet 4 inches.
Is Steve Ballmer married?
Ballmer married his wife Connie Snyder in 1990,  the couple  have three sons.
How much is Steve Ballmer worth?
As of October 2019 Steve has an estimated net worth of US$51.9 billion, making him one of the richest men in the world.
How much does Steve Ballmer make?
Ballmer earned a total compensation of $1,276,627, which included a base salary of $665,833, a cash bonus of $600,000, no stock or options, and other compensation of $10,794.
Where does Steve Ballmer live?
Ballmer's family lives in their home in Hunts point, Washington they used to live in Whidbey Island, Washington.
Is Steve Ballmer dead or alive?
Steve is still alive and in good health.
Where is Steve Ballmer now?
Currently Steve owner of the Los Angeles Clippers of the National Basketball Association (NBA).
Steve Ballmer Twitter