Steve Wilks Biography
Steve Wilks (Steven Bernard Wilks) is an American football coach who is the defensive coordinator of the Cleveland Browns of the National Football League (NFL).
Wilks previously was the head coach for the Arizona Cardinals for one season and was fired after a 3-13 record. Steve also spent time as defensive backs coach for the Chicago Bears and San Diego Chargers, and as defensive coordinator for the Carolina Panthers.
He is a two-time NFC Champion, winning with the Bears in 2006 and with the Panthers in 2015.
Steve Wilks Playing Career
From 1987 to 1991, Wilks played defensive back from at Appalachian State. He played one year in the AFL for the Charlotte Rage as a wide receiver, defensive back, and kick returner.
Steve Wilks Coaching Career
College
Steve Wilks served as Head Football Coach at Savannah State College for one season (1999) and compiled a record of 5-6.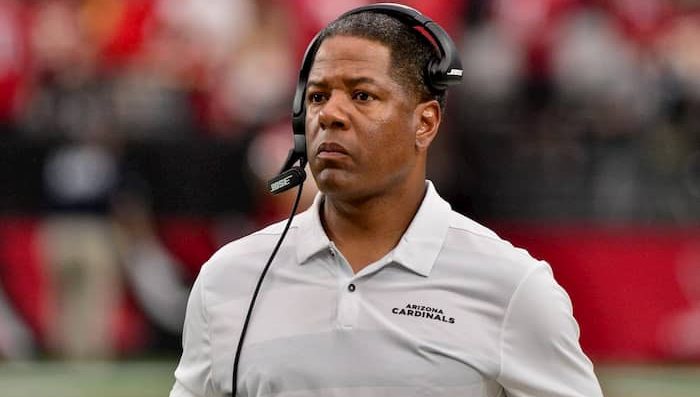 Chicago Bears
On February 16, 2006, Wilks was hired by the Chicago Bears as defensive backs coach. On December 30, 2008, the Bears announced that they had fired Wilks.
San Diego Chargers
In 20009, Wilks was hired as defensive backs coach of the San Diego Chargers when former Bears defensive coordinator Ron Rivera moved to the same position in San Diego.
Carolina Panthers
On January 15, 2012, hired Wilks was hired as secondary coach by Rivera when he became head coach of the Panthers. In 2015, he was promoted to assistant head coach. Wilks was Pro Football Focus's second runner up to their Secondary Coach of the Year award.
In the 2015 season, he and the Panthers finished 15-1 and reached Super Bowl 50 on February 7, 2016. The Panthers fell to the Denver Broncos by a score of 24–10, which also turned out to be Peyton Manning's final NFL game.
Wilks was promoted to defensive coordinator after Sean McDermott left to become head coach of the Buffalo Bills.
After the 2017 season, Steve Wilks was an extremely hot commodity for teams in need of new head coaches. According to Ian Rapoport of the NFL Network, teams were impressed by his interview with the Los Angeles Rams in the previous offseason before they eventually hired Sean McVay.
Wilks interviewed with the New York Giants who had hired his former boss in Carolina, ex-Panthers general manager David Gettleman.
Arizona Cardinals
On January 22, 2018, the Arizona Cardinals hired Wilks to be the next head coach of the Arizona Cardinals, replacing the recently retired Bruce Arians. In the 2018 season opener against the Washington Redskins, Steve Wilks made his head coaching debut in the 24–6 loss.
In Week 5, against the San Francisco 49ers, Wilks recorded his first NFL victory as a head coach. He finished coaching the season with an NFL-worst 3–13 record and the worst record for the Cardinals since 2000. On December 31, 2018, Wilks was fired by the Cardinals.
Cleveland Browns
On January 14, 2019, Steve Wilks was hired by the Cleveland Browns to be their defensive coordinator under new head coach Freddie Kitchens.
Steve Wilks Age
Wilks was born on August 8, 1969 in Charlotte, North Carolina, United States. He is 49 years old as of 2018.
Steve Wilks Wife
Steve is married to Marcia Wilks and together they have two daughters, Marissa and Melanni, and a son, Steven James.
Steve Wilks Salary
Being the defensive coordinator of the Cleveland Browns there is no doubt Wilks earns a good amount of salary. However, the exact amount of salary he receives is not yet disclosed.
Steve Wilks Contract
In January 2019, the Browns reached agreements to hire Todd Monken as their offensive coordinator and Steve Wilks as their defensive coordinator.
Steve Wilks
Coaching Tree
NFL head coaches under whom Steve Wilks has served:
Lovie Smith, Chicago Bears (2006–2008).
Norv Turner, San Diego Chargers (2009–2011).
Ron Rivera, Carolina Panthers (2012–2017).
Freddie Kitchens, Cleveland Browns (2019–present).
Steve Wilks Head Coaching Record
College
Year

Team

Overall

Conference

Standing

Bowl/playoffs

Savannah State (Southern Intercollegiate Athletic Conference) (1999)

1999

Savannah State

5–6

3–4

Savannah State:

5–6

3–4

Total:

5–6
NFL
Team

Year

Regular season

Postseason

Won

Lost

Ties

Win %

Finish

Won

Lost

Win %

Result

ARI

2018

3

13

0

.188

4th in NFC West

–

–

–

–

Total

3

13

0

.188

0

0

.000