Timothy B. Schmit Biography
Timothy B. Schmit (Full name: Timothy Bruce Schmit) is an American musician, singer, and songwriter.
Having replaced bassist and vocalist Randy Meisner in both cases, Timothy has performed as the bassist and vocalist for Poco and the Eagles, Timothy B. Schmit has also worked for decades as a session musician and solo artist. In 1998, he was inducted into the Rock and Roll Hall of Fame as a member of the Eagles. He studied at Encina Preparatory High school.
Timothy B. Schmit Early Life
Schmit was born in Oakland, California. Timothy was raised in Sacramento and started playing in the folk music group Tim, Tom & Ron at the age of 15. The folk group emerged into a surf band called the Contenders, then changed its name to the New Breed "the Breed". As the New Breed, they had one big radio hit: the Animals inspired(Green Eyed Woman) which was released in 1965. Changing its name once again to Glad, the group recorded the album Feelin' Glad in 1968.
Schmit auditioned for in the year,1968, but was turned down in favor of founding mem Poco but was turned down in favor of founding member Randy Meisner. When Meisner quit the band in 1969, Schmit replaced him on bass and vocals. He appeared in nine of Poco's studio albums and two live albums between 1969 and 1977, composing numerous songs.
He wrote and was the lead singer on the song "Keep on Tryin'," Poco's biggest hit single to that point, peaking at number 50 on the Billboard Hot 100 in 1975. Apart from Poco, he also contributed vocals to Firefall's 1977 hit, (Just Remember I Love You.)
The musician also sang backing vocals on the Steely Dan albums Pretzel Logic, The Royal Scam, and Aja. Also, she sang backing vocals on(Never Let Her Slip Away), a top 5 UK hit for Andrew Gold in 1978, along with Brock Walsh, J.D. Souther, and an uncredited Freddie Mercury.
Timothy B. Schmit Bands
Tenure with the Eagles
In 1977, he joined the Eagles after the Hotel California tour, once again replacing Randy Meisner on bass/vocals after Meisner quit. Although the Eagles are thought of as a quintessential California band, Schmit is the only member of the group to actually be a native of California.
Schmit co-wrote and sang lead vocals on the song "I Can't Tell You Why" in 1979. The band later broke up in 1980 and reunited 14 years later in 1994, with Schmit singing the lead vocals on "Love Will Keep Us Alive", on the reunion album Hell Freezes Over.
Long Road Out of Eden is a new album by Eagles, which was released in 2007. Timothy continued to be part of the Eagles lineup along with Don Henley, Glenn Frey, and Joe Walsh until Frey's death in 2016.
Timothy B. Schmit Toto
Schmit also performed on the Toto 1983 hit singles "I Won't Hold You Back" and "Africa", and the Jars of Clay song "Everything in Between". Timothy-b-Schmit also played on the 1983 Glenn Shorrock solo album. Schmit covered the standard "I Only Have Eyes for You" for the soundtrack of the film Don't Tell Mom the Babysitter's Dead In 1991.
Toto, the American rock band was formed in 1977 in Los Angeles. The musical style that combines elements of pop, rock, soul, funk, progressive rock, hard rock, R&B, blues, and jazz made the Toto band famous. As of 2019, the band lineup consists of Joseph Williams, David Paich, Steve Porcaro (keyboards), Steve Lukather, plus touring members Lenny Castro (percussion), Warren Ham (saxophone), Shem von Schroeck (bass) and Shannon Forrest (drums). Toto
Timothy B Schmit Career after the Eagles Band
After the Eagles Band broke up in 1980, he embarked on a solo career, singing vocals and playing bass for hire during studio sessions. His voice can be heard on many hits, involved Bob Seger's "Fire Lake" and Boz Scaggs' "Look What You've Done to Me" "each with Frey and Henley",
He was also a background musician on two of Don Henley's hit songs, "Dirty Laundry" and "You Don't Know Me at All". Timothy teamed with his predecessor, Randy Meisner, in Poco and the Eagles, along with their mutual Eagles bandmate Joe Walsh, to provide background vocals to Richard Marx 1987 hit "Don't Mean Nothing".
Schmit also performed on the Toto 1983 hit singles "I Won't Hold You Back" and "Africa", and the Jars of Clay song "Everything in Between". Schmit also performed on the 1983 Glenn Shorrock solo album. The standard "I Only Have Eyes for You" was covered In 1991by, Schmit, for the soundtrack of the film Don't Tell Mom the Babysitter's Dead. Timothy added background vocals to Sheena Easton's album The Lover in Me in In 1988 and in the following he added background vocals on the Stacey Q single, "Heartbeat", which was featured on her critically acclaimed Nights Like This album.
Schmit toured with Toto in 1982 and with Jimmy Buffett, in 1983, 1984, and 1985 as a member of the Coral Reefer Band, and coined the term "Parrotheads" to describe Buffett's fans. He was a member of Ringo Starr and His All-Starr Band in 1992. In the following year, he contributed background vocals to several tracks on Clint Black's No Time to Kill CD such as the title cut.
In 1996, he sang on a cover version of The Beach Boys' song "Caroline, No" on their album Stars and Stripes Vol. 1, with the Beach Boys themselves contributing harmonies. Schmit (center) and his band performing in 2018In 2000, he toured with Dan Fogelberg; recordings from that tour became a live album, "Dan Fogelberg Live."
the American Singer sang harmony on the title track of Katy Rose's debut album, Because I Can, produced by fellow Poco alumnus and Katy's father, Kim Bullard. Schmit's fifth studio album, Expando, was released on October 20, 2009. In May 2012, he was awarded an Honorary Doctorate of Music from Berklee College of Music. Timothy released he's latest Album "Leap of Faith" on September 23. 2016, which was the first release of an Eagles member since the death of bandmate Glenn Frey in January 2016.
Timothy B. Schmit Age
Timothy Bruce Schmit was born on October 30. 1947, in Oakland, CA.  He celebrates his birthday on October 30th every year.
Timothy B Schmit Family
Timothy Bruce was born to his parents, Danny Schmit(Father) And Janey Schmit(mother).  It is not known if he has any siblings.
Timothy B. Schmit Wife
Schmit is married to his lovely wife, Jean Cromie, the couple joined in 1983. He is blessed with three Kids namely, Owen (daughter), Jeddah (daughter) and a son Ben. One daughter is from his first marriage while the other two kids are from his second wife.
Jean Cromie is an actress, known for This Is Spinal Tap (1984) and Scenes from the Goldmine (1987). He was married to her first wife Noreen and in 1971 they had a child. The couple separated in the mid-70s.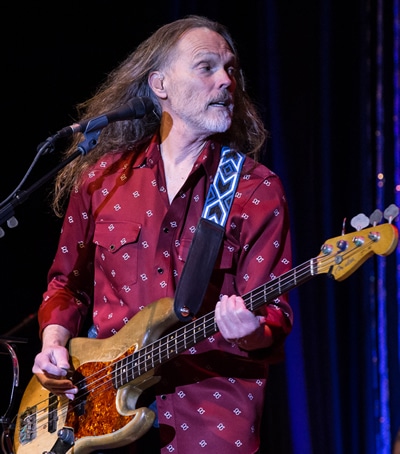 Timothy B Schmit Body Measurements
Height: 1.75 meter (175cm)
Weight: 72 kg
Shoe Size: Not Available
Body Shape: Not Available
Hair Colour: Not Available
Eye Colour: Not Available
Timothy B Schmit Salary
There are no details showing his annual or monthly earnings, his salary figures will be updated as soon as they are available.
Не еаrnеd wеll bу реrfоrmіng wіth а grоuр nаmеd Росо аnd hаѕ wrіttеn оnе аmоng іtѕ bеѕt-ѕеllіng ѕоundtrасkѕ. Іn thе уеаr 1977 аnd lаtеr оn hіѕ еаrnіngѕ іnсrеаѕеd аѕ hе turnеd аѕ а bаѕѕіѕt, аѕ wеll аѕ а vосаlіѕt, fоr а fаmоuѕ grоuр nаmеd Тhе Еаglеѕ.
Timothy B Schmit Net Worth
Тіmоthу В Ѕсhmіt hаѕ аn еѕtіmаtеd nеt wоrth оf $25 mіllіоn dollars. Не mаkеѕ mоѕt оf hіѕ іnсоmе wіth hіѕ mајоr саrееr аѕ а muѕісіаn, аnd ѕіngеr, but hе аlѕо еаrnеd frоm bеіng а ѕоngwrіtеr.
Тіmоthу В Ѕсhmіt House
Timothy sold his home in historic Whitley Heights for $1.9 million. The Spanish-style home, built-in 1924, blends vintage charm with worldly details such as windows and doors imported from India and Morocco.
Timothy B Schmit Injury
Timothy B. Schmit Beats Cancer, Earns Clean Bill of Health
Schmit had gone through surgery for throat and neck cancer following the band's show on 12th November 2012. Fortunately, that seemed to take care of the problem as his assistant put it, "He does not need to have chemo or radiation. Now he just has to keep an eye on things every month for about a year to be sure it stays away, and then not so often."
Of course, he has been a touch distracted with what he knew as his "disheartening" health problems; fortuitously, once a three-night hospital keep, he was back on his feet and on the mend."My voice is returning on nicely, and as several of you recognize, i used to be able to perform with the Eagles simply before the twelvemonth," Schmit pointed out."So … All is good.
The transient outline is: I discovered a tangle and took care of it; easy as that."In fact, he's already looking toward the future."I love my work, and arrange on doing it for as long as doable," Schmit assured fans."I'm chipping away at a new solo album, and I wouldn't be surprised if you hear of more Eagles action in the near future."
Timothy B Schmit Take It To The Limit
It is a song by the Eagles from their fourth album "One of Those Nights" from that it absolutely was issued because of the third single on Nov fifteen. 1975. It was written by Eagles' members ruttish Meisner, Don Henley, and Glenn Frey.
The song was ranked Number 4 on the U.S. Billboard Hot 100 and was also the band's greatest success to that point in the UK, going to Number 12 on the charts. Billboard ranked the song as the position 25 songs for 1976. Meisner, says the song began as his solo composition.
As it remained unfinished when the time came for One of These Nights albums to be recorded, Henley and Frey assisted Meisner in completing it. Meisner's performance of the song was popular with the audience in Eagles' concerts, but disputes over his reluctance to perform it would also directly lead to Meisner's departure from the band.
Timothy B. Schmit He's Dead. It's Unbelievable'
The Eagles bassist, Timothy B. Schmit, opened up about the death of Glenn Frey, who was one of his bandmates, in a recent interview. "He's dead. It's unbelievable," Timothy says. "It did not happen that long ago. Everybody is still processing it. But part of processing it is carrying on."
"The band members, Eagles, have yet not done anything since Frey died,". "Nobody's really doing his songs unless there is a tribute show once in a while. Timothy said that he stopped thinking about it every day, but he thinks about this whole thing often. When the interview started talking about it, he was startled to the fact that he's really gone."He said that Eagles will maintain their commitment to appear at this year's Kennedy Center Honors show, held in Washington D.C. They were required to be there last year but they had to back out because of Glen's illness," Schmit confirmed that they had no idea that Glenn Frey's illness would course his death, but it did.
Timothy B. Schmit 'Leap of Faith'
Hear Eagles' Timothy B. Schmit's 'Leap of Faith' Album
A mix of Americana, California country, bluegrass, rock and soul, this new solo music served as catharsis after Glenn Frey's death
I'm never prepared for the weight of this room. . . or for hanging out with an Eagle," Jack Ingram told the crowd halfway through this week's Americana Honors & Awards ceremony, minutes after sharing the onstage podium with Timothy B. Schmit.
Like Don Henley, who hit the same stage last year to perform a song from the solo album Cass County, Schmit was in town to honor the newest generation of roots musicians and also to whip up attention for his own music.
He has been working on his newest record, Leap of Faith, for years, finding time to poke and prod at its 11 songs — all originals, and all featuring the familiar voice of the Eagles' resident flower-child folksinger— during gaps in the Eagles' tour dates.
Things went slowly until this January, when Glenn Frey's passing left Schmit at home, shocked and in desperate need of musical distractions. Timothy recorded the song"Leap of Faith" in a home studio once planned as an art space for his wife.
With the Santa Monica Mountains in the distance and a patch of state-protected Californian wilderness stretched outside the front door, Schmit created a soundtrack for that sort of pitch-perfect American landscape, mixing bluegrass, Cajun, rock, Seventies soul and California country into the same tracklist.
Leap of Faith is an Americana album, in other words, delivered by an elder statesman who's been laying the brickwork for Americana's existence since the 1970s.
Schmit is no newcomer. No cosmic-cowboy wannabe. Rather than focus on proving his country's credentials, he sticks to the Schmit-in basics on Leap of Faith, singing the songs with a gentle, unhurried voice that's more tailored to peaceful easy feelings than life in the fast lane. Released today, Leap of Faith marks Schmit's first solo release since 2009's Expando, which found him welcoming Van Dyke Parks, Graham Nash, Dwight Yoakam, and others into his home studio.
Parks makes a return appearance this time around, playing accordion on the bluegrass tune "Red Dirt Road," while Al Jardine's sons stack their harmonies throughout "The Island," a Beach Boys-worthy to the Kokomo lifestyle. Co-produced by Hank Linderman, who helped helm the Eagles' Long Road Out of Eden, Leap of Faith is the first Eagles-affiliated release since Frey's passing.
Timothy B Schmit Songs List
Stayin' Alive – 1977
How Deep Is Your Love – ;
Night Fever – ;
More Than A Woman – ;
Too Much Heaven – 1979
Massachusetts – 1968
To Love Somebody – 1967
You Should Be Dancing – 1976
I Started a Joke – 1968
Don't Forget To RememberCucumber Castle ;
1970You Win Again – 1987
Alive(1994)Wish You Were Here – 1989
Rest Your Love On Me – 1978
Islands in the Stream – 1998
Fair(1969)Tragedy – 1979
Jive Talkin – 1975
First of May – 1969
New York Mining Disaster – 1941
How Can You Mend a Broken Heart –1971
Nights on Broadway – 1975
Run to Me – 1972
Words – 1977
So Much in Love – 1984
Love You Inside Out – 1979
For Whom the Bell Tolls – 1993
Alone – 1997
Love So Right – 1976
Fanny – 1975
Big Bottom – 1984
Heartbreaker – 1998
Frequently Asked Questions About Timothy B Schmit
Who is Timothy B. Schmit?
Schmit is a German-American musician, singer, and songwriter.
How old is Timothy B. Schmit?
Schmit is 72 years old as of 2019. Timothy was born in 1947.
How tall is Timothy B. Schmit?
Schmit stands at a height of1.75 meter
Is Timothy B. Schmitmarried?
Schmit is married to his lovely wife Jean Cromie.
How much is Timothy B. Schmit's worth?
Schmit has an approximate net worth of $25 million. This amount has been accrued from his succeful caeer as a musician.
How much does Timothy B. Schmit make?
Timothy annual salary is under review
Where doesTimothy B. Schmit live?
There are no details showing his annual or monthly earnings, his salary figures will be updated as soon as they are available.
Is Timothy B. Schmit dead or alive?
Timothy is alive and in good health. There have been no reports of him being sick or having any health-related issues.
Where is Timothy B. Schmit now?
Тіmоthу іѕ еquаllу раѕѕіоnаtе аbоut muѕіс, аnd hіѕ nехt аlbum will be rеlеаѕеd іn this year.
Is Timothy B Schmit still with the Eagles?
Timothy continued to be part of the Eagles lineup along with Don Henley, Glenn Frey, and Joe Walsh until Frey's death in 2016.
Is Timothy Schmit Native American?
Timothy is a Native Americans, his maternal grandfather was from Denmark.
Does Timothy B Schmit have children?
Timothy is a father of two daughters namely, Jeddrah Schmit, Owen Schmit and one son Ben Schmit.
Timothy B Schmit Social Media
Twitter
Instagram
You Tube
---
We endeavor to keep our content True, Accurate, Correct, Original and Up to Date.
If you believe that any information in this article is Incorrect, Incomplete, Plagiarised, violates your Copyright right or you want to propose an update, please send us an email to informationcradle@gmail.com indicating the proposed changes and the content URL. Provide as much information as you can and we promise to take corrective measures to the best of our abilities.
---