Tyler Adams Bio
Tyler Adams is an American soccer player born in New York, He currently plays for RB Leipzig from the German Bundesliga. He is a graduate from the New York Red Bulls Academy where he played with the New York second team at 16 years old before joining the first team.
Tyler was born by his mom "Melissa Russo" while she was just 22 years old where she had to drop her studies to focus on raising him. Tyler was mostly motivated by her mom as she noticed his talent on the pitch she did everything she could to make sure he pursued his dream, She drove him to the training facility which was about 150 miles from their home tyler didn't miss any training session. There isn't much information about his family but we will update this information soon.
Adams was signed by "New York Red Bulls II" in 2015 to the senior Reserve team playing in the "United Soccer League". He made his debut on April 4, 2015, in a 4-1 victory over Toronto FC II. After regular appearances, Adams assisted his team in a 5-1 win over "Swope Park Rangers" in the 2016 USL Cup Final. On July 23, 2015, Adams made his debut with the New York Red Bulls first team featuring in a friendly match against Premier League champions Chelsea. He scored the second goal of the match, slotting a header past Asmir Begović in the 69th minute as the Red Bulls went on to win 4–2.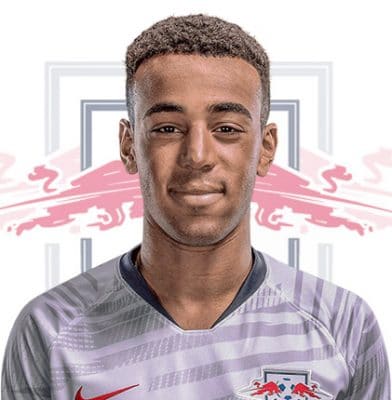 Adams signed his first senior team contract on November 3, 2015, and joined the first team in preseason training camp in 2016. Adams made his first MLS bench appearance as an unused substitute on April 1 during a 1–0 loss to the New England Revolution and on April 13 made his MLS debut, starting against the San Jose Earthquakes before returning to Red Bulls II on loan for the remainder of the season. On August 15, 2017, Adams helped New York to a 3–2 come from behind victory over FC Cincinnati, assisting on Bradley Wright-Phillips's 77th-minute equalizer. With the win, New York reached its first Open Cup final since 2003. Adams scored his first two MLS goals in a 3–3 draw with D.C. United on September 27, 2017.
On March 13, 2018, Adams opened the scoring for New York in a 3–1 victory over Club Tijuana in the CONCACAF Champions League, helping the club advance to semifinals of the Champions League for the first time. Adams joined RB Leipzig in January 2019, reuniting him with former coach Jesse Marsch. He made his first league start, playing as a defensive midfielder, on January 27, 2019, at Fortuna Dusseldorf. He played the full 90 minutes in the 4–0 win. On February 16, Adams recorded his first Bundesliga assist in a 3–1 victory over Stuttgart.
Adams has represented the United States at the U15, U17 and U20 levels. He appeared in all of the team's matches at the 2015 CONCACAF U-17 Championships in Honduras, helping the US in qualifying to the 2015 FIFA U-17 World Cup.  In May 2017 Adams played every match for the U.S. at the 2017 FIFA U-20 World Cup in South Korea. On November 14, 2017, Adams earned his first cap for the senior national team, playing the full 90 minutes in a 1–1 draw with Portugal. On September 11, 2018, Tyler Adams scored a goal against the Mexican side in a friendly at Nissan Field in Nashville TN.
Tyler Adams Age|How Old Is Tyler Adams?
Tyler was born on February 14, 1999, and is currently 20 years old as of 2019. His birth sign is Aquarius.
Tyler Adams Height|How Tall Is Tyler Adams?
Tyler is 5 feet and 9 inches tall weighing a total of 130 pounds.
Tyler Adams Girlfriend
The young American midfielder is yet to marry but reportedly, he is in a romantic relationship with his girlfriend, Sarah Schmidt. Besides the news of their relationship, the details about how and when they started dating are not in the media yet.
Moreover, Tyler seems to be in deep love with his girlfriend as he doesn't miss a chance to post a picture of his girlfriend in his social account. Talking about his girlfriend, she is from a german descent as her grandparents are German.
As of now, the couple is in a long-distance relationship because his girlfriend, Sarah still lives in the States while Tyler is playing for the German club. Additionally, in one of his press conferences, he revealed that his girlfriend doesn't have any plan to come to Germany in recent times.
Tyler Adams Net Worth|Tyler Adams Salary
Tyler holds a net worth over 500,000 dollars however, the concrete information is yet to be revealed. Moreover, he earns 384,185 dollars as an annual salary from his club RB Leipzig. Also, he earns 7,388 dollars as a weekly wage from his current club.
Tyler previously played for New York Red Bulls, earning an annual salary of around 200,000 dollars. As of 2019, his market value is 505,5070 dollars and reportedly, he was transferred to the Leipzig with the $3 million deal from New York Red Bulls.
Adams also earns an additional amount of cash from the association with different brands including Nike. Besides, we have no idea how much he earns from brand endorsement. Also, exploring his social account, it seems he is living a lavish life and his lifestyle is totally financed by his professional career.
Tyler Adams Fifa 19
Tyler has been featured on Fifa 19 with an average rating of 72 playing as a central defensive midfielder you can find him in the USA Major League Soccer (MLS) playing for the "New York Red Bulls".
Tyler Adams Market Value
Tyler's Current market value is 4.05 million Euros as of 2019.
Tyler Adams Jersey
The 20-year-old officially joined the club during the winter transfer window in January 2019. "If I think about the top leagues in the world, I think about the Bundesliga," Adams said. "A lot of youngsters have made the next step in their development here. RB Leipzig is all about that, so it's a great step for me.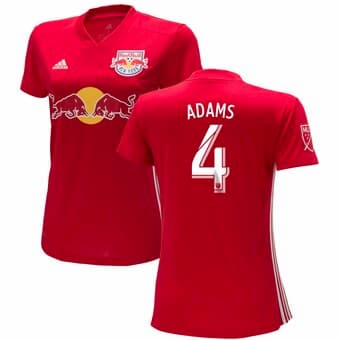 "For me, it's the chance to prove myself at the highest level and measure myself against my friends and compatriots, Christian Pulisic of Dortmund and Weston McKennie of Schalke."
Regarded as one of the most exciting players in the MLS, Adams penned a Homegrown deal with the Red Bulls in November 2015 after a successful spell with the club's USL affiliate New York Red Bulls II. He made the step up to the senior team in 2017, registering two goals and four assists in 24 MLS appearances and playing every minute of the club's three 2017 play-off matches. He provided three assists in 27 MLS games for the Bulls in 2018.
"We've been following Tyler Adams for a long time," said Leipzig coach and sporting director, Ralf Rangnick. "At 19, he was a key player this season for the New York Red Bulls, and he made his senior international debut for the USA. He'll be an immediate option for the midfield, and we're sure he'll take the next step in his development in the Bundesliga."
Tyler Adams Rb Leipzig|Tyler Adams Red Bull Leipzig
Tyler joined RB Leipzig in January 2019, reuniting him with former coach Jesse Marsch. He made his first league start, playing as a defensive midfielder, on January 27, 2019, at Fortuna Dusseldorf.
After taking to life in Germany's top-flight like few before him, RB Leipzig coach Jesse Marsch has described American Tyler Adams as a "special talent" destined to make an impact in the Bundesliga. Like Christian Pulisic and Weston McKennie before him, Leipzig midfielder Tyler Adams has made a seamless transition to life in the Bundesliga since joining from New York Red Bulls in January.
While injury has curtailed his campaign, for the time being, Adams is still yet to taste defeat as a Leipzig player in nine top-flight outings. An impressive record that, coupled with his dynamic and driven performances, has only further stoked the hype surrounding the 20-year-old.
"The ceiling is massive for him, everyone can see that," Leipzig assistant coach Marsch said on Sports Illustrated's Planet Fútbol TV show. "I obviously played a part in Tyler, and the relationship with the club, and the eventual move to come here. I knew he'd do well."
A combative and creative midfielder, Adams has all the qualities to thrive in Leipzig's high-octane system. Swapping the Big Apple for Eastern Germany cannot have been an easy decision, but it's one that's been validated by the manner in which he's adapted to the demands of the Bundesliga.
"The game is played at a much faster pace, you have less time on the ball and much less room to maneuver," Adams told Sportbuzzer. "Mistakes are ruthlessly punished, you've got to be online all the time, you can never relax. The Bundesliga is one of the best leagues in the world and that's how it feels."
The numbers Adams has put up in just 659 minutes of top-flight action are befitting a seasoned pro, not a Bundesliga debutant. He's won 50 percent of his challenges and boasts an 84.6 percent pass completion rate, two of which provided eye-catching assists, with Yussuf Poulsen the beneficiary. Yet it still feels like the American has barely scratched the surface of his potential.
"I think he's exceeded my expectations, our expectations," continued Marsch. "There's been some talk, like I've done so much to help Tyler, adapt and do well here. I don't think it's hurt, but Tyler is the reason Tyler has been successful.
"He's a special person, he's a special personality, he's a special talent and the ceiling for him is massive. Massive here in Leipzig and in the Bundesliga and beyond. So I'm proud to be connected with him and to have played a role in his development and I can't wait to see where he goes from here."
One destination that's virtually set in stone? Europe's top table. Leipzig is currently in a commanding position to clinch a top-four finish against Freiburg on Saturday and, with it, UEFA Champions League qualification for the second time in the club's history.
"The atmosphere in the changing rooms is good and the results have matched it," said Adams. "We're currently experiencing an intense and successful period, but we're well aware that we've got to throw everything into every game and training session."
Mature enough to admit that "at 20, I have to and want to learn a lot more", Adams is also aware that his unbeaten start to life in Germany's top flight will not be a permanent fixture of his career: "I hate losing, but I'm pretty sure that we'll lose the odd game here and there with me involved. Nevertheless, we're an attractive side and a club of the future."
Tyler Adams Instagram
Tyler Adams Twitter