Willis Raburu Biography
Willis Raburu is a Kenyan media personality and journalist who is known for his work as a news anchor and radio host. He has gained popularity in Kenya and East Africa for his work on television and radio programs, including the news program "10 Over 10" and the radio show "Drive Time."
Raburu has also won several awards for his work in journalism, including the Kalasha Film and Television Awards for Best Radio Presenter. In addition to his work in media, Raburu is also known for his philanthropic efforts and his work as a public speaker.
---
10 Quick Facts About Willis Raburu
Name: Willis Raburu
Age: 35 Years (2022)
Birthday: 1 April
Zodiac Sign: Aries
Height: Average
Nationality: Kenyan
Occupation: Television news anchor, Radio presenter, Host
Marital Status: Married
Salary: Ksh 600,000.
Net worth: $5 million
---
Willis Raburu Age
Raburu is 35 years old as of 2022, he was born on 1 April 1987, in Kano, Nyando District in Kisumu County, Kenya. He celebrates his birthday on 1 April every year, and his birth sign is Aries.
Willis Raburu Height
Raburustands at an average height. He appears to be quite tall in stature if his photos, relative to his surroundings, are anything to go by. However, details regarding his actual height and other body measurements are currently not publicly available. We will update this section when the information is available.
Willis Raburu Education
Raburu studied at Aga Khan Primary school in Kisumu City and subsequently attended Chemelil Academy High school which was a mixed boarding school. He disclosed that he used to fetch water for other students when there was none in the school tanks at payment.
Willis afterward joined Moi University where he pursued a Bachelor of Information Science- Media. His father desired him to do IT while Willis had a devotion to Media so he cheated his father that he was studying IT only for his dad to find that he preferred the Media option in his graduation in 2010.
Tertiary / University
Date: Not Known
Education Institution: Moi University
Qualification: Bachelor of Information Science- Media
Secondary Education
Date: Not Known
Education Institution: Chemelil Academy High school
Qualification: KCSE
Primary Education
Date: Not Known
Education Institution: Aga Khan Primary school in Kisumu City
Qualification: KCPE
Willis Raburu Family
Raburu was born in Kano, Nyando District in Kisumu County to his father, Peter Raburu, and his mother whose identity is unknown. He is the third born and last boy in a family of four (2 boys and two girls). His father, Peter Raburu, is the one-time prominent Provincial Commissioner and is currently a pastor in Kisumu County.
Willis Raburu Siblings
Raburu was brought up by four of his siblings, two sisters, and two brothers, including his brother Kevin Raburu Raburu, who wedded his longtime girlfriend, Lilian Muli (NOT THE TV GIRL) on May 1st, 2015.
Willis Raburu Wife
Raburu is presently married to his lovely wife Ivy Namu. The new parents have been blessed with their second child together, a baby girl. The pair also share a one-year-old son named Mali.
Previously, Raburu was married to Mary Irungu alias Marya Prude but the marriage came to an end in 2020, shortly after losing their unborn daughter Adana. In 2014, Raburu stood out as truly newsworthy after he proposed to his better half, Sally Mbilu, in a fantasy at the spot where he had the main date with her.
Willis offered her a Ksh. 100,000 ring and she said yes! Afterward, the two separated for the following two years. Willis had found that Sally was 5 years more established than him. Then again, Sally expressed that he was not dealing with his weight regardless of the specialist's recommendation on the dangers of being overweight.
The two were work partners and these days infrequently converse with one another. Sally vacated the Ksh. 100,000 ring and dropped it at his work area after the breakup. Thereafter, in 2015, it was accounted for that the two traded severe words which drove them to be given separate obligations where they wouldn't get an opportunity to meet anytime.
In 2017, Willis wedded Marya Ngami in a welcome just function that came as an astonishment since it happened a year later subsequent to parting ways with writer Sally Mbilu. From that time on, he began sharing photographs of her via web-based networking media, something which he had not done since they began dating. The two met in the congregation through a companion.
"We met in chapel, at Jubilee Christian Church through my companion Pablo. He presented me, and when I saw her, I resembled, "God Lord Hallelujah," But despite the fact that I saw her fineness, I didn't do anything as I was still in a relationship. About a year passed by after we met."
From the outset, He was hesitant about beginning a relationship with her since he didn't have the foggiest idea whether she cherished 'Willis on TV' or just Willis. At a certain point, he broke his knee, and the main individuals who might visit him routinely were her.
In spite of what Raburu expected, she didn't request anything besides rather gave him numerous things. That was the point at which he understood she was spouse material. Willis proposed to her three months before they got married in the welcome just wedding.
Furthermore, "I said… Yes #Foreverandalways #Journeyoflove," Marya posted on her Instagram page precisely 11 weeks before their day." Their special first-night experience was, be that as it may, not tantamount to what they uncovered as of late.
Willis Raburu Kids
Raburu together with his wife, Ivy Namu have been blessed a daughter recently and they also proud parents
Willis Raburu Salary
Raburu receives an average monthly salary of around Ksh 600,000.
Willis Raburu Net Worth
Raburu has an estimated net worth of $5 million dollars as of 2022. This includes his assets, money, and income. His primary source of income is his career as a Journalist. Through his various sources of income, he has accumulated good fortune but prefers to lead a modest lifestyle.
Willis Raburu Measurements and Facts
Here are some interesting facts and body measurements you should know about Willis Raburu.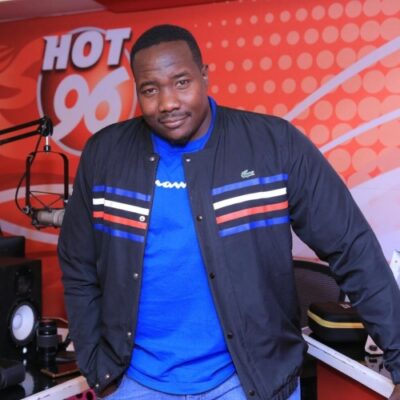 Willis Raburu Wiki
Full Names: Willis Raburu

Popular As: Television News Anchor
Gender: Male
Occupation / Profession: Television News Anchor, Radio Presenter, Host
Nationality: Kenyan
Race / Ethnicity: African
Religion: Christian
Sexual Orientation: Straight
Willis Raburu Birthday
Age / How Old?: 35 Years (2022)
Zodiac Sign: Aries
Date of Birth: 1 April 1987

Place of Birth: Nyando District, Kisumu County, Kenya
Birthday: 1 April
Willis Raburu Body Measurements
Height / How Tall?: Average
Weight: Moderate
Willis Raburu Family and Relationship
Father (Dad): Peter Raburu
Mother: Not Known
Siblings (Brothers and Sisters): Not Known
Marital Status: Married
Wife/ Spouse: Ivy Namu
Children: Two
Willis Raburu Net Worth and Salary
Net Worth: $5 million
Salary: KSh 600,000
Source of Income: Journalist
Willis Raburu Career
Speaking of his career, Raburu began his career as a media intern at K24 TV, which and gave him some experience and also exposure. He then landed a gig on Citizen TV after his graduation and started a job search. Before he could be accepted at Citizen TV he had applied for some positions in some local TV stations, which turned him down, saying that he didn't have the voice they were looking for.
At citizen TV, he hosts several shows including the then "TruthMeter", a weekly prime-time program on television. Moreover, he hosted with the beautiful Joey Muthengi, before she left the television later, in the "10 Over 10" show.
Willis Raburu Surgery
Raburu has transferred amazing before and after pictures of his weight loss journey months after experiencing gastric bypass surgery.Via social media, he described his experience as the greatest investment he has ever made.
"The greatest investment you can ever make is on you! When I decided to do Bariatric Surgery I was so scared, but I did it. Will share the story here soon. 30kgs down so far. The journey continues," he wrote.
Willis made the decision to experience gastric bypass surgery, 'a minimally intrusive surgery that allows you lose weight by changing how your stomach and small intestine handle the food you eat' at the beginning of the year after being informed he was at risk of developing life-threatening conditions due to his then massive weight.
"I went for a gastric bypass. By the time I was going for the surgery I was 164kgs. I needed it because my blood pressure was high and my cholesterol was high. It was now a matter of taking care of my health because now I had a junior and also just for myself," he said.
Although the procedure has become positively popular among celebrities, Willis described his choice to undergo surgery was solely for his health benefits and not for popularity as a section of netizens purport. Based on the father of two, setting the weight issue was a matter of urgency before things got out of hand.
"You have to love yourself enough to know that you need help and there is no shame in it by the way. Because people always attach such procedures to shame. It is expensive but the gains are evident. If you pay whatever you pay now and in the future let's say I was to get, God forbid a heart attack, the money I would pay in hospital just for three days and you getting proper care, you burn out money very fast," he added.
Willis Raburu and Marya Broke Up
Allegedly, Willis and his wife, Marya ended things when she found out that he had been having an affair with a Ugandan woman whose identity is yet to be known. Willis then demanded that she leaves their home in Phenom Estate in Langata which saw Marya, a businesswoman, rent an apartment in Kiambu's Thindigua area.
Raburu paid for the mentioned apartment's rent two months ahead of time.
" In March is when hell broke loose after Raburu told his wife to move out. He is currently living in Kileleshwa with another woman. What happened is that they divided the household items. Raburu then rented a house for Marya and paid a deposit of two months," a source close to the Raburus said.
Willis Raburu Daughter's Death
In January 2020, it was announced that the 10 over 10 Citizen show host, Willis Raburu had lost his firstborn child, a daughter, Adana in the delivery room. He wrote to his close friends that his wife got into labor to deliver baby Adana into the world but had complications and pushed out a stillbirth.
He continued to say that his wife did so well during labor and are trying to be strong despite being devastated by the incident.
"My heart is completely broken, she is such a beautiful baby, and now she is a beautiful angel. I want to thank you all for the support during this time for the comfort and the love, for getting Marya fit and ready, she did well in labor. We are trying to be strong but we are absolutely devastated."
Raburu who is the son of a very respected and powerful Provincial Commissioner Peter Raburu is staying with his babe in Kileleshwa. Marya Prude has since deactivated all her social media accounts. They got married in a hush-hush wedding after Raburu broke up with then-fiancée and colleague at Royal Media Services, Sally Mbilu.
In a previous interview, Willis said he met Marya much earlier than most people thought but didn't date her then as he was in a relationship with Sally Mbilu at that time, whom he proposed to but broke up with under unclear circumstances. Raburu has neither confirmed nor denied the allegations.
Kenyans showed love for Willis during that time, including his colleague Lulu Hassan, who sent their condolence messages to Willis after posting the lengthy statement on his social media platforms.
Willis Raburu Takes a Break
The Citizen Tv presenter, Willis Raburu took to Instagram to announce to fans that he was taking a break from Citizen Tv and Hot96, stating that he was in immeasurable pain after losing his firstborn child — something that made him reset his outlook in life. To him, he needed a short break from work duties so that he and his wife could get through the motions.
"Over the past few days, my heart has been shattered and torn into several pieces. The pain I have felt has been immeasurable and one that words fail to aptly capture. It has left me with several questions and literally reset my outlook on life.
I may not be able to share the full extent of it all but I cannot bear it alone. I am therefore going to be taking a short break from work and my duties on @1010fanpage @citizentvkenya @hothappyhour and @hot96fmkenya to allow for my wife, and I to get through the motions."
Raburu revealed that they were trying to be strong even though they were absolutely and completely devastated. Mr. Willis went on to send his appreciation to the people who would be taking over the shows on his behalf together with those who continued to lift him and his wife through prayer and requested them to go on until he was back to the screens and the radio.
"While I am away several people will be holding the fort for me, the shows will go on. I want to thank them in advance for heeding the abrupt call to action. I want to say thank you for those in the know who continue to lift my wife, and I in prayer and ask that you continue to do so up until the time I will be back on your screens and on your radio! I love you all, you make me who I am. See you soon. Successful people look like you! WABEBEE!"
Willis Raburu Rushed to Hospital
In the year 2019, it was announced that Raburu had been rushed to MP Shah Hospital after taking an overdose of sex stimulant drug alleged to be Levitra — a drug, 6 times stronger than Viagra when he was having some nice times with his girlfriend in Parkland Estate.
According to the doctor's report, the 10 over 10 hosts "intentionally" took too much Levitra, reportedly with intentions to impress his new girlfriend with his sexual prowess. However, the doctors found Willis Raburu's penis to be inflamed, fractured, and showing signs of gangrene.
"The patient showed bruising on the left testicle and penis, was treated and is recovering well," Dr. Seth Ouma told the reporters.
Medical professionals from the MP Shah hospital (where Willis Raburu) was treated, warned locals to not use penis-enhancing drugs without a prescription to avoid incidents like such of Willis
Willis Raburu Car | Willis Raburu House
Raburu owns one of the cars associated with the rich in Kenya, a Mercedes Benz, and has built a mansion that befits his status.
Willis Raburu Awards and Achievements
Maji Award for his three-part series, "Deadly Water."
Children's Rights Award for his Rwanda series journey of the resilience of children.
Road Safety Award for the series "Killer Drivers."
Frequently Asked Questions About Willis Raburu
Who is Willis Raburu?
Willis Raburu is a widely known Kenyan television news anchor, radio presenter, and host. He hosts 10 over 10 on Citizen TV on Friday and brings a weekly segment dubbed "TruthMeter" part of Citizen TV's weekly new prime-time line-up of programming.
How old is Raburu?
Raburu is a Kenyan national born on 1st April 1987, in Kano, Nyando District in Kisumu County.
How tall is Raburu?
Willis stands at an average height, he has not shared his height with the public. His height will be listed once we have it from a credible source.
Is Raburu married?
Yes,Raburu is presently married to his lovely wife Ivy Namu. The new parents have been blessed with their second child together, a baby girl. The pair also share a one-year-old son named Mali.
How much is Raburu worth?
Raburu has an approximate net worth of $5 Million. This amount has been accrued from his leading roles in the Journalism industry.
How much does Raburu make?
Raburu receives an average monthly salary of around Ksh 600,000.
Where does Raburu live?
Willis is a resident of Nairobi, Kenya, we shall upload pictures of his house as soon as we have them.
Is Raburu dead or alive?
Raburu is alive and in good health. There have been no reports of him being sick or having any health-related issues.
What Happened to Willis Raburu?
Raburu was rushed to MP Shah hospital after an allegation that he had overdosed a sex stimulant called Levitra, with aims to impress his new girlfriend with his sexual prowess, in Parkland.
What Happened to Willis Raburu's Daughter?
Raburu and his wife Marya Ngami were expecting their firstborn daughter, Adana, who passed away following a stillbirth at the hospital when his wife was at the delivery room. The death of Adana brought deep sorrows to the family, including Willis who had to even take a work break to be with his wife, and fans too, who sent their deep condolence to him.
Where is Raburu Now?
Raburu is pursuing his career in journalism. He is working as a television host at Citizen TV Kenya since 2016.
Willis Raburu Contacts
Related Biographies.
You may also like to read the Bio, Age, Career, Family, Relationship, Net worth, Achievements, and more about:
More about Kenya
Kenya is a land of contrast – highlands and plains; wet and dry; rural and urban and people of all races. This offers many opportunities to citizens, foreigners, and visitors alike.
Here is more information about Kenya …
Welcome to Kenya. Welcome to Opportunity.
Other Famous People in Kenya