Jeff Dunham Comedian
Jeff Dunham (Jeffrey Dunham) was born on April 18, 1962. He is an American comedian and a ventriloquist since 1976. Dunham has been featured on several shows, like Late Show with David Letterman, Comedy Central Presents, The Tonight Show and Sonny With a Chance.
He runs six specials on Comedy Central, Arguing with Myself, Spark of Insanity, Jeff Dunham's Very Special Christmas Special, Controlled Chaos, Minding the Monsters, and All Over the Map. In 2009, he starred in The Jeff Dunham Show.
Dunham was voted by fans the Top Comic in Comedy Central's "Stand-Up Showdown" in January 2008. His way of comedy has been described as "a dressed-down, more digestible version of Don Rickles topped with multiple personality disorder". Dunham has been referred as "America's favorite comedian" by Slate.com, and according to Pollstar, the concert industry publication, he is the top-grossing standup act in North America, and as well as the most successful acts in Europe.
He is the only person ever to win twice the "Ventriloquist of the Year" Award, he got nominated "Comedian of the Year" by the TNN Music City News Country Awards and has been praised by the Dallas Morning News for his technique and timing. However, Critics such as Randee Dawn of The Hollywood Reporter accused Dunham's characters of being racist caricatures, sexist, and homophobic.
Jeff Dunham Age
How Old Is Jeff Dunham? Born on April 8, 1962, he celebrated his 56th Birthday o April 8, 2018.
Jeff Dunham Family
Jeff Dunham Wife
He began dating his first wife Paige Brown in December 1992, they had met at the Comedy Corner in West Palm Beach, Florida. Dunham married Brown in 1994 and adopted her one-and-a-half-year-old daughter, Bree. Dunham was away most of his time while performing, his marriage was strained and in November 2008, he filed a divorce.
Soon after, in 2009, he got into a relationship with fellow Texan Audrey Murdick, a certified nutritionist, personal trainer, and competition bodybuilder, they announced their engagement on December 25, 2011, and later married on October 12, 2012.
Jeff Dunham Kids
His children from former spouse Paige Brown; two daughters Ashlyn and Kenna were born in 1995 and 1997.  In October, Audrey, his second wife gave birth to James Jeffrey and Jack Steven in October 2015. He also adopted Browns daughter in 1994 when they married.
Jeff Dunham Ventriloquist and Comedy Career
Dunham began performing as a teenager in various venues such as school, church, and during his job at Six Flags. At his middle school years, he started performing for banquets attended by local celebrities, he had developed his style of lampooning those he performed for using puppets to say things too risque for him to say without them.
He dubbed his TV career in 1976 when the still prepubescent performer caught the attention of Dallas reporters like Bill O'Reilly, leading to an interview for a local news story. More opportunities started coming his way, he did commercials for Datsun dealerships in Dallas and Tyler while still in high school.
Another break came in 1985 when he was asked to join the Broadway show Sugar Babies with Mickey Rooney and Ann Miller. He then performed at the Westbury Music Fair on Long Island. He had early experiences, in which he used characters like José Jalapeño on a Stick, they taught him the value of modifying his act regionally, as the jalapeño jokes that worked well in Texas were not as well received by audiences in Long Island.
He graduated from Baylor University in 1986. He continued pushing his act in comedy clubs in the Southwest with new characters such as Peanut but struggled against the perception he relates from fellow comedians that he was not a true comedian because he used props display his comedic acts.
Jeff Dunham Comedy Central
Dunham signed a multi-platform deal with Comedy Central in 2009. It included a 60-city tour beginning in September 2010, and an order for a television series called The Jeff Dunham Show that premiered on October 22, 2009, a fourth stand-up special to air in 2010, DVDs, and a consumer products partnership. His show was canceled after only one season, amid poor reviews, dwindling ratings and higher production costs than other Comedy Central shows.
Jeff Dunham Tour Schedule
Tickets are now on sale for you to see all of the guys in the trunk and me in 2019! Get 'em here: jeffdunham.com/tours
Jeff Dunham Shows
Spark Of Insanity
Arguing With Myself
He is a stage performance of comedian and ventriloquist. The show was taped in Santa Ana, California. The DVD was released on April 11, 2006.
Jeff Dunham Walter
Walter is a retired, grumpy old man with his arms always crossed in discontent, he has a negative and often sarcastic view on today's world. Walter is a Vietnam War veteran and a former welder, and "doesn't give a damn" about anyone, especially his own wife and some audience members. In Relative Disaster it's revealed that Walter might be Jeff's real father.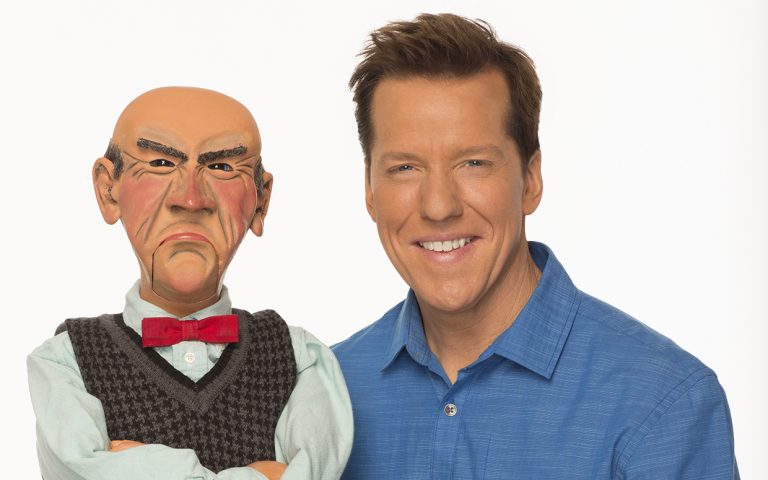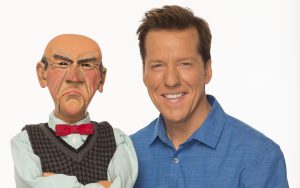 Jeff Dunham Peanut
Peanut is a purple-skinned "woozle" with white fur covering most of his body, a tuft of green hair on his head, and one sneaker on his left foot. Dunham explains in Arguing with Myself that Peanut comes from a small Micronesian island and that they met in Florida. Peanut's humor is not based on a particular motif or stereotype, like those of the other characters, and has been described as "the bad kid". He sometimes makes fun of Dunham, and torments and mocks José Jalapeño on a Stick.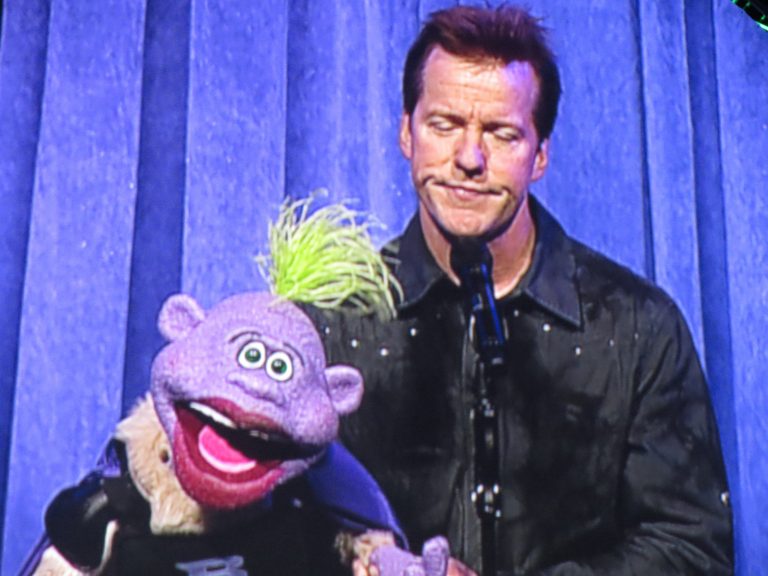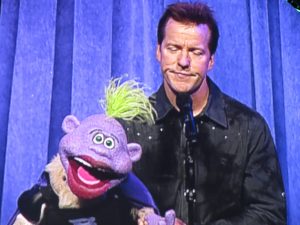 Jeff Dunham Achmed the Dead Terrorist
Achmed is the skeletal corpse of an incompetent suicide bomber, whom Dunham uses to satirize the contemporary issue of terrorism.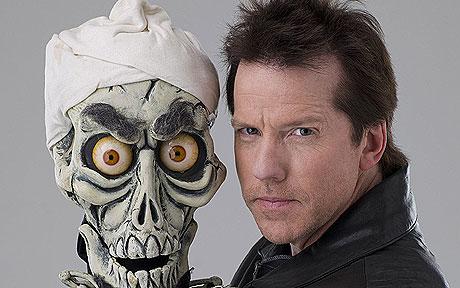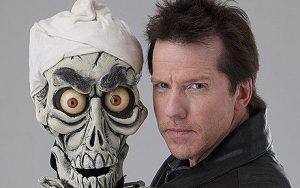 Jeff Dunham Jalapeno On A Stick
José is a talking jalapeño pepper on a stick who wears a small sombrero. José speaks with a thick Spanish accent, and is typically paired with Peanut, who often makes fun of José, uses appeals to Latino stereotypes when doing so, and makes fun of him being on a stick.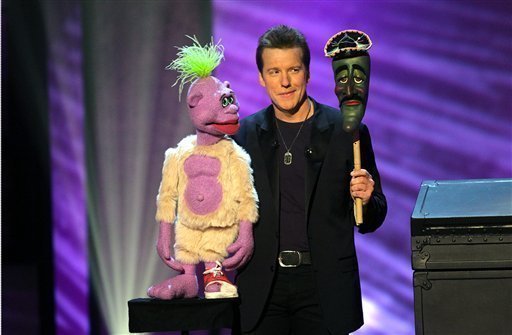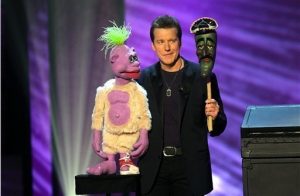 Jeff Dunham Bubba J
Bubba J is a beer-drinking redneck that is described by Dunham in Arguing with Myself and A Very Special Christmas Special as "white trash trailer park", and whom Dunham uses for humor centered on such stereotypes. To this end, he frequently does jokes involving Bubba J's love of drinking beer and NASCAR, and his low intelligence. Dunham was featured in a guest role with Bubba J on NBC's sitcom 30 Rock, playing a ventriloquist named Rick Wayne together with his dummy Pumpkin from Stone Mountain, Georgia.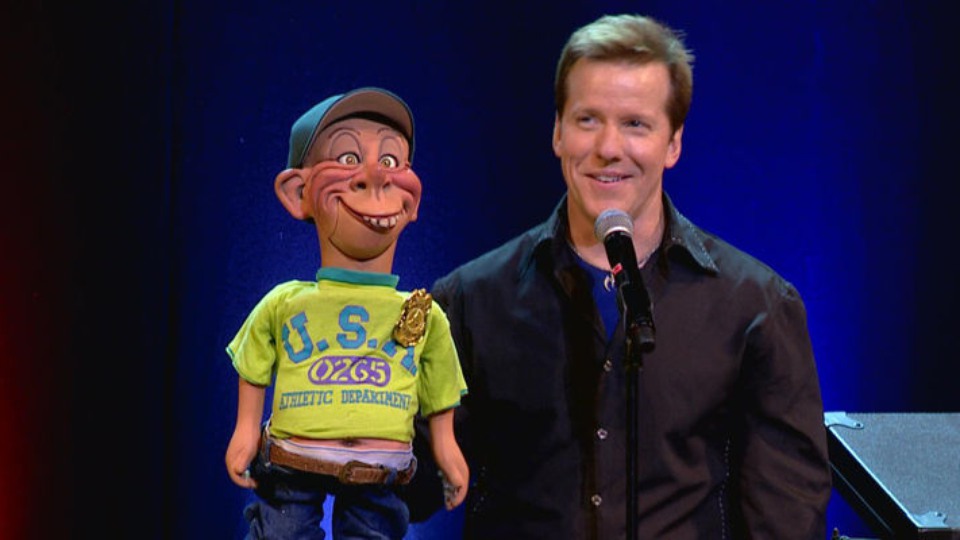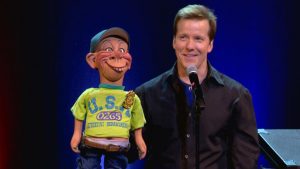 Jeff Dunham Halloween
Jeff Dunham Merchandise
https://secure.jeffdunham.com/
Facebook
https://www.facebook.com/JeffDunham/
Twitter
Instagram