Jordan Kimball Biography
Jordan Kimball is an American professional model and a former business and accounting major. He first gained public recognition as a contestant on the 14th season of The Bachelorette.
Kimball returned to television as a contestant on the fifth season of Bachelor in Paradise and won. Kimball also returned for the show's sixth season in August 2019.
Kimball attended the College of Central Florida with a degree in a business specialist.
Jordan Kimball Age
Kimball was born on 8 January 1992 in Crystal River, Florida. He is 27 Years old as of 2019.
Jordan Kimball Family
Jordan was born to Dina Kimball. He has not disclosed further information regarding his father and siblings.
Jordan Kimball Model
Kimball turned his good looks to be a professional model from a Business and Accounting major. He joined Wilhelmina models in 2017.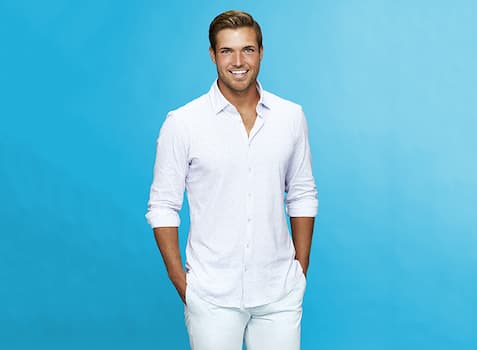 He has featured on the cover magazines of John Craig's Fall/Winter 2017. He also worked for commercials like Lavish Designs and events, Quay Sunglasses and others.
Jordan Kimball Girlfriend
Kimball and Jenna Cooper were inseparable during the fifth season of Bachelor in Paradise. They even got engaged during the show's finale in summer 2018.
In September 2018, a series of text messages between Jenna and another man surfaced, and they eventually led to the couple's splitting. Cooper claimed that they were not real but Jordan did not believe her. In October the same year, Kimball also claimed that Cooper's lawyer accused him of fabricating the text messages that exposed her infidelity.
In early 2019, Jenna released a book about the scandal. In May, Jenna talked to US Weekly saying, "I know America has heard some of the obnoxious lies about me from Bachelor Nation's most thirsty contestants and gossip blogs. But now it's my turn. I have gone to great lengths to prove that all of these accusations were false." She added, "I hope that it will inspire other women to stand up for themselves despite being victimized and bullied."
Jordan Kimball The Bachelorette
Kimball first joined reality television as a contestant on the fourteenth season of the Bachelorette. He was however eliminated on week 5.
Jordan Kimball Bachelor in Paradise
Jordan joined Bachelor in Paradise as a contestant in its 5th season. He met Jenna Cooper and the two got engaged at the end of the show. Jordan ended the engagement when text messages of her relationship with another man surfaced. Cooper continues to say they are fabricated but Jordan still believes in his heart that they are not.
Jordan Kimball re-joins the series in the sixth season. Jordan is seen to be involved in a fight which is seen in the previews for that season. For getting involved in the fight, Jordan and Estrada end up getting eliminated in the episode because of their altercation. Stay tuned to ABC to see the drama unveil.
Other contestants on Season six include:
Angela Amezcua
Blake Horstmann
Bri Barnes
Caelynn Miller-Keyes
Caitlin Clemmens
Cameron "Cam" Ayala
Chase McNary
Chris Bukowski
Christian Estrada
Clay Harbor
Connor Saeli
Dean Unglert
Demi Burnett
Derek Peth
Dylan Barbour
Haley Ferguson
Hannah Godwin
Jennifer Saviano
John Paul Jones
Katie Morton
Kevin Fortenberry
Kristina Schulman
Luke Stone
Matt Donald
Adrianne "Jane" Averbukh
Bibiana Julian
Wills Reid
Whitney Fransway
Tahzjuan Hawkins
Tayshia Adams
Sydney Lotuaco
Revian Chang
Onyeka Ehie
Nicole Lopez-Alvar
Mike Johnson
Jordan Kimball Twitter
Jordan Kimball Instagram
https://www.instagram.com/p/B1FQPr7H6SF/?utm_source=ig_web_copy_link