Sumner Redstone Death
Sumner Redstone died. The American businessman and media magnate died on August 11, 2020, at the age of 97 years old.
Sumner Redstone, the billionaire boss of US cinema and media company National Amusements, has died at the age of 97. The Boston businessman is considered by many to have helped to shape the modern entertainment industry.
Redstone acquired his father's drive-in movie theatre business and turned it into an empire that included Viacom, Paramount Pictures, CBS Corp, MTV, Comedy Central, and Nickelodeon. The news of his death was confirmed on Wednesday by ViacomCBS.
Redstone is credited with helping save cinema by developing the multiplex model in the 1960s and built his company to span the worlds of film, TV, publishing, and video rental with the Blockbuster chain.
"My father led an extraordinary life that not only shaped entertainment as we know it today but created an incredible family legacy," his daughter, Shari Redstone told Variety in a statement.
"Through it all, we shared a great love for one another and he was a wonderful father, grandfather, and great-grandfather. I am so proud to be his daughter and I will miss him always." Towards the end, his family legacy was marked by very public legal wranglings over the business and allegations about cash gifts given to his mistresses.
Sumner Redstone Biography and Wiki
Sumner Redstone was an American businessman and media magnate who was born as Sumner Murray Redstone in Boston, MA and died on August 11, 2020, at an age of 97 years old. He was formerly the executive chairman of both CBS and Viacom.
In February 2016, at age 92, He resigned both chairmanships following a court-ordered examination by a geriatric psychiatrist. He was the majority owner and chairman of the board of the National Amusements theater chain.
Through National Amusements, Redstone and his families are majority voting shareholders of CBS Corporation and Viacom "itself the parent company of Viacom Media Networks, BET Networks, and the film studio Paramount Pictures". According to Forbes, as of September 2015, he was worth US$5 billion.
Sumner Redstone Age and Birthday
Sumner Murray Redstone was born on May 27, 1923, in Boston, MA. He died on August 11, 2020, at the age of 97 years old. Redstone celebrated his birthday on May 27 every year.
Sumner Redstone Education
Redstone joined the Boston Latin School, from which he graduated first in his class. In 1944, he graduated from Harvard College, where he completed the studies for his baccalaureate in three years. Later, Redstone served as a 1st lieutenant in the United States Army during World War II with a team at the Signals Intelligence Service:p. 208 that decoded Japanese messages.
After his military service, he worked in Washington, D.C., and attended Georgetown University Law Center. He transferred to Harvard Law School and received his law degree in 1947.
After completing law school, Redstone served as special assistant to U.S. Attorney General Tom C. Clark (who later served as Associate Justice of the Supreme Court of the United States from 1949 to 1967) and then worked for the United States Department of Justice Tax Division in Washington, D.C. and San Francisco, and thereafter entered private practice. In 1954, he joined his father's theater chain, National Amusements and in 1967, he became CEO of the company.
Sumner Redstone Family, Parents and Siblings
Redstone was born to a Jewish family in Boston, Massachusetts. He was born and raised by his parent Belle (née Ostrovsky)(mother) and Michael Rothstein(father).
In 1940, at Sumner's behest, his father agreed to change the family surname from "Rothstein" to "Redstone" "Red stone" was a literal translation of the German-Jewish name, "Rothstein". Hsi's Father owned Northeast Theater Corporation in Dedham, Massachusetts "the forerunner of National Amusements" and the Boston branch of the Latin Quarter Nightclub.
Sumner Redstone Wife and Dating
In 1947, he married Phyllis Gloria Raphael and they divorced in 1999. The couple had two kids together: Brent Redstone and Shari Redstone. Three years after his divorce, he married Paula Fortunato, a former primary school teacher 39 years his junior. Sumner Redstone filed for divorce from her on October 17. 2008. Their divorce was finalized on January 22. 2009. He owns a house in the Beverly Park area of Los Angeles, which he purchased in 2002 for $14.5 million.
In August 2015, Redstone split with his live-in girlfriend, Sydney Holland, after five years together. In January 2019, his family settled with his former live-in companion Manuela Herzer. According to MarketWatch, "Herzer agreed to pay back $3.25 million of the tens of millions of gifts that Redstone gave her", and "the wide-ranging agreement ends all litigation between the two sides, who have been battling in the courts since the fall of 2015 when Redstone kicked Herzer out of his Beverly Hills mansion, replaced her as his health-care agent and wrote her out of his estate planning."
Sumner Redstone Daughter
He is the father of Shari Ellin Redstone(an American media executive with a background in numerous aspects of the entertainment industry and related ventures. She currently serves as the president of National Amusements as well as vice-chairwoman of CBS Corporation and Viacom).
Sumner Redstone Net Worth and Sumner Redstone Wealth
He has an estimated net worth of $4.7 billion dollars by the time of his death. In July 2010, he was caught on tape trying to find the source of an apparently embarrassing leak within MTV. He offered money and protection to a journalist if he would give up his source.
Redstone had been pushing MTV management to give more airtime to the band the Electric Barbarellas. On the message, Redstone tells the reporter that "we are not going to kill" the source, adding "We just want to talk to him". The 96-year-old also told the reporter he would be "well rewarded and well protected" if he would reveal the source.
Peter Lauria told NBC's Today show he would not do it. Viacom Inc. spokesman, Carl Folta confirmed to Today that it was Redstone's voice on the message and said he had made a mistake. A Viacom source told the New York Post, "Sumner wants to be consequential. Sumner was really proud of what he did. This guy is loving it… He likes people to know he's still alive".
Sumner Redstone Measurements and Facts
Here are some interesting facts and body measurements you should know about Sumner Redstone.
Sumner Redstone Bio and Wiki
Full Names: Sumner Murray Redstone
Popular As: Businessman
Gender: Male
Occupation / Profession: Businessman and media magnate
Nationality: American
Race / Ethnicity: White
Religion: To be updated
Sexual Orientation: Straight
Sumner Redstone Birthday
Age / How Old?: 97 year old by the time of his death
Zodiac Sign: Gemini
Date of Birth: May 27, 1923,
Place of Birth: Boston, MA.
Birthday: May 27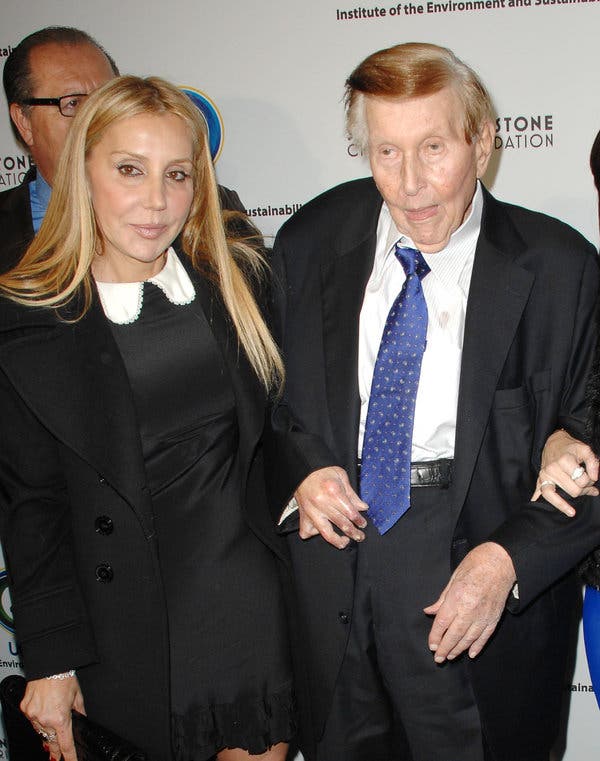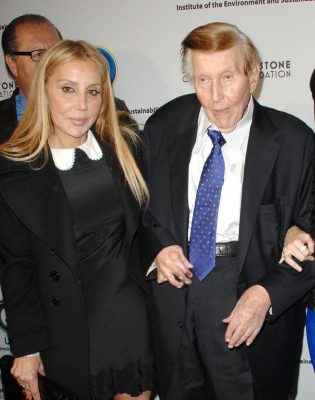 Sumner Redstone Body Measurements
Body Measurements: To be updated
Height / How Tall?: Average
Weight: Moderate
Eye Color: To be updated
Hair Color: To be updated
Shoe Size: To be updated
Sumner Redstone Family and Relationship
Father (Dad): Michael Rothstein
Mother: Belle (née Ostrovsky)
Siblings (Brothers and Sisters):  Edward Redstone(brother)
Marital Status: Married
Husband/Spouse: Married to Paula Fortunato (m. 2002 to 2009), Phyllis Gloria Raphael (m. 1947 to 1999)
Dating / Girlfriend: Not Applicable
Children:  Sons (Brent Redstone) Daughter(s) (Shari Redstone)
Sumner Redstone Networth and Salary
Net Worth: $4.7 billion
Salary: Under Review
Source of Income: Business
Sumner Redstone Health
True State Of Sumner Redstone's Health Becomes New Front In CBS & NAI War
Once again, the health of Redstone was at the center of a bitterly fought lawsuit. But unlike when the 96-year-old media mogul's companions and family were up in arms over his succession ideas, the stakes are much higher in the war between CBS and National Amusements.
"To the extent, the CBS Parties wanted to document Mr. Redstone's physical condition, they separately submitted an affidavit from Mr. His's treating physician that discussed Mr. Redstone's medical condition in detail," wrote attorneys for the Redstone-ruled NAI in a motion today to flush potentially pivotal footage filmed earlier this year of the now little-seen CBS chairman emeritus out of the lawsuit CBS filed May 14.
Sumner Redstone Political Affiliation and Sumner RedstonePolitical views
A longtime Democratic supporter, with a history of donating to many Democratic campaigns, such as regular donations to Ted Kennedy, John Kerry, and former Senate Majority Leader Tom Daschle,  Redstone endorsed Republican George W. Bush over Kerry in the 2004 Presidential election, allegedly because he argued that Bush would be better for his company and the economy. Despite this public endorsement, he donated money to Kerry during the primaries and was involved in the Rathergate scandal meant to hurt Bush's reelection.
Sumner Redstone Goes Nationwide
Sumner Redstone Goes Nationwide In Pre-Labor Day Legal Fights Over His Health
Comparisons to the Hundred Years' War that intermittently raged in medieval Europe may not be entirely apt yet, but there were a series of legal moves on both sides of the country today in the hostilities over nearly 100-year old media mogul Sumner Redstone's mental capacity that sure felt like a battle royale.
Eventually seeing an all but mutually agreed upon motion authorizing discovery denied, a judge in Los Angeles Superior Court this morning presided over lawyers for the elder Redstone and his former companion Manuela Herzer as they faced off again. Their joust was over the need to determine the true state of the 95-year-old Redstone, and whether he really know what's the business being conducted in his name.
CBS Taps Silicon Valley Entrepreneur Philip Wiser As CTO
At almost the same time today in Delaware, there were a series of redacted and sealed filings related to board member documents, executive text messaging and a recent video of Redstone as part of CBS and National Amusements' slugfest over control of the still Les Moonves-run company and a possible re-merger with Viacom.
"Ultimately I feel like roadblocks are being thrown up to push this out beyond Mr. Redstone's passing," said Redstone primary lawyer and CBS board member Robert Klieger in LASC Thursday during a long hearing on the virtually agreed-upon motion of some form of probing of the once Viacom boss' mental state. "My client and he has made this very clear, he wants this resolved while he is still alive."
"Mr. Redstone has an amazing comprehension of what was happening," Klieger told the court in a strong voice, defending his client's ability to authorize the petition this spring that kicked off this latest round with Ms. Herzer, who was removed from Sumner Redstone's home and soon afterward around three years ago. "He has a very hard time speaking," the Hueston Hennigan attorney did admit, having previously stated that he took Redstone to a baseball game earlier this year.
Punctuating his terms, Klieger also noted a decline in the once much-feared billionaire's ability to communicate since the video shown in closed court in 2016. "He usually uses an iPad to communicate and things usually have to be boiled down to simple phrases."
"My goal is not to do anything that would embarrass Mr. Redstone," Herzer's lawyer Ronald Richards told the court in LA today, repeating the general tone of agreement that the parties had on the now-discarded motion of discovery earlier this week. The attorney for Herzer, who herself was in court on Thursday, wants to talk to nurses and others around Redstone and have an independent medical exam of the mogul to determine capacity.
What Richards was not asking for, and what Team Redstone has made it very clear in their self described "soft opposition" that they will fight tooth and nail, was either a direct deposition of the nonagenarian or the release of a January 2018 video of a seemingly distinctly ailing Redstone shot on the iPhone of CBS board member Arnold Kopelson.
Attempting to guide proceedings on a full-court calendar towards meeting the January 2019 trial start date for the matter and seemingly reluctant to authorize any more motions for discovery or otherwise, Judge David Cowan himself noted that when he saw the video of just over two years in a previous case brought by Herzer, Sumner Redstone was "struggling." Judge Cowan, who dismissed Herzer's first legal thrust of being tossed out of the elder Redstone's life on May 9. 2016 after just one day of trial, noted that people "don't tend to improve" from dementia.
A POV that no one disputed as it hung there in the air of the courtroom, where notions like a hypothetical "modified guardian ad litem" for Redstone and the future and current true role of NAI president and CBS and Viacom vice-chairwomen Shari Redstone were also bandied about.
After over an hour and a half of back and forth by all parties, including a mention of Redstone's side saying they were informed of a recent filing by reading about on August 28 in Deadline, the judge called a 15-minute break and told the lawyers to go out in the hall to work out a real plan for discovery.
The very brief return to court after that huddle revealed some loose ends remained and the lawyers were then hustled into an adjoining jury room to come up with specific dates for such filings, where laughter could be heard.
"Everybody having fun?" Klieger asked the onlookers in the courtroom when he walked out of the jury room after about half an hour. With some tinkering, Judge Cowan ending the three-hour affair and accepted the litany of dates over the next few months offered by the attorneys. The almost chummy lawyers noted that hadn't agreed on a "summary judgment briefing schedule yet" but hope it could occur in the late fall before the December 17 trial readiness hearing.
Meanwhile, Klieger and alleged string-puller Shari Redstone, who looks to be deposed in the Herzer matter, were also on the docket in Delaware on Thursday as a slew of filings hit the Court of Chancery there in what has partially become a simultaneous debate over the mental capacity of Sumner Redstone.
Getting a bit personal and probing into how much the elder Redstone really knows about what his lawyers say they are telling him, National Amusements submitted it confidential "opposition to the CBS Parties' Motion to Compel Production of Documents Relating to Klieger" and a "Declaration of Shari E. Redstone in Support of the NAI Parties' Opposition to the CBS Parties' Motion to Compel Production of Documents Relating to Klieger."
Focused on notions of verification and leaning into that sealed January 2018 Kopelson footage the filings followed redacted paperwork where NAI was demanding that the court back East compel CBS to cease withholding requested relevant documents
"With respect to the few TigerText communications that survived destruction by the CBS Parties after they contemplated and commenced litigation, the CBS Parties have improperly redacted communications between members of CBS management and in-house counsel that likely are not privileged and in all events could not have been legal advice in aid of the special committee process under CBS's own policies," the NAI lawyers at Delaware's Potter Anderson & Corroon LLP and NYC's Cleary Gottlieb Steen & Hamilton LLP asserted.
"In fact, many log entries include personal counsel for Messrs. Moonves and Iannellio," the paperwork said of the sexual misconducted accused and still being investigated CBS CEO and his trusted COO.
Back in late July, NAI accused CBS and its execs of destroying evidence through the use of the self-deleting app and omitting mention of its use. CBS said it brought in TigerText after the massive Sony Pictures hack attack of late 2014 as a method to safeguard against internal communications getting spewed out to the world like what happened to the studio and its execs almost four years ago.
"CBS has, however, produced a relatively small number of TigerTexts that survived," the 16-page NAI motion added today, noting that some of those communications supposedly contained discussions about "legal proceedings concerning Mr. Redstone" and A video of Mr. Redstone taken at his home by CBS Board member Arnold Kopelson without Mr. Redstone's consent."
"Those messages show that CBS management and in-house counsel used the ephemeral messaging application to scheme, plot, and speculate," the filing today in Delaware states. "Thus, the TigerText communications provide crucial, real-time insight into the actions and motivations of CBS management, who were the driving force pushing for the dilutive dividend."
Contacted by Deadline today, CBS declined to comment on the latest filings in the Diamond State – though they undoubtedly will through their own lawyers at some point in the not too distant future.
Back in the distant past, 1337 to be specific, the start of the Hundred Years' War between England's House of Plantagenet and the French House of Valois for reign over what is now France drew generations of royalty and rows and a row of carnage. The motivation for that scrimmage that was almost forgotten by the time it was resolved in 1453 and dove into the internal strife of the War of the Roses in the island kingdom of what is now the UK.
"This case is this case and that case is that case," said Judge Cowan early on today in the hearing in DTLA of the battle almost a continent away in Delaware "But I'm mindful of what some other court may have done in a similar matter," the LA Superior Court judge added, with nods from all at the table.
Noting that Sumner Redstone will be 96-years old when the Herzer case goes to trial if it does, Robert Klieger told Judge Cowan and others on Thursday that the media mogul "would like to have finality on his estate plans and trust before he passes."If today's protracted crusades on both the West Coast and the East Coast are any indication, Redstone may not get his wish.
Sumner Redstone Facts
Sumner Redstone remains controlling shareholder of both CBS and Viacom, despite continuous boardroom and courtroom drama.
Redstone's father founded the cinema chain now known as National Amusements in 1936; Redstone took over in 1954. He acquired control of Viacom in 1987 and spun off CBS in 2006. CBS and National Amusements, run by his daughter Shari, are currently fighting over control of the network.
Redstone has given over $216 million to philanthropic causes, including arts and education institutions in his native Boston and hometown Los Angeles.
Frequently Asked Questions About Sumner Redstone
Who is Sumner Redstone?
Sumner Redstone was an American businessman and media magnate who was born as Sumner Murray Redstone in Boston, MA and died on August 11, 2020, at an age of 97 years old. He was formerly the executive chairman of both CBS and Viacom.
How old is Sumner Redstone?
Sumner Murray Redstone was an American national born on May 27, 1923, in Boston, MA. He died on August 11, 2020, at the age of 97 years old.
How tall is Sumner Redstone?
Redstone stands at an average height, he has not shared his height with the public. His height will be listed once we have it from a credible source.
Is Sumner Redstone married?
Yes, he was married to Paula Fortunato (m. 2002 to 2009), Phyllis Gloria Raphael (m. 1947 to 1999).
How much is Sumner Redstone worth?
Redstone has an approximate net worth of $4.7 billion dollars. This amount has been accrued from his leading roles in the business industry.
Is Sumner Redstone dead or alive?
Yes, he is dead. He passed away on August 11, 2020, at the age of 97 years old.
Where is Sumner Redstone from?
Redstone was born in Boston, Massachusetts, United States
Sumner Redstone Social Media Contacts
Instagram
Twitter
Facebook
Youtube
Tiktok
Website
Related Biographies.
You may also like to read the Bio, Career, Family, Relationship,  Body measurements, Net worth, Achievements, and more about:
Reference:
We acknowledge the following websites that we have referenced as we were writing this article.:
Wikipedia
IMDB
FaceBook
Twitter
Instagram and
Youtube
Featured Famous Business People