Donnie Simpson Biography
Donnie Simpson is an American radio DJ as well as a TV and movie personality who was born and brought up in Detroit, Michigan, the United States. Simpson hosted The Donnie Simpson Morning Show on Washington, D.C. radio station WPGC-FM from March 1993 – January 29, 2010. He hosts The Donnie Simpson Show on D.C.-based radio station WMMJ-FM, which started airing on August 17, 2015.
Simpson is the first urban-format radio personality to have an annual salary of over $1 Million without being syndicated. Simpson through his agent and longtime friend, George Parker, inked a 6-year, 8-figure deal with WPGC-FM making Simpson the highest-paid African-American radio personality ever without syndication.
Simpson was Billboards Radio Personality of the Year and Program Director of the Year. On August 17, 2020, it was declared that Simpson together with six other broadcasters would be initiated into The Radio Hall of Fame.
The Class of 2020 members will be honored during a live radio broadcast induction event from many locations and across many audio platforms on October 29, 2020. Simpson has also been known by the nicknames, "Love Bug", "The Green-eyed Bandit" and "Dr. Green Eyes" for his luminous, light green eyes.
10 Quick Facts About Donnie Simpson
Name: Donnie Simpson
Age: 68 years old as of 2022
Birthday: January 30, 1954
Zodiac Sign: Aquarius
Height: Average
Nationality: American
Occupation: Radio and TV personality
Marital Status: Married
Salary: Under Review
Net worth: $5 Million dollars as of 2022
Donnie Simpson Age
Simpson is 68 years old as of 2022, he was born on January 30, 1954, in Detroit, Michigan, the United States of America. He celebrates his birthday on January 30, every year, and his birth sign is Aquarius.
Donnie Simpson Height
Simpson stands at an average height. He appears to be quite tall in stature if his photos, relative to his surroundings, are anything to go by. However, details regarding his actual height and other body measurements are currently not publicly available. We will update this section when the information is available.
Donnie Simpson Weight
Simpson has a moderate weight. He has not shared his weight with the public. Simpson's weight will be listed once we get it from a trustworthy source. Known for his charming personality, Simpson has luminous, light green eyes and the color of his hair is black.
Donnie Simpson Education
Simpson has not disclosed the details of his education but owing to the nature of his work as a DJ and television personality, he might have received proper education regarding his field.
Donnie Simpson Parents
Simpson was born in Michigan, in the United States to his parents Calvin Simpson Sr (father) and Dorothy Simpson (mother) raised him together with his twin brother Lonnie Simpson. He belongs to the Afro-American ethnicity as holds an American nationality.
Donnie Simpson Siblings
Simpson has sporadically given his fraternal twin brother, Lonnie Simpson, a shout-out in public throughout the years. Even though they're super close and 'shared a womb' together, as Donnie stated recently, they clearly have totally different opinions about being in the spotlight.
Despite showing love to his brother with random public shout-outs, rarely has Donnie ever shown a photo of Lonnie- presumably because Lonnie isn't attracted to the limelight like his twin.
Donnie Simpson Wife
Simpsons is married to Pamela Ginson Simpson. The couple married in 1973. Donnie got married at the age of 19 years old. He relishes a married relationship for more than forty years. The pair has shown their variable relationship with the virtue of pure love.
Donnie Simpson Children
Being in a contentment relationship for about four decades, the pair has welcomed two adult children namely, Donnie Simpson Jr, the owner of Uprising Muffin Co. in Washington, D.C., and daughter, Dawn Simpson, who is a 2nd-grade school teacher.
Simpson and his spouse Pamela are also blessed with their grandchildren. As of now, the pair relishes a happy life with their big family of multi-ethnic and multi-racial backgrounds. The pair and their family live in Detroit and pastor a church together with his family and friends.
Donnie Simpson Salary
According to our reliable sources, Simpson's annual salary is currently under review. Nevertheless, we are keeping tabs and will update you once this information is available.
Donnie Simpson Net Worth
Simpson has an estimated net worth of $5 Million dollars as of 2022. This includes his assets, money, and income. His primary source of income is his career as a DJ and Television Personality. Through his various sources of income, he has been able to accumulate a good fortune but prefers to lead a modest lifestyle.
Donnie Simpson Measurements and Facts
Here are some interesting facts and body measurements you should know about Simpson.
Donnie Simpson Wiki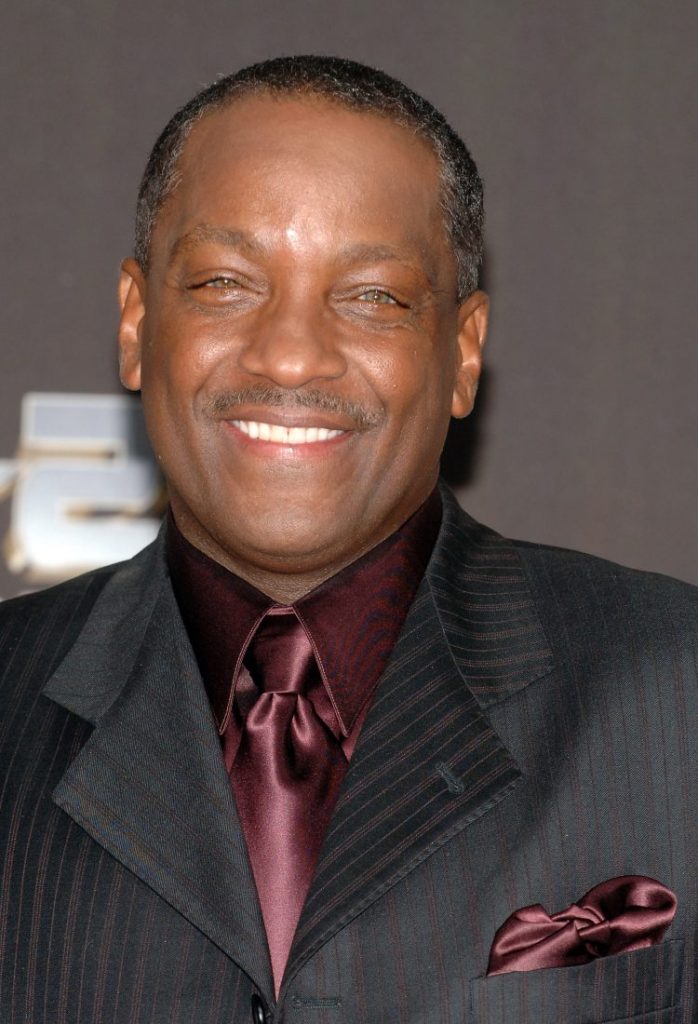 Full Names: Donnie Simpson.
Gender: Male
Profession: Radio Personality
Nationality: American
Ethnicity: Black
Religion: Christian
Sexual Orientation: Straight
Donnie Simpson Birthday
Age / How Old?: 68 Years Old as of 2022
Zodiac Sign: Aquarius
Date of Birth: January 30, 1954
Place of Birth: Detroit, Michigan, the United States of America
Birthday: January 30
Donnie Simpson Body Measurements
Body Measurements: Not Avaialable
Height / How Tall?: Average
Weight: Moderate
Eye Color: luminous, light green eyes.
Hair Color: Black
Shoe Size: Not Known
Donnie Simpson Family and Relationship
Father (Dad): Calvin Simpson Sr.
Mother: Dorothy Simpson
Siblings (Brother): Lonnie Simpson
Marital Status: Married
Wife/Spouse: Married to Pamela Gibson Simpson
Children: Donnie Simpson Jr & Dawn Simpson
Donnie Simpson Net worth and Salary
Net Worth: $5 Million dollars as of 2022
Salary: Under Review
Source of Income: Entertainment
Donnie Simpson Show
Simpson began his radio career at age 15 with WJLB in Detroit, MI where he remained for eight years. He relocated to Washington D.C. in 1977 where he began working at WRC-FM, now WKYS, as a DJ and program director. He remained with WKYS for 15 years through its format migration from Disco-based Rhythmic Contemporary Hits to Urban Contemporary in the 1980s.
In 1981, Simpson landed his first television job on WRC-TV, hired as a back-up anchor for the George Michael Sports Machine show on NBC's Washington outlet. Soon after he hosted Video Soul, a music video show on BET, and many other network specials. Simpson eventually hosted The Donnie Simpson Morning Show on WPGC-FM for 17 years. He left the radio in 2010.
In 1983, Simpson was recruited by Robert L. Johnson, founder of Black Entertainment Television BET, to host the network's primetime music video show, Video Soul. Simpson remained with the show until its cancellation in 1997. Over several decades, Simpson has hosted many network specials and tributes.
He has interviewed well-known stars, including Stevie Wonder, Prince, Elton John, Aretha Franklin, David Bowie, Janet Jackson, James Brown, Usher, Jay-Z, Notorious BIG, Whitney Houston, Tupac, Madonna, and many others. In 2004, Simpson was inducted into the BET Walk of Fame.
In 2015, he was inducted into the Rhythm and Blues Music Hall of Fame, the only non-musician so honored at that point. He retired in 2010, but returned to radio and TV on August 17, 2015, this time on WMMJ to host The Donnie Simpson Show. The show airs Monday through Friday from 3:00 to 7:00 pm on Majic 102.3 FM. On February 5, 2016, Donnie After Dark began airing on TV One.
Donnie Simpson Book
Besides being a radio DJ, he is also known for being a talented writer of the book Through this Eyes. Through These Eyes takes us back to where it all began, his beloved hometown of Detroit. Joining the staff at WJLB radio at 15 years old, affectionately dubbed, Donnie "The Love Bug" Simpson, quickly gained popularity with his sultry voice, warm smile, and piercing green eyes.
Relocating after 15 years to Washington, D.C., he continued dominating ratings and captivating audiences, which led to his most memorable role in 1983 as the host of BET's primetime music video show, Video Soul solidifying his role as a pop culture icon.
Donnie Simpson Video Soul
Video Soul is a 2–hour long American music video program that originally aired on The Black Entertainment Network (BET) from June 26, 1981, to September 1996. The program was devoted to showcasing R&B and Soul recording artists and performers' music videos.
Video Soul premiered on June 26, 1981, and was originally a half-hour show. The show was created after MTV refused to play videos by most African American musicians, as MTV made the De Facto Colour policy effective. Both BET and Video Soul served as the place of refuge for new African American musical talent.
The expanded 2-hour-long Primetime version debuted on June 26, 1983, and aired from 9 to 11 p.m. Eastern time, Monday through Thursdays. A top 20 countdown aired Friday nights, 9–11 p.m. Eastern Time as well. Throughout the early-mid-1990s, until the show ended, it aired from 8 to 10 pm Eastern Time.
Video Soul Top-20 aired on Fridays, it showcased the hottest top-20 videos of the week. It would also be known as The Coca-Cola Video Soul Top-20 Countdown, as Coca-Cola became a sponsor of the show. Video Soul By Request was a two-hour-long video block on Saturdays.
This edition premiered in mid-1992. It showcased videos that were requested by viewers, who called a 1-900 number to request the video they wanted to hear. Throughout its run, Sherry Carter hosted unseen when she became a host for Video Soul in 1992.
Video Soul Host
Simpson (1983–1996)
Sherry Carter (1992–1996)
Sheila Banks
Kenya Moore
Brett Walker (1994–1996)
Leslie "Big Lez" Segar (1994–1995)
Donnie Simpson and Sherry Carter
Carter was tapped to co-host the BET flagship program, Video Soul, with Simpson after his former co-host, Sheila Banks, moved to This Week in Black Entertainment. Carter held this position until 1997.
Carter continued to provide her hosting skills to BET since leaving Video Soul by segueing to BET's sister channel, BET On Jazz, to host Jazz Scene, as the new cable channel was being established.
Donnie Simpson Death
According to the sources, there was news that Donnie was dead on 10th July 2005, due to lung cancer. However, this death news seems to be rumored for now. Some websites also mentioned that he is still alive and he has a fit and healthy body till now because of his daily exercise and balanced diet.
Donnie Simpson TV Shows
Video Soul
Donnie After Dark
Black in the '80s
Frequently Asked Questions About Donnie Simpson
Who is Donnie Simpson?
Simpson is an American radio DJ as well as a TV and movie personality. Simpson hosted The Simpson Morning Show on Washington, D.C. radio station WPGC-FM from March 1993 – January 29, 2010.
How old is Donnie Simpson?
Simpson is an American national born on January 30, 1954, in Detroit, Michigan, the United States of America.
How tall is Simpson?
Simpson stands at an average height, he has not shared his height with the public. His height will be listed once we have it from a credible source.
Is

Donnie

married?
Yes, Simpson married Pamela Gibson Simpson in 1973 and they are proud parents of 2 grown-up parents.
How much does

Simpson

make?
Details about Donnie's salary are not yet disclosed. However, information about how much he makes will be updated as soon as it is available.
Where does Donnie live?
Donnie is a resident of the Washington, DC area, USA, we shall upload pictures of his house as soon as we have them.
Is Donnie dead or alive?
Donnie is alive and in good health. There have been no reports of him being sick or having any health-related issues.
Where is

Donnie

Now?
Simpson is pursuing his career in Radio. Simpson hosted The Simpson Morning Show on Washington, D.C. radio station WPGC-FM from March 1993 – January 29, 2010.
Donnie
Donnie Simpson
Contacts
Related Biographies.
You may also like to read the Bio, Career, Family, Relationship,  Body measurements, Net worth, Achievements, and more about: