Jackie Wilson Biography
Jackie Wilson was born as Jack Leroy Wilson Jr. on June 9, 1934, and died on January 21, 1984. He was an African American soul singer and performer. A tenor with a four-octave range, Wilson was a prominent figure in the transition of rhythm and blues into soul.
Wilson was considered a master showman and one of the most dynamic singers and performers in pop, R&B, and rock & roll history, earning the nickname "Mr. Excitement". Jackie gained initial fame as a member of the R&B vocal group Billy Ward and His Dominoes.
He went solo in 1957 and scored over 50 chart singles spanning the genres of R&B, pop, soul, doo-wop and easy listening, including 16 R&B Top 10 hits, in which six R&B of the repertoire ranked as number ones. On the Billboard Hot 100, Wilson scored 14 top 20 pop hits, six of which reached the top 10. Jackie Wilson was one of the most important and influential musical artists of his generation.
A two-time Grammy Hall of Fame Inductee, and winner of the Rhythm and Blues Foundation's special Legacy Tribute Award in 2003, Jackie Wilson was inducted to the Rock and Roll Hall of Fame in 1987. In 2004, Rolling Stone magazine ranked Jackie Wilson #69 on its list of the 100 Greatest Artists of All Time
---
10 Quick Facts About Jackie Wilson
Name: Jackie Wilson
Age: 49 years
Birthday: June 9
Zodiac Sign: Gemini
Height: Average
Nationality: American
Occupation: Singer
Marital Status: Deceased
Salary: Under review
Net worth: $8 million
---
Jackie Wilson Age
Jackie Wilson was 49 years when he died. Born on (June 9, 1934 – January 21, 1984).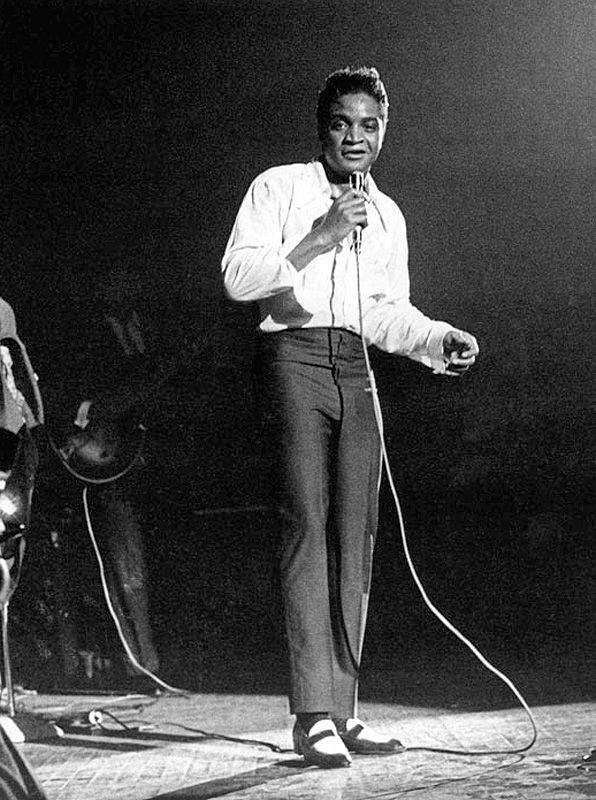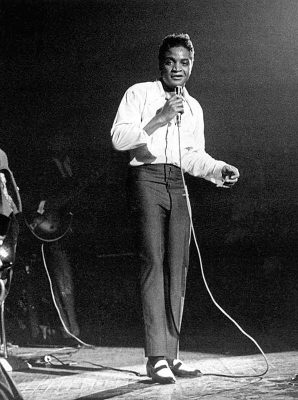 Jackie Wilson Family & Children
Wilson's first wife was Freda Hood, with whom he had four children, divorced him in 1965 after 14 years of marriage as she was frustrated with his notorious womanizing. Although the divorce was amicable, Freda regretted her decision.
His 16-year-old son, Jackie Jr, was shot and killed on a neighbor's porch near their Detroit home in 1970. The death of Jackie Jr. devastated Wilson. He sank into a period of depression, and for the next couple of years remained mostly a recluse.
More tragedy hit when two of Wilson's daughters died at a young age. His daughter Sandra died in 1977 at the age of 24 of an apparent heart attack. Another daughter, Jacqueline, was killed in 1988 in a drug-related incident in Highland Park, Michigan.
Harlean Harris(Sam Cooke's ex-girlfriend) was Wilson's second wife from 1967, with whom he had three children, but they separated in 1970. He later lived with Lynn Guidry, a woman who had two children with him.
He had a friend by the name of Joyce McRae, who was the only one who tried to help him, and she tried to be his caregiver while he was in a nursing home. He was with Guidry, who was under the impression that she was his legal wife, until his heart attack in 1975. However, as he and Harris never officially divorced, Harris took on the role of caregiver for the singer's remaining nine years.
Jackie Wilson Death
On September 29, 1975, Wilson was on stage performing "Lonely Teardrops" when he collapsed at a New Jersey nightclub. It was later determined that he had suffered a heart attack (some reports say it was a stroke). Wilson went into a coma, from which he never recovered. By 1977, he was living at a retirement community in New Jersey, where he needed constant care.
In 1978, members of Wilson's family waged a court battle against each other over guardianship of incapacitated musicians. The court ruled in favor of his second wife, Harlean (Harris) Wilson, over his son, Tony Wilson—one of his children from his first marriage to Freda Hood (whom he married in 1951 and with whom he had four children; the couple divorced in 1965). Harlean and Jackie, who wed in 1967, had been estranged for some time before his 1975 health crisis.
After spending eight years in a coma, Jackie Wilson died on January 21, 1984, at a hospital in Mount Holly, New Jersey. He was only 49 years old. Three years later, Wilson was inducted to the Rock and Roll Hall of Fame. He has been credited with influencing such artists as Prince, Michael Jackson, and Elvis Presley.
Jackie Wilson Career
Born Jack Leroy Wilson Jr. on June 9, 1934, in Detroit, Michigan, Jackie Wilson was one of the top singers of the 1950s and '60s. Known for his appealing tenor voice and tremendous stage presence, Wilson was also known by the moniker "Mr. Excitement" for his ability to wow audiences.
Wilson started out singing gospel music. As a teenager, he was also a successful Golden Gloves boxer. Wilson's mother reportedly asked him to stop boxing, so he picked a different direction for himself.
In 1953, Wilson made music his career, joining Billy Ward and His Dominoes (also known as Billy Ward and the Dominoes) as the group's lead singer; he was brought in to replace Clyde McPhatter.
Jackie Wilson Songs
»Higher and Higher
»Lonely Teardrops
»Reet Petite
»Baby Workout
»To Be Loved
»I Get the Sweetest Feeling
»That's Why
»Doggin' Around
»I'll Be Satisfied
»Whispers
»A Woman, A Lover, A Friend
»Night
»Talk That Talk
»I'm Comin' On Back To You
»You Better Know It
»Alone At Last
»Danny Boy
»No Pity
»The Tear Of The Year
»All My Love
»Who Who Song
»This Love Is Real
»Am I The Man
»Chain Gang
»Please Tell Me Why
»Shake A Hand
»Since You Showed Me How to Be Happy
»You Got Me Walking
»Think Twice
»I Just Can't Help It
»Lonely Life
»I Don't Want to Lose You
Jackie Wilson Net Worth
JACKIE WILSON is estimated to have a net worth of $8 million.
Jackie Wilson Greatest Hits
»Manufacturers of Soul
»Higher and Higher
»Whispers
»Merry Christmas from Jackie Wilson
»Baby Workout
Jackie Wilson Shot
The short-tempered Jackie Wilson In 1960, was arrested and charged with assaulting a police officer when fans tried to climb on stage in New Orleans. He assaulted a policeman who had shoved one of the fans. In her autobiography, Patti LaBelle accused Wilson of sexually assaulting her in the early 1960s backstage at a Brooklyn theater.
On February 15, 1961, in Manhattan, Wilson was injured in a shooting. Media reports stated the real story behind this incident is that one of his girlfriends, Juanita Jones, shot and wounded him in a jealous rage when he returned to his Manhattan apartment with another woman, fashion model Harlean Harris, an ex-girlfriend of Sam Cooke.
Wilson's management supposedly concocted a story to protect Wilson's reputation; that Jones was an obsessed fan who had threatened to shoot herself, and that Wilson's intervention resulted in him being shot. Wilson was shot in the stomach; the bullet resulted in the loss of a kidney and lodged too close to his spine to be operated on.
In early 1975, during an interview with author Arnold Shaw, Wilson maintained it actually was a zealous fan whom he did not know that shot him. "We also had some trouble in 1961. That was when some crazy chick took a shot at me and nearly put me away for good…" The story of the zealous fan was accepted, and no charges were brought against Jones.
Jackie Wilson Contacts
Related Biographies
You may also like to read the Bio, Career, Family, Relationship,  Body measurements, Net worth, Achievements, and more about:
About InformationCradle Editorial Staff
This Article is produced by InformationCradle Editorial Staff which is a team of expert writers and editors led by Josphat Gachie and trusted by millions of readers worldwide.
We endeavor to keep our content True, Accurate, Correct, Original and Up to Date. For complain, correction or an update, please send us an email to informationcradle@gmail.com. We promise to take corrective measures to the best of our abilities.