Steve Lacy Bio
Steve Lacy (Steve Thomas Lacy Moya) is an American guitarist, bassist, singer, songwriter and record producer from Compton, California. He gained recognition as a member of the nominated R&B band "The Internet" back in 2015.
Steve Lacy Grammy Awards 2020
Lacy knows the power of a good party dress. While on tour for his debut album, Apollo XXI, which is nominated for a Best Urban Contemporary Album Grammy at tonight's ceremony at the Staples Center in Los Angeles, Lacy posted a selfie wearing a plaid Balenciaga frock in his hotel room shower, of all places. What's more, at one point in his trippy video for "Playground," Lacy also layers a preppy Opening Ceremony x Lacoste dress over a tie-dye long sleeve shirt.
Now, though, Lacy's wearing a dress on the red carpet for the first time. The California singer and producer arrived at the Grammys in a gray Comme des Garçons dress and tailored jacket with a peplum-like silhouette. He finished off the look with some delicate necklaces and a pair of chunky Rick Owens combat boots, whose unconventional laces resemble a spider's web.
Lacy's not the first man to wear a dress on the red carpet as of late—he follows in the footsteps of Billy Porter and Ezra Miller. With his latest fashion moment, he's proving those gender-bending sensibilities work just as well on the red carpet as they do in the privacy of his hotel room.
Steve Lacy Family
Steve was raised in Compton, California. His mother, Valerie, is African-American and his father was Filipino he passed away when Lacy was ten years old. there isn't much information on his family but we will update the information soon.
Steve Lacy Career
Steve began creating music on his i phone 6 making his first songs on the device using a plug-in piece of his guitar called an "iRig". He began producing the third album of his band "The Internet" in 2013 which was entitled "Ego Death" on which he produced 8 tracks. The album was nominated at the 58th Annual Grammy Awards for Best Urban Contemporary Album.
He also began producing songs for Twenty88, Denzel Curry, Isaiah Rashad, J. Cole, GoldLink, Kendrick Lamar, producing the song "Pride" on Kendrick's Grammy Award-winning album Damn, and was reported to be working with Vampire Weekend.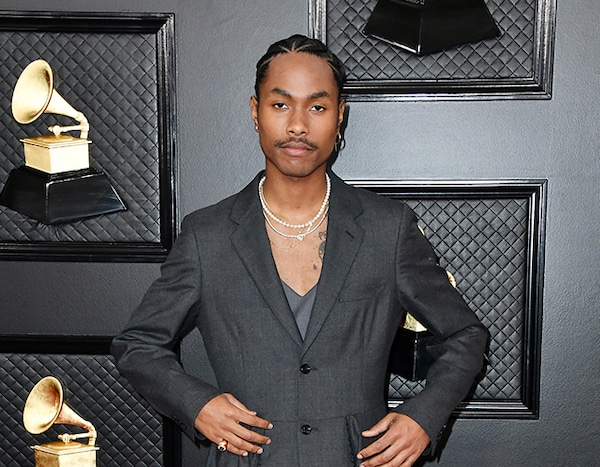 On February 17, 2017, Steve Lacy's Demo was released, with Steve having created most of the song-series on his iPhone, producing the guitar and bass arrangements and singing his vocals right into its built-in microphone. He also programmed the drum patterns in Ableton. In 2017, he co-wrote and produced Ravyn Lenae's entire EP "Crush" which was released in February 2018.
After he and his Internet bandmates released solo projects in 2017, they worked on their 2018 follow-up, Hive Mind, released in July of that year. Lacy went on to produce for Solange Kali Uchis, on her debut album, Isolation, Mac Miller, on his 2018 album, Swimming and was featured on Dev Hynes' Blood Orange album, Negro Swan. Steve revealed in 2018 that he produced for fellow Compton native, rapper YG and that he was now using devices, other than his phone, to produce music.
Steve Lacy Age
Steve was born on May 23, 1998, and is currently 21 years old as of 2019. His birth sign is Gemini.
Steve Lacy Height
Steve stands at an average height of 6 feet and 1 inch. He weighs a total of 154 pounds.
Steve Lacy Apollo XXi
Apollo xxi is Steve's debut solo album released on May 24, 2019. Steve started working on the album in 2017, recording in his younger sister's bedroom after she left for college, in between sessions he had with other artists as well as touring with his band, The Internet. He also stated that he recorded much of the album using other methods than an iPod or iPhone.
The song, "Like Me", was written and recorded in July of 2017, after a period in which Steve said he hadn't written any music because of the emotions and fears he had expressing his sexuality. The song features Daisy Hamel-Buffa who says they connected talking about their sexuality together in 2017 and Steve came back later to ask that she sing on the track.
Steve Lacy Net Worth
Steve has an estimated net worth of 6 million dollars as of 2019.
Steve Lacy Merch
High-quality Steve Lacy inspired T-Shirts, Posters, Mugs and more by independent artists and designers from around the world. You can shop for your own Steve Lacy merchandise online by clicking on this link.
Steve Lacy The Internet
Lacy's musical journey began in his high school jazz band where he met recording artist Thundercat's younger brother, who brought Lacy along to work on The Internet's third studio album Ego Death.
Lacy, who was brought on to play some keys on the record, ended up producing half of the tracks on Ego Death. The Internet's mixture of hip-hop, funk, soul music, and alternative rock captivated audiences and critics alike, and before Lacy had graduated high school he had notched a Grammy nomination for Best Urban Contemporary Album.
Steve Lacy Albums
The Internet
Ego Death (2015)
Hive Mind (2018)
With Ravyn Lenae
Steve Lacy Songs
Dark Red
Ryd
Some
C U Girl
Looks

Thangs
Hater Lovin
Jars Of It
Air
A Merrier Christmas
FAQs (Frequently Asked Questions) About Steve
Who is Steve Lacy?
Steve Lacy (Steve Thomas Lacy Moya) is an American guitarist, bassist, singer, songwriter and record producer from Compton, California.
How old is Steve Lacy?
Steve was born on May 23, 1998, and is currently 21 years old as of 2019.
How tall is Steve?
Steve stands at an average height of 6 feet and 1 inch.
Is Steve married?
He likes to be secretive about his personal life. There is no confirmed information on whether he is married or not.
How much is Steve worth?
Steve has an estimated net worth of 6 million dollars as of 2019.
Where does Steve live?
He is from Compton, California.
Is Steve dead or alive?
He is alive and in good health.
Where is Steve now?
He is currently a famous musician in the USA.
Lacy's Instagram
Lacy's Twitter
Happy Birthday to the great Steve Lacy ! pic.twitter.com/alEb66ZkA9

— THE INTERNET (@intanetz) May 23, 2018
Featured Famous People Starting with Letter S
---
---
About InformationCradle Editorial Staff
This Article is produced by InformationCradle Editorial Staff which is a team of expert writers and editors led by Josphat Gachie and trusted by millions of readers worldwide.
We endeavor to keep our content True, Accurate, Correct, Original and Up to Date. For complain, correction or an update, please send us an email to informationcradle@gmail.com. We promise to take corrective measures to the best of our abilities.